Because I visited a derma a couple of weeks ago who asked me not to use any cosmetics in two months, my June empties is a bit tiny, with most of the products being either hair or body products.
I used four sheet masks within the first two weeks of the month (before I visited the derma and most of them worked well on my severly irritated skin). I have so many sheet masks in my stash right now and I can't wait to use them up once my skin gets cleared.
Things I finished up in June: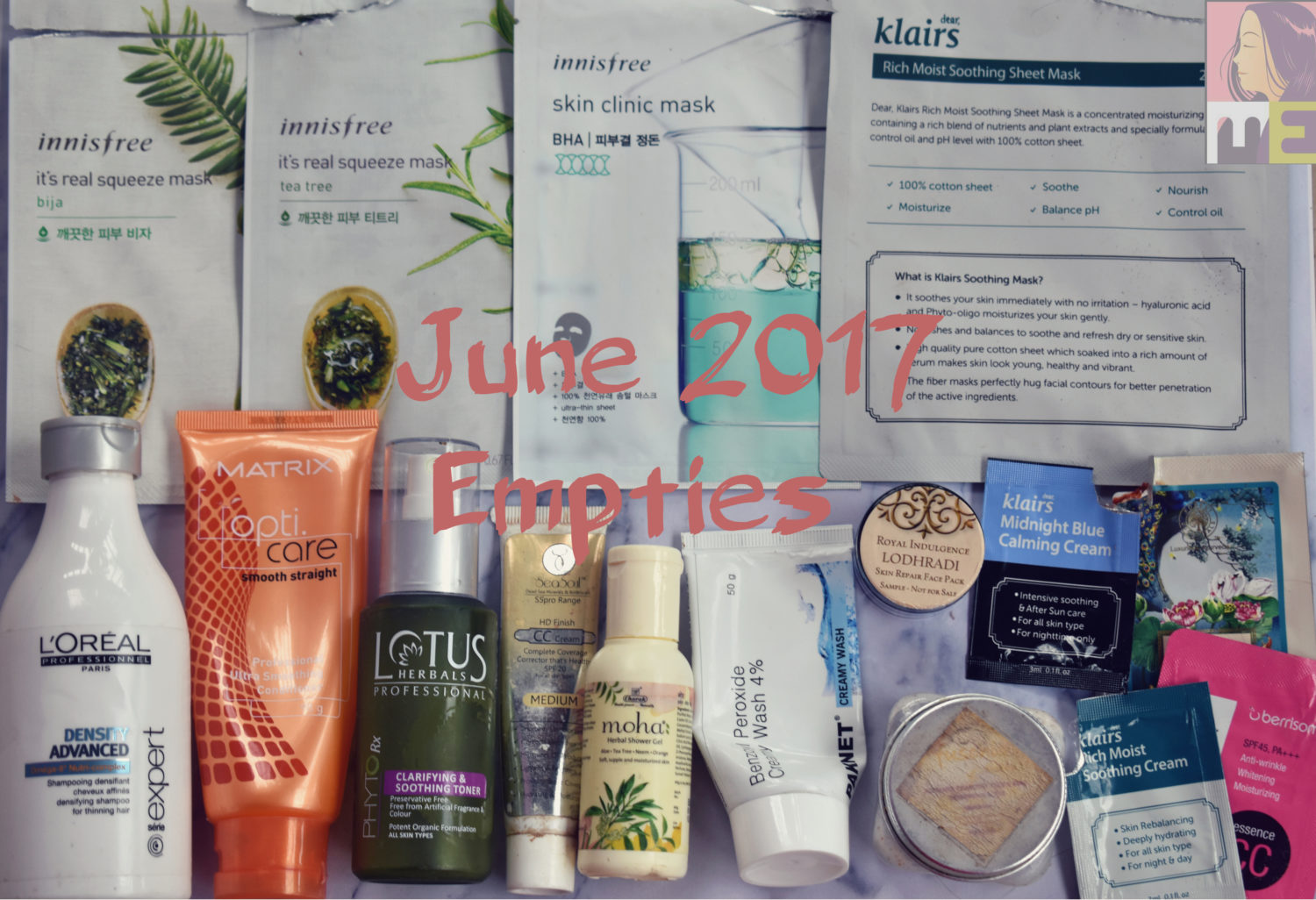 Innisfree It's Real Squeeze Mask Bija: Used this sheet mask twice (two separate masks of course) during this prolonged irritated situation on my skin and it worked great both times. Review: http://beautifullyme.in/index.php/2017/06/21/innisfree-its-real-squeeze-bija-mask-review/
Innisfree It's Real Squeeze Tea Tree: It's a repurchase as well. The first time I used it, I was just starting to suffer from PMS break out and it worked like miracle. This time it didn't work that well.
Innisfree Skin Clinic Mask BHA: It worked wonder and made my bumps calm and small. Review:http://beautifullyme.in/index.php/2017/06/22/innisfree-skin-clinic-mask-bha-review/
Klairs Rich Moist Soothing Sheet Mask: Absolutely soothing, calming and a very clean ingredient list. Review:: http://beautifullyme.in/index.php/2017/06/23/klairs-rich-moist-soothing-sheet-mask-review/
L'Oreal Professional Density Advanced Shampoo: My sister and I both inherited our mom's fine flat hair. However this worked on my hair real bad unlike my sister who swears by it.
Matrix Opti Care smooth Straight Conditioner: I don't know why I bought this in the first place, it's meant to be used on straightened hair while I have naturally straight hair. Anyway, I ended up liking it.
Seasoul CC Cream: As much as I liked it, I did not finish it completely as I swear by cushion compacts. Anyway it was maybe half way finished when it crossed the expiry date and I didn't have the heart to throw it away without giving it a standing ovation. Review:http://beautifullyme.in/index.php/2015/12/28/seasoul-hd-finc-cream-review/
Moha Shower Gel: A refreshing shower gel containing neem. I really liked this tiny baby.
Benzoyl Peroxide Creamy Wash 4%: My derma prescribed it and I finished up 1 tube already.
Royal Indulgence Lodhrahi Face Wash: I cannot even express my love for it with mere words. I ordered a sample that was meant to last 2 usages, however, since I used it with honey, it lasted me 3 usages, each time with increasing effectiveness. Even though my doctor asked me to stay away from cosmetics, it did not seem like one since it's claimed to be Ayurvedic. I daringly used it and my bumps and acnes reduced dramatically each time. I'm really looking forward to buy the full-sized product.
Fuschia Charcoal Face & Body Scrub: I never used it on my face as the granules were too big, but it's ended up being one of my favourite body scrubs. Review:http://beautifullyme.in/index.php/2016/01/21/fuschia-vkare-activated-charcoal-face-and-body-detoxifying-scrub-review/
Klairs Midnight Blue Calming Cream: Really, really, really liked this sample that I got from Daisy Skin Fix along with my purchase. It really did calm down my angry skin during my trip to Bangalore.
Klairs Rich Moist Soothing Cream: No extra ordinary result on my irritation but I still liked it a lot.
Berrisom CC Cream: I haven't touched makeup in like 3 months (ever since my skin got irritated) but I took it with me to my last trip to Bangalore and it made me look like a human rather than zombie, flawlessly hiding my severely irritated skin.
Forest Essnetial Kumkumadi Teenage Night Cream: Not really a teenager but liked it anyway.
So that's everything I finished up this month. I think my next month's empty will be much shorter since am not using any other products apart from my prescription right now. Hopefully my sacrifice will come to work….