Hey guys, hope you all are not tired of my 'calming irritated skin series' already as there are a lot of products that I have been using to calm my skin and I will be reviewing them all, one by one, the ones that worked, and the ones that didn't work.
So if you haven't already read my previous posts, I have been suffering from some skin infections for almost 3 months after using a dirty makeup brush. At first, it was just chicken bumps on my cheeks but eventually they started getting severe. I haven't been able to take care of my skin because of some family emergencies and I've recently started taking care of my skin.
The first thing I used to treat my eczema like skin condition was Picon Cream that is a topical treatment cream. It seemed to work after 5 days of continued usage but after that, there was no improvement. So currently am trying out a lot of home remedies and some calming and soothing products until I get enough time in my hands to visit a Dermatologist. So, along with using neem, turmeric and honey every day, am using products that claim to treat acne, heal irritated skin and have calming and soothing benefits. I have already reviewed a couple of products that seemed to help my skin condition and today it's Innisfree It's Real Squeeze Mask Bija.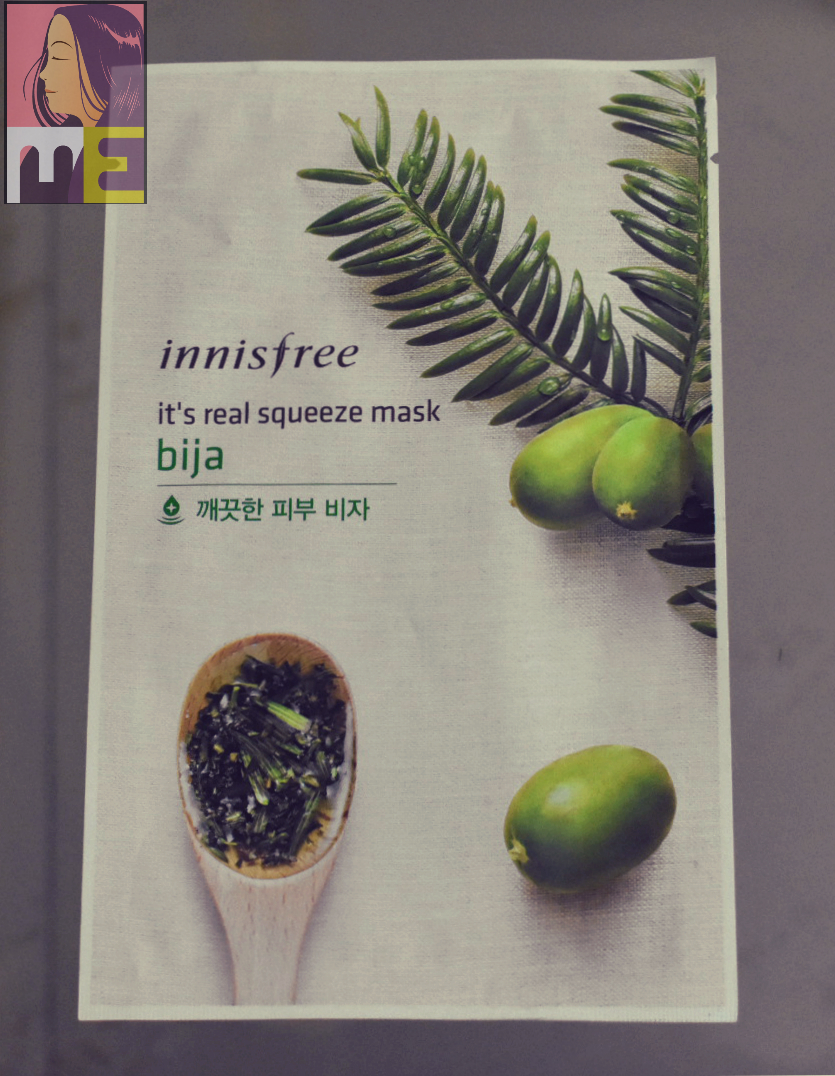 What is Bija?
If you try looking it up on Google, you'll be disappointed. But since Innisfree has got a lot of Bija products that are targeted for irritated skin, you can have a lucky guess.
What it is
A refreshing face mask made from the torreya oil to clear your skin!
1. It's real squeeze mask with torreya oil!
The fruits of the torreya tree have been highly regarded as a precious ingredient.
2. Jeju green complex
The Jeju green complex consists of green tea, tangerine, cactus, camellia leaves, and orchids to keep your skin healthy.
3. Triple-layered sheet
This triple-layer sheet has a long-lasting moisturizing effect so that the essence can gradually be absorbed into the skin.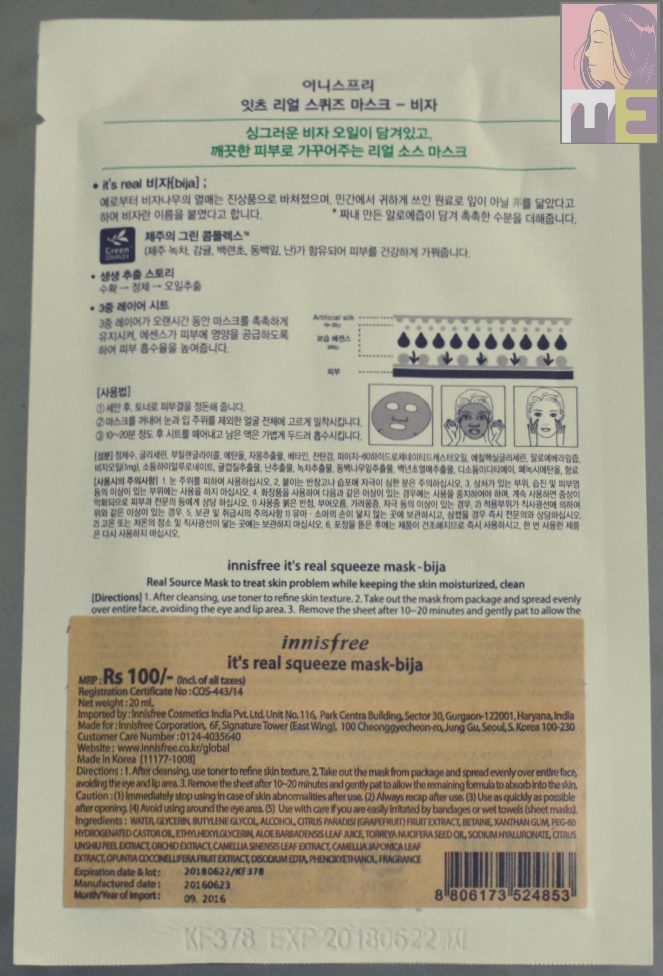 How to use
After washing your face, gently apply toner on your face to even out your skin texture.
2. Then, apply the mask over your entire face, avoiding your eye and lip areas.
3. Remove the mask after 10-20 minutes.
4. Remove the mask and gently pat your face to allow the remaining essence to absorb into your skin.
The funny part is that the sheet mask is meant to heal IRRITATED SKIN and the description on their website reads " Do not apply on wounds or any skin experiencing irritation, such as dermatitis and eczema." Didn't I purchase it because I am suffering from skin infection?
My Experience:
I used the bija mask sheet for the first time a few days after coming back from the trip that witnessed my skin catching the infection. I visited a Sephora store and used the make brush the very day I landed in Bangalore and I noticed the bumps the next day. I had the bumps throughout the trip and planned to treat them once I get home. I used the Bija mask after coming back and it dramatically reduced the size of the bumps. I was really glad. However, 2 days after I came back from the trip, my uncle got hospitalized and I wasn't in the situation to keep treating the bumps. During this time, the irritation got much severe. A month after fighting for his life, my uncle expired (following another series of family mishaps). So give or take, I haven't looked into the mirror in like 2 months and when things were a little stable, I was horrified when I finally had enough time and patience to glare at my reflection. My bumps were inflamed and bigger. That's when I ordered the bija mask again because it has worked the previous time.
The next time I used this mask was the second day after resuming my skincare regimen. The first day, I used a Tea Tree Sheet Mask which is great for acne and it was a repurchase as well. The bumps looked calm the next morning but grew back by the evening. That night I used the Bija Mask during my night time regimen (along with using home remedies during the day time). The fitting was almost perfect, the smell was mild and clear and it felt nice since I used it after keeping it inside the refrigerator on a hot summer night. I took it off after half an hour, patted the extra essence into the skin and finished it off with a night cream, following the picon cream on the affected area.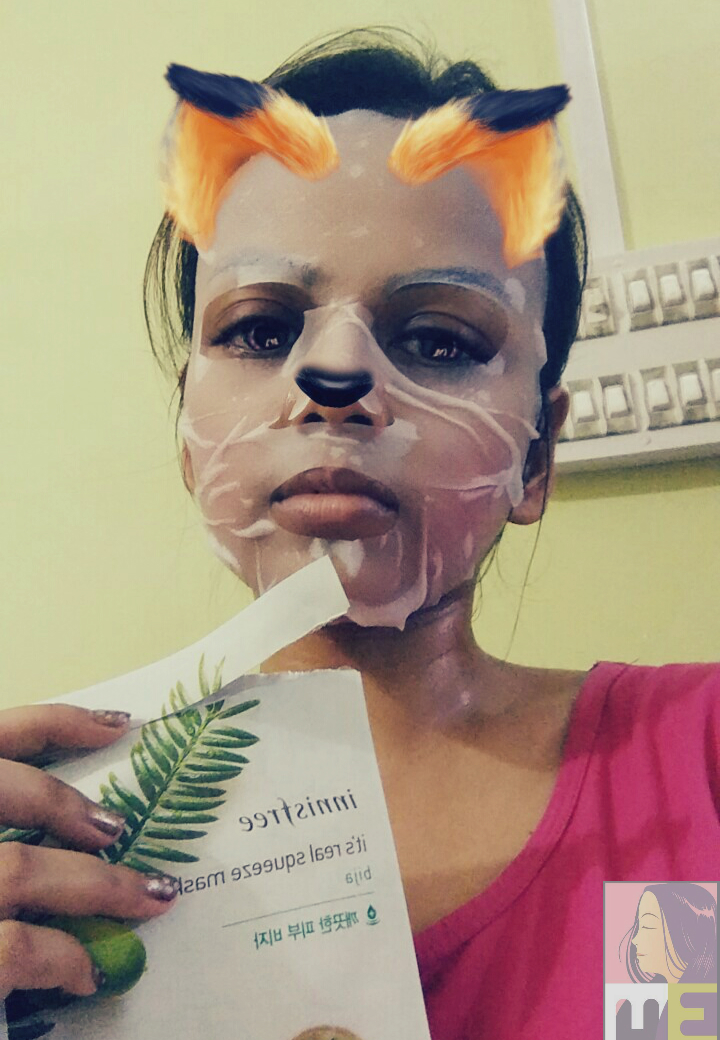 The next morning, the bumps were much, much smaller and the redness was gone (am not sure for a day or a few because the next day was another sheetmask). The effects were much better than the Tea Trea Oil which has previously healed a bad pms special cystic acne.
Overall, am once again impressed with the result. I'm not sure if it will work on acne and pimple because few of my bumps have grown into cystic acnes and this one worked on only the bumps and not on the pimples. So am guessing it does work on irritated skin despite the warning on their official website.
Pros:
Does what it claims
Budget friendly
Hydrates and moisturizes the skin
Contains anti-inflammatory ingredients
Cons:
Price:
MRP 100
Where to buy:
Rating:
4.7/5