Those of you who are tired of me complaining about my skin issues for some time now, GOOD NEWS: I have finally visited another doctor. Even though he prescribed me an oral medicine and some medicated skincare products all of which are known for acne problems whereas I am pretty much convinced my infection is fungal and not just acnes, I am still hopeful that his prescription might actually work. He promised that my skin will be clear in 2 months and I freaked out as 2 months is a long time. But then a friend reminded me that I've already had this infection for 3 months now, so I better tolerate another 2 months.
I am not supposed to use any other skincare product on my face for these 2 months, which freaked me out again because I won't be able to use sheet masks, I won't be able to review skincare products and I will get bored, because my extensive skincare regimen happens to be my favourite time of the day.
Nevertheless, there are products that I used during this 3 months, products that have kindda worked and products that have been useless, and I will start this boring 2 months by reviewing them one by one.
So, the fourth product from my 'calming down irritated skin' series- Innisfree Skin Clinic BHA Mask Sheet.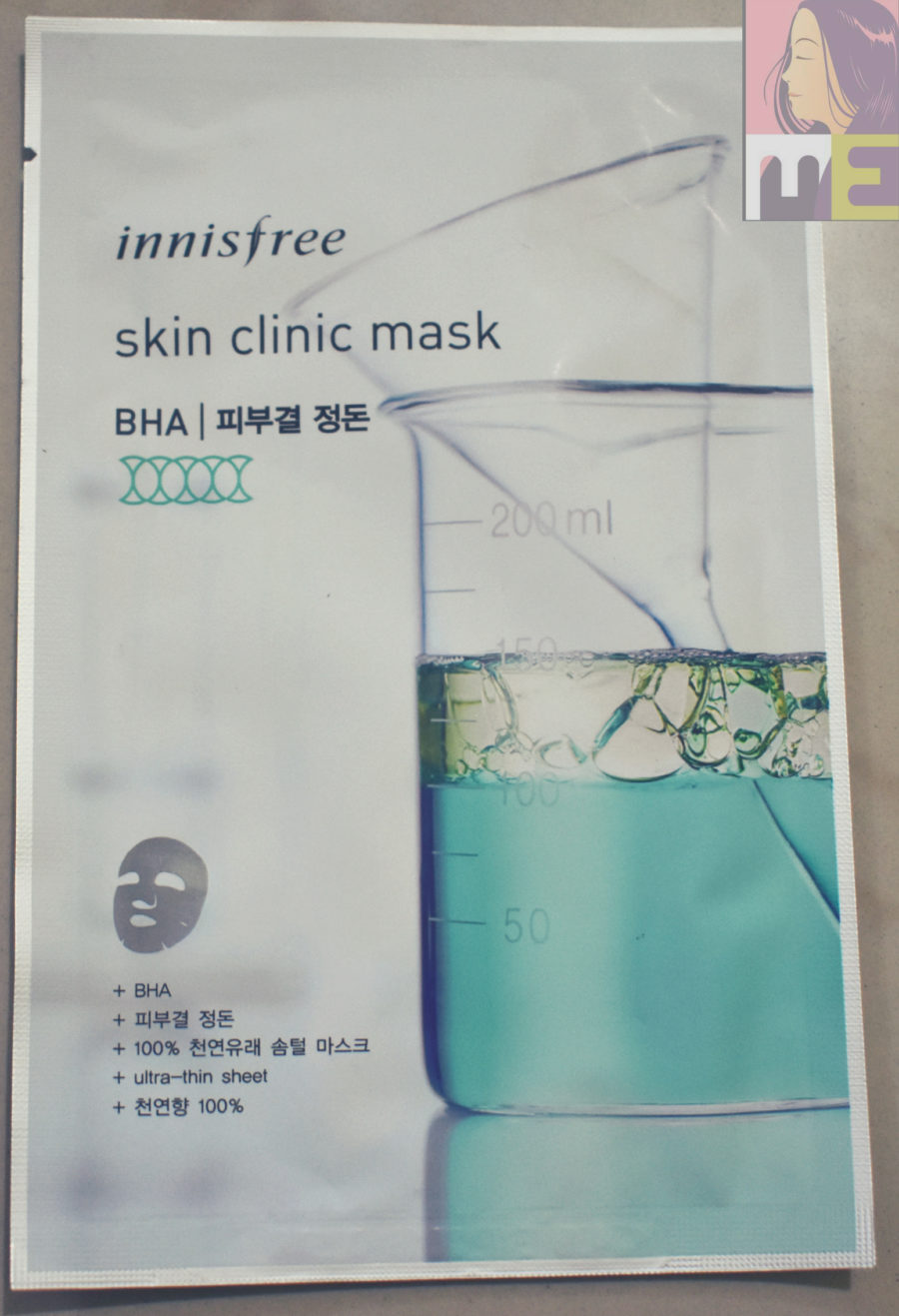 BHA is excellent for exfoliation. With my infection so severe, I thought it was a bit crucial to exfoliate my skin and choosing a chemical one over a physical one would be a blessing to my irritated skin. Why exfoliation? Because clogged pores are the culprit for chicken bumps and acne and one can actually battle acne and bumps by using a BHA which is also known for melting away blackheads.
Sometimes you can notice new acne popping up right after using a BHA, that is because the BHA brings out any infection that is hiding deep inside the pore, waiting to pop up when it wishes to. Exactly the same way, it also brings out sebum from deep within the pore and thus helps unclog the pores.
By now you can guess why I chose a BHA mask while fighting my irritated skin.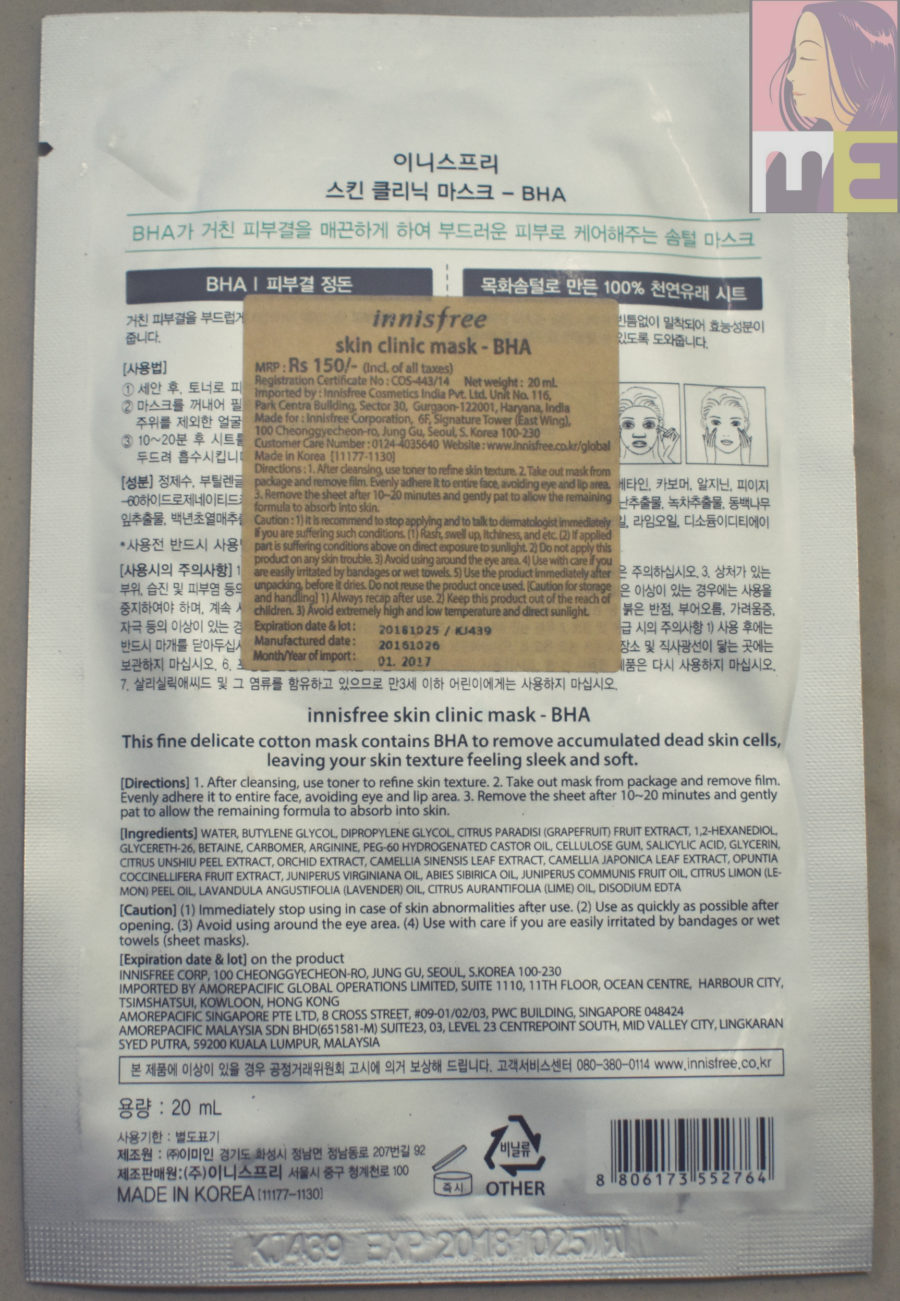 What it is
It contains BHA which cares for rough skin to keep the skin smooth.2. This 100% natural cotton sheet is made from soft cotton hairs around the cotton wool.3. It is transparent and thin and has good adherence on the skin, which allows for its good substances to be more effective delivered into the skin.
How to use
After cleansing, use toner to refine skin texture.
2. Take out mask from package and remove film. Evenly adhere it to entire face, avoiding eye and lip area.
3. Remove the sheet after 10~20 minutes and gently pat to allow the remaining formula to absorb into skin.
Ingredients:
Water, Butylene Glycol, Dipropylene Glycol, Citrus Paradisi (Grapefruit) Fruit Extract, 1,2-Hexanediol, Glycereth-26, Betaine, Carbomer, Arginine, PEG-60 Hydrogenated Castor Oil, Cellulose Gum, Salicylic Acid, Glycerin, Citrus Unshiu Peel Extract, Orchid Extract, Camellia Sinensis Leaf Extract, Camellia Japonica Leaf Extract, Opuntia Coccinellifera Fruit Extract, Juniperus Virginiana Oil, Abies Sibirica Oil, Juniperus communis Fruit Oil, Citrus Limon (Lemon) Peel Oil, Lavandula Angustifolia (Lavender) Oil, Citrus Aurantifolia (Lime) Oil, Disodium EDTA
My Experience:
The mask came attached to a film like the other masks from the Skin Clinic range. I pulled out the mask and applied it carefully. The fitting was good and the smell was different which I can't exactly explain. It kept it on my face for about 30 minutes and it was kindda dry by that time, not completely dry but almost dry. I did not notice any immediate effects but next morning I noticed that my bumps looked smaller and the redness was gone. By this time I had sheet masked 3 days in a row so I had a pretty brightened skin and if the irritated parts are overlooked, my skin actually looks great by this time (till now). I had a new pimple on my cheeks (not bumps but real pimple) the next morning and I'm guessing that the BHA has pushed out some bacteria. Unlike the other products that has worked, this time the bumps did not grow back by the evening, neither the redness. They did not come back at all, so much so that I visited the derma with some pretty controlled bumps and was worrying that he won't take my irritation seriously as they look much controlled now.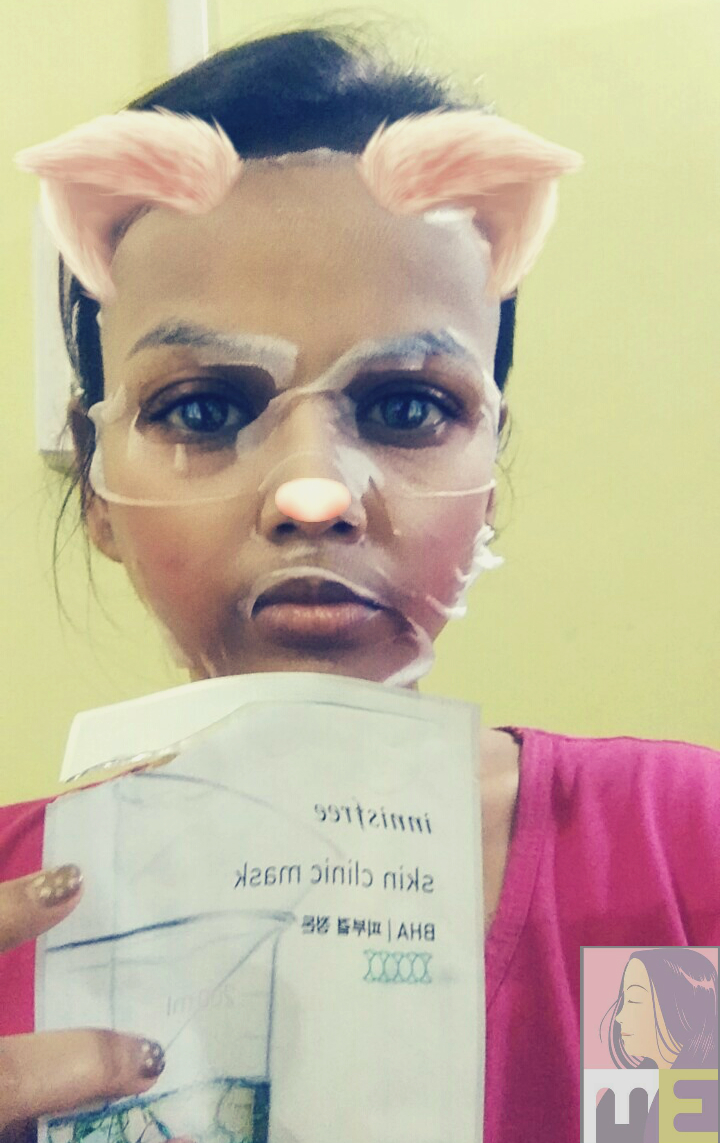 The next day it was the Klairs Soothing Sheet Mask, and I should be thanking either one of the two, or maybe both for the controlled bumps.
Overall, I am pretty satisfied with the sheet mask and might occasionally repurchase.
MRP: 150rs
Pros:
Does everything it claims
Controls chicken bumps (and maybe acne)
Cons:
Nothing
Where to buy:
P.S: I'm aware that the post looks haphazard, it reflects my skin condition.