After hearing and reading so many ravings about the Klairs Rich Moist Soothing Sheet Mask, I finally got my hands on it, all thanks to Daisy Skin Fix who introduced a series of Korean Skincare brands in India that was previously not available in our country. Dear Klairs happens to be a K-Beauty brand dedicated especially to sensitive skin beauties. While most of their products claim soothing and calming effect, they also leave out potential acne triggers, irritants and preservative that average brands use. Also thanks to Daisy Skin Fix who provided me with a ton of free samples from Dear Klairs with my purchase, now I know that the products are true to their claims. They have been a great help to my hyper sensitive skin that was severely irritated when I used them.
So back to the Klairs Rich Moist Soothing Sheet Mask Review, it was the fourth day of my series of 'calming down irritated skin' series and the last one before I visited the derma.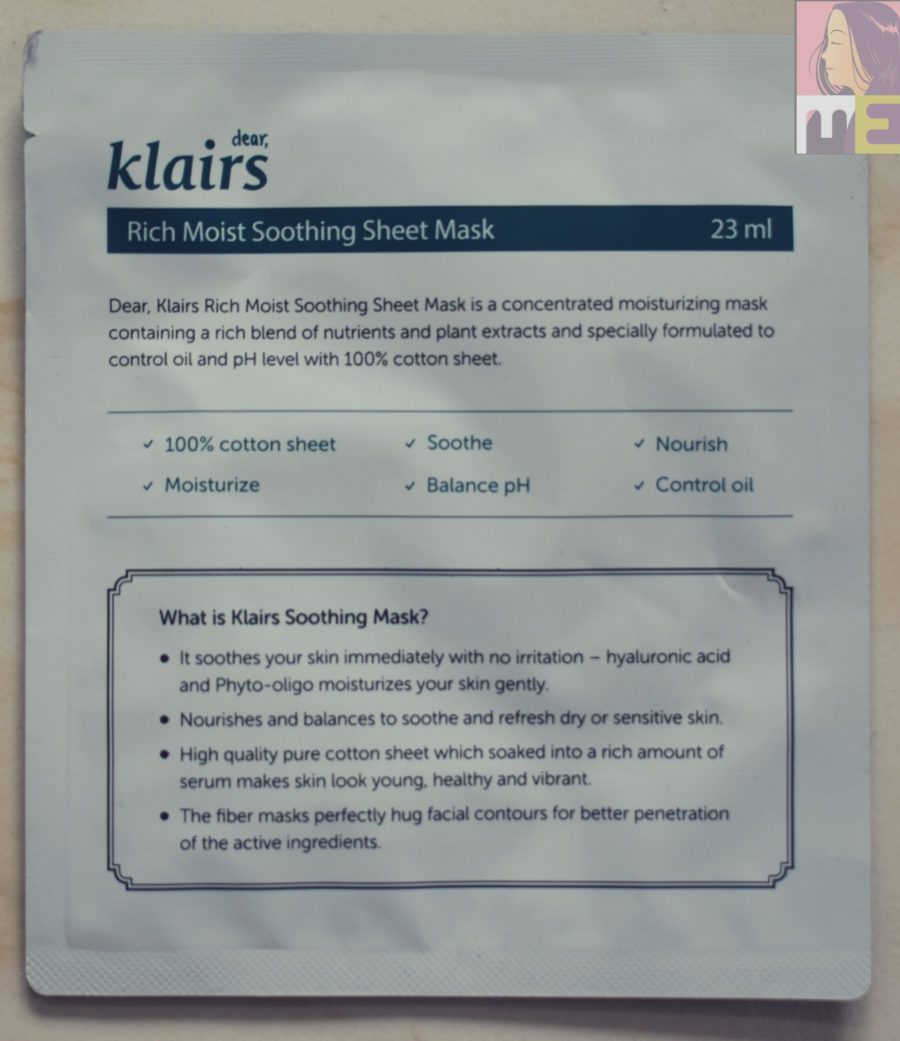 What is it:
1) Special formulated moisturizing face mask for intensive hydration
100% pure organic cotton to minimize irritation and upgrade adherence. Directly delivers soothing essence to your skin. With main ingredient hyaluronic acid, you can see the long lasting and trouble soothing effect.
2) No stickiness, Refreshing texture
Without any stickiness, the moisturizing face mask finishes of with refreshing texture. Abundant rich ingredients will be delivered to your skin after 15~20 minutes. Different from any other moisturizing face mask, even the most sensitive to troubled skin can use it without worrying about worsening problematic matter.
3) Eco-friendly Product
The truthful brand, Klairs is eco-friendly cosmetics. Against animal testing, no alcohol, no paraben, no artificial coloring. Low irritation to the skin with safe and great ingredients, especially safe cosmetics for sensitive or trouble type skin.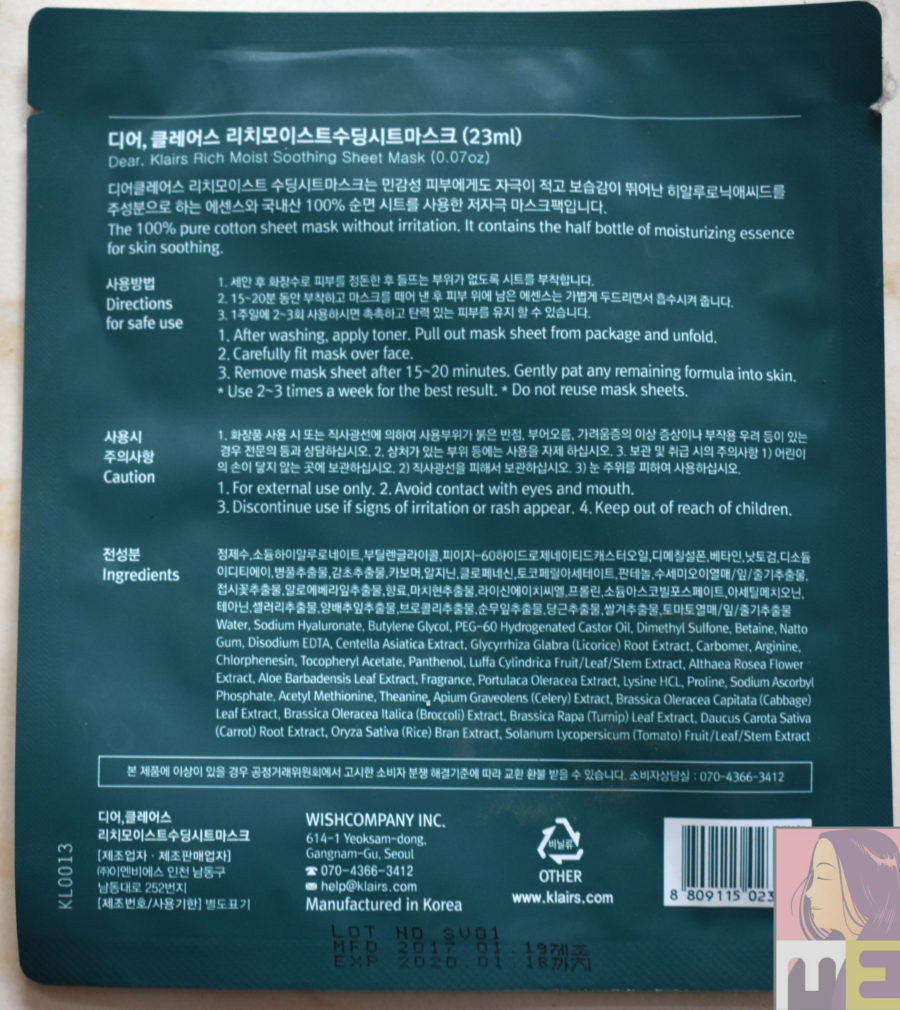 How to use:
1) After washing, apply the toner.
2) Pull out mask sheet from the package and unfold it.
3) Carefully fit the mask over your face.
4) Remove mask sheet after 15~20 minutes.
5) Gently pat down any remaining leftover residue into your skin.
*In summer or hot weather, please put Klairs mask in the fridge for 3~5 mins before you use it.
Then it quickly helps your face soothe some troubles such as a sunburn and skin troubles.
Claims:
89% customers who purchased Klairs rich moist soothing mask repurchase it afterwards.
Klairs rich moist soothing mask is made 100% Pure cotton. It also contains half bottle of
Rich Moisturizing Essence. If you use it, it would be like applying half bottle of Rich moisturizing essence on your face. In addition, as you might know, the essence is absorbed better and faster than hands if you use Klairs rich moist soothing mask sheet.
My Experience:
The ingredient list was more than enough to impress me. The CosDNA analysis came up pretty clean, like the cleanest any of my analysis has ever been, just 1 acne trigger and 1 irritant. It leaves out a lot of irritants widely used in regular brands, especially alcohol. Darn! It will be really hard to go back to brands like Innisfree and The Face Shop (their basic ranges that contains alcohol).
I kept my sheet mask in the fridge for a while before using it on my face and I was glad that I did. The mask was a bit wide than usual sheet masks but it didn't bother me that much. There were half cut eye areas like the Benton Snail Bee Sheet Mask which you can keep down or you can cover your eyes and chill. The sheet was a bit thicker than regular sheet mask and it felt cosier. Now I often keep my sheet masks in the fridge before using it, but this time, the chilling sensation was next level. I could literally feel my angry skin cells calm down. I have never enjoyed sheet masking this much before.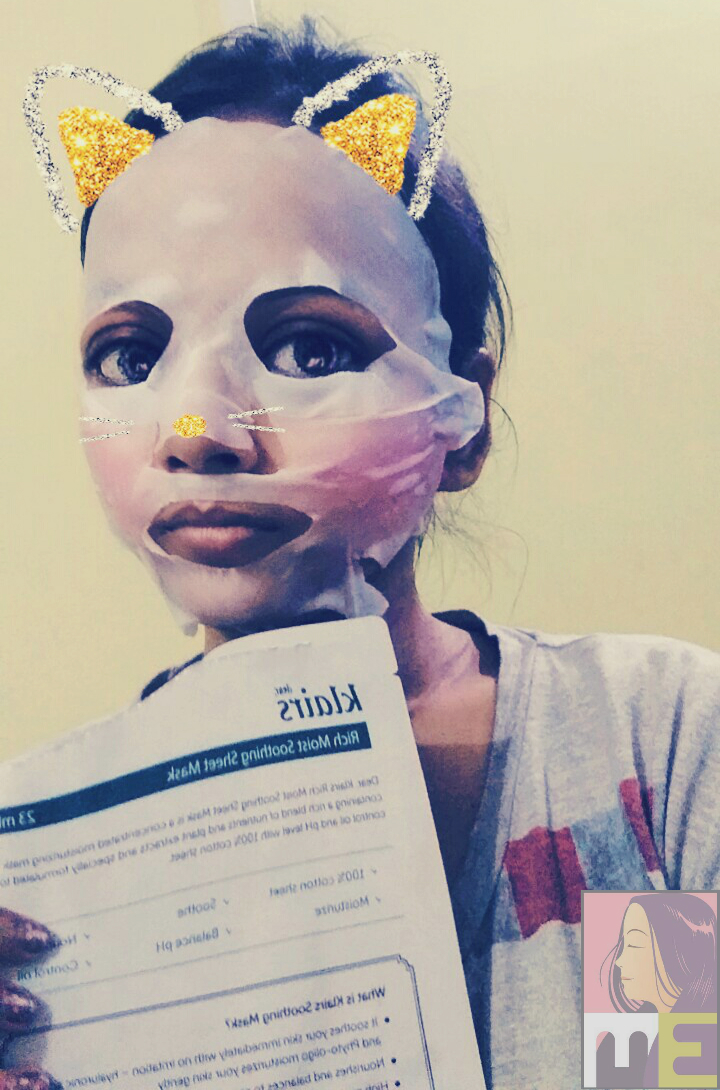 I took it off after 30 minutes and my skin was immensely hydrated. The redness had disappeared and by the next morning my skin looked brightened and the bumps looked smaller. The hydration and brightness lingered for another 2-3 days to my immense joy and I could only celebrate finding out my Holy Grail sheet mask.
Pros:
No paraben, no alcohol, no artificial colour
A clean ingredient list
Against animal cruelty
Eco Friendly
Budget Friendly
Cons:
None
Price:
MRP 135Rs, $1.99
Where to buy:
Daisy Skin Fix (India) and they have free shipping on all order and they load you with free samples
Wishtrend, Sokoglam (Worldwide)
Rating:
5/5