As promised, I am back with my current pm winter skincare routine today. The pm skincare is a bit more intense than the am. However, not every step is required to be followed every single day. So because it's going to be a long one, let's not waste anymore of our precious time babbling.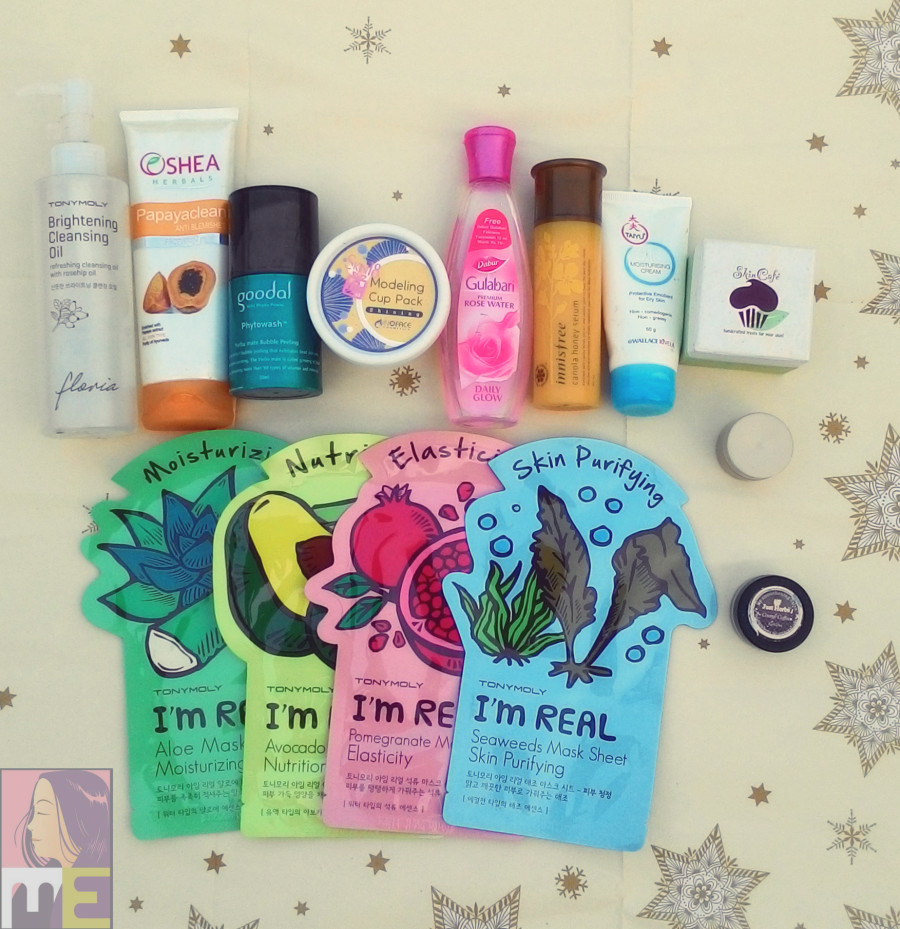 Cleansing Oil: The first thing I do upon reaching home is to remove my makeup using a cleansing oil. I take a few drops and massage it all over my face. The makeup, dirt and sebum breaks down and I wash it off using water. The current cleansing oil that am using (Tonymoly Brightening Oil), takes a white liquidy form upon contact with water. I use the oil even when I stay at home whole day as the cleansing oil follows the 'oil breaks oil' formula and help get rid of the excess oil and sebum.
While travelling I use http://beautifullyme.in/index.php/2016/10/12/duft-refreshing-aloe-vera-cucumber-and-rejuvenating-aqua-facial-wet-wipes-review/
Cleansing Foam: The first step from my am routine. I talked about it tomorrow.
Exfoliation: I exfoliate once a week using a Chemical Peeling Exfoliator. To get a beautiful healthy skin, it's very important to remove the dead cells; otherwise no amount of slathered moisturizer is going to work. That being said, stay away from 'scurbs' with huge granules. And if you have some left in the cabinet, especially the apricot ones, use it on your body or feet but keep it away from you face. Also, don't over exfoliate. It will only increase the melanin secretion making you look dark.
Currently I am using Goodal Phytowash.
Lip Scrub: Our lips crave some extra attention during winter. The best way to get rid of chapped lips is to first get rid of the dry lip cells and then slather some lip balm. Once a week or twice a month is enough. Currently using the Lemon Meringue Pie from Skincafe. 
Face Pack: Again a once a week commitment. My favourite one is a mix of Besan and Tomato Juice, works like magic. Currently I am testing the rubber mask fuss from Korea, but I am not a big fan yet.
Toning: The intense cleansing process has taken out all the dirt and sebum from deep within your pores. Now it's time to close them up. I try to slather my toner within 30 seconds after washing my face. I've also talked about this step in my previous post from the series.
Serum: I talked about this as well. If you have multiple issues, don't be afraid to make a serum cocktail with serums targeting different issues.
Sheet Mask: If you've been reading my post for a while now, you'll know that am crazy for sheet masks. I sheet mask twice a week. But as winter approaches, I try sheet masking every other day. I am currently using the Tonymoly range.

Night Cream: You have done enough, now finish it off with a night cream (there's still a tiny step left). I am currently using the Tayiu Silk Cream prescribed to my sister (who has an oily and acne prone skin) by her dermatologist. Once I crashed at her place but I forgot to carry my night cream so I borrowed hers and was amazed to see what it did to my super-sensitive combination skin. The following day I purchased one for myself and I've been hooked ever since.
Eye Cream: Again I talked about this yesterday. I use it as the very last step as my night cream doesn't get to mess with it if I do.
Lip Balm: No this super obvious step shouldn't be a point in itself. But recently I learnt something horrible that I wanna share with you guys. You see, I happen to be a proud owner of at least 7-8 lip balms scattered everywhere. Two at the dresser, one at my bed side, one at my computer table, one at my corner rack, and a lot in different handbags. You would see me re-applying within 15-20 minutes as my lips tend to get dry, and also because I am obsessed with my lip balms. However, recently I read an article that using lip balms frequently is an addiction itself. I realized that every line from the article was true, and I came to know that by using lip balms very often our lips tend to get even drier. Ever since then I decreased my lip balm application. I use them religiously after my am and pm skincare and apart from that I use them only if I feel that my lips are going to crack if I don't. And guess what? It's really helping.
So that's all. That's my whole night time routine. I will be back with my winter body care hopefully tomorrow. Till then Bye.
<3