In winter, our skin requires special attention, just like the new baby of the family. The effort you put to get a healthy skin and hair multiplies. But even after all those cares, sometimes we still get hit by that chilly weather in the form of flaky skin, dry cuticles, cracked heals and the list goes one. Last year I put down a huge list of products in a single post that I throw on my body from head to toe which looked so intensive that some people feared to try it out. But trust me; it doesn't take as much effort as it looks. When you describe it, it seems tremendous, but when you actually make it a habit, you'll realize that it takes hardly 5-10 minutes.
So, I'll do a series of posts from winter skincare to winter hair care and to simplify it even more, I will feature only one product that I am using exactly now (the past couple of days) even if it's a tiny sample I received with my beauty bags. However, if the product that I am using is not easily available in India, I will try to post an alternative.
Here we go. The first post from the series is going to be am skincare which is super simple. I guess the simplest of all.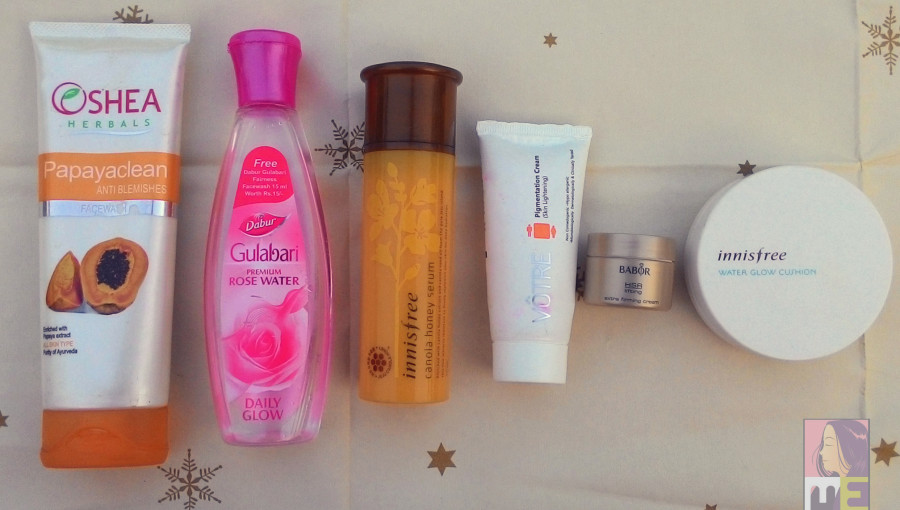 Cleansing: I don't double cleanse in the morning because I go through an extensive routine every single night without fail. And you won't EVER catch me taking out traces of dirt/sebum using a toner, as I feel that if your toner is taking out dirt then you are not doing it right. So I am a late waker and I stay up all night righting my posts (it's 1.34 am and I just started). I wake up, check my e-mails and messages, have my breakfast, spend some more time on e-mails and Instagram and while showering I was my face with a mild face wash
Currently I am using Oshea Papayaclean Anti-Blemish face wash which I received for review purpose and which took a permanent place in my regimen, because it is just A-M-A-Z-I-N-G. I stashed away my Skinfood Egg White Porefoam for an infinite period of time because it has a high pH level. A big NO for winters.
Toning: Toners containing alcohol are the worst. They will dry out your skin even during summer, so stay as far from them as possible.
My favourite form of toner is of course Rose Water. My favourite one happens to be the one from Kama Ayurveda, but I ran out of it, so I am doing justice to my already owned Dabur Gulabari (that contains loads of paraben) for the time being as I am broke.
Serum: This is a very important step. You can never imagine what those liquidy miracles can do. They give the skin an immense boost of radiation while hydrating it at the same time. If your skin tends to dry out even after moisturizing, try using a serum before and you'll thank me.
The Canola Honey Serum from Innisfree is excellent for winters. Delhiets, I envy you! Also, I am much loving the Kaya Brightening serum I received with my Fab Bag. My skin has never been so radiant. I would have purchased the full-sized product if I wasn't a clumsy person, or if it came in something other than a glass bottle.
Moisturizer: Here comes the regret part. I have been using the Votre Pigmentation Cream until today. It isn't an ideal choice for winter (not even for summer, it gets greasy) but I was using it anyway as I ran out of my Aroma Magic Day Cream and I was waiting for my Just Herbs order to show up, which it did, just as I was done clicking the pictures and had just put everything back where they belongs. But yepiie! I am gonna use it starting tomorrow and I have such high expectations.
Eye Cream: Every woman should be using an eye cream once they are 25, because it's better to take precaution before the damage is already done. But sadly in my case I started suffering from puffy eyes (and dark circles) since my 12th I guess it's hereditary as no amount of eye cream seems to work.
So while I am still awaiting my Eye Cream to be delivered all the way from Korea, I am using the Babor Firming Cream as an eye cream and I must say that even if the puffiness is still there, the dark circles have gone and my under eye area looks healthy.
Sunscreen: The last and a very important step. You must have heard that even though the sun is not shining bright, the UV ray is still as harmful as it's in the summer and that you'll still tan even during the winter if you don't wear a sunscreen. I for one, get crazy tanned, sometimes even wearing layers of Day Cream containing SPF-Sunblock- Compact Powder containing SPF. My skin doesn't co-operate with chemical sunscreens so I always make sure that it's a sun block/physical sunscreen.
My current love is the Innisfree Waterglow Cushion. I even skip wearing foundation during the day time no matter how much makeup the event requires. Also I rarely tan using this cushion. If you cannot get your hands on one here's two much trusted Sun blocks tried and tested on my own (super-sensitive) skin: Chambor White UV Protector and Aroma Magic Sun Block Lotion.
So here's my whole AM skin (face) care routine which will be followed by a PM one which is a bit intensive. The two more posts from the series will be Winter Body Care and Winter Hair Care. If you have something on your mind, do let me know in the comment section.
Till then bye…
Xoxo
P.S: My childhood best friend is getting married in about a week and I am making sure that my skin looks at its best (*touchwood) those few days. Not trying to steal the show or something, just hoping to look good that's all. So along with being a winter care post, these articles are somehow a 'How to Get a Festive Ready Skin' post in a manner. Hope you guys enjoyed it. <3