Hello everybody, today am going to review the Innisfree Seaweed Capsule Recipe pack. Now if you are not aware of the capsule recipe packs, they are tiny little packs from Innisfree that comes in two catagories- wash off masks and sleeping packs. Sometimes the capsule packs are the tinier versions of some full sized products (i.e- the Jeju Volcano capsule recipe Pack) and those works as great sample packs.
When I visited the Innisfree Store in Delhi exactly an year ago, I picked up three capsule recipe packs- a wash off one ( Jeju Volcano)and two Sleep Packs (Rice and Pomegranate)  . Back then, these capsule packs had no hard lids which made them really hard to save. While the brand says that they can be used 3 times, in reality they can be used 5-6 times. However, since I was travelling a lot back then, I couldn't save any of them past 3 usages. The wash off mask turned hard as rock while the sleeping packs became too thick to apply thus I ended up with a lot of wasted products. So when I did another haul online, I ordered one wash off mask and one sleeping pack and I was really excited to see the revamped look of the capsule packs. They have done a pretty good job with them, putting another hard lid over the foil-like lid, adding layers of instructions (the ones that sadly differs from the official website) making them a lot easier to save and making them my best buddies while travelling. You guys know how I love packing sample and trial sized products for tours right?
Getting back to the review…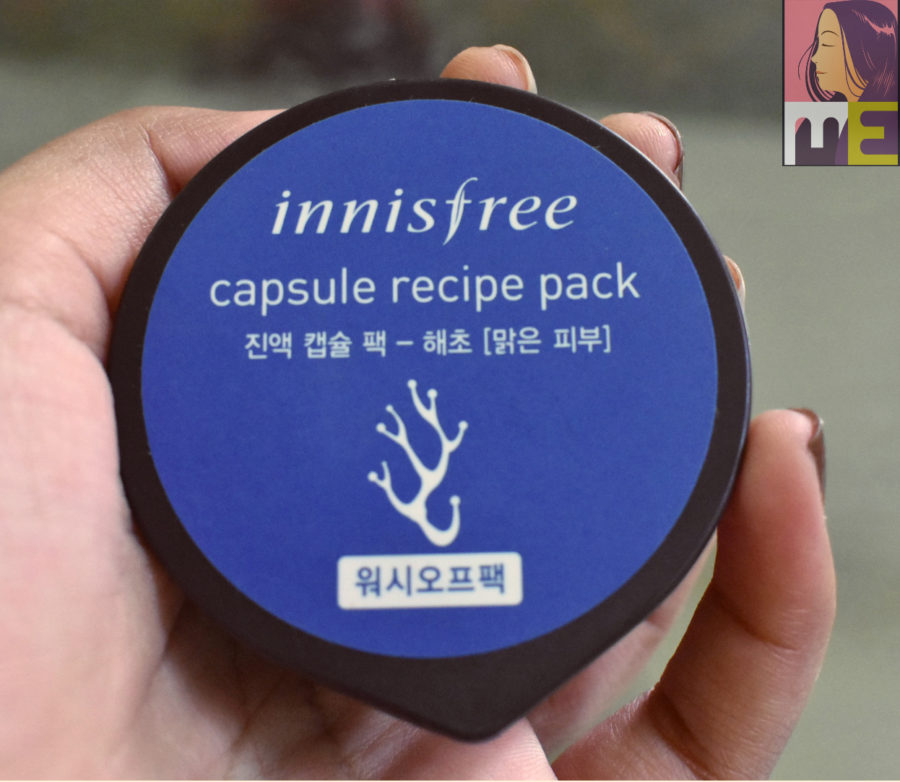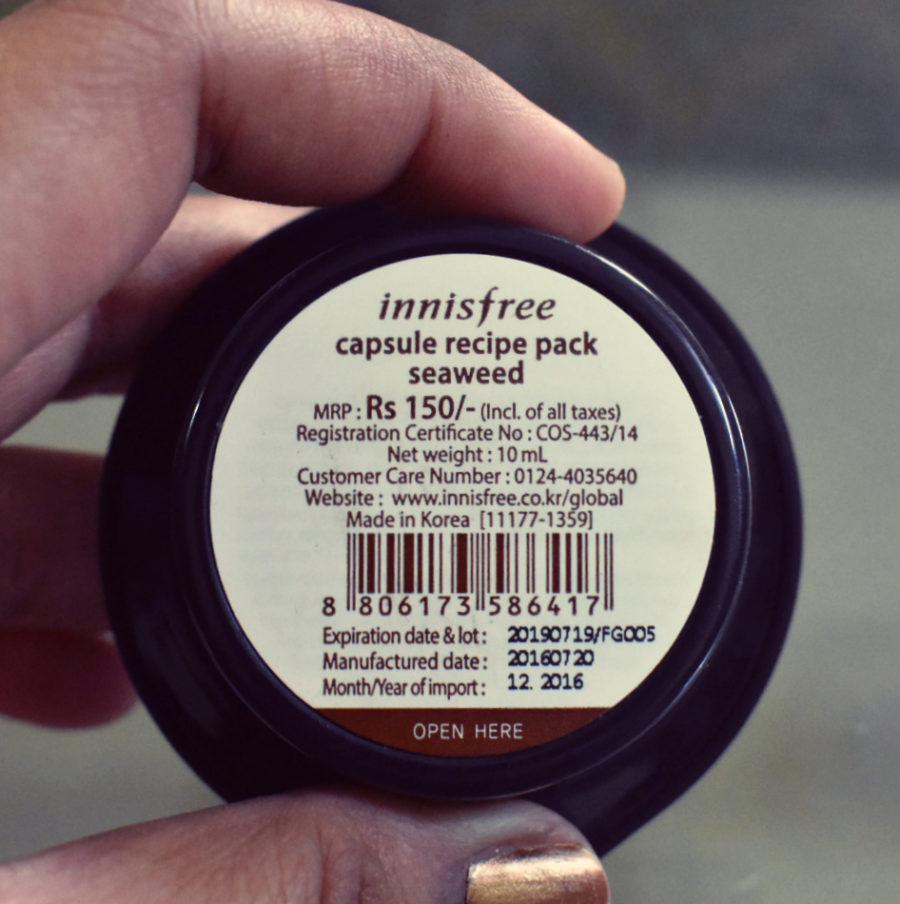 As I just mentioned, the instruction at the back differs from that of the official website.
The Official Website Says:
How to use
After washing your face, spread and massage the mask evenly on your face. Rinse off the mask with lukewarm water after 10-15 minutes. Massaging will relieve your facial muscles for more comfortable looks. Choose the capsule that best suits your skin.
2. Insert the lid into the slit of the container and close it to keep it fresh for your next use.
While you can clearly see that the instruction at the back of the pack has no mentions of massaging. And I don't think that the micro granules are going to work without the massaging, like really, the pack is meant to exfoliate.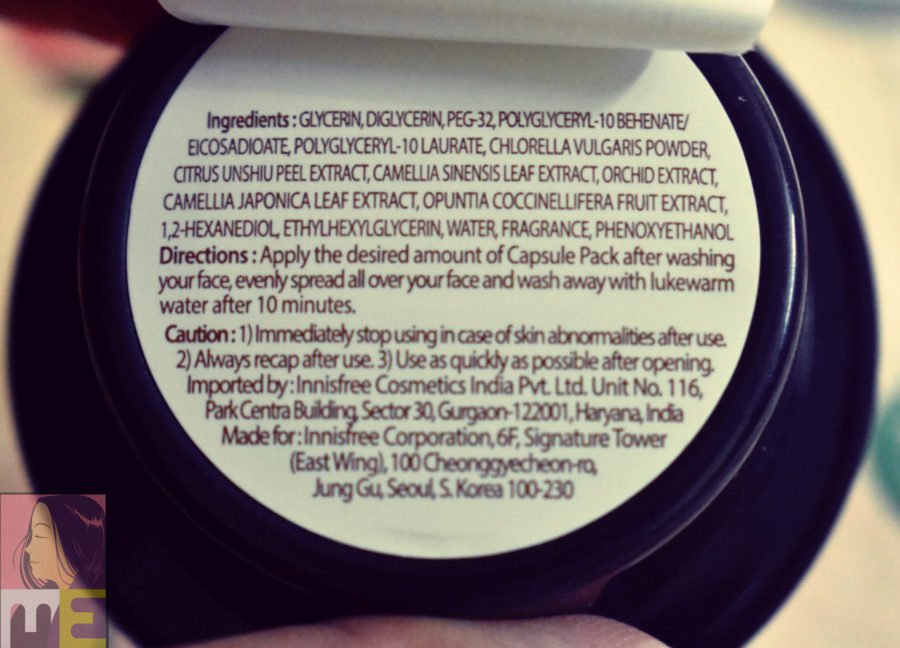 What it is
A capsule recipe pack containing seaweed to improve your complexion
1. Heat your skin naturally with seaweed!
2. Exfoliate dead skin cells for clean skin.
3. Enriched sizzling formation provides skin solutions.
4. A massage pack containing seaweed to heat and exfoliate your skin
Ingredients:
Just dab it on! Jeju seaweed with wrinkle- smoothing properties
The regenerative properties of ocean plants, rich in minerals and nutrients from Jeju island, promote skin vitality
and enhances its natural self-defense system for a powerful anti-aging effect.
 Price:
MRP 150/- Rs
My Experience: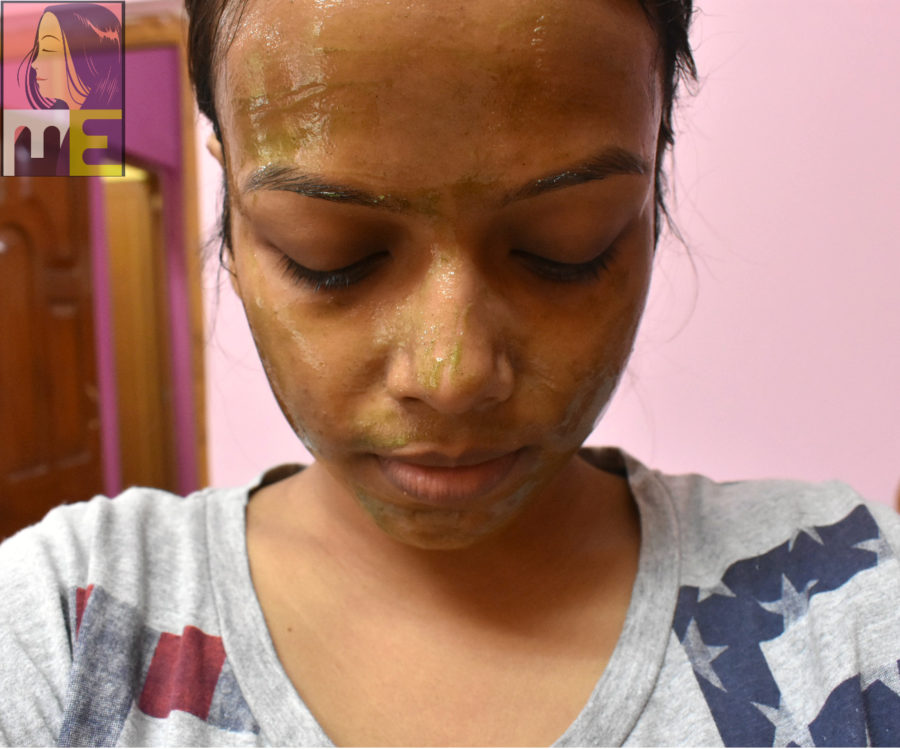 As you can see, the manual at the back of the product forgot to mention that the product is going to heat up while applying, so when I first applied the mask I was like 'Oh my goodness! This pack heats up while coming in contact with my skin'! I was ecstatic. I might have freaked out as well, but having being a Korean Skincare Junkie for over 2 years, I have seen (and used a lot). I have used gel exfoliator that bubbles up on the face while coming in contact with water, I have used oil that turns into a white liquid and washes off while coming in contact with water, I have seen Korean Skincare products do miracle, so quite obviously I didn't freak out. I felt the pack pleasantly heating up, more like warming up on my skin. But since the instruction failed to mention the massaging part, I didn't. I used it as a regular pack, massaging only a little right before washing it off just like I do with any other wash off masks.
The initial effect was refreshing, like too refreshing. My skin felt squeaky clean and fresh. But there was no brightening effect and the product didn't claim any.
According to the official website, it has got anti-aging properties. I am 27 with no aging signs *touchwood, so I really can't tell how well it worked according to the claims. But even then, I like including anti-aging products in my regimen every once in a while and really planning on incorporating some for the long run since I believe in taking precaution before the damage is already done.
Final Verdict:
So far there's not a single Innisfree Product that didn't work on my skin. And I'm really impressed with the revamped look of the packs. You can easily save the products and carry them while travelling.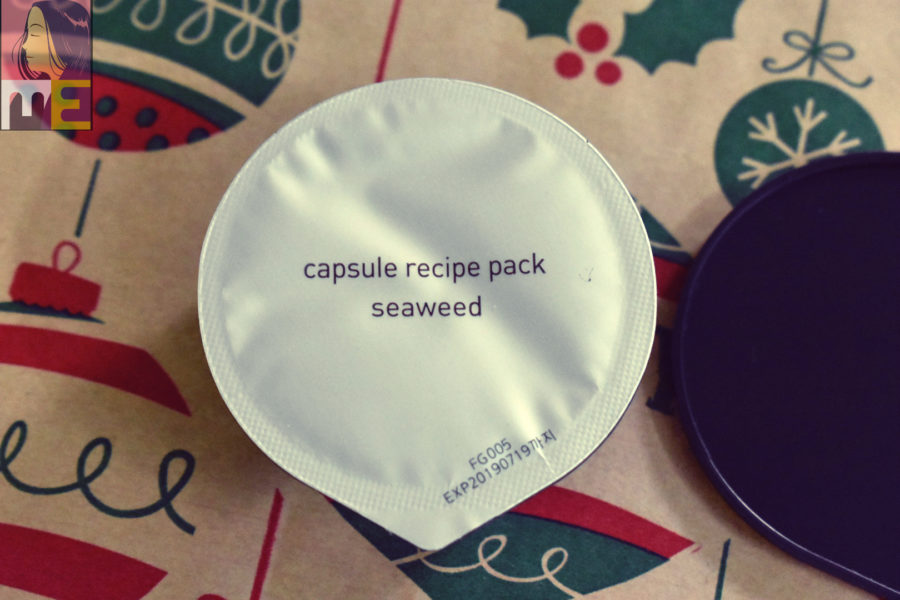 However the instructions are really misleading. Firstly because the mask has just one job – exfoliating (which it does really well since my skin got exfoliated even when I used it before reading the right instructions), and without proper massaging, the pack is quite useless. Secondly, over exfoliation is really bad for the skin, it can cause more melanin secretion resulting in a darker skin and can even damage the skin. So a person unaware that it is actually an exfoliation pack can use it a day after using another exfoliator, which actually happened to, I used it a day after using my Goodal Phytowash exfoliator and the dark skin lasted for a few days. So misleading instructions can really cause a lot of trouble, and I suppose it happened right here in India (I apologize if am wrong).
However, with proper instructions, this pack can make a hell one of an exfoliator and now that you have read the right instructions, I think you really should go for this one. The micro-fiber beads are excellent for exfoliation and I don't think they are capable of doing any damage that over exfoliation and bigger beads can do and I really liked the heating up experience. Plus, the pack smells yummy.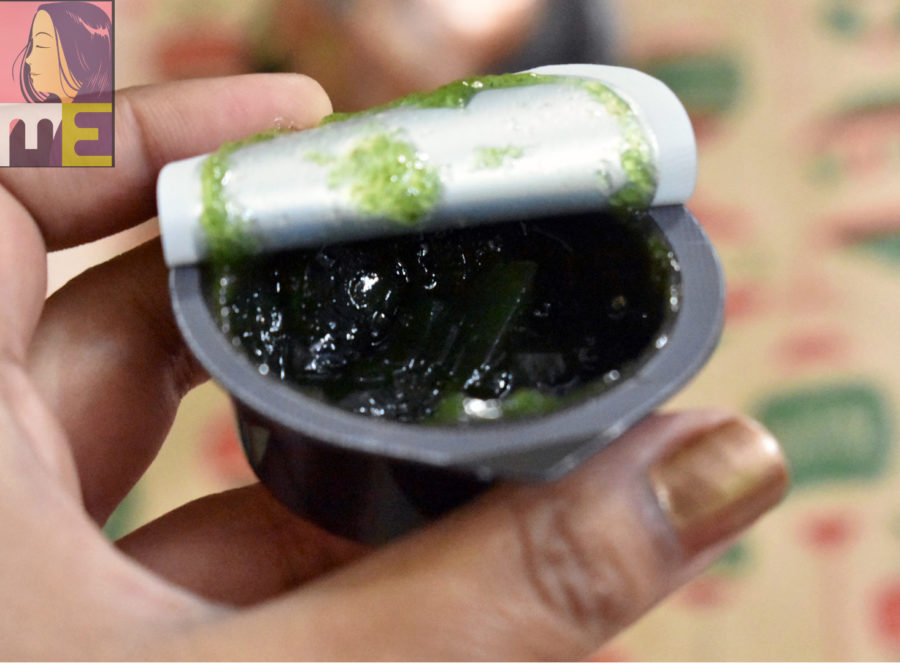 Pros:
Does what it claims
Pocket Friendly
The kind of product that I will pack while travelling
Can be used 5-6 times
Smells pleasant
Didn't break me out
Cons:
I don't think that Innisfree is at the fault for the misleading instruction. But overall it really is a con.
Where to buy:
Rating:
4.7/5
Skin Type of the Author- Combination and super sensitive