For a skincare addict, finding Holy Grail product means a lot. After converting into a K-Beauty addict, I've long struggled to find a good cleanser with a low pH. It's actually why I've always had at least 1 Indian face wash in my stash all the time. I've been reading ravings of Cosrx Low pH Good Morning Gel Cleanser and I've had my eyes on it for a long time.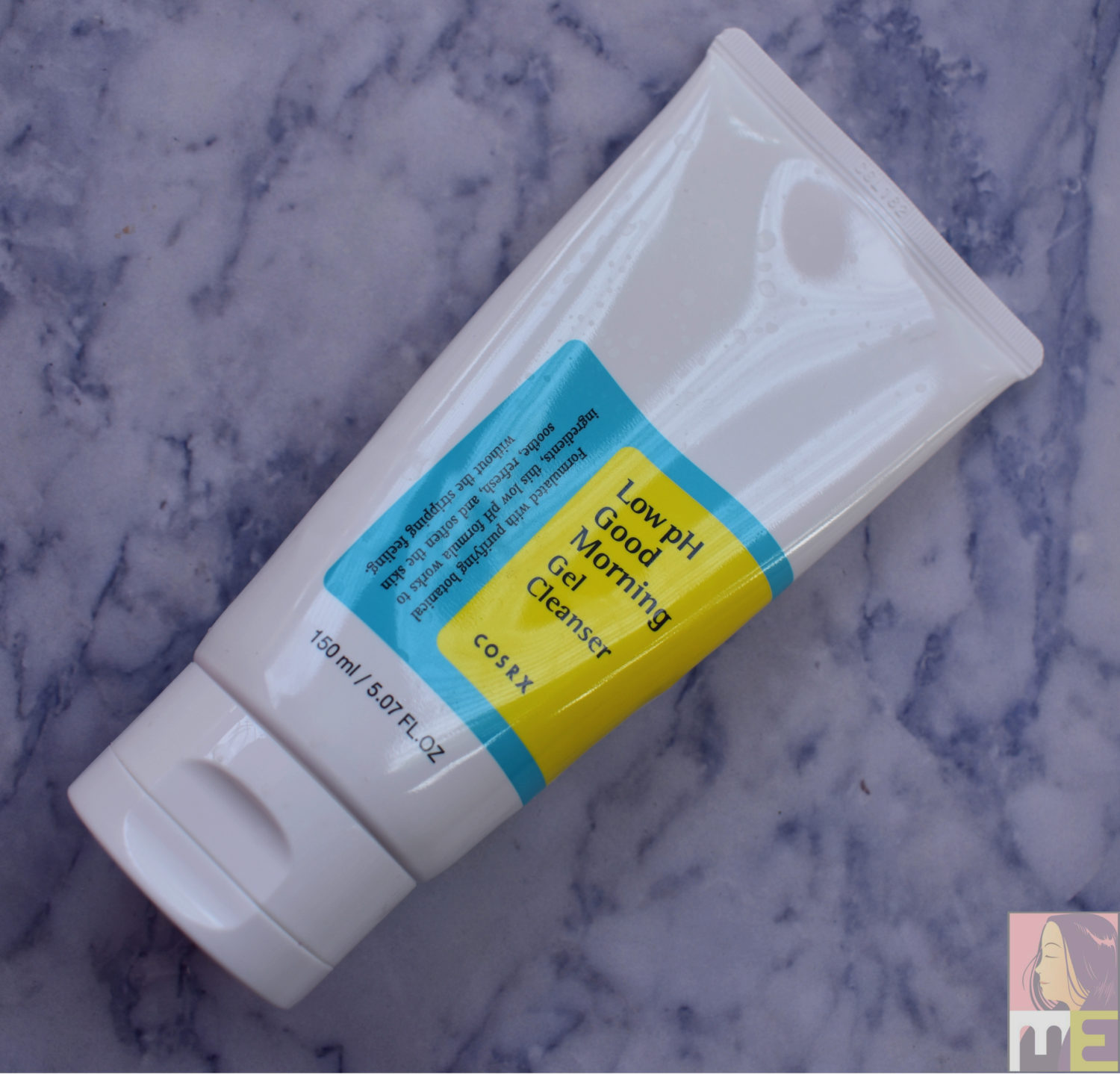 Recently I've been sent a generous package from a K-beauty Seller called Tuan Cosmetics and in that package was this beauty. Ah! I've so wanted to have this in my stash.
The product was actually a result of a crowd sourcing feedback and when many Cosrx fans claimed that the number 1 thing they look into a cleanser is if it's low pH, in a few months, Cosrx Low pH Goodmorning Gel Cleanser was introduced.
Description:
The Low pH Good Morning Gel Cleanser is designed with tea tree oil and other natural ingredients for a gentle but effective formula with a pH of 5.0-6.0. With the optimal pH for the skin, the Low pH Good Morning Gel Cleanser not only restores the optimal balance to reduce irritations, it deeply cleanses without you or your skin noticing !
By gently removing overnight build-up of sebum and dead skin cells, the Low pH Good Morning Gel Cleanser helps you get a refreshing start on your day without all the fuss. So say "Good morning, beautiful !" and start your day fresh with the Low pH Good Morning Gel Cleanser.
Ingredients: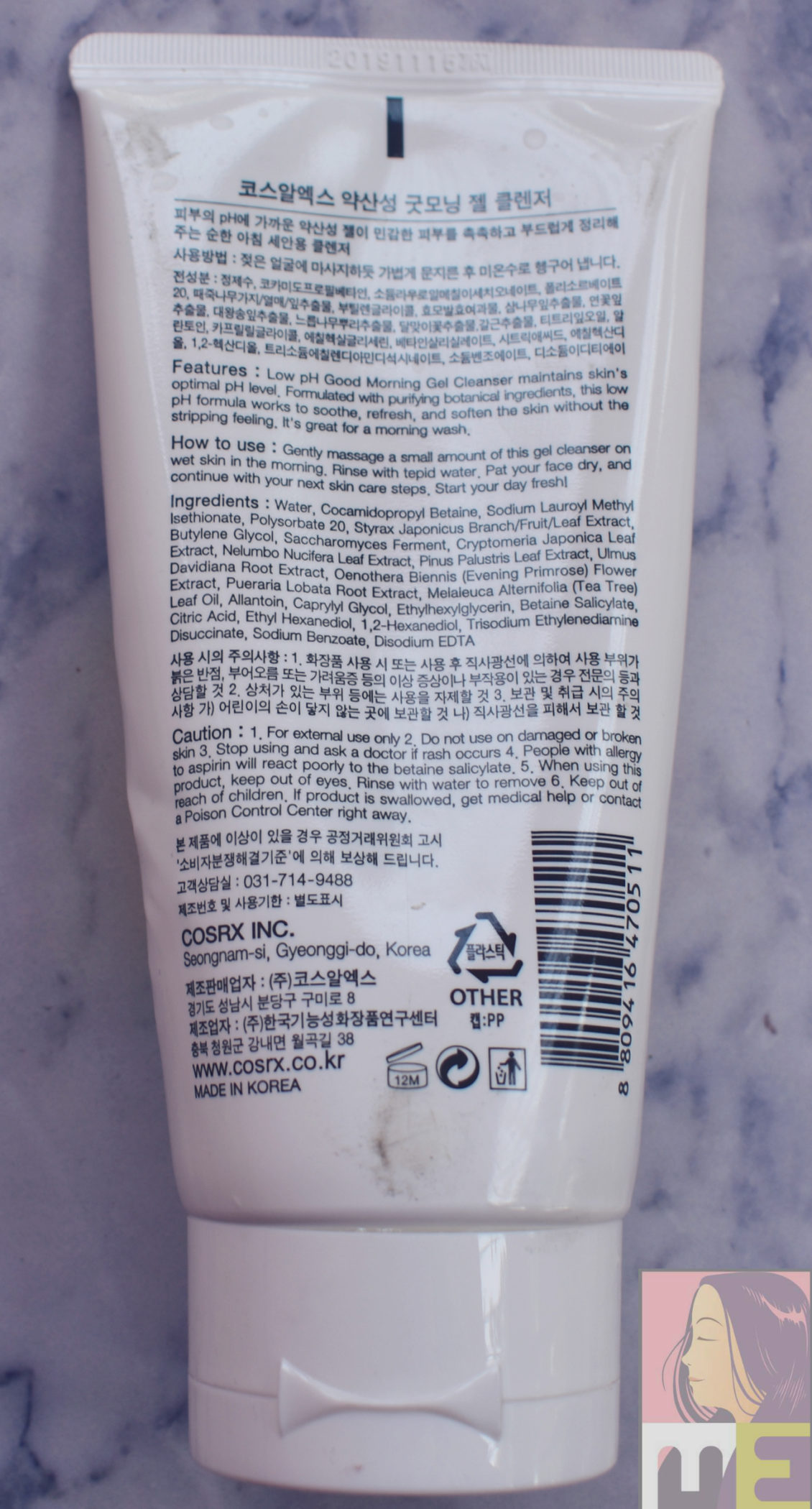 Water, Cocamidopropyl Betaine, Sodium Lauroyl Methyl Isethionate, Polysorbate 20, Styrax Japonicus Branch/Fruit/Leaf Extract, Butylene Glycol, Saccharomyces Ferment, Cryptomeria Japonica Leaf Extract, Nelumbo Nucifera Leaf Extract, Pinus Palustris Leaf Extract, Ulmus Davidiana Root Extract, Oenothera Biennis (Evening Primrose) Flower Extract, Pueraria Lobata Root Extract, Melaleuca Alternifolia (Tea Tree) Leaf Oil, Allantoin, Caprylyl Glycol, Ethylhexylglycerin, Betaine Salicylate, Citric Acid, Ethyl Hexanediol, 1,2-Hexanediol, Trisodium Ethylenediamine Disuccinate, Sodium Benzoate, Disodium EDTA.
Notable Ingredients:
Saccharomyces Ferment, a fermented yeast that is found in Missha First Treatment essence that is partly responsible for the brightening glow. I guess it's also responsible for the brightening glow that I've noticed after introducing this cleanser into my skincare ingredient.
The absence of SLS and SLES
Presence of Tea Tree Oil.
Ingredients:
There are two things that I look for into a cleanser, low pH and absence of sulphate, which is why I've long had my eyes on this baby. High pH cleansers can disturb the acid mantle of your skin, and I'll never understand why most Korean Cleansers contain a high pH level. Anyway, now that I have a low pH, sulphate free cleanser in my stash, I started using it right away. Will you believe me if I say I started noticing a brightening effect right after I introduced it into my regimen?
I always come back with a bad skin whenever I travel and I found it sitting in my living room when I came back home from a short trip. My skin was dull, dehydrated and flaky. I used it that very night and the next morning I followed Fiddy's pore shrinking method which usually leave my skin a bit dark for a couple of days. That's the thing with BHA, while AHA gives my skin a brightening effect, BHA makes it rather dark. However, even after using the BHA I noticed the brightening effect. The glass skin that I've been flaunting for some time now, I noticed the mirror effect 3-4 days after introducing this cleanser into my routine, apart from that I had been following pretty much the same routine and sheet masking more often.
Coming to the consistency, it has a thick, gel consistency and lathers up pretty well when massaged with water. Contrary to the name, the cleanser can be used both during A.M and P.M and even claims to work as a single cleanser. I love double cleansing my face when I'm wearing makeup but to test the claim I did use it as a single cleanser and sure as hell it did remove my last trace of makeup. So I guess people who have no time for double cleansing will love it.
Overall, it's my Holy Grail cleanser and I'll repeat purchase it and so will my sister. It's meant for all skin type but sensitive (like me) and acne prone(like my sister) beauties will be benefited the most.
Pros:
Low pH
Sulphate Free
Cheap (comparatively)
Suits all skin type
Removes makeup and leaves skin squeaky clean
Doesn't strip of the natural moisture of skin
Cons:
None
Where to buy:
Tuan Cosmetic, Rs 800
Rating:
5/5
Note: PR sample received but the opinions are completely honest.