Being a Blogger I read more articles online than I write. That being said if I write one article a day, I read at least 20 a day, not necessarily related to beauty and lifestyle but more than often I come across some well worth finds and one of those finds were the awesome pore shrinking method by Fiddy AKA Jude from Fifty Shades of Snail. According to her article, our pores don't open or close contrary to the popular myth and that the size of our pores is the size of our pores, sounds logical doesn't it? There's a lot that I've leant from Fiddy over the years so it was only logical that I tried her method of temporary pore shrinking.
I do not have massive, visible pores (*touchwood) but as you guys know I suffered a horrible skin infection this year, some of the bumps and acnes have left behind a few large pores that draws my attention whenever I look into the mirror. The method not only temporarily shrinks pores but also gets rid of blackheads and whiteheads at the same time, because the method literally gets out all the gunks from our pores, thus making the pores appear less visible. Also according to her article, using pore strips stretches our pores, resulting in larger pores and more blackheads, makes so much sense.
Anyway, here's how the process goes…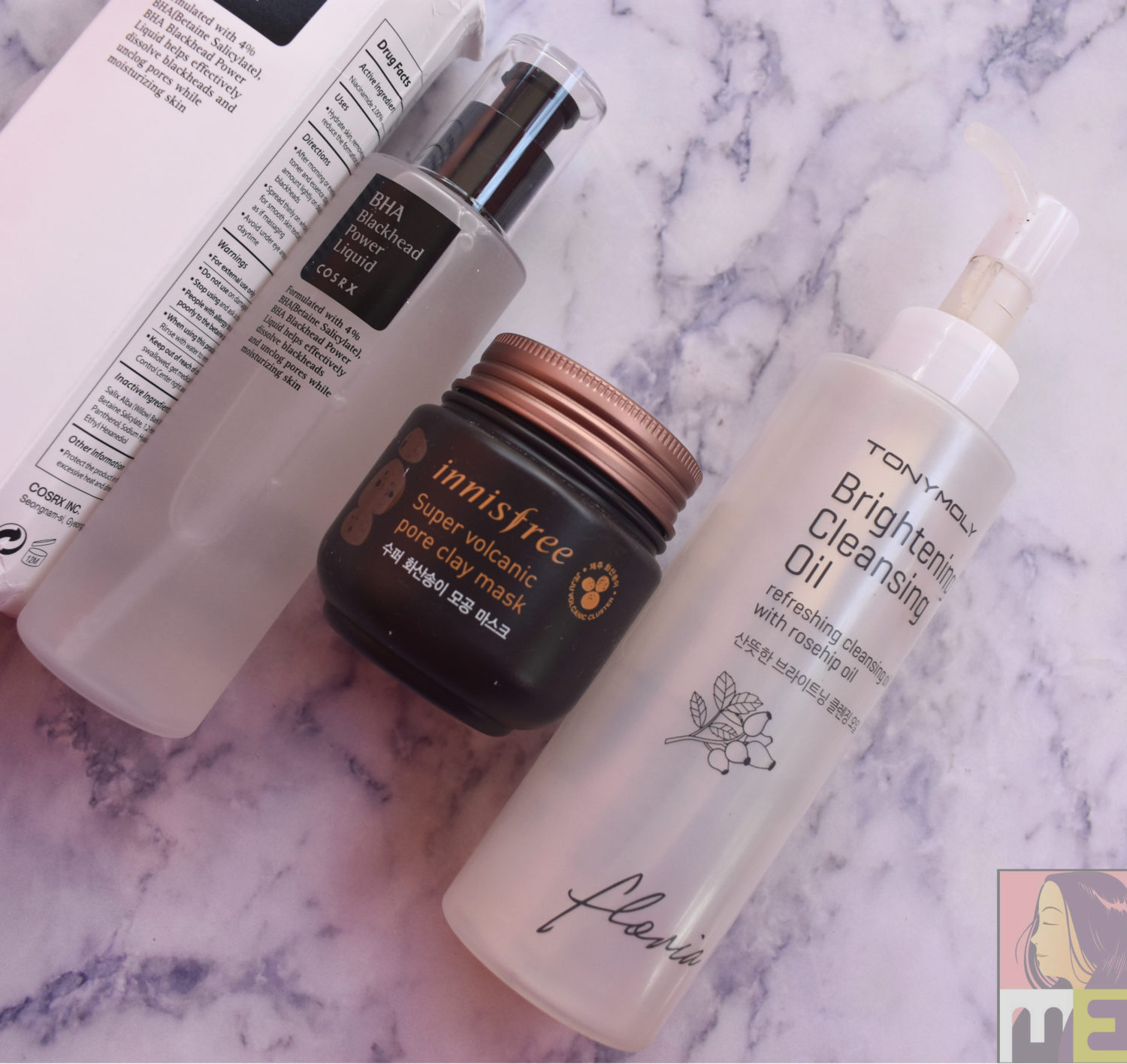 The first step is to apply a BHA and let it sit on your face for about 20-25 minutes. Chemical exfoliators are known for being way too effective than physical scrubs, they go deep within the pores and brings out the bacterias and impurities to the surface and are also known for being milder than scrubs. I'm currently using Cosrx BHA Power Liquid 4% that I got from Daisy Skin Fix and I'm loving it.
After letting the BHA work its magic for about 20-25 minutes, apply a clay mask without removing the BHA. For this step I use Innisfree Super Volcanic Pore Clay Mask that's one of my all time favourite wash off masks.
Wait for as long as it's recommended on the mask jar and wash it off with lukewarm or tepid water. Pat your skin dry.
Apply a cleansing oil on your towel dried face and wait for 15-20 minutes.
Massage really gently for 2 minutes and you'll feel tiny grits coming out of your pores which is immensely satisfying. At this point Fiddy pointed out that if you aren't feeling any grits, your pores probably didn't store that much gunk but your pores are still getting squeaky clean. As for me, yes, I do feel grits not too many but around 3-4 every time I follow this method. Massaging harshly or more than 5 minutes can permanently damage your skin which is irreversible. I'm currently using the Tonymoly Floria Brightening Cleansing Oil but I'm eying the Klairs Cleansing Oil once I'm left with an empty bottle.
Your pores are now clean and shrunk and you can go on with the rest of your routine. For me, the next steps are –toner, serum, sheetmask, moisturizer, eye cream and finally a sunblock if the sun is still up.
The result is absolutely amazing, my blackheads have disappeared and even though the larger pores haven't completely shrunk, they are at least tolerable. The texture of my skin has also improved noticeably and whoever I shared this method with has thanked me so far. Since your pores are bound to fill up with dirt, makeup and sebum over the time, following this method once a week can really help get rid of blackheads and pore problems. As this method is the only way I exfoliate my skin, I follow this method twice a week (the BHA can be used everyday once your skin adjusts to it).
Do let me know the results in the comment section below if you plan on trying it, I'm sure you'll love it.