What started as a pre-wedding skincare regimen and a little extra effort, resulted as the highly raved 'glass skin' or 'mirror skin' that's the latest Korean Skincare trend. I've read articles on various sites about how tough it is to get glass skin and the dedication it takes, and I thought 'some day…'.  Maybe my dedication is following the 10 Step Korean Skincare Routine for the last 3 years, maybe my dedication is going through my steps even if I come home at 5 a.m in the morning, maybe my dedication is NEVER going to bed with makeup on.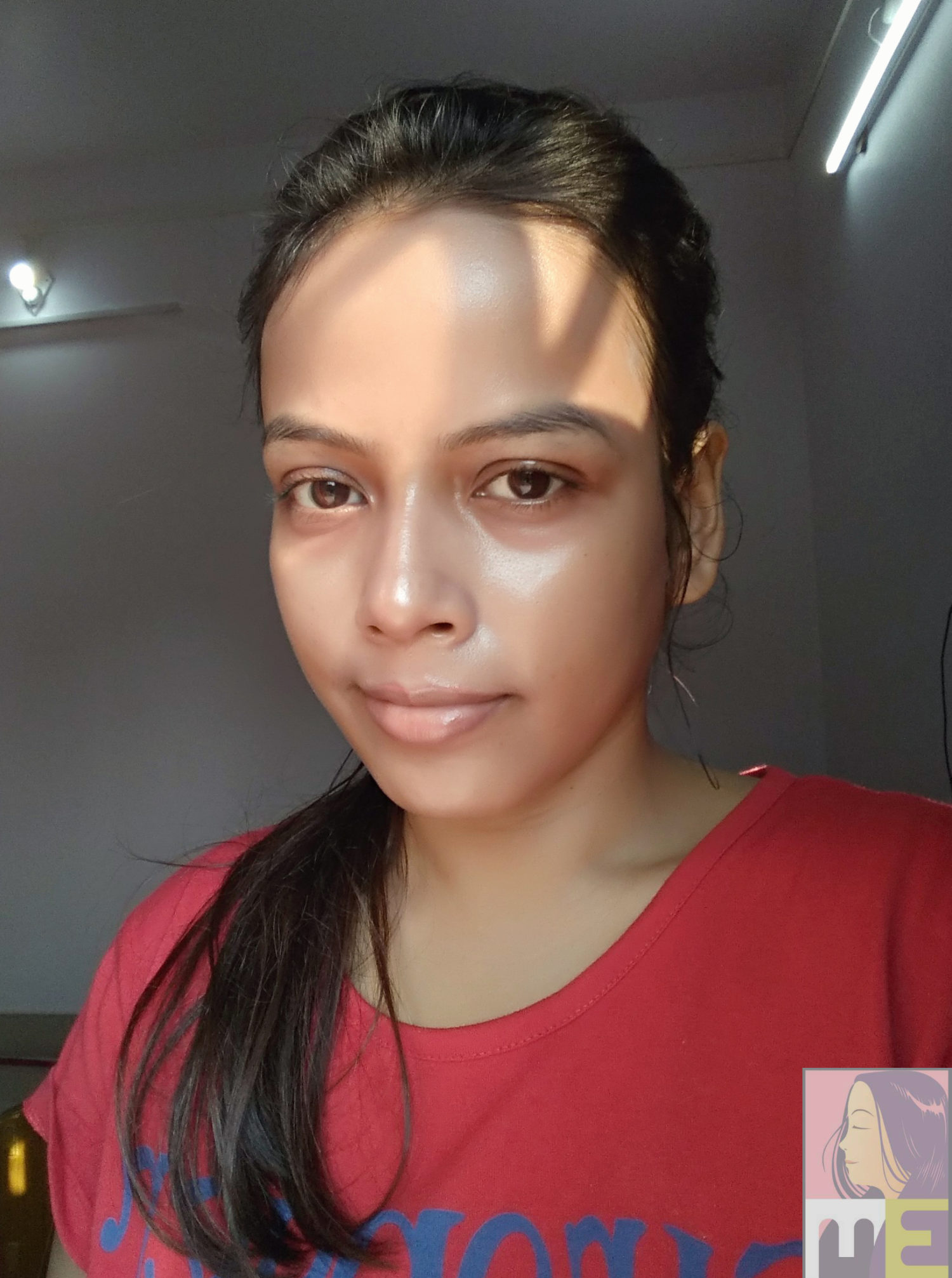 Just weeks before I first noticed my mirror effect, my skin wasn't at its best. I ran out of my serums and essences sometimes back and I had my eyes set on some particular essences that are OOS on the sites I get my products from. I didn't want to shell out my money on other serums while waiting for those specific products to be restocked so I just waited for them and decided to sheetmask every single day until my wedding. The temperature dropped and I started suffering from cold and sore throat. My sheetmask session paused for a couple of weeks and after that I took a short beach vacation for my pre-wedding shoot. I came back from the beach with a flaky, dry and dehydrated skin; my skin was at its worst and I had to up my skincare game.
When I came back home there were several mail box waiting for me, and one of them were a package from Tuan Cosmetic. They've sent me some sheet masks and the Cosrx Low pH Good Morning Cleansing Gel which I had my eyes on for a long time and which I guess has played a huge role in giving me my glass skin. I started using it straight from that night and I've noticed major change in my skin ever since.
The next day I followed Fiddy's Temporary Pore Shrinking method which goes like BHA-Oil Cleanser-Clay mask. My skin needed a deep exfoliation to get rid of the flaky skin and later I followed up with my moisturizer and sunscreen. Usually I go with some basic steps during the day and the pamper sessions are reserved for the evening but due to the temperature drop I've been using the wash off masks and sheet masks during the day and keeping a simple night time routine-cleansing-toning-moisturising-eye cream.
The next day I used a super hydrating sheetmask from Adaline that I received from Tuan Cosmetic and my skin condition came back to normal. Once there, I've been going with my usual routine and have been sheetmasking everyday unless I'm using a wash off mask. If it was summer I would have double masked during those days, but I just can't bear this temperature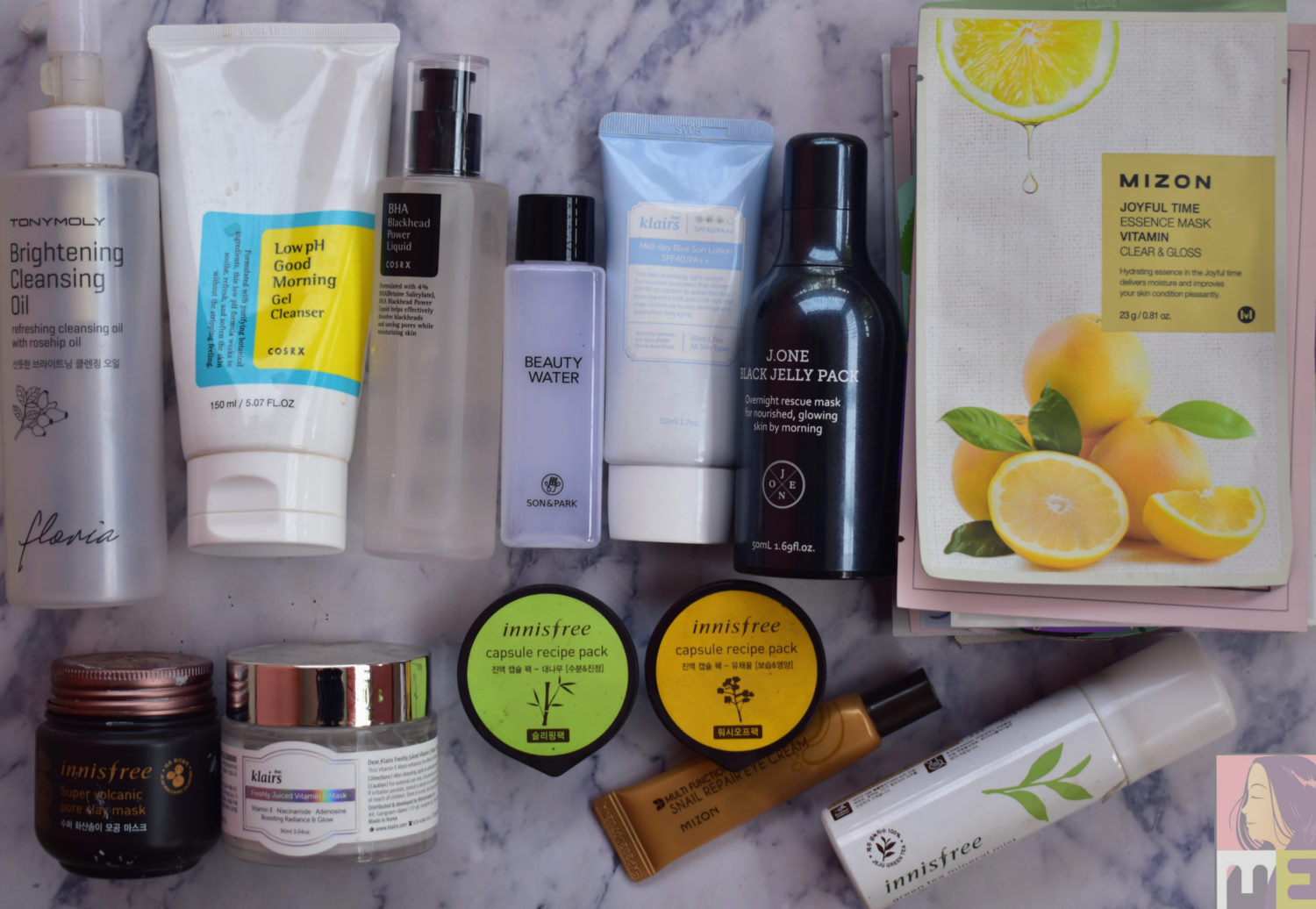 Tonymoly Floria Brightening Cleansing Oil: This is one of my favourite cleansing oil. However, I've been forgetting about it most evening as I've been staying indoors these days and not wearing makeup at all. I mainly use it when wearing makeup or after being outdoor or following Fiddy's pore shrinking method or when I just stay indoors but remember to use it.
Cosrx Good Morning Low pH Cleanser: Like I already said, I believe it made a noticeable change to my skin, my skin is more even and clear than it has ever been and all I changed about my routine is adding it and sheet masking more often.
Innisfree Super Volcanic Pore Clay: I use it twice a week while following Fiddy's method and I feel like it draws out all the impurities from deep within my skin. I'm also using the Innisfree Canola Honey Capsule Recipe on days when my skin needs extra hydration but I'm too cold to sheet mask.
Son & Park Beauty Water: I received it as a PR package from Coral-Beauty.com and I've been hooked ever since. I try avoiding toners that contain alcohol but this one has won my heart. A multi-tasker that I wouldn't mind repurchasing.
Cosrx BHA Power Liquid 4%: I'm glad that I turned to chemical exfoliater from the physical ones and I think everyone with sensitive skin and pigmentation should. I received this Cosrx Bha Power Liquid from Daisy Skin Fix and the spots that I was left with after suffering from a bad infection disappeared soon after I started using it. I also have been using Cosrx AHA Power Liquid (not pictured) alternatively and I've found that it comes with a plus benefit of brightening so it's a win.
Sheet Mask: I've been using too many sheetmasks lately and the ones that I've been raving these days are the Dear Packers Masks. I've got 10 of them when they launched in Nykaa and I've also got a bunch of Etude House and Goodal Sheet Masks from Skinnmore Apart from that I've got various sheetmasks stocked mainlyand I'm sharing my everyday sheetmasks on my Insta stories, so you can get more insight on my daily masking session there.
Moisturizer/Sleep Pack: For my day time routine I'm using the Klairs Freshly Juiced Vitamin E mask that I received from Wishtrend. Its super hydrating and perfect for winter. Also I'm focusing more on eco-friendly packaging these days and this comes in a re-usable glass jar which is why I'll recommend it even more. You get a super hydrating and even skin and our planet gets less waste. For my night time routine I'm using the J.One Black Jelly Pack which is also a PR that I received from J.One. I've received both the original jelly pack and the black jelly pack from them and while the original jelly pack has become my ultimate primer, the black jelly pack has done wonder to my skin in terms of firming. The black jelly pack can also be used as a sleep pack but I prefer a different sleep pack twice a week and I've been using the Innisfree Capsule Recipe Bamboo for a couple of weeks (from when I started noticing the mirror skin).
Eye Cream: I've got the Mizon Snail Repair Eye Cream sometimes back and I don't think it has done much to my genetic eyebags.
Klairs Mid Day Blue Sun Lotion: I'm using the Klairs Mid Day Blue Lotion that I've received from Beautybarn.in even when I'm indoors because I'm using Chemical Exfoliator twice a week. However, I've been going through my a.m routine post shower and most of the days I'm finishing my routine when it's already 3 in the afternoon. So I'm going about throughout the daytime without a sunscreen.
Innisfree Green Tea Mist: I haven't actually used a mist recently, at least not since I have been flaunting my glass skin, especially because I've been staying indoors. However, I'll be travelling from tomorrow and it will be in my purse throughout.
I'll probably post a 'pre-wedding skincare routine' and in case if I don't, just know that my pre-wedding regimen will be basically this just including Cosrx Galactomyces Whitening essence and maybe another essence or serum. I've received samples of the Galactomyces essence from Beauty Barn and it did wonder to my skin. It's OOS wherever I'm looking so I asked my sister to bring hers when she comes home for the wedding.
Speaking of which, almost all the products that I've mentioned are suitable for all skin types. Because my sister and I have got a lot of common favourites in our routine and we both have different skin type, hers is oily, acne prone and mine is normal, sensitive. Out of our common favourites are Cosrx Good Morning Low pH Cleanser, Innisfree Super Volcanic Pore Clay (even though she things it dries up too fast), Cosrx AHA Power Liquid 7% , Cosrx Galactomyces Whitening Essence and Klairs Mid Day Blue Lotion. So I hope this article was helpful and do let me know if you try out this routine.