Papa Recipe is a brand I've been wanting to try since a long time but I only got around using their sheetmasks very recently. Actually Tuan Cosmetics gave me their Bombee Honey Mask right before my wedding but it somehow got lost under my stash and I only found it while visiting my home this month, which was the day after I used the Ginseng Mask from the same range.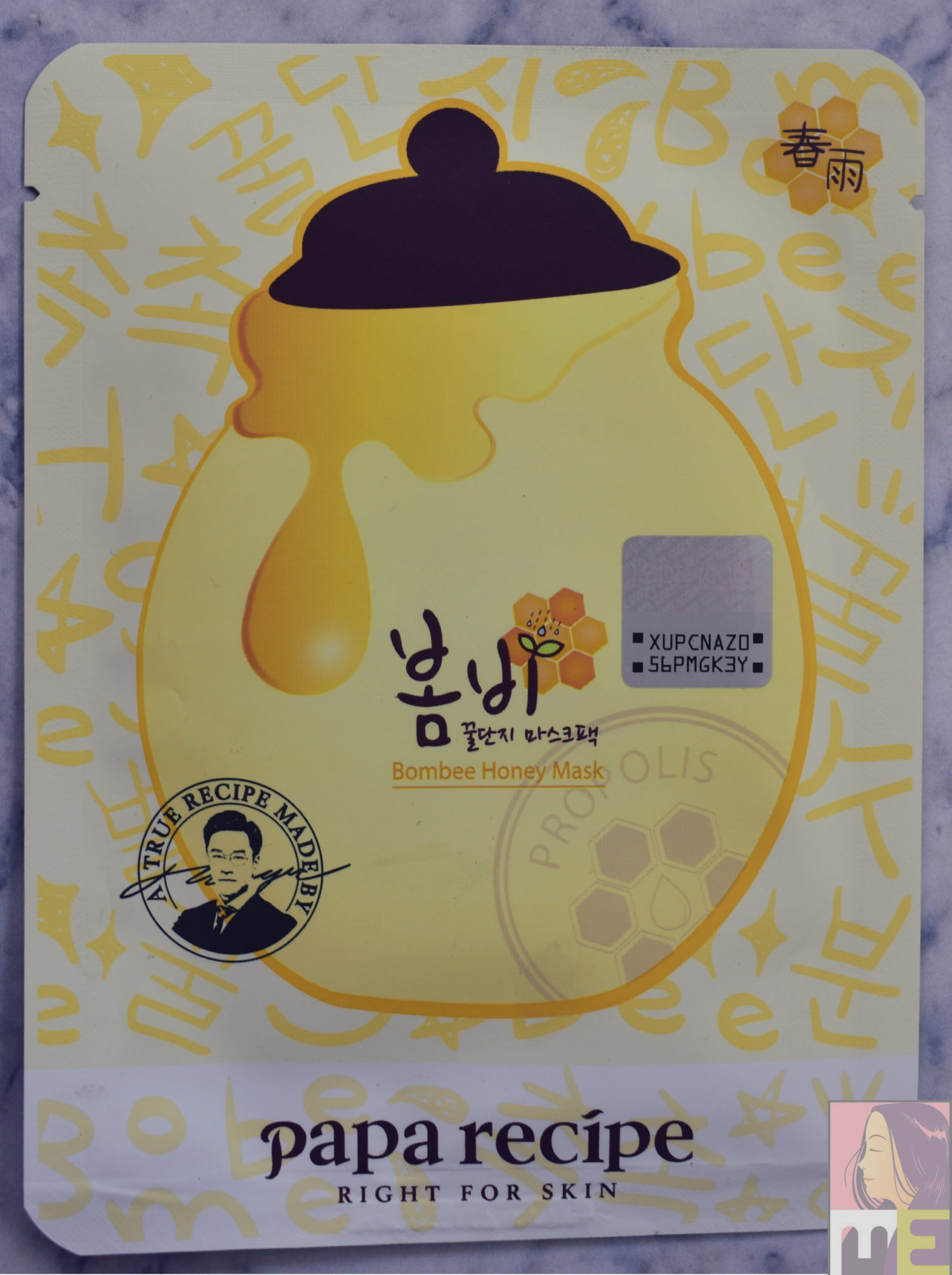 Description:
The Papa recipe Bombee mask nourishes and moisturizes the skin with honey, propolis extract.
Features
The ultimate sweet skin care solution –
Bombee honey mask pack.The Bombee honey maskpack is designed with all natural ingredients that are full of nutrients to replenish, rejuvenate, and hydrate your skin to protect & prevent from irritants.
Made with PAPA RECIPE's Gold Complex formula of organic extracts, the Bombee honey maskpack is made only with organic ingredients directly from nature, without the use of artificial
preservatives, making it safe to use for everyone.
The organic pulp mask sheet is excellent for delivering the essence, hydration, & nutrients directly to the skin while increasing the absorption.
Experience the sweet burst of nature and see what a touch of nature can do for your skin !
Recommend
Bombee honey mask pack is recommended for :
Dehydrated, flaky skin.
Parched skin in need of nutrients.
People in want of healthier, radiant skin.
Ingredients:
Water, Glycerin, Butylene Glycol, Honey Extract, Propolis Extract, Hydroxyethylcellulose, Glyceryl Acrylate/Acrylic Acid Copolymer, Propylene Glycol, PVM/MA Copolymer, Trehalose, PEG-60 Hydrogenated Castor Oil, Panthenol, Carbomer, Arginine, Disodium EDTA, Allantoin, Dipotassium Glycyrrhizate, Sodium Hyaluronate, Glycyrrhiza Glabra (Licorice) Root Extract, 1,2-Hexanediol, Caprylyl Glycol, Schizandra Chinensis Fruit Extract, Coptis Japonica Root Extract, Zingiber Officinale (Ginger) Root Extract, Camellia Sinensis Leaf Extract, Citrus Grandis (Grapefruit) Seed Extract, Acorus Gramineus Root/Stem Extract, Perilla Ocymoides Leaf Extract, Fragrance
My experience:
The Papa Recipe Bombee Honey Mask Sheet comes in a cute packaging with the picture of a honey pot printed on it. The sheet comes in between 2 mesh sheets just like the ginseng one. The fitting wasn't very good and it was rather large than my face creating so many wrinkles and air holes. The mask probably would have given me the second skin feeling had it fitted my face. Anyway, I left it on for about 30 minutes and then removed it to reveal a hydrated and soothed skin. I've used the mask right after my skin recovered from a terrible infection and there were still uneven skin tone, a few bumps and a small acne on my face. The sheetmask managed to calm down all of the above mentioned traces of irritation and gave me an even, hydrated and plumped skin. There was not much brightening effect but I was still happy with the result.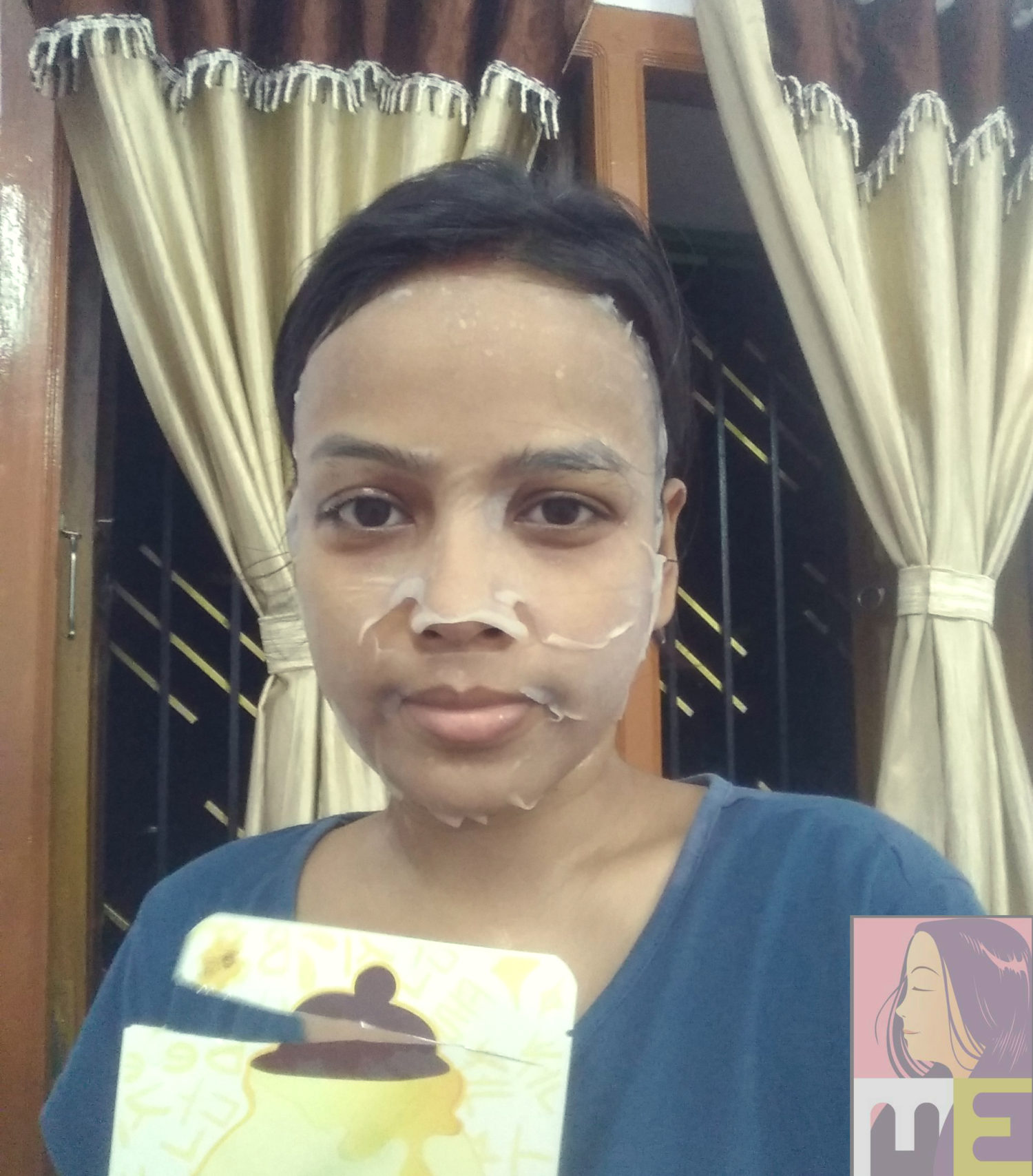 Overall, I pretty much liked the mask. The ingredient list contains 2 anti-inflammatory agents: honey and propolis, which probably explains why my irritated skin calmed down. The absence of alcohol and artificial presence is worth mentioning, although the ingredient list ends with fragrance.
Pros:
Does everything it claims
Calms down irritated skin
Free from alcohol and artificial preservatives
Cons:
Where to buy:
Rating:
4.8/5