As my skin infection bid me goodbye, my testing tables (both at my apartment and back at my parents place) are filled with products I've been dying to review. It's also a time that I try to recover the damages that has been done in the past few months. Lack of skincare and using only medicated products is not really my thing, and even though those derma prescribed products helped me get rid of my infection, I've certainly lost my glass skin effect- lost the brightening, welcomed dull skin and what not! Let's just say, my skin might have healed but it's a long way to get back my glass skin.
Currently I'm choosing my products very carefully: exfoliating and detoxifying products to get rid of all the nasties that had been stored in my pores due to not exfoliating for months, nourishing products to compensate my skin for torturing it with topical ant-biotics , calming products to get rid of any infection trace and hydrating products to compensate the lack of skincare layering. Last to last night it was Papa Recipe Bombee Ginseng Red Honey Oil Mask Pack to compensate lack of hydration and nourishment.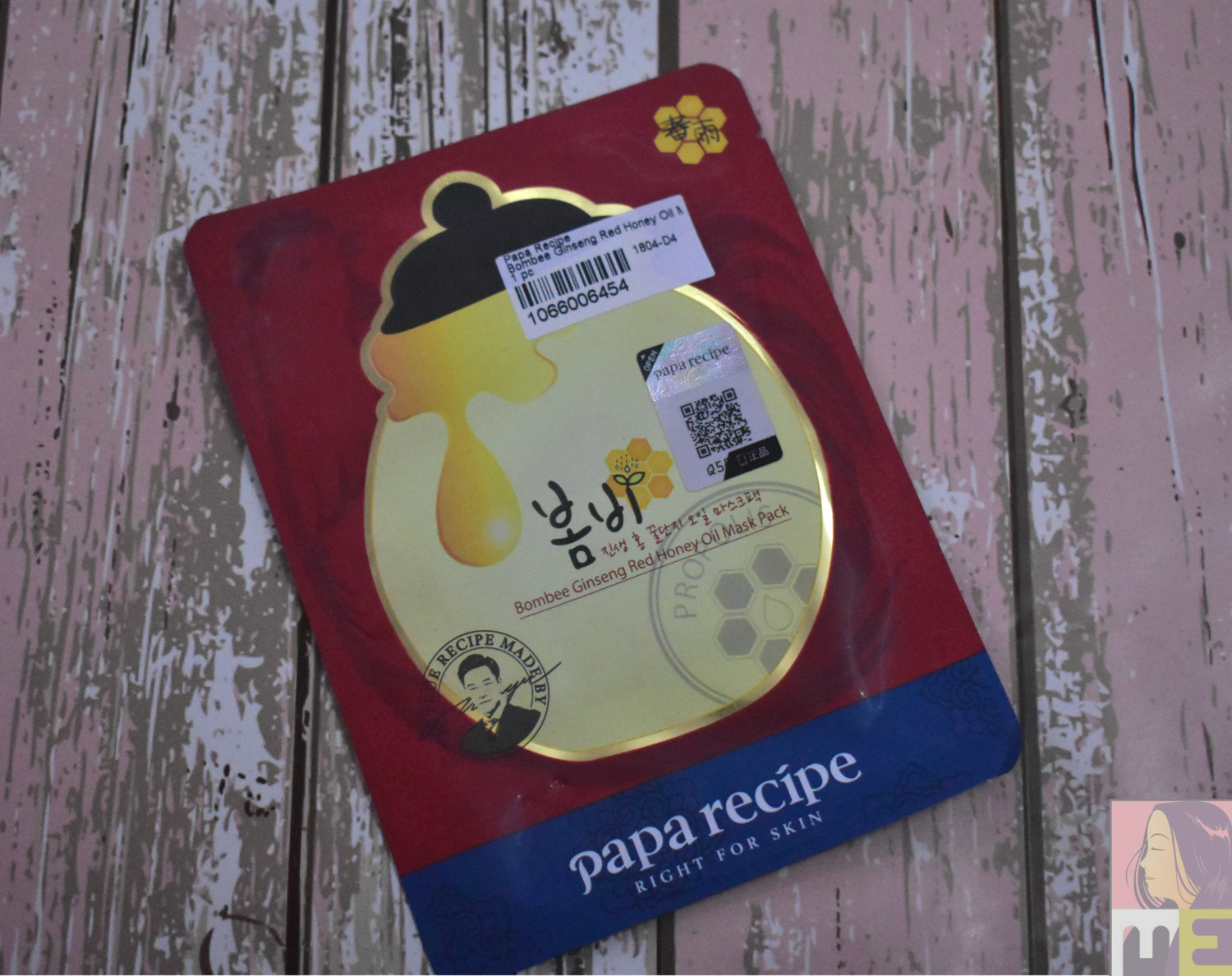 Description:
All the goodness of honey, ginseng, and oils in one sheet mask. The Papa Recipe Bombee Ginseng Red Honey Oil Mask contains a nourishing blend of oils (camellia, evening primrose, and rosa canina) to revitalize tired skin. It's infused with ginseng extract, as well as honey and propolis, to heal and calm irritated skin while preventing the onset of wrinkles. The sheet mask material is made from natural Hanji (Korean traditional paper), making the mask highly durable despite it being thin.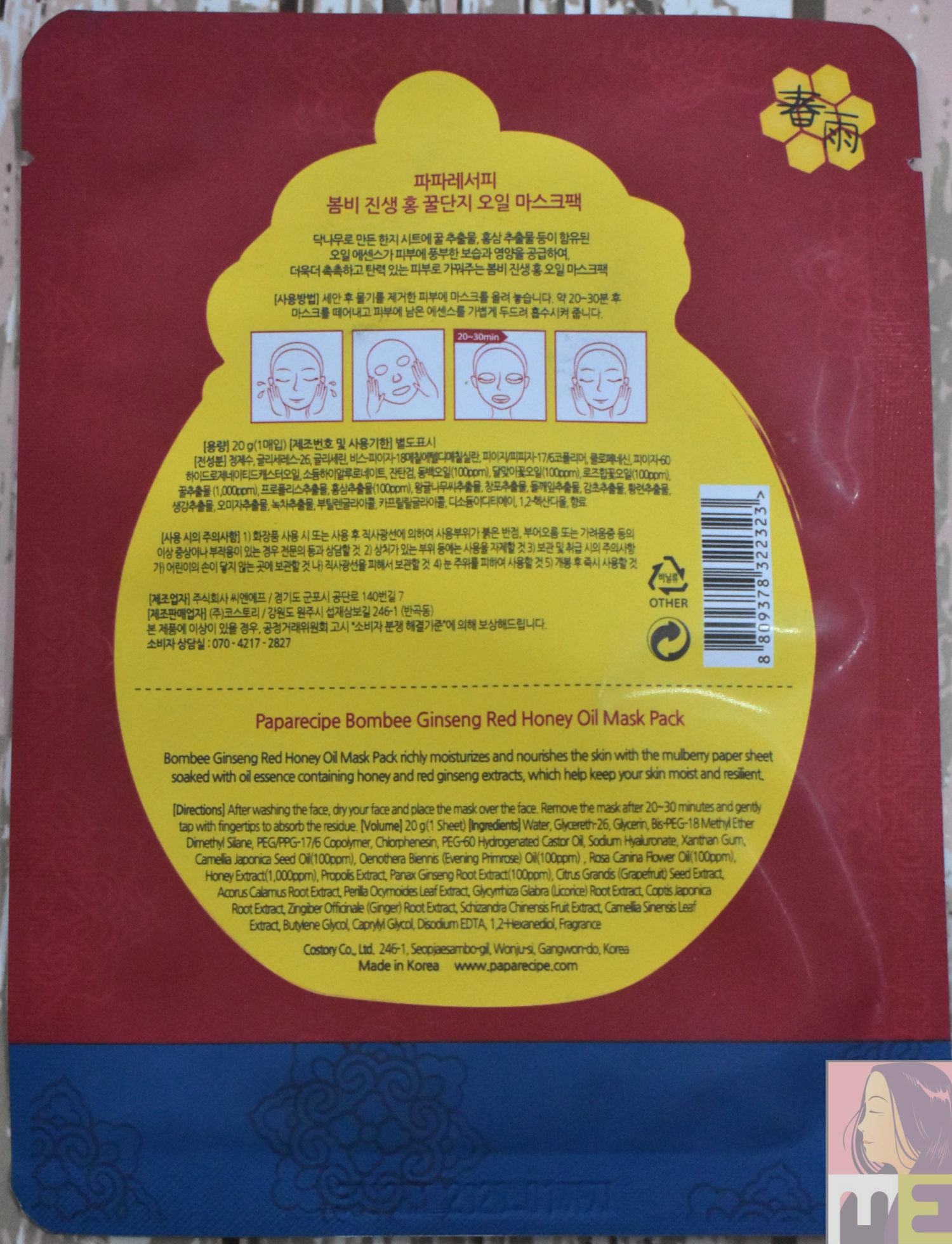 Ingredients:
Water, Glycereth-26, Glycerin,Bis-PEG-18 Methyl Ether Dimethyl Silane, PEG/PPG-17/6 Copolymer, Chlorphenesin, PEG-60 Hydrogenated Castor Oil, Sodium Hyaluronate, Xanthan Gum, Camellia Japonica Seed Oil(100ppm), Oenothera Biennis (Evening Primrose) Oil(100ppm), Rosa Canina Flower Oil(100ppm), Honey Extract(1,000ppm), Propolis Extract, Panax Ginseng Root Extract(100ppm), Citrus Grands (Grapefruit) Seed Extract, Acorus Calamus Root Extract, Perilla Ocymoides Leaf Extract, Glycyrrhiza Glabra (Licorice) Root Extract, Coptis Japonica Root Extract, Zingiber Officinale (Ginger) Root Extract, Schizandra Chinensis Fruit Extract, Camellia Sinensis Leaf Extract, Butylene Glycol, Caprylyl Glycol, Disodium EDTA, 1,2-Hexanediol, Fragrance
My CosDNA analysis came up pretty clean except for Oenothera Biennis Oil raising a 2 acne and irritant flag but then again, I will only recommend this sheetmask if you aren't allergic to essential oils.
My Experience:
Papa Recipe is one of the most highly raved brands out there and I happen to have only used their honey mask prior to this one. I love their packaging, I can't exactly point out what aspect of their packaging attracts me the most, but I guess the fact that it's smaller than most sheetmasks is probably one.
The sheet is made of Hanji, traditional Korean paper made by using Paper Mulberry, making the mask eco-friendly, cellulose rich, non-irritating and hypoallergenic. The fitting was almost perfect and the sheet gave me the second-skin feeling letting me go on with my work without slipping off. I removed the mask after 30 minutes while it was about to dry up. Honestly speaking, I knew that my skin has been denied the care for a long time, but I didn't know it was dry as a desert until I realized how much serum my skin has drunk up. With the presence of ginseng extract, honey and a blend of so many oils, I was expecting my skin to look a bit greasy and shine like that silver ball on the Christmas tree. But luckily for me, my skin felt extremely hydrated and nourished without feeling greasy. I finished it off with my moisturizer and went to bed.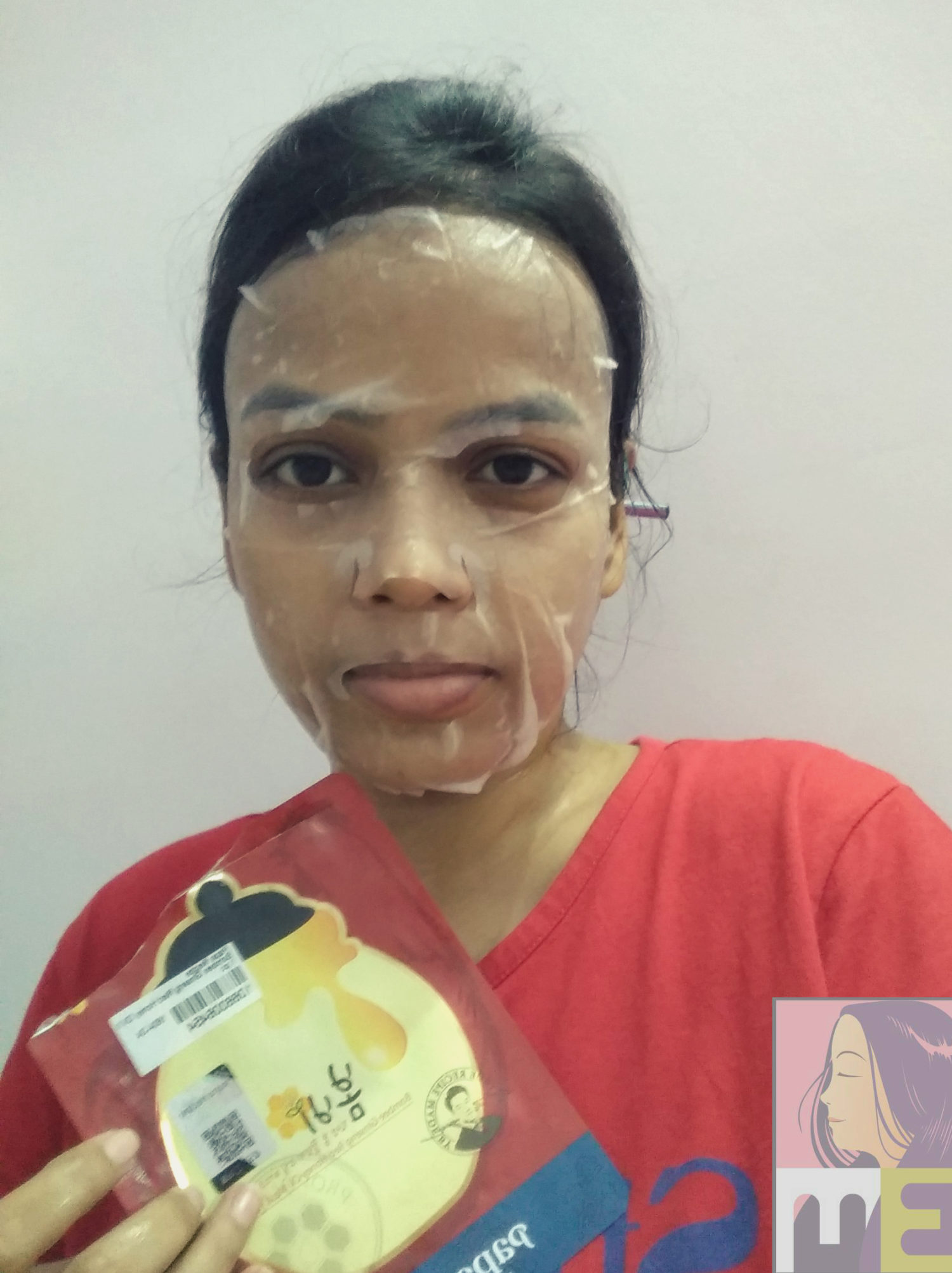 The next morning I woke up to a healthy skin. Yes that's the term to exactly describe how my skin felt (and still feels). There was no brightening effect (neither does it claims to brighten) but I certainly achieved a healthy and nourished skin.
Will I purchase it again?
It's the kind of mask that I would stock up for winter and for times my skin feels dehydrated. So, yes.
Will I recommend it?
To people who's skin are in good terms with oil and people with dry skin.
Where to buy it?
Price:
Rs249/-
Rating:
4.8/5