I received the LHJ Vita Propolis Ampoule from Daisy Skin Fix a week before my wedding while I was already flaunting my 'Glass Skin' (rather shamelessly I must say). It's not much of a smart decision to introduce a new skincare product into your routine but I went ahead anyway and learnt the tough way to follow the instruction and not experiment much, especially when it comes to a rather pricey product like the Vita Propolis Ampoule.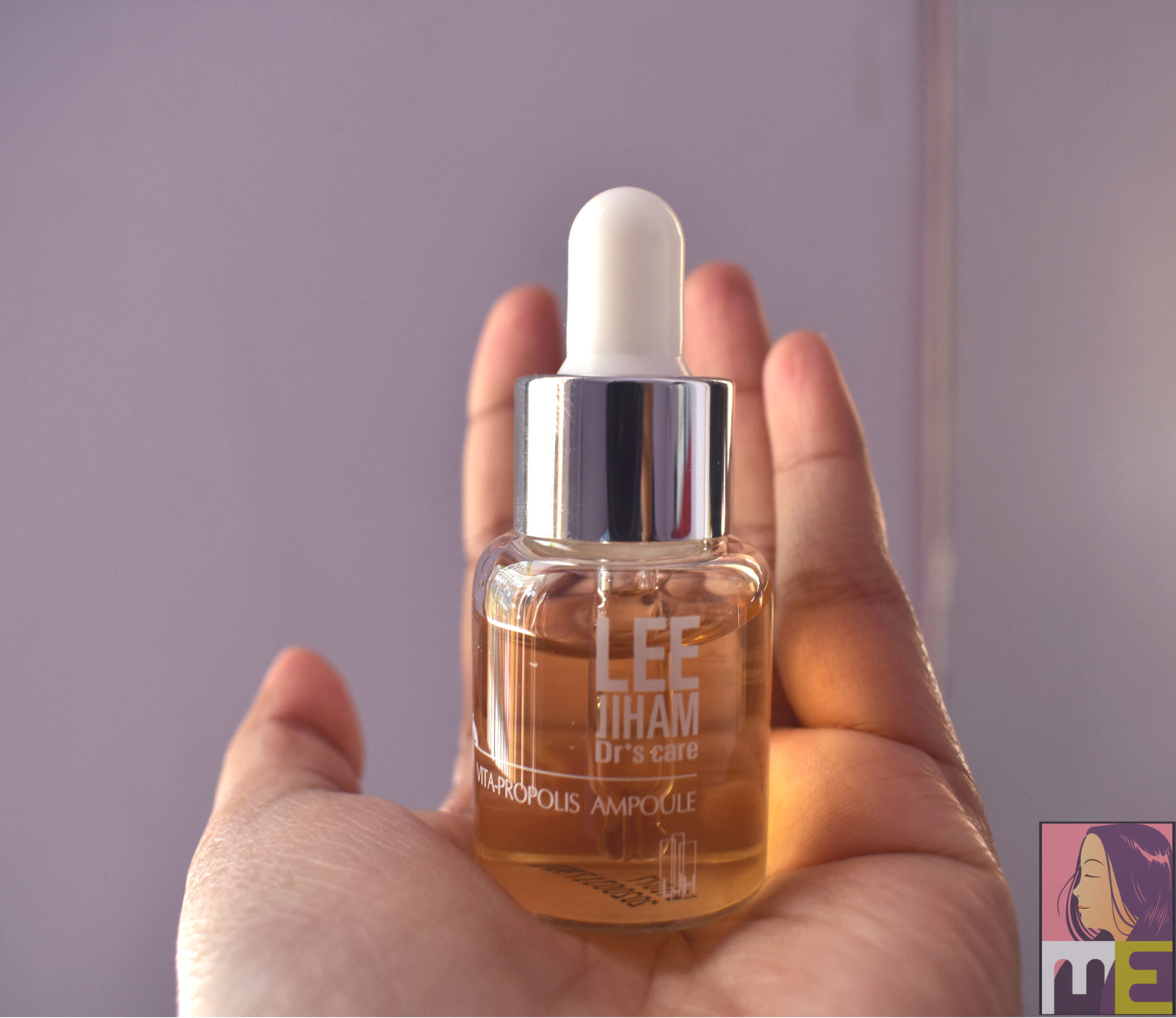 You see, the LHJ dermatologists as well as websites like Glow Recipe suggest to mix it with your essence or cream rather than using it on it's own. I won't lie, since I introduced it just a week before my wedding, I checked Fiddy's blog to be assured this product won't break me out, or if there's any particular ingredient I should avoid while using this ampoule. In her blog, she clearly wrote that using this ampoule on its own, leaves a you with stubborn stickiness on the skin, no matter how long you pat. But I was already using my J.One Black Jelly pack as my final step of my night time routine and it was moisturizing enough and I thought who needs a booster when you already have a hydrating mask and went on to apply it on its own. Needless to say it was creating a sticky film on the skin which used to make me feel like it was not letting my skin absorb my next step properly. The stubborn me went on using it on its own and even let my sister borrow it while she was home completely forgetting the other way it can be used. A week later, there was no improvement to our respective skin tones, but then again, I was already enjoying my best skin days when I started using it so it was hard to notice any difference.
Fast forward to a week after my wedding, I was suffering from a dull, irritated, uneven and dehydrated skin with 3 active acnes. The wedding stress was all too much for me and I came home to an almost empty stash. I ran out of all my moisturizers during the wedding and the only one that was left was the Klairs Freshly Juiced Vitamin E Mask which I had been using during the day time and the amount left would have hardly lasted me a week. Now there was no way I can get any Korean Skincare site deliver me creams and masks within a week so I had to rely on that tiny amount twice daily. I figured it was time I tried using the Vita Propolis Ampoule as a cream booster instead of using it on its own. By this time the bottle was more than half way empty.
I started using it after my Cosrx Galactomyces Essence, mixing 2-3 drops of it with my Klairs. The mixtures glides on the skin smoothly and absorbs with a little patting. I was just glad that my Klairs mask will now last longer that I didn't even expect anything else from this ampoule. Which is why it was a sweet surprise for me when after a couple of days my dry, dehydrated and irritated skin was smooth, even and brightened. The dewy glow that I was flaunting a month ago returned and I couldn't be happier. My skin have not yet returned to its 'glass skin' phase but at least I got rid of the acne and have a smooth and bright skin. Also, since it's been just a week since I came home and since my stash is almost empty, I believe with time I can win back my glass skin in a matter of time.
Description
Glow from within in an instant with this game-changing ampoule from Leejiham.
The Vita Propolis Ampoule is multi-tasking, glow-creating serum ampoule packed with 50% Propolis extract and 20% Multi-vitamins. It revitalizes skin, helping to even tone, smooth texture and improve dullness.
For all skin types. Suitable for acne prone skin.  This ampoule boosts the moisture and nutrient level and vitality, protects and firms skin.
Size: 15ml
How to Use: Use after Toning or Essence.
Tip: Mix a drop or two with your BB cream or Foundation or moisturiser, to add an extra au naturale glow anytime.
Ingredients: Propolis extract, Portulaca Oleracea Extract, Hippophae Rhamnoides Fruit Extract, Panthenol, Rosa Centifolia Flower Water, Niacinamide, 1, 2-Hexanediol, Ethyl Ascorbyl Ether, Hamamelis Virginiana (Witch Hazel) Bark/ Twig Extract, Centella Asiatica Extract, Carbomer, Arginine, Spirodela Polyrrhiza Extract, Hydroxyethylcellulose, Dipotassium Glycyrrhizate, Adenosine, Sodium Hyaluronate.
Overall, I'm in love with the LHJ Vita Propolis Ampoule. Sure it's pricey to say the least, but given to the fact that it took just one product to recover my damaged skin, I'll say it's kinddaworth it. I'll definitely repurchase it and will recommend it to anyone who's looking for a booster.
Also shoutout goes to the minimal yet catchy packaging which I failed to click. Since I received it a week before the wedding I didn't get to click the outer packaging and later when I came home it got lost among the clutter which is sad because I really liked the golden cardboard box which looked like origami. You need to unfold the box to get the product out.
Caution: Skip on days you are using Vitamin C or AHA/BHA
Pros:
Works as a great booster
Brightens and smoothes irritated skin
Gives the skin a dewy glow
Hydrates dull skin
Con:
For a product worth $38, receiving a 15ml bottle is just sad
Where to buy:
Daisy Skin Fix, 1890Rs
Rating:
4.8/5