Apologies for being MIA for a long time, I've been away celebrating Durga Pujo & Diwali all the while attending countless meetings and stuff and I have no idea how I will juggle things when I will actually start my wedding shopping. Anyway, I've kindda started a pre-wedding skincare regimen, I am yet to receive and order some more products, but as of now, I've frequented my sheetmask sessions, if I'm home, I'm even sheet masking every single day. I've earlier reviewed a series of Etude House Sheet Masks and I recently received a bunch more from Skinnmore.com and I'll be reviewing them one by one.
Etude House 0.2mm Air Therapy Lemon Mask: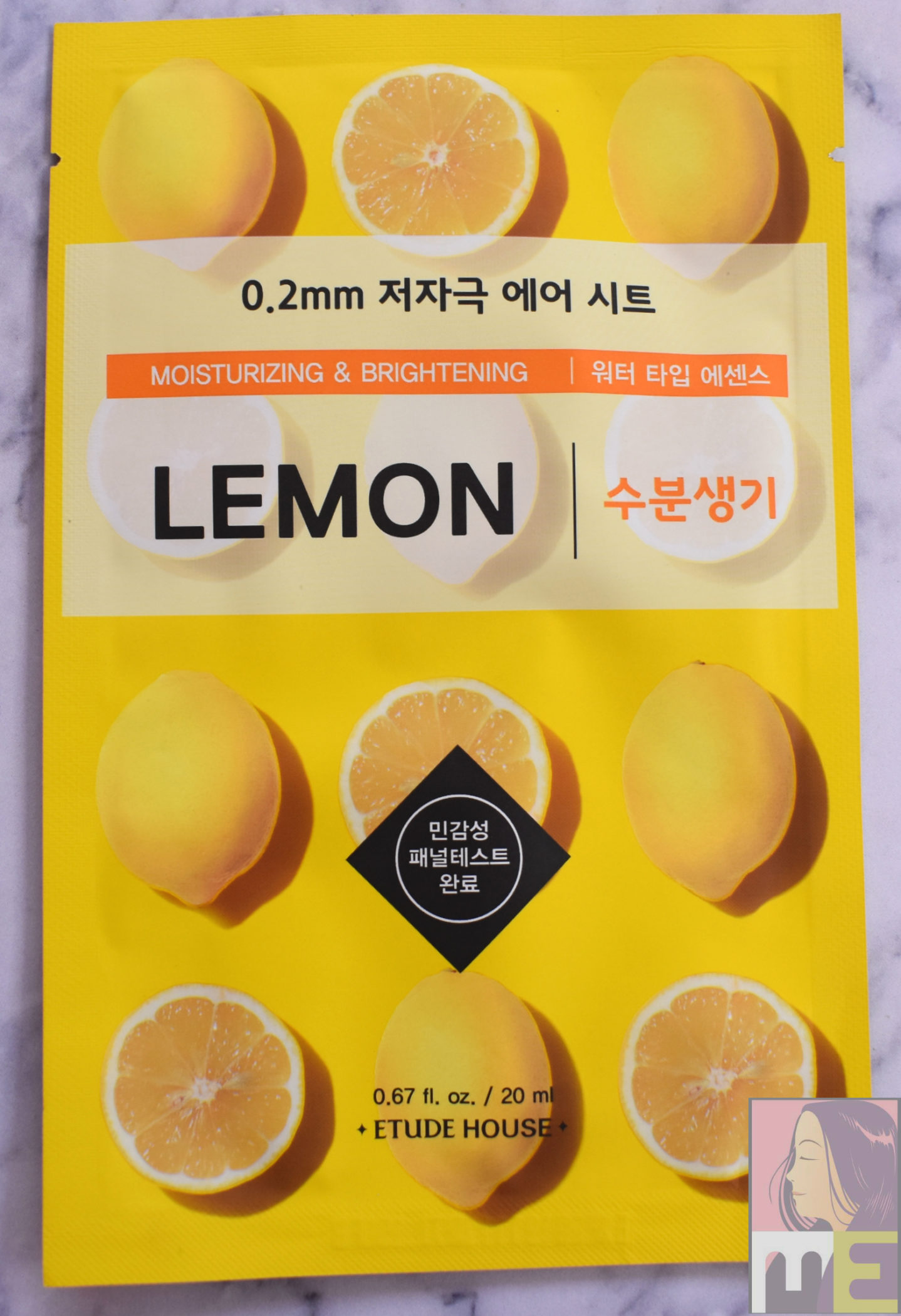 Etude House is one of my favourite brands and one of those brands I recommend to people travelling to South Korea to definitely visit. There cutesy packaging stands out from the rest of the products in my vanity and I can only wish all my products looked like them, so I could basically live in a freaking dollhouse. Coming to their sheet masks, what I absolutely adore about their whole sheet mask range is that their sheets are really thin and almost transparent; it feels like the Goodal second skin masks. And what I somewhat dislike about their sheet masks is that they contain alcohol, well most sheet masks contain alcohol and this belongs to the list that have alcohol pretty high up the ingredient list.
Description:
Tanned?? Been on a holiday and now are facing the wrath of not wearing enough sunscreen? Get back that healthy glow and detan with our trusted radiance-revving lemon sheet mask, designed and curated to take your skin from drab and dark to dazzling and glowing.
Benefits of the Lemon Sheet Mask:
Hydrating
Brightening
Hypo-allergenic
How to Use: After washing, apply toner. Gently remove mask from packaging and place on face; the side that peels off the cover should be placed onto the face. Leave on for 20-40 minutes. Remove the mask and discard. Gently pat in any remaining essence into the skin.
Skinnmore Take:
This is our personal favourite mask. I wish someone had told us earlier that we could detan so easily and glow so much!
Use 1 x Mask every alternate day and see the results in 10 days
Ingredients: Water, Glycerth-26, Diporylene Gycol, Propaneidol, Alcohol, Hydroxyethyl urea, Butylene Gycol, Glycerin 1, 2-Hexandiol, Citrus Limon (Lemon) Fruit Extract (2500 ppm), Sodium Carbomer, Allaton, Hydroxyethycellulose, Gycyrrhza Glabra (Licorice) Root Extract, Coptis Japnica Root Extract, Zingber Offcnale (Ginger) Root Extract, Camedllia Snensis Leaf Extract, Dehydroacetic Acid, Sodium Hydrogentaed Lectin, Lavadulla Angustifolia (Lavendar) Oil, Eucalyptus Globulus Leaf Oil, Gernium Maculatum Oil, Citrus Noblis (Mandarn Orange) Oil, Pinus Palustris Oil, Phytosteryl Glutamate, Ceramide Np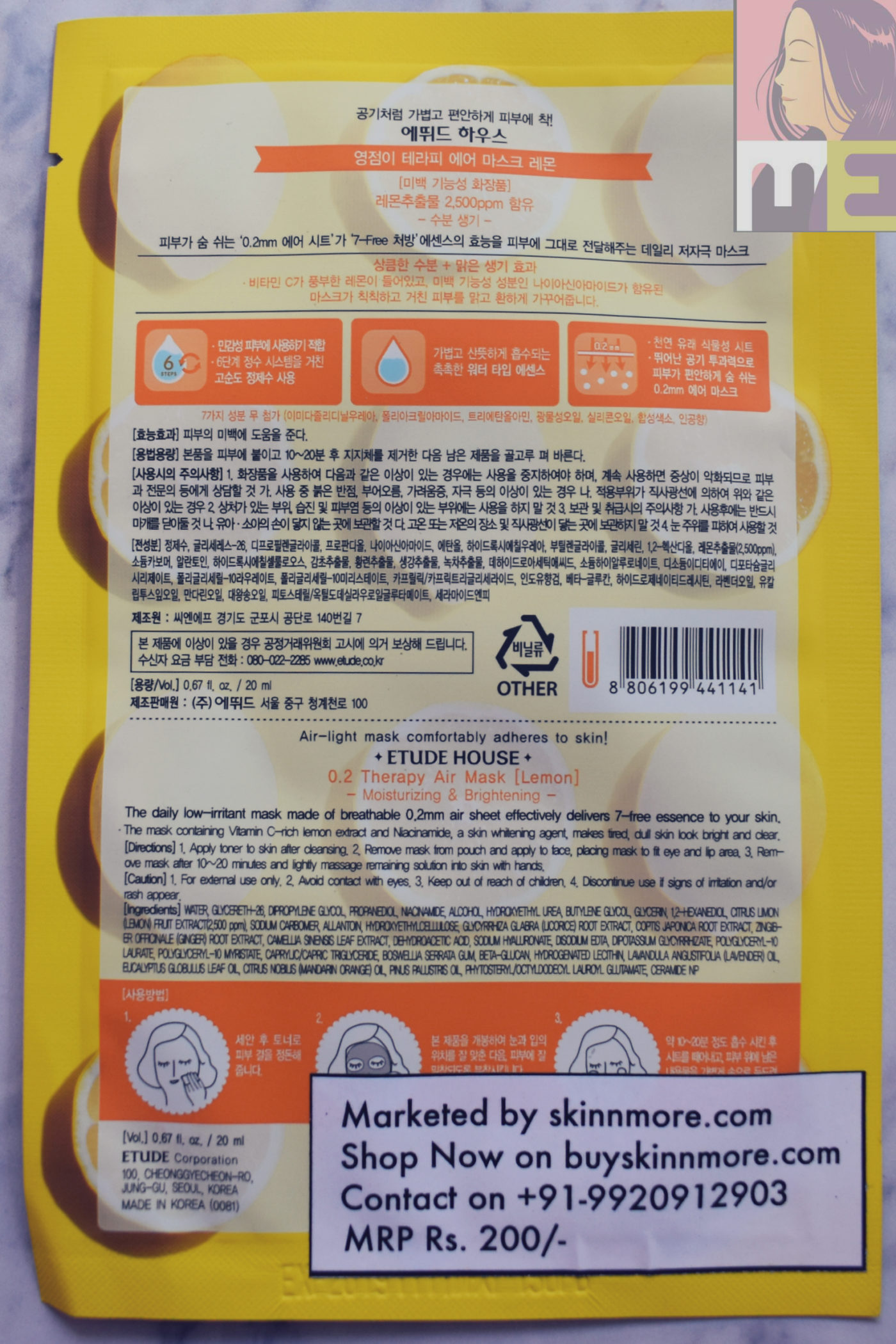 My Experience:
The fitting, like all the masks from there range was almost perfect with almost no air pockets, except for the tiny eye holes. I remember ordering a pack of 10 Etude House Rice Sheet Masks after using a pack of 10 Innisfree Kiwi Sheet Masks (the very first sheet masks I've ever tried) around 3 years back and tearing the eye holes to make them fit my eyes. They were the 6th Korean products that I've used. Fast forward to today, I've used so many masks with such terrible fittings that small eye holes don't even bother me that much.
I used the mask around a couple of hours before taking a train to Kolkata and I desperately needed a powernap and my skin desperately needed a pamper session. I was a bit tanned that time due to running out of my sunblock (I had been staying indoors during the a.m) and I had chemically exfoliated and used a wash off mask the night before. So after washing and toning my face, I applied the sheet mask, set the alarm to go off after 30 minutes and laid flat on my back. When my alarm went off, the sheet has kindda dried off. I washed my hands, took it off and patted in the extra essence on my super brightened and plumped up skin. I did not have any blemishes or redness (*touchwood) when I used it so I cannot say anything about its performance on irritated skin but my skin was literally glowing. I use lemon and tomato juice for detanning and this sheet mask had the same effect on my tan.
Overall, I really loved the sheet mask. Had it been alcohol free, I would have given it a 5 star rating and ordered it in bulks, but since it does, I'll probably stock some up to be used when I am tanned or when I'll be needing some brightening effect.
Where to Buy:
Price:
130 Rs
Rating:
4.8/5