Ever had this dilemma when you want to murder your other half but don't really wanna become a widow? Well, I have a story to tell. I received a pack of 3 lip moisturizers from Island Kiss while I was looking forward to my second trip to Andaman and I thought how cool will it be if I photograph my Island Kiss lip moisturizers in an Island itself? I even had locations planned in my head. Unfortunately the trip got cancelled last minute and I had to head to Bangalore instead for my treatment. It all happened so fast that I didn't even get a full day to pack. I still packed my lip moisturizers just in case I get any spare time and among all those situation twists I already planned a location in Bangalore to click my lip moisturizers. While I was packing my bulky camera as well, my fiancé reminded me that it's a treatment trip after all and in case I do want to click any picture I should take his new phone as it has a better picture quality than my phone. I agreed and went to Bangalore happily with just one luggage. Fast forward to the end of my treatment, the day my reports came clear I booked flight tickets for the next day and had some time to kill that evening. I went to that planned location, got some amazing pictures clicked, and came home the next day. I met my fiancé a week later, but did not get the opportunity to transfer all the pictures that I clicked in Bangalore because of my uncle's memorial and situations that followed. We exchanged our handsets and I thought I'll ask him for the pictures when I'll resume writing. Little did I know that he'll decide for himself that it's completely abnormal for me to not have transferred the pictures and cleared the gallery as soon as he got back his phone without even asking me once and World War III begun.
The mishap was discovered by me the day before yesterday when I asked him for the pictures, and yesterday was spent lamenting my loss. Today I took some shitty pictures indoors because our front yard and back yard are mess because of some construction works and if you've been reading my blog lately, you'll know that I'm in no condition to go out right now. Anyway, one good news among the gloom is that I have managed to recover ONE picture that I shared on Instagram and I had to get over the fact how much I hate using downloaded pictures as it tampers with the picture quality.
Anyway, enough of my misery, it's about time I try forgiving my fiancé who's behind all the great photographs on my blog and go on with the review.
A little about lip balm addiction:
If you already don't know, it's a real thing. In a previous post I described how most lip balms contain Humectants that dries out your lips on a long run. The more you use a lip balm containing humectants (i.e: glycerin, hyaluronic acid) the drier your lips will get making you reapply frequently.  When I first came to know about this, I had to throw away about 5-6 lip balms and I have been reapplying lip balms less frequently ever since.
So if you are wondering if I've discovered another one of those kind brands that doesn't use humectants, spoiler alert: I did.
About Island Kiss Lip Balms
"The Island Kiss lip balms are organic, cold-pressed lip moisturisers made in artiste batches using essential oils, active plant botanicals and rich, exotic butters. They arouse the sensation of sun-warmed lips washed by the sea, polished by the waves and brushed with voluptious, tropical flowers."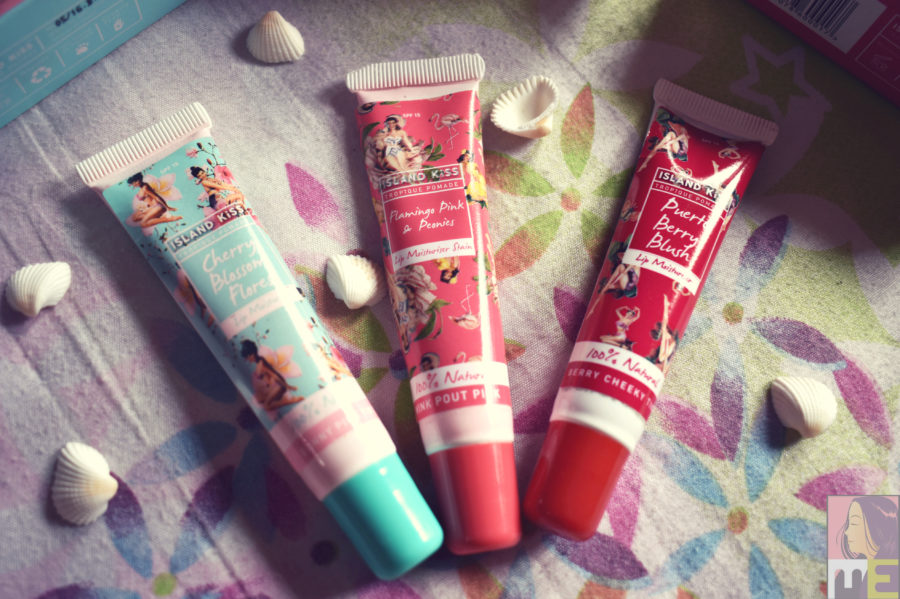 Island Kiss Organic Lip Moisturizers:
The lip moisturizers come in fun, girly, flirty and retro packaging and each one of them is enriched with tropical kokum, mango butter, beeswax, carrot seed oil, castor oil, vitamin E oil, macadamia nut oil. The lip moisturizers contain SPF15 but I couldn't find any sunblock in the ingredient list. Because none of them has left me with a severe allergic reaction, am positive that if there's any sun blocking properties, it's certainly not chemical.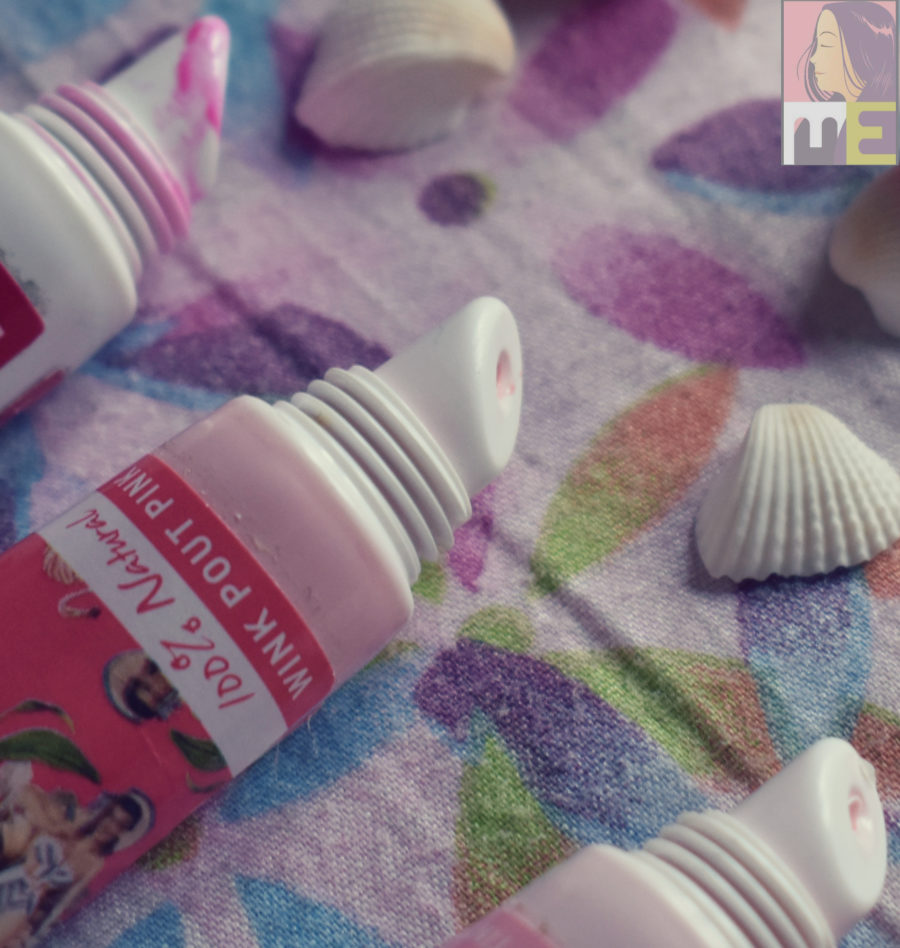 The No petroleum, no parabens, no sulfates, no phthalates claim blew me away and it doesn't get any better than that. The lip moisturizers provide long hours of hydration and I only need to reapply after eating or just washing my face.
Island Kiss Cherry Blossom Flores Lip Moisturizer
A pale pink almost nude shade with a hint of Cherry Blossom fragrance. It lies beside my pillow and is the one that I use at home every day.
Island Kiss Flamingo Pink & Peonies Lip Moisturizer
This one is my favourite. It's a thick buttery lip moisturizer with a nude pink tone that I much adore. I'll probably give it to my sister because it's certainly going to compliment her fair complexion better.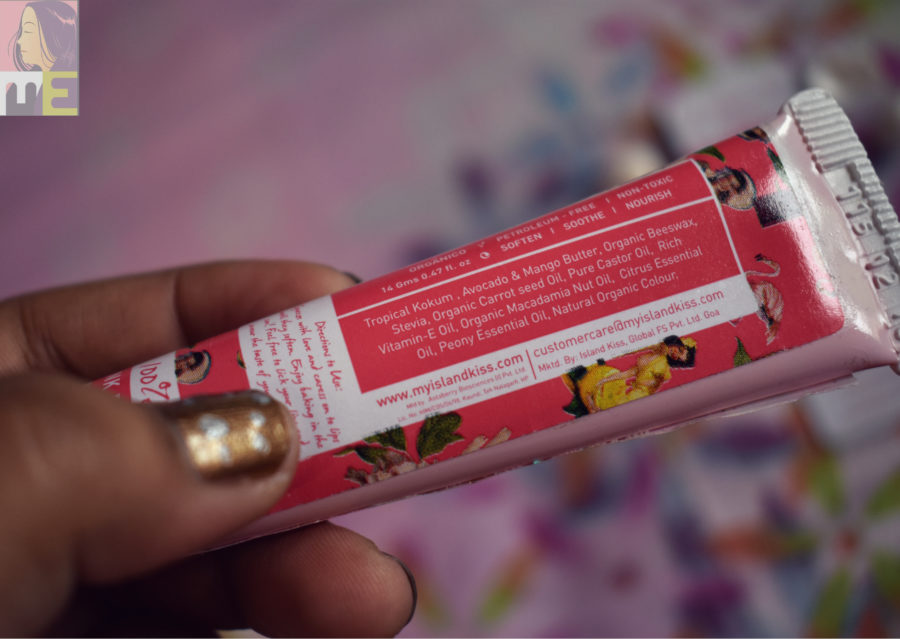 Island Kiss Puerto Berry Blush Lip Moisturizer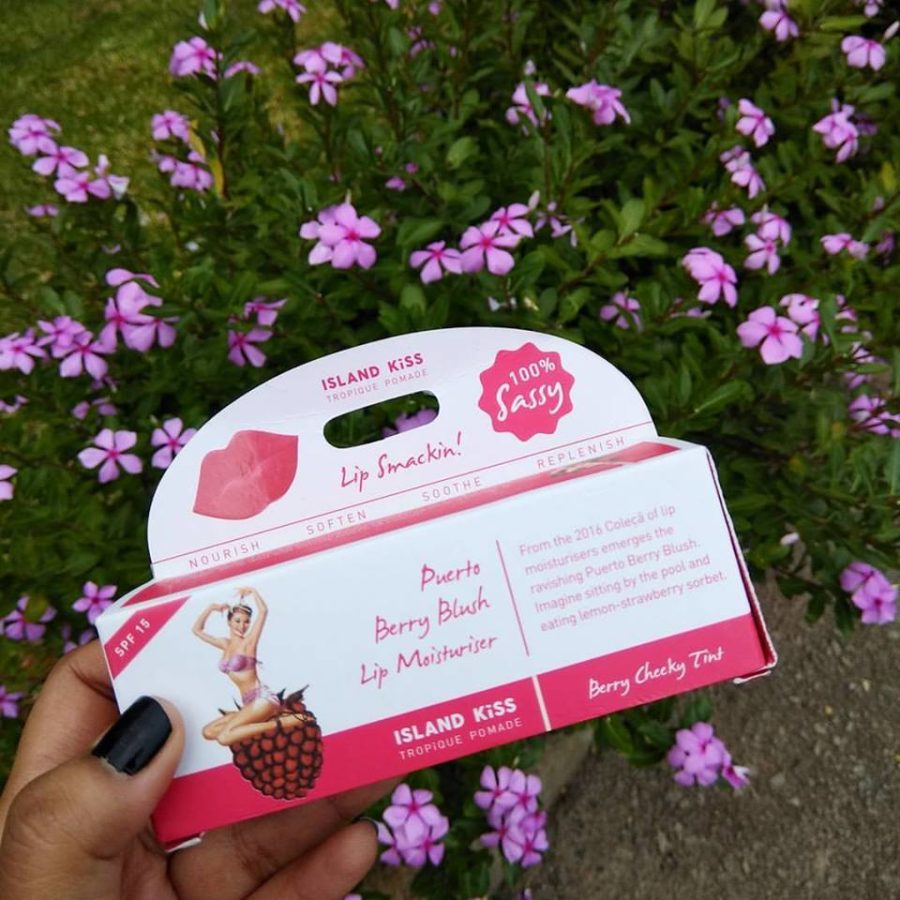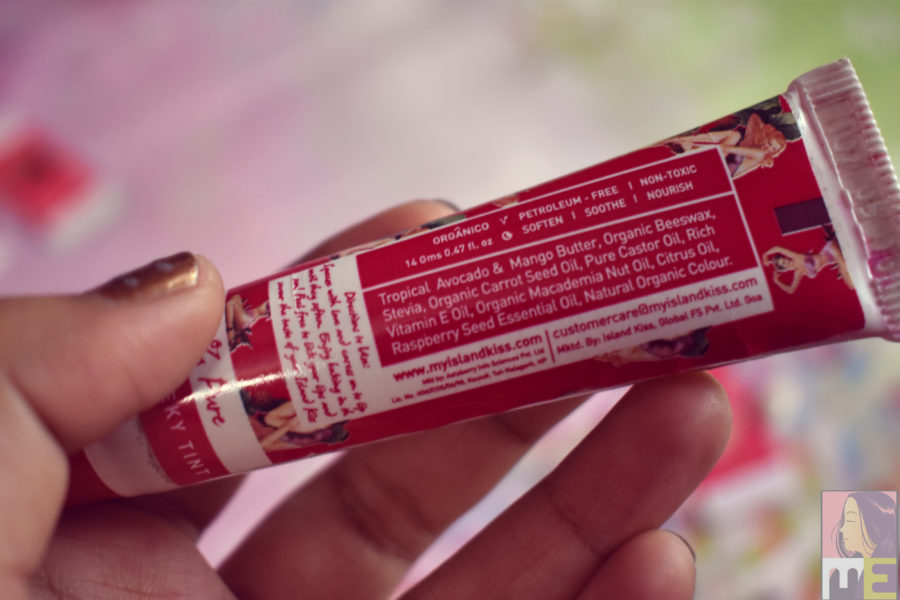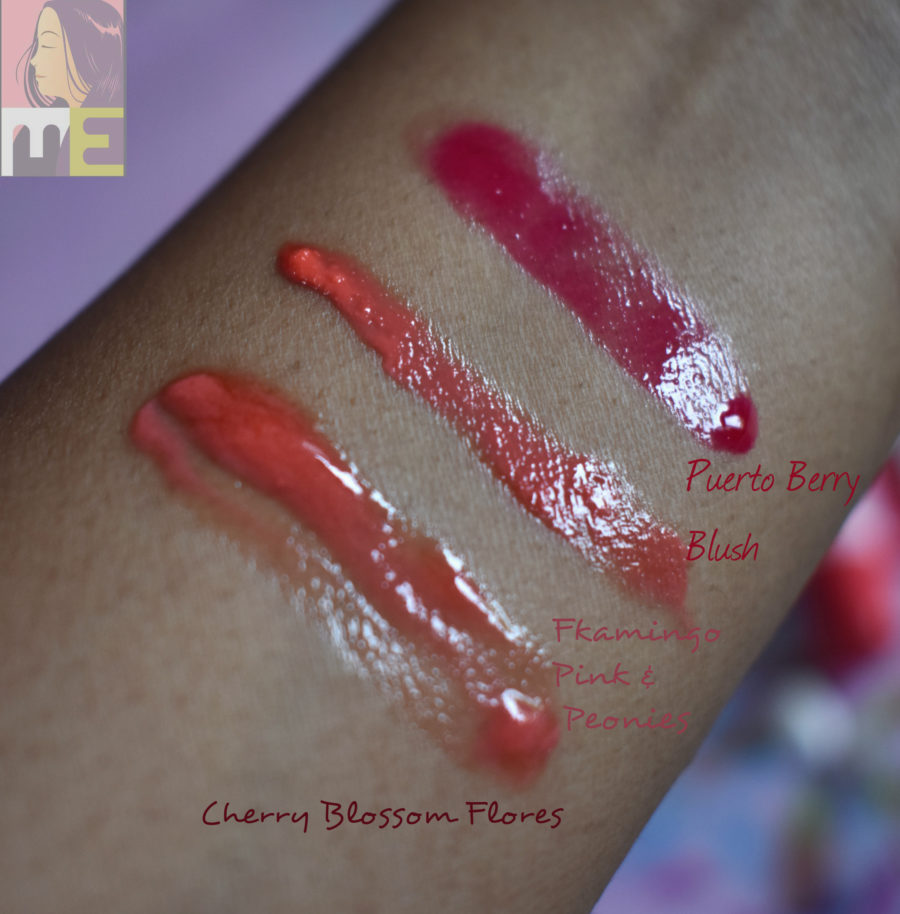 A gorgeous red berry tint that's been a life saviour to me. The tint lingers for almost two hours and you can even notice a faint pink stain after that.  If you have been reading my blog lately, you'll know that am suffering from skin infection on my cheeks and I haven't touched makeup in like 3 months. This particular lip moisturizer has been my best buddy while going out and saves me from looking like a freaking zombie. However, since it's a bit runny unlike the other lip moisturizers from the range, applying it without a mirror makes me look even more like a zombie because I end up squeezing a bit more product than I need and you can probably imagine how it looks with a red berry runny lip moisturizer running down my lips.
Overall verdict, The lip moisturizers are amazing, they are petroleum, paraben and chemical free, they hydrates for long hours, and some of them proxies for lipsticks. You cannot possibly ask for anything more from a lip moisturizer.
Price : Rs 399 – 499 for 14 g
Pros:
Packaging worth craving for
Humectants free
Paraben, SLS and chemical free
Uses a lot of potential oils and butters
Hydrates for long hours
Some of them provides amazing shades that lingers for 2-3 hours
Cons:
Nothing
Where to buy:
Official Website, Nykaa, Purplle, Flipkart, Amazon
Rating:5/5