Hey guys, as promised I am here with The Himalayan Korean Restaurant review that I visited while on my Bangalore trip. Now you guys must be aware of my all things Korean and Japanese obsession, well basically I have always been fascinated by Japan and my Korean Obsession grew after I got into Korean Skincare. You might have read this before that along with their extensive skincare routine and amazing skincare products, Korean food and good genes have their fare bit of share in giving the Korean men and women that porcelain like skin. And in case you already haven't figured out, that's one reason I became obsessed with Korean food along with Korean skincare and since I have already visited the only place in Kolkata (in my knowledge) that offers Korean food, I planned to visit all the Korean Restaurants in Bangalore during my trip. However, things didn't turn out as planned and the friend I hung out with most of the times wasn't as foodie adventurous as I am and kept dragging me to the food places that's already tried and tested by herself. Somehow I managed to get 1 day to myself and while she went to work I turned on my GPS and headed to the closest Korean Restaurant I could found.
It didn't take me too much effort to find the place, and once I reached there I really liked the cosy ambience. There weren't many customers (it was a week day around 3 p.m) and I wondered why. While going through the menu I really wished my boy friend was there because whenever we go food tasting I end up ordering a lot of stuffs, take just a few bites of everything and pass the plates or bowls towards him. No, he doesn't eat too much, but certainly eats more than me. Well, I am the kind of person who loves to taste everything but in a very, very little quantity. Anyway since I hate wasting food I ordered just one dish- Dub Bap that comes with a lot of side dishes.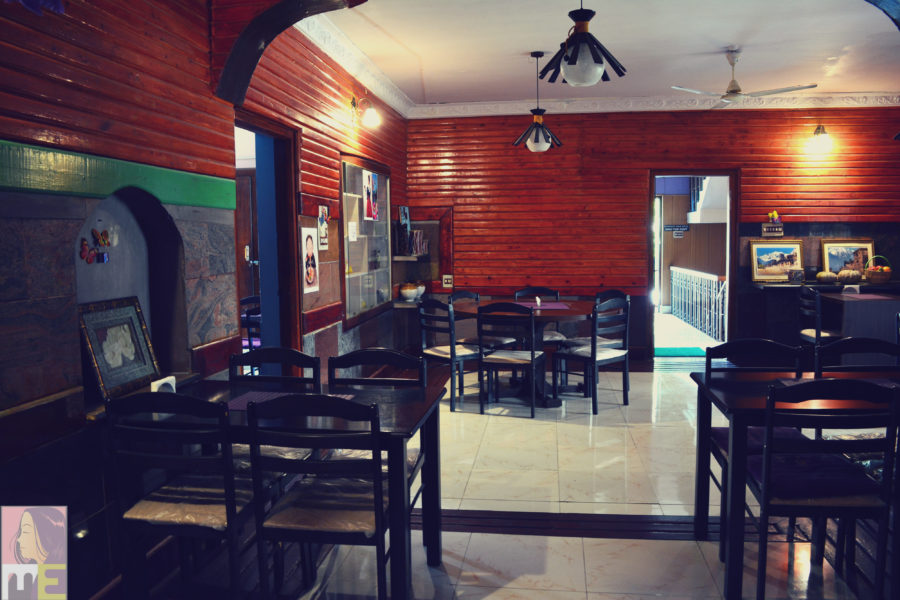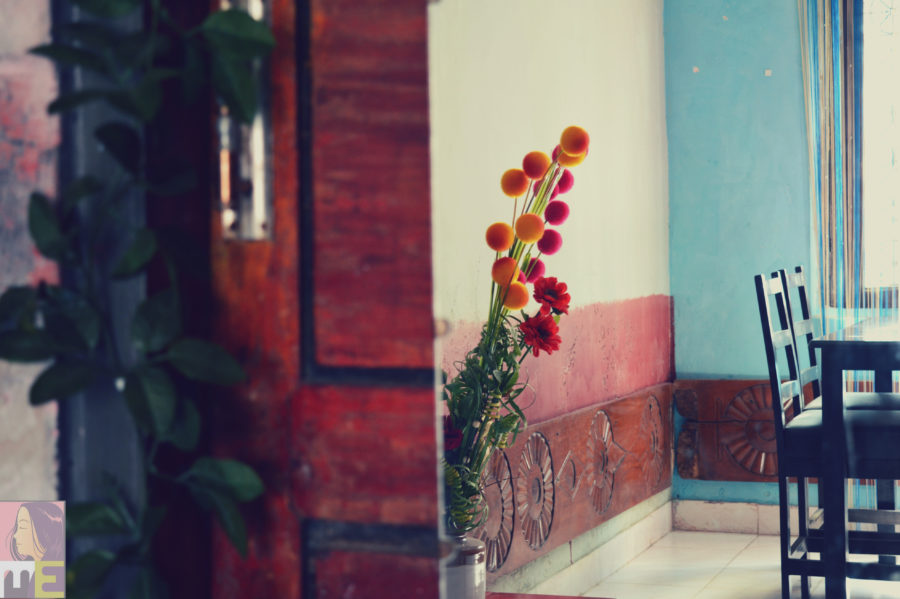 The food was served as quickly as Biriyani is served in Biriyani places and the staffs were just the nicest I've ever come across. Now I am not a Korean Cuisine expert, just have tried a few Korean Food places and this one has to be the best I've been to so far. The main dish was rice with chicken curry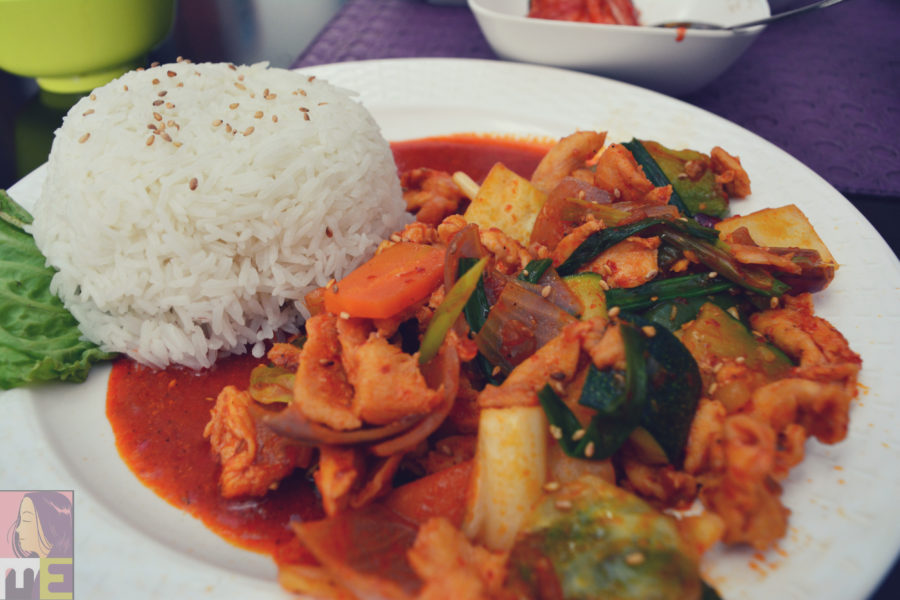 and the side dishes were- Kimchi (fermented cabbage that's excellent for your skin)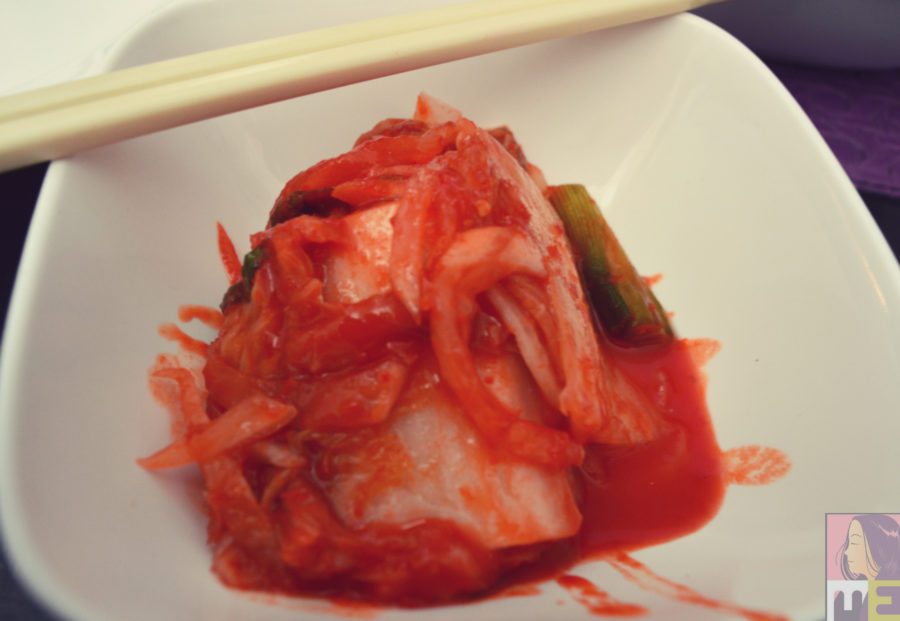 , Radish Kimchi (fermented radish that's excellent for your skin too)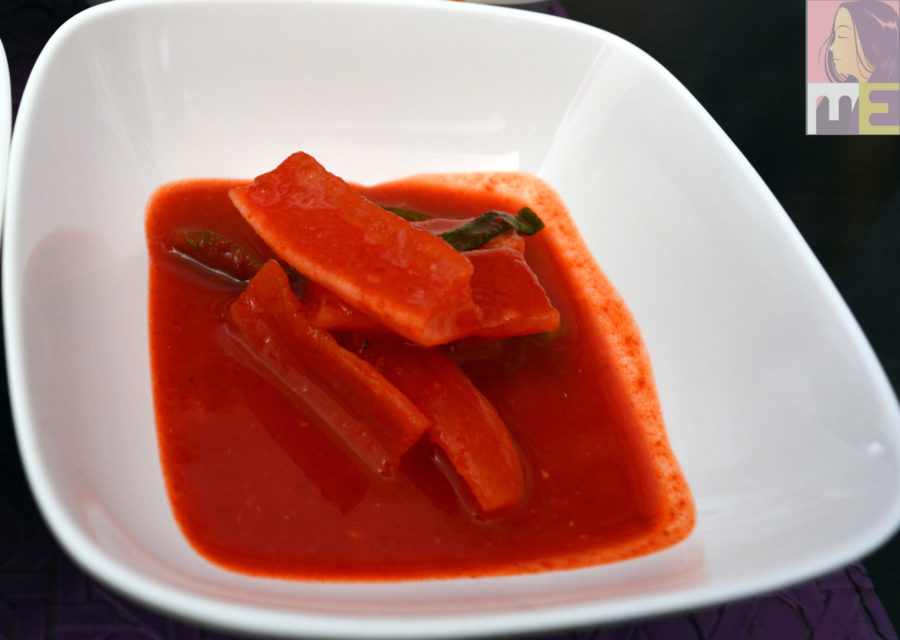 , Fried Bananas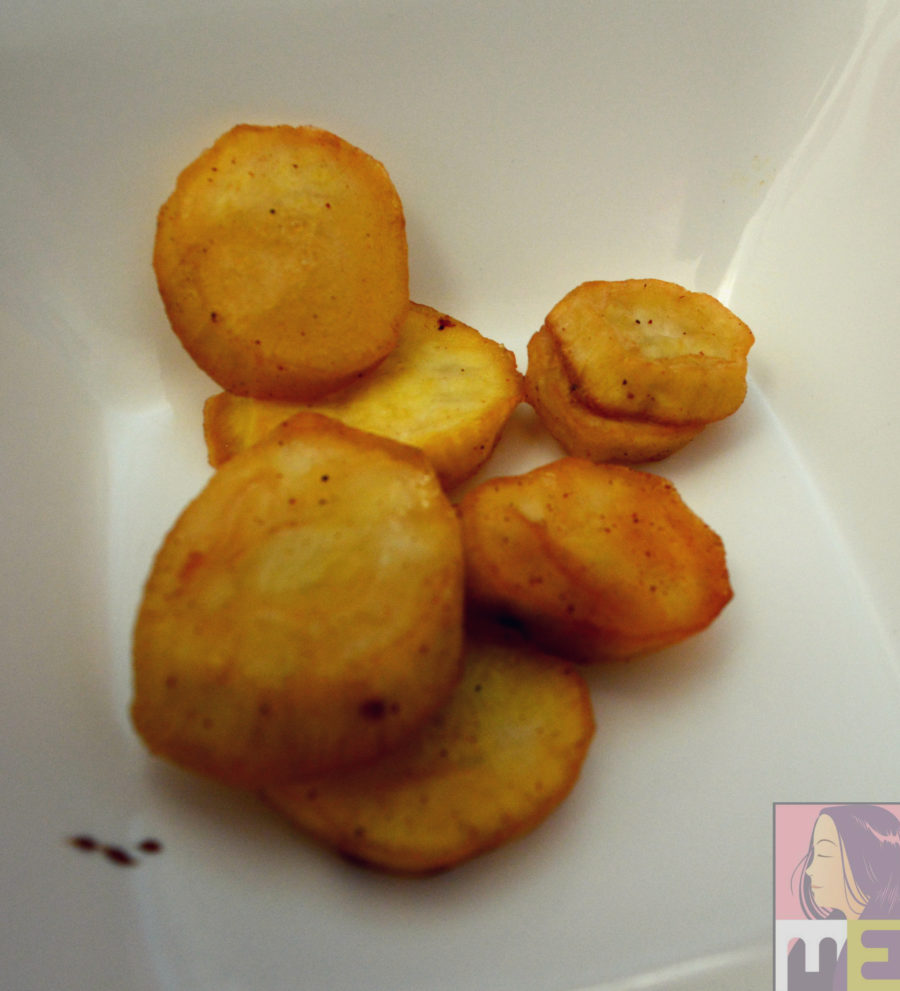 , Baby Potatoes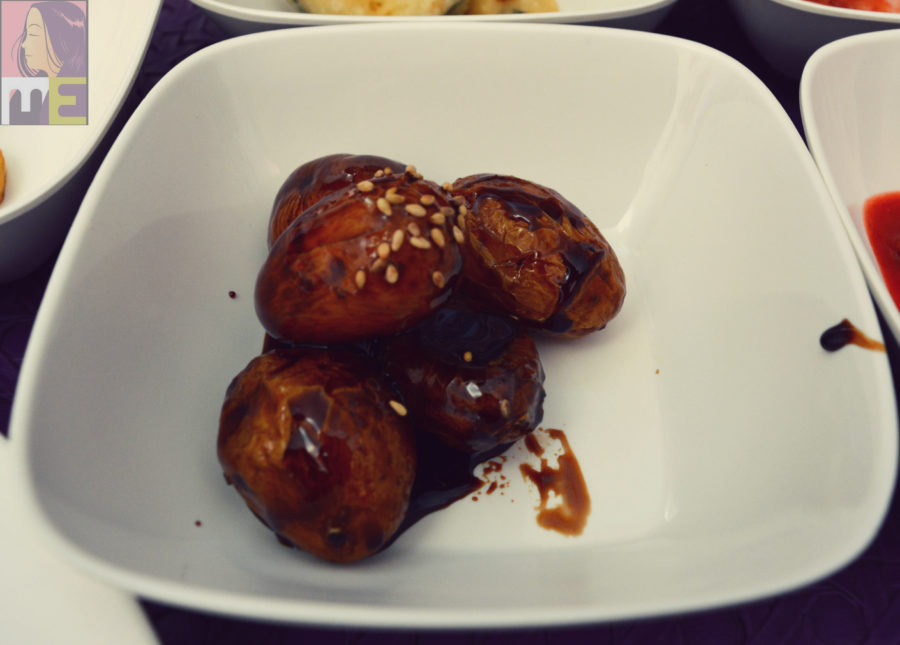 and Fried Zucchini I guess.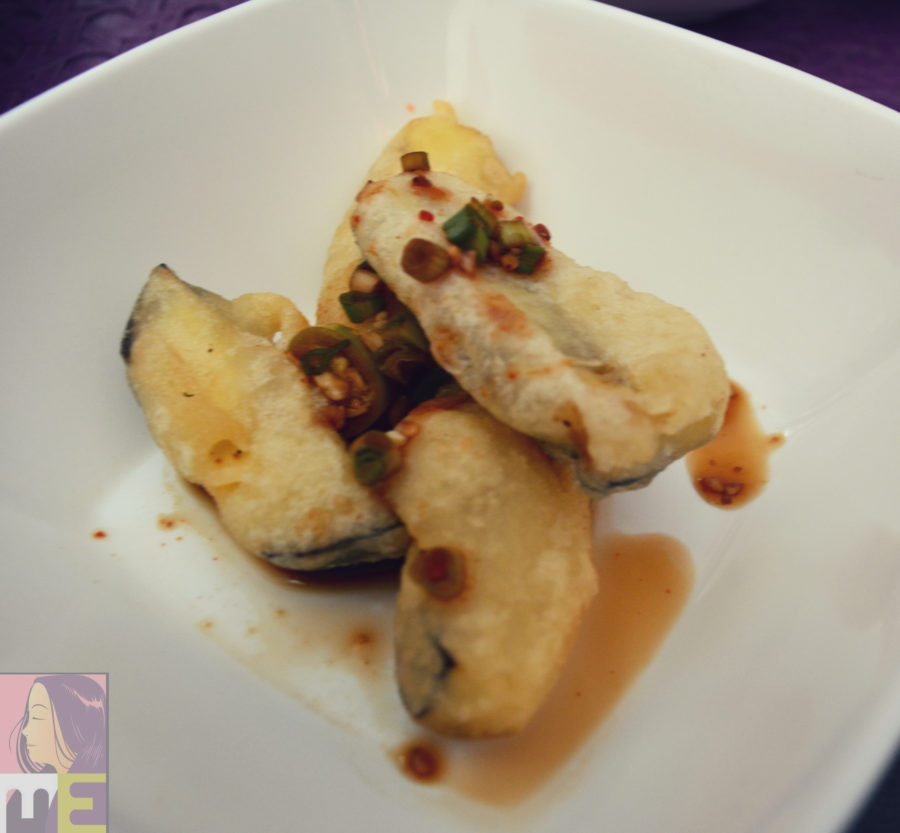 The baby potatoes were just the best, I can eat them every day without getting bored. The Kimchi and radish Kimchi were as hot (just like kimchi usually tastes) and overwhelmingly good. Not a huge fan of zucchini but zucchini lovers might like it, and the fried bananas tasted just like fried bananas tastes. The main dish was mind-blowingly good; I could have had it by itself without even the side dishes. I love how most of the Korean dishes are topped with roasted sesame seeds, it just takes the flavours to a whole new level.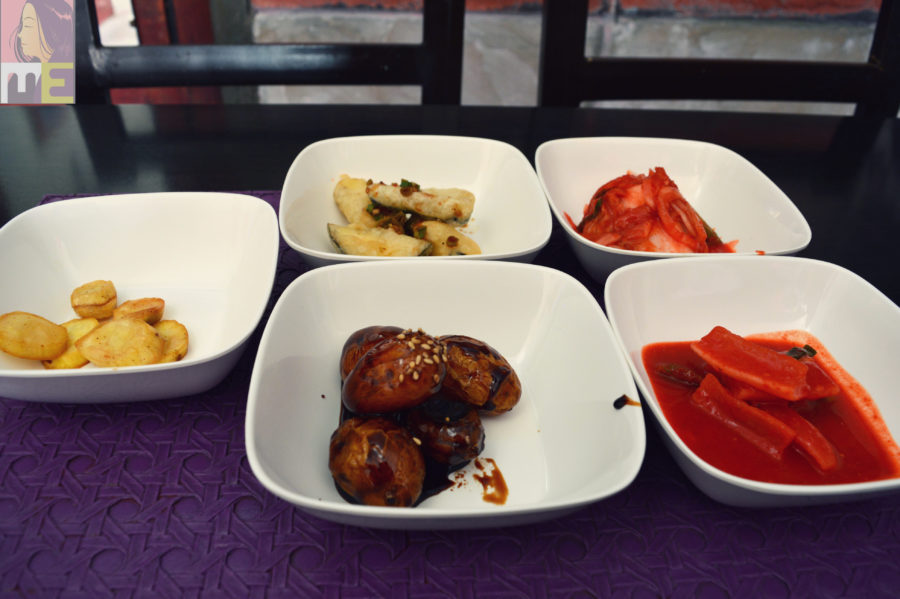 The side dishes were served first, and then the main dish was served a few minutes later along with a spinach soup. They said that they serve different soups everyday and that day it was spinach which I was not very fond of. I really wished it was Kimchi Jiagae day as I love Kimchi soup even better than Kimchi itself. Anyway the whole portion was a little overwhelming for me, it would have been perfect for people with regular appetite or even better appetite but it was a bit tough for me to finish the whole thing along with the side dishes. And I shamefully kept wishing my boy friend was there so I could have ordered Bibimbap and may be even Gimbap. Anyway I somehow 'almost' finished the whole thing, paid my bill and left thinking that if it was in Kolkata I would be mentally taking notes what to order the next time I visit.
Cost: Rs.420 with Tax
Zomato link to the restaurant: https://www.zomato.com/bangalore/the-himalayan-koramangala-5th-block