Hello everybody, today I am going to review the Astaberry Pearl Skin Tightning Facial kit. Astaberry has got a wide range of facial kit collection and I have already reviewed the Oxy Facial Kit which I loved dearly. The Pearl Facial kit, just like the oxy one comes in a rectangular box with a freebie Papaya Face Wash. The whole thing will last you 4-5 facials and I think for Rs.225/- it's a great deal.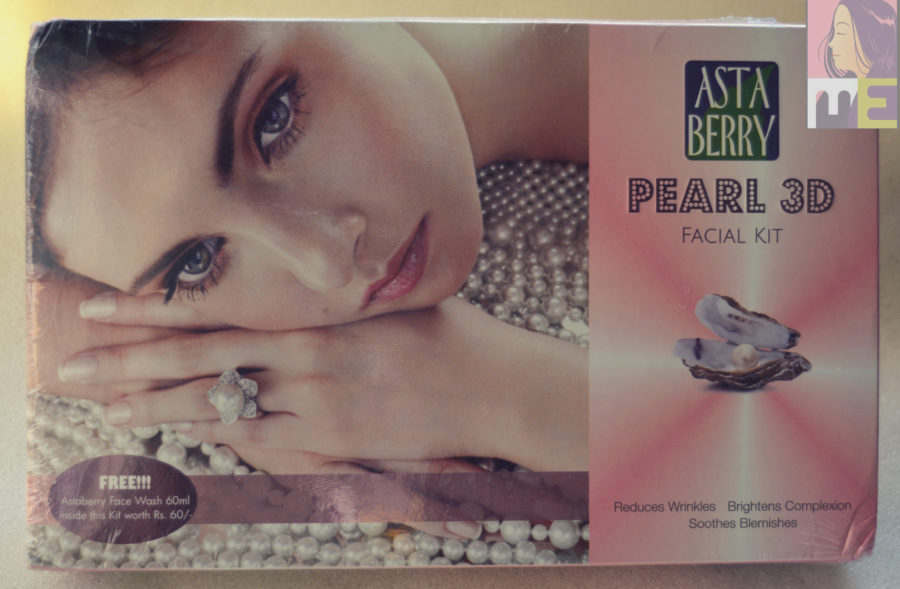 Description: This kit contains precious pearls along with Soy Protein Extract. Research has revealed that pearls contain a combination of natural substances that help to improve rejuvenation of the skin cells. This treatment is ideal to provide hydration to the skin and make it look firm, soft, smooth & young.
Ingredients:
Key Elements: Pearl Powder, Soy Protein Extract
 Pearl Powder
Rich in vitamins, minerals and amino acids.Anti-aging properties.
 Soy Protein Extract
Rich in essential amino acids. Antioxidants & anti-inflammatory agents. Helps in repair, restore & nourishment.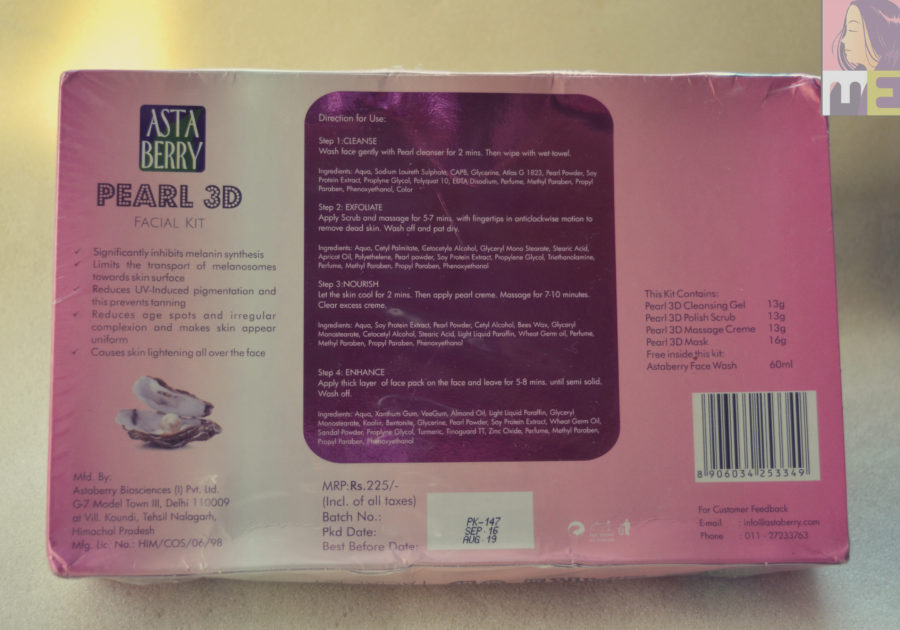 Skincare Benefits:
Let your skin experience the goodness of Pearl powder with this Pearl Facial Kit from Astaberry.
Improves Skin Moisturization
The rich formulation of wine in this facial kit adds the desired amount of moisture and makes your skin soft and supple.
Replenish Depleted Moisture
This facial depletes the lost moisture of your skin and nourishes it in the most unique way.
Everlasting Glow and Fairness
This facial allows to pamper your skin providing a soothing effect and leaves your skin more beautiful than before. You can get that instant glow and fair skin with this facial kit.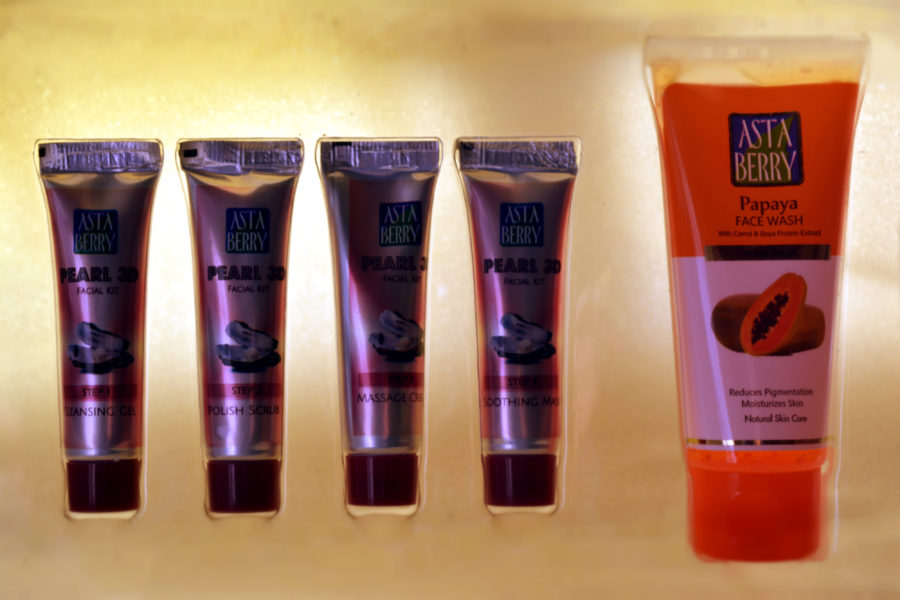 How I use it:
Gel Cleanser: The cleanser is a shimmery gel and doesn't foam up. I end up using so much of the gel every time that I worry that I will run out of it while the other contains will be good to go for a couple of more usages. I massage the gel for 2 minutes and wash it off with cold water (even though the instruction asks for wiping with a piece of cloth)
Scrub: The scrub comes with a white creamy textures and tiny granules. Now you guys are aware of my love for scrubs and exfoliators that comes with tiny granules because big granules can permanently damage the skin. I massage the scrub on my entire face and neck for 2-3 minutes and wash it off.
Massage Cream: I let my skin cool down for a couple of minutes and massage my face with the massage cream using my finger tips in a circular motion for around 10 minutes. The massage cream is white and thick in texture and a coin size amount is required to massage the entire face and neck.
Pack: After whipping away the excess cream I apply a thick layer of the pack on my face and neck and wash it off with cold water after 10 minutes.
My experience:
The facial kit certainly does not provide the super brightening and lightening effect I enjoyed with the Oxy Facial Kit. However, my skin feels noticeably firm and tight after using this facial kit. That's right, the Box mentions anti-aging benefits over and over again and that part of the claim proved to be true. Even though the 'glow' wasn't as noticeable as the Oxy Facial kit, I would still recommend this facial kit to anyone who is 25+.
Where to buy:
 Official Site, Flipkart, Amazon
 Pros:
Value for money
Does what it claims
Comes with a free face wash
All the contains comes in tubes, making them super hygenic
Cons:
Rating:
3.7/5