After my rant about sheet mask mistakes yesterday, I thought it would only be appropriate to review a sheet mask today. So yesterday I was going through my mask stash and since my skin wasn't asking for anything specific yesterday I went ahead with the one much underrated by me- Innisfree It's Real Rose Sheet Mask. I don't know why but I really did not have too much expectation from this particular mask, but at the end of the day I was proven wrong.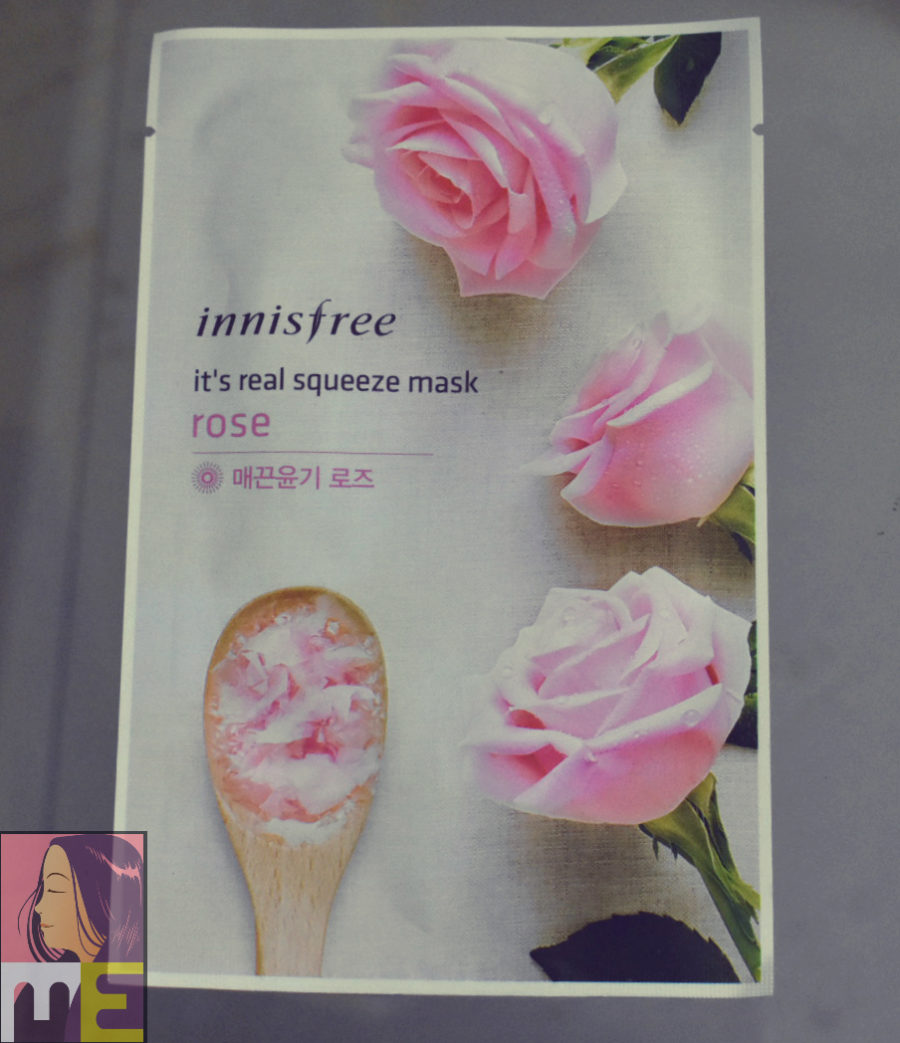 What it is
Get supple and radiant skin with the rose It's real squeeze mask!
1. It's real squeeze mask – ros
Fragrant roses provide moisture to your skin to make it supple and smooth.
2. Jeju green complex
The Jeju green complex consists of green tea, tangerine, cactus, camellia leaves, and orchids to keep your skin healthy.
3. Triple-layered sheet
This triple-layer sheet has a long-lasting moisturizing effect so that the essence can gradually be absorbed into the skin.
How to use:
 After washing your face, gently apply toner on your face to even out your skin texture.
2. Then, apply the mask over your entire face, avoiding your eye and lip areas.
3. Remove the mask after 10-20 minutes and gently pat your face to allow the remaining formula to absorb into your skin.
Price: MRP 100Rs
Where to buy:
Ingredients list: Water, glycerin, butylene glycol, alcohol, betaine, citrus paradisi (grapefruit) fruit extract, rosa centifolia flower juice, xanthan gum, PEG-60 hydrogenated castor oil, ethylhexylglycerin, sodium hyaluronate, citrus unshiu peel extact, orchid extract, camellia sinensis leaf extract, camellia japonica leaf extract, opuntia coccinellifera fruit extract, disodium EDTA, phenoxyethanol, fragrance
My CosDNA analysis came up pretty clean with only butylene glycol raising a low 1 potential acne trigger. But then a lot of products contains bulylene glycol and my skin never reacted badly to it.
My Experience:
It was probably the first sheet mask that I tried during my morning regimen as a part of my experiment. I've been reading about how K-beauty enthusiasts apply them on the morning and then finish it off with a moisturizer and then with a sunscreen and flaunt the hydration throughout the day. I kept the sheet mask on for about 30 minutes and it was still wet while I took it off. The fitting was average and the rose smell was too pleasant.
The moisturizer that I've been using for a couple of weeks now feels too heavy on my skin (review coming soon). So after I took off the mask my skin was immensely hydrated but after using the moisturizer I didn't notice anything except for the hydration. After I washed my face during my night time regimen, the heavy feeling from the moisturizer went away and the radiance and brightening effect were noticeable. The hydration lingered when I woke up the next day (today) and the radiance is still noticeable while I'm writing this post, though not too dramatic but enough to make me feel guilty to avoid it for so long.
Will I purchase it again?
Sure it won't be my first choice while sheet mask hauling the next time, but if I'm picking up a bunch, it certainly will be in my cart.
Will I recommend it?
To anyone who wants moisture+hydration+radiance
Rating:
4.5/5