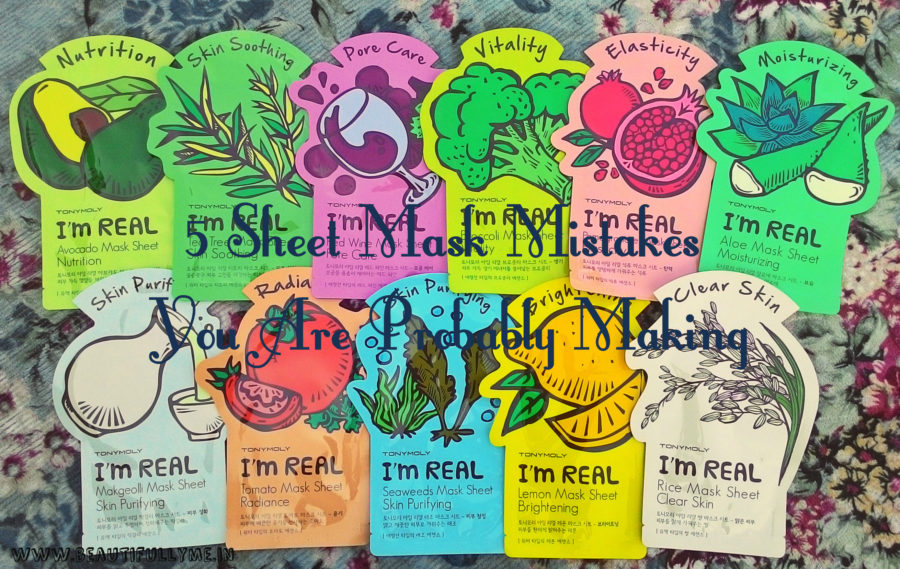 K-beauty is still a relatively new concept in India compared to the western world. And who can you blame? Apart from the fact that Indian Women usually don't indulge in much skincare, India also lacks the abundance of the amazing products that South Korea has to offer. We only have Innisfree and The Face Shop (very recently launched) to at least get the idea what the ravings are all about. Sometimes we hear the ravings (and criticism) from the mouth of people who have used only a couple of products from the above mentioned brands (no disregard meant) but are yet to get their hands on the much glorious brands. No doubt, Innisfree is an excellent brand but trust me, there are much, much, much, better brands out there to experiment with. Because you can't tell what's really working on your skin until you have tried more than just one brand.
The reason why I'm taking my time to write this article today is because I've read many Bloggers giving out misinformation to their readers. I am not here to name anyone bad, but since I have been indulging in Korean Skincare for over 2 years now and I have been studying about it for so long, trying out so many brands and communicating with Korean Beauty Bloggers as well as K-beauty Bloggers from different parts of the world I am just using this column to share the knowledge I have gained in this two years.
Today's post will only be about sheet masks because I have read so many misinformation regarding them and I thought that this was much needed. So here are some stuffs you need to keep in mind if you are someone who indulges in K-beauty or you are looking forward to.
Do not wash your face after sheet masking:
So I was going through a very popular blog reading reviews as I sometimes do during my leisure hours and I came across an Innisfree Sheet Mask review and the blogger was actually complaining about how the moisture didn't linger after washing her face. I mean why??? Why would you do that? Why would you waste that hard earned hydration and moisture by just washing your face. Sheet Masks are literally sheets drenched in serum or essence. Do you wash your face right after applying a serum? NO. Then why would you do that after sheet masking? You just earned your face an amazing hydration and moisture, so just enjoy it and only wash your face during your next skincare routine.
Do not reuse your sheet mask:
This one I read like million times. Like people actually store that used sheet mask so when they sheet mask the next time and there's a little serum left at the bottom of the packet, they soak the used sheet in that serum and give it to someone in the family to use. Again, why? If you are indulging in something this unhygienic and feeding your skin with so many bacteria then why would you even indulge in skincare in the first place. The first rule of thumb is to be hygienic. People who actually indulge in Korean Skincare maintain their hygiene like their religion. We don't even put our washed fingers in products that comes in tubs, we use washed sterilized spatula to be extra careful. So just throw away that used sheet when you sheet mask the next time.
Follow it up with a moisturizer:
Because sheet masks are drenched in serum, not moisturizer. Both have different tasks and your skin needs both. I don't know how many people use a moisturizer or a night cream after sheet masking but I've heard a lot of people complaining that the sheet masks have made their skin sticky and greasy. Yes, because you've probably forgot to seal in the goodness with a layer of moisturizer. And no, an added layer doesn't make your skin more greasy, it just locks it all in.
Don't leave it on for too long:
I'll admit that while sheet masks are usually required to be left on for 20 minutes, I do leave them on for 30 minutes sometimes, especially if I feel that the mask is drenched in too much serum. But I do remove it while the sheet is still damp. If you leave it on until it's completely dry, chances are that the sheet will soak back the moisture from your skin. (This point is actually made by Korean Skin Specialists)
Choose the masks according to your need:
It's a no brainer that different sheet masks target different types of skin issues like any other product. If an oily skin beauty applies a super hydrating mask, chances are she'll break out or get an oiler skin. So choose according to your skin. Whatever your concerns are, there's something for you.
i.e- Oily skin- Tea Tree Oil;  Acne Prone Skin- Tea Tree Oil, BHA;  Troubled/Irritated Skin- Aloe, Bija, Green Tea, Rice, Makgeolli;   25+ – Collagen, Pomegranate (firmness);   Dry skin- Manuka Honey;   Dull Irritated Skin- Green Tea;   Need Brightening- Tomato, Lemon;  Need Purification- Rice, Makgeolli, Seaweed.
To make the whole sheet mask scenario a little clearer, I am discussing how I personally apply sheet masks:
While most women apply sheet masks during the morning skincare regimen to flaunt the hydration throughout the day, I personally use them during the night. Firstly because I'm not a morning person, secondly, I stay indoors most of the days and lastly, I feel like the serum is getting to do wonders to my skin while I sleep and I wake up the next morning with a plumped up and super hydrated skin.
Never apply them on an unclean face: I actually wanted it to make the 6th mistake point but then I thought that no one can actually sheet mask on a dirty face, can they? While sheet masking on an unclean face is out of question, you might even wanna exfoliate before sheet masking. It actually depends on the amount of time you are sheet masking in a week. For example- I usually sheet mask twice a week (sometimes as often as every day) and I exfoliate once a week, so once I sheet mask after exfoliation, and once after detoxifying with a charcoal pack. If you are someone who sheet mask once in a while, then try doing it post exfoliation. That way your skin can absorb the most of it.
Applying serums before the Sheet Mask: Just because you are sheet masking, doesn't mean you should avoid your regular serum that day, ever heard about serum cocktails? So while the usual regimen says that the serum application goes after the sheet mask, I feel like applying the serum before the sheet mask is more beneficial. That way the goodness of the serum gets locked into the skin along with the goodness of the sheet mask. (This is actually something I learned from Jude Chao from Fifty Shades of Snails)
And lastly, read the instructions before applying the masks. You cannot make the most out of your sheet mask unless you are applying it properly. I hope these informations were helpful. Do drop down a comment if you have any queries.
Till then,
Bye,
Xoxo
Update:
Fortunately, we now have access to a number of K-Beauty brands in India and I have made a list where to get them : Where To Buy Korean Skincare Products in India + Some Tips & Tricks