Over the last two days, I have been talking about how to get a beautiful healthy skin during the winter. But let's not forget that the rest 90% of the body is equally important. You need to take care of the rest of the skin and not just the skin on your face because trust me; you don't wanna look like a new face replaced on an old statue. Here's what I do to keep a healthy skin all over my body.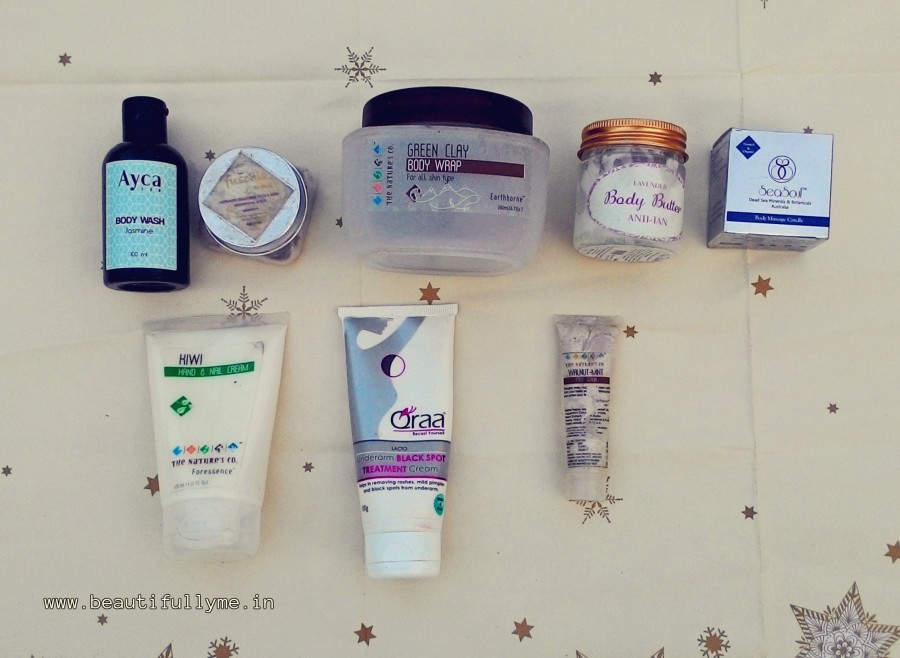 Body Wash: I rarely use soaps and try to use mild sulphate free body washes and even if I use a soap, I use the handmade ones. I am currently using the Ayca Body Wash which smells amazing and doesn't dry my skin.
I won't put this as a point in here but when I do a little work out before showering, I use the Skinyoga Post Workout Neem purifier after using the body wash.
I also use bath salts every now and then..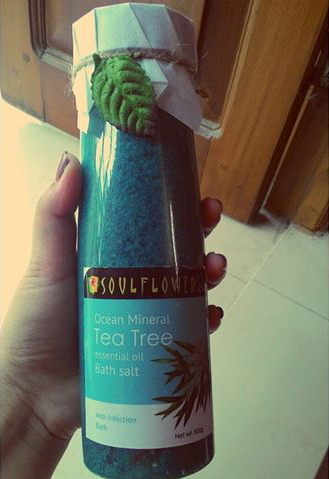 Body Wrap: This is like a spa at home and the best way to detoxify the skin. I use The Nature's Co Green Clay Body Wrap once a month when I feel the need of a luxurious bathing experience. You are supposed to slather the Green Clay and wait until it dries out but I am a person with very little patience and every single time I run out of that little patience even before it dries out. But, I love how the covered skin area gets warmed up, as if I can actually feel the toxins flushing out. 
Body Butter: I don't have a dry skin, but I use a body lotion throughout the year only replacing it with a good body butter during the winter. Body butters are thicker than body lotions and you won't feel the need to reapply it throughout the rest of the day. If you are a dry skin beauty, I will recommend switching to a Body Butter during the winter. I am using the Seasoul Lavender Body Butter right now.
Massage Candle: It's not a luxury step I go through very often. But if you have never tried one, I must suggest giving it a try. I haven't yet started using it this winter, but I enjoyed the candle way too much last winter to leave it out. You are supposed to light the candle and once the wax melts, you need to take the hot oil, rub into your palms and massage all over your body. The one that I'm using is from Seasoul. 
Hand Cream: My hands and fingers tend to go dark every winter ever since I was a kid. However, the use of a hand cream during winter has helped too much and I don't look at dark hands since the past few years. The best time to use a hand cream is right before going under the blanket. I am using the Nature's Co Kiwi Hand Cream right now. 
Underarm Cream: This step has got nothing to do with winter. But I am putting it anyway as I am using one right now and it helped a lot with my dark underarms. I am using The Qraa Underarm Black Spot Treatment. 
Foot Scrub: I don't suffer from cracked heals (*touchwood) and I make sure that I don't ever. I use a foot scrub once a month, and start wearing socks throughout the day as soon as the weather gets a little chilly, and my foot cream is on its way.
I am using The Nature's Co Walnut Foot scrub right now.
And Last but not the Least: I don't usually go out in the sun these days but when I do I slather some sunscreen on my arms. Usually I forget, but when I don't, I use the Aroma Magic Sunblock I mentioned in my am skincare.
So that's all. I hope this post helped(and encouraged) you guys to take good care of not just your face, but also your skin. I can't wait to read your responses. And I will be back with my winter hair care soon.
Till then Bye,
XOXO