Hey guys, last night (or rather I should say today early in the morning), I announced my monthly giveaway box. As promised, I'm here with the product details from my June Beautifully You box.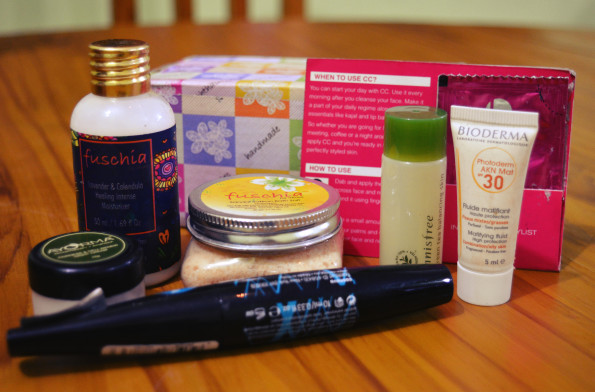 Fuschia by Vkare Sandal Saffron Bath Salt : (Sponsored) This is one of my favourite brands and I have previously reviewed some of their products, so all I can say is this brand is tried and tested on my super-sensitive skin, and it works like wonder.
Fuschia by Vkare Lavender & Calendula Healing Intense Moisturiser (Sponsored)
Catrice Cosmetics Lashes to Kill Volume Mascara
Innisfree Green Tea balancing Skin Lotion, Sample 15ml
Bioderma Photoderm AKN Mat SPF 30 , Sample 5ml
Ayorma Fairness & Cell Renew Night Cream, Sample 15gm
Lakme All in 1 CC Cream, Sample
So that's everything from my June Giveaway box. There are three full-sized products and four Samples. I hope this is not disappointing at all.
Now comes the most important part…
What You'll Have to Do to Enter Monthly Giveaway
E-mail subscribe to my blog. There's no need to unsubscribe and re-subscribe to get noticed, just comment your e-mail ID on this post so that I can know that you are an active subscriber.
Follow Fuschia by Vkare on Instagram
This is not mandatory, but I'll really like it if you follow me on Instagram and Facebook :D. Also it will be a lot easier for you guys to find out when the winner is announced and when the next month's box is announced.
Comment on this post letting me know that you've entered this giveaway, so that I don't have to wait for months if I choose any inactive subscriber.
So that's everything you guys need to do. The winner will be announced by the end of June, I'll e-mail the winner and edit this post putting his/her name at the bottom. The winner will have until the next month's winner announcement to response, and after that I'll choose another winner and ship the box along with the next month's box.
Edited: And the winner of this month's box is- Barnali Mukherjee.
The next month's box will be updated soon, good luck.. 🙂