So I posted my long pending Innisfree Haul yesterday. Few of the products have already been reviewed. I am going to review the rest of the products, starting with the Black Berry Mask.
Sheet masks are by far the favourite step of my skincare routine. I use sheet masks every twice a week (sometimes more). They have particularly been my best friend since the Indian summer has hit my skin too hard. The weather here is so bad but truth is that I can really get dehydrated, but my skin cannot, thanks to my elaborated skincare routine. Taking the sheet mask out of the freezer and throwing it on my face has been the best part of my day since the last couple of months.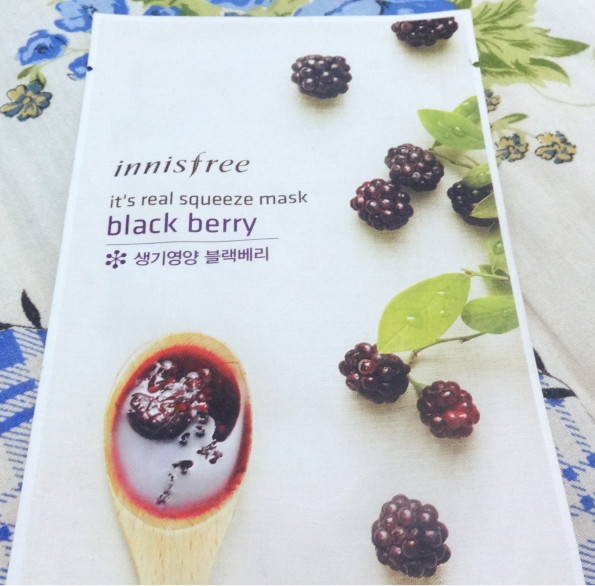 Purpose: Innisfree's It's Real Squeeze Mask in Black Berry is a moisturizing sheet mask that claims to deliver nourishment for healthier skin.
Do not use if: You are allergic to blackberries or sensitive to silicones, fragrance, or anything else in the ingredients list.
When and how to use: In the evening, after cleansing and before your final moisturizing step, tear open the mask packet, remove the sheet mask, unfold and fit over face. The mask has several slits to assist in customizing fit. Leave on for the time specified on the label (or a little bit longer), then remove. Pat or massage in excess product and finish with your emollient or occlusive moisturizing cream.
Ingredients list: Water, glycerin, butylene glycol, cetyl ethylhexanoate, caprylic/capric triglyceride, citrus paradisi (grapefruit) fruit extract, rubus fruticosus (blackberry) juice, polyglyceryl-3 methylglucose distearate, glceryl stearate, dimethicone, PEG-100 stearate, carbomer, xanthan gum, ethylhexylglycerin, adenosine, potassium hydroxide, sodium hyaluronate, citrus unshiu peel extract, orchid extract, camellia sinensis leaf extract, camellia japonica leaf extract, opuntia coccinellifera fruit extract, disodium EDTA, phenoxyethanol, fragrance
I particularly dislike products containing artificial fragrance. I cannot imagine why someone would intentionally and unnecessarily add ingredients that can trigger irritation. The rest of the ingredient list however consists of lots of natural ingredients and fruit and leaf extracts. Although I can't say that I feel the same way about PEG-100 stearate, carbomer and dimethicone which are known for being irritants.
My Experience:
Like most of the sheet mask, the Innisfree Blackberry mask comes folded in individual packaging. The serum was thick in consistency and so was the cotton. I didn't have any trouble unfolding it and to my pleasant surprise there were no excess serum dripping all over my dresser while unfolding it and fitting it on my face. There were enough serum to cover the necks and hands but there weren't any serum left at the packet, which I think is good because I hate the messiness the sheet masks sometimes create when there's a lot of leftover serums. The mask fit my face perfectly, I didn't have to tear the eye holes and unlike many other sheet masks, the forehead part didn't mess up my hair.
Even though it was written to leave the mask on for 10-20 minutes, I love leaving my sheet masks on for at least 30 minutes, or until the masks starts to feel dry and comes off the skin. The 30 minutes have been very pleasant, mainly because it felt so cooling and soothing (I did throw it in the freezer for an hour before I used it). The smell however wasn't particularly of black berries; remember the added fragrance on the ingredient list?
After taking the sheet mask of, I massaged the serum on to my face and it absorbed easily. I finished my routine with a brightening serum and then a sleep pack.
The following morning my skin felt noticeably plumper and even. One perk of using sheet mask is that you can really feel the difference the next morning. And this morning the difference was noticeable. Most of the "It's Real" Sheet Masks from Innisfree claims nothing but nourishment, so does this one and thus I wasn't expecting more from it and I am happy with the result.
Pros:
Does what it claims
Didn't irritate my super-sensitive skin
Affordable
Lots o natural ingredients
Con:
Some ingredients are known to be irritants
Rating:
4/5
Will I purchase it again?
Not if I have the option to purchase the Green Tea or Manuka Honey sheet masks from Innisfree.