Everyone has one of those days where, no matter how hard you try, everything seems to be going wrong. When you're down in the dumps, you'll find that it's almost impossible to smile.However, almost everyone has that one thing that instantly cheers them up. For some, that one thing is fashion. One small accessory can not only brighten up the outfit you're wearing but brighten up your whole day. If you're someone who finds their mood is boosted by accessories, the following four accessories are sure to put a smile to your face.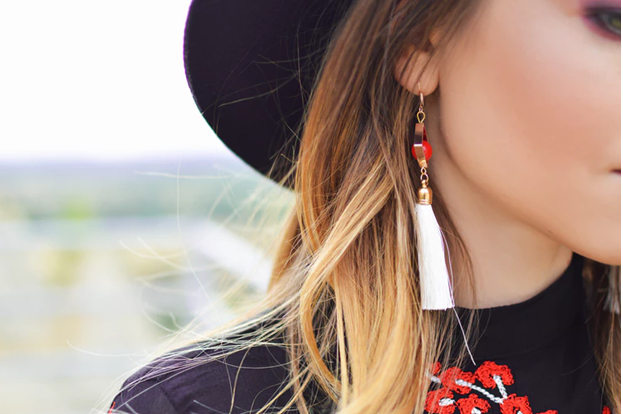 Not only are dangling and drop earrings big on the style scene right now, but they're also a lot of fun! Colorful tassels could be the additional pop of color you need to really bring your outfit together. Tassel earrings typically come in bright and bold colors, making them the perfect reminder that you are bright and bold!
Tassels aren't the only type of earrings that can spark joy. Jhumka earrings have a beauty that will surely bring a smile to your face when you see them reflected in mirrors and glass. The jingle of these bell-shaped dangling earrings will be music to your ears on a bad day. While you'll often find them in gold, you can find them in pearl, silver, or oxidized with precious gemstone beads.
Sunglasses are an essential part of any summer outfit. They come in all shapes and sizes to match all types of outfits. Some of the most popular styles of glasses right now are aviators, wayfarers, tiny triangle lenses, and tinted glasses.
When you choose the right pair of sunglasses, you don't only shield your eyes, but you also can brighten your day. Having a pair of cat-eyed sunglasses or yellow-tinted sunglasses can turn any rainy day into a sunny one!
The accessories you wear aren't the only ones you should be mindful of – the things you carry with you every day are accessories, too. Phone cases are intended to protect your phone if you drop it or bang it up, but protection doesn't have to look dull. Phone cases can be stylish accessories too. Take the outstanding cases from Casely, for example – they come in trendy marble and floral patterns.
The phone case you use should be something that you enjoy or something that reflects you. Looking down at something you like every time you need to check your phone can really boost your mood. With sites like Casely, you can switch up your case to stay stylish and smiling with each monthly subscription delivery.
Bangles are another traditional Indian accessory that has the power to put a smile on your face. These bracelets go great with any outfit whether it's more traditional or modern. They're made from a variety of materials, such as gold, ivory, shell, wood, glass, and wood. The sound made from bangles clanking together cannot be replaced. The joyful noise they make can serve as a reminder to smile on days when you don't feel like it.
Celtic necklaces, pendants and Irish Necklaces are all the rage these days. Gift yourself a Celtic Necklace to brighten up your look-book.
The Power of Accessories
There are times when we all need a pick-me-up. These attempts at boosting your mood can come in the form of food, makeup, a spa day, shopping, or simply wearing your favorite accessories. Do whatever you need to start your day out on a positive note and feel good about yourself. Wear your colorful shoes, snap on your favorite phone case, and dangly earrings and tackle the day with a smile!