It's just 3 more days till our first wedding Anniversary and I decided to celebrate these special days by putting in some of the bits and pieces from those special days in my blog.
I'll start with our wedding card design which is very close to our hearts. My husband is friends with this brilliant illustrator with whom my husband worked with to design our wedding card. The brain behind the design was my husband's and his friend turned his vision into reality. Honestly, I didn't even have any idea what they were cooking and the final result was rather a surprise to me.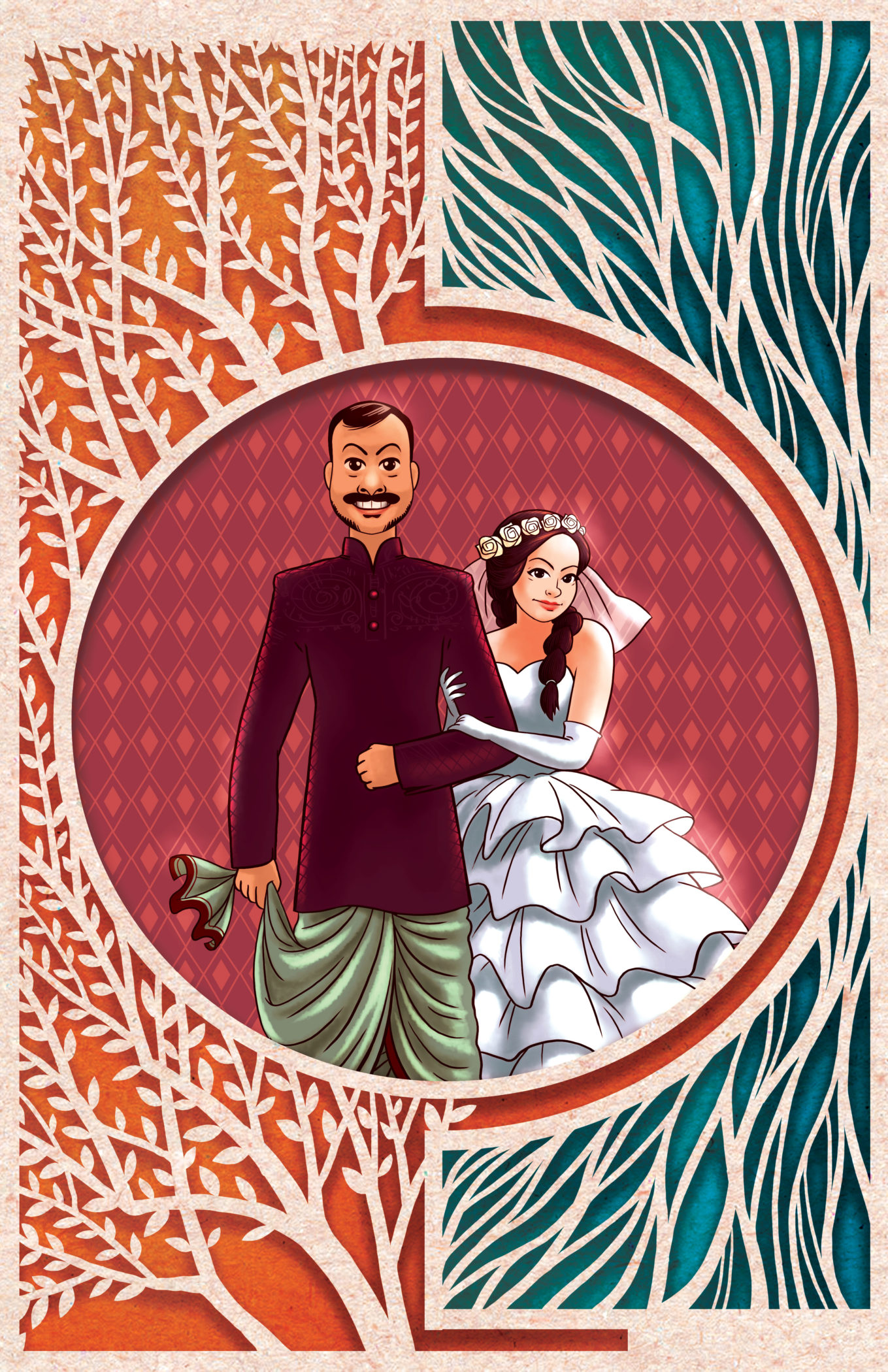 So the front page illustration depicts each of us in our very different cultural wedding outfits. The gown that I'm wearing in the illustration surprisingly looks very much like the very first wedding gown that I've ever worn, and I'm not sure if that's a complete co-incidence. Traditionally, the groom does not get to see the gown before the bride walks down the aisle but since I heavily rely on my husband's choice (he has a better taste than me) I took him with me on my dress trial. The first gown that I wore, it was pure love! I felt the most beautiful while wearing it and I'll never forget the awe that I saw on his face while he saw me in the dress. Unfortunately, I was getting married in a small town and I would have had to wear a lace shrug or something like that because you know… small towns! The very second gown that I tried was the one that I walked down the aisle in. Also, I've always admired satin wedding gowns because they look more elegant and graceful and the first one (and the prettier one) was lace so I went with the second one.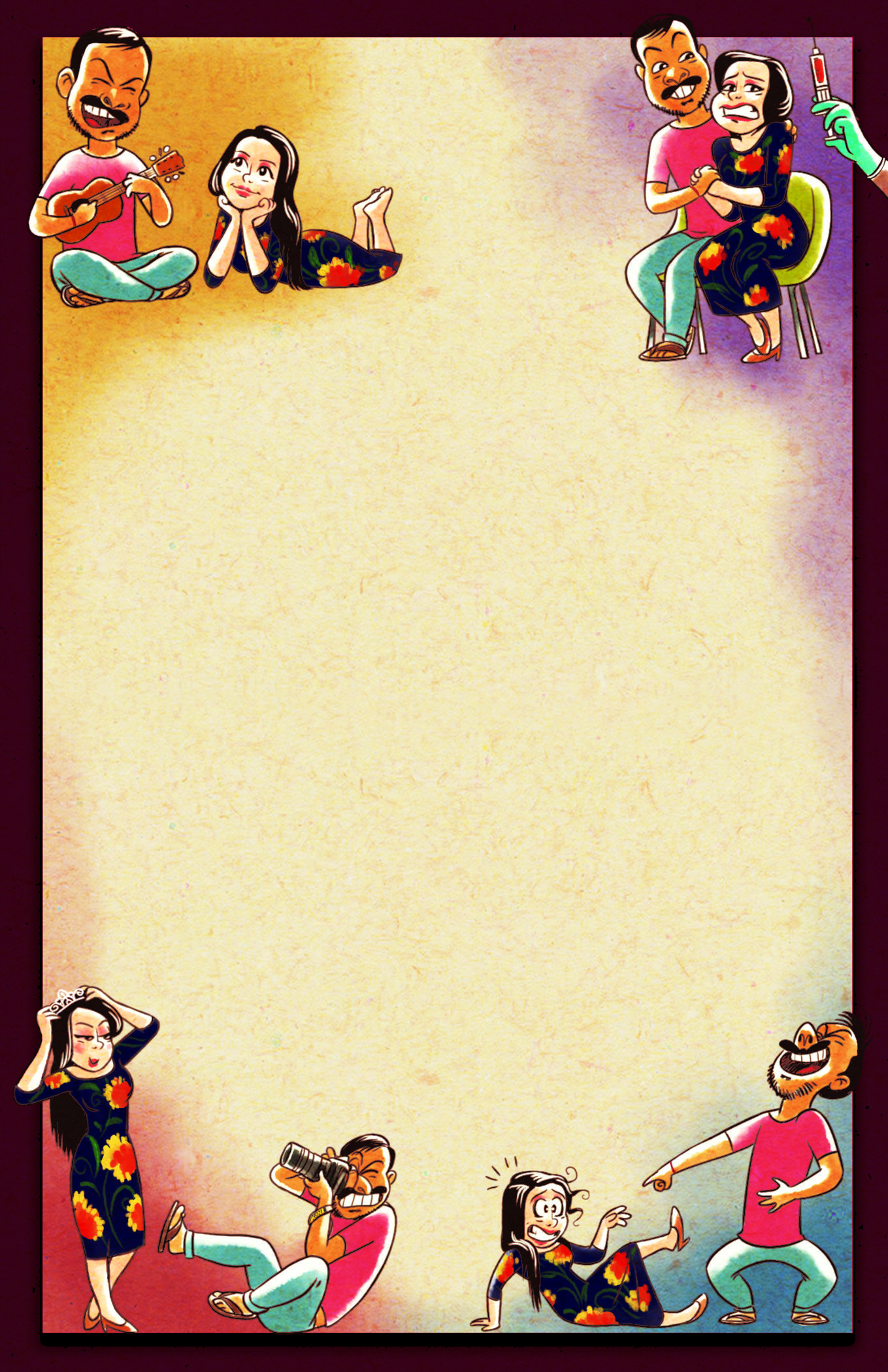 The back page depicts our life together in general. Ever since I was a kid I always had one wish, to have a room full of instruments and to not get married until I do, that was unless I was marrying a musician, because that way we could both work together to have a room full of instruments. And music is how I met my husband. We used to be band mates and now together we have 5 guitars, 1 ukulele, 1 cajon, 1 kazoo and 1 keyboard. The ukulele was a gift from him to me but I never made an effort on learning how to play it, so now he plays and I just listen or back him up with a guitar.
The second illustration depicts my horror towards syringes. When I first got diagnosed with the tumour, I was more scared of the biopsy needle tham the thought of the tumour turning out malignant. I got diagnosed with a thyroid tumour around the time our wedding date was getting fixed and he accompanied me to all the tests and it was pretty much always the same scene.
The third illustration depicts our blogger-photographer duo. I started blogging way back in 2012 but when I wanted to do it seriously, I dismissed the first amateur blog, purchased a domain and started afresh on August 2015. He purchased our first DSLR on November and learnt photography because he was as invested in my blog as I was. I left my job as a Data Analyst next month to become a full-time blogger and never looked back.
The last illustration dates back to 2013 Kolkata Book Fair. We love book fairs, I mean every Bengali loves book fair but we have nostalgia attached. Remember when I said we used to be band mates? So back on 2012 February we went to the Book Fair for an open air jamming. Well we went as band mates but came back as couples ditching our other band mates at the ground. It was the very first time he came to drop me at my place and he had done that ever since. So nostalgia drags us to the Book Fair every year and the next year I purchased a LOT of books. A bunch of Nancy Drew (yes I'm 29 and I still read them) , a book on ancient Japan and a bunch of magazines from the International stalls (my favourite attraction). While coming back we couldn't book a cab or get a bus. And foolishly enough we didn't take our bike. After waiting for what felt like hours, we decided to walk back home or until to a point where we can get transport. If you haven't been to the Kolkata book fair, you have no idea how crazy the traffic is around the fair ground during that time. Our only chance was to walk for like an hour and ditch the road that leads to the fair ground. The road was enroute to my office and coming back from work used to be crazy during the fair time. So I remembered that there was a Biriyani joint on the way and decided to halt there to rest our feet. However, what seemed very close on our way to office sitting in a cab, seemed like galaxies away while walking on our feet. Now remember, I've already walked tirelessly for 4-6 hours at the fair and my legs were no longer with me. So as soon as I spotted the Biriyani joint I screamed in ecstasy and fell with 3 bags filled with books in my both hands. I started cry laughing, not because I was embarrassed, but because I was too tired to even get up. My husband picked me up and brushed dirt off me but whenever he describes my clumsiness to anyone, he never fails to mention this incident.
And lastly, the dress that I'm wearing in 4 illustrations, and the tiara, both were birthday gifts from him. 🙂
Illustration Curtesy: Ankur Majumdar (Studio Patachitra)