My last trip to Kerala was somehow left unfinished, especially because my flight ticket blunder shortened our Munnar stay. According to the usual Kerala itinerary, the Munnar stay is usually longer than any other stays at Kerala. But as our lucks had it, we only stayed at Munnar (100km from Munnar town actually) for only one night, and stayed at Alleppey and Kottayam for 2 nights each, and Thekkady for 4 nights. When our driver told us that we haven't even seen the real beauty of Munnar since we stayed 100km towards the airport, we casually mentioned that we might come back with my family around September (my husband's family doesn't travel much). And then 5 months later I was already making another travel plan to Kerala, this time mainly focusing on Munnar and Cochin, both the beauties we missed last time. My sister was travelling to Paris around that time and my parents were making their plans to visit our extended family at Agra so I rather made a plan for just the 2 of us.
A couple of days after getting my tickets, I woke up one morning with flood news on my feed. Everybody asked me to cancel my tickets, but I decided to wait it out. First forward to a month later, the flood water started receding, people from all over the country started donating to relief funds and Kerala started going back to their normal lives. It was a couple of weeks before our trip and even though it sounds really terrible to plan about a trip when life was lost, I was also reading the headlines about how Kerala Tourism has suffered due to the flood. It's the Neelakurinji Season, and loosing the business right now is the second worst thing that can happen to them, the flood being the first. I did not want to be among the 80% of the tourists that cancelled their trips due to the flood, I wanted to be among the 20% that didn't. No offence towards the people who cancelled, no one wants to take risks, no one wants to travel to a recently flood effected area, but I somehow reached out to the local people. Some said, the road to Munnar is affected, some said though affected, it's still travelable. I talked to our driver from our previous trip and he said that the roads are being repaired; might not be as smooth as it was before the flood, but yes, you can still travel. So we headed out, despite of much dismay from our parents and loved ones, I needed to see the situation with my own eyes.
We set out for our trip at the crack of dawn and after 7 and half hours of journey reached the airport from where the driver from our previous trip picked us up. Our first stop was Munnar, and our driver kept describing which areas were affected by the flood, comparing how high the flood water rose and how you can't even tell from the current situation that it was that bad about 2 weeks ago. The city of Cochin looked as good as new, with all the shops and eateries open and running. We reached the Munnar road about 2 hours later and saw some rally for #safeneelakurinji. Hundreds of cars as well as individuals with #safeneelakurinji stickers and t-shirts rallying to spread awareness that Kerala is recovering and is safe to travel. The roads were a little bumpy here and there. One can clearly see the landslide spots and even though the ruins are not completely removed, they are removed from the road, to the sides of road so that neither the locals, nor the tourists have any difficulty travelling. We learnt that the road to Munnar was inaccessible even 2 days ago, and I was surprised by the fact that they recovered so quick.  The 4 hrs of journey might have taken us 5 hours due to the bumpy road but our driver said that things will be better within a few weeks, even though the complete loss will take around a year for Kerala to recover.
We reached our first hotel T & U Leisure around 6 in the evening and our room overlooked one of the biggest landslide spot in Munnar.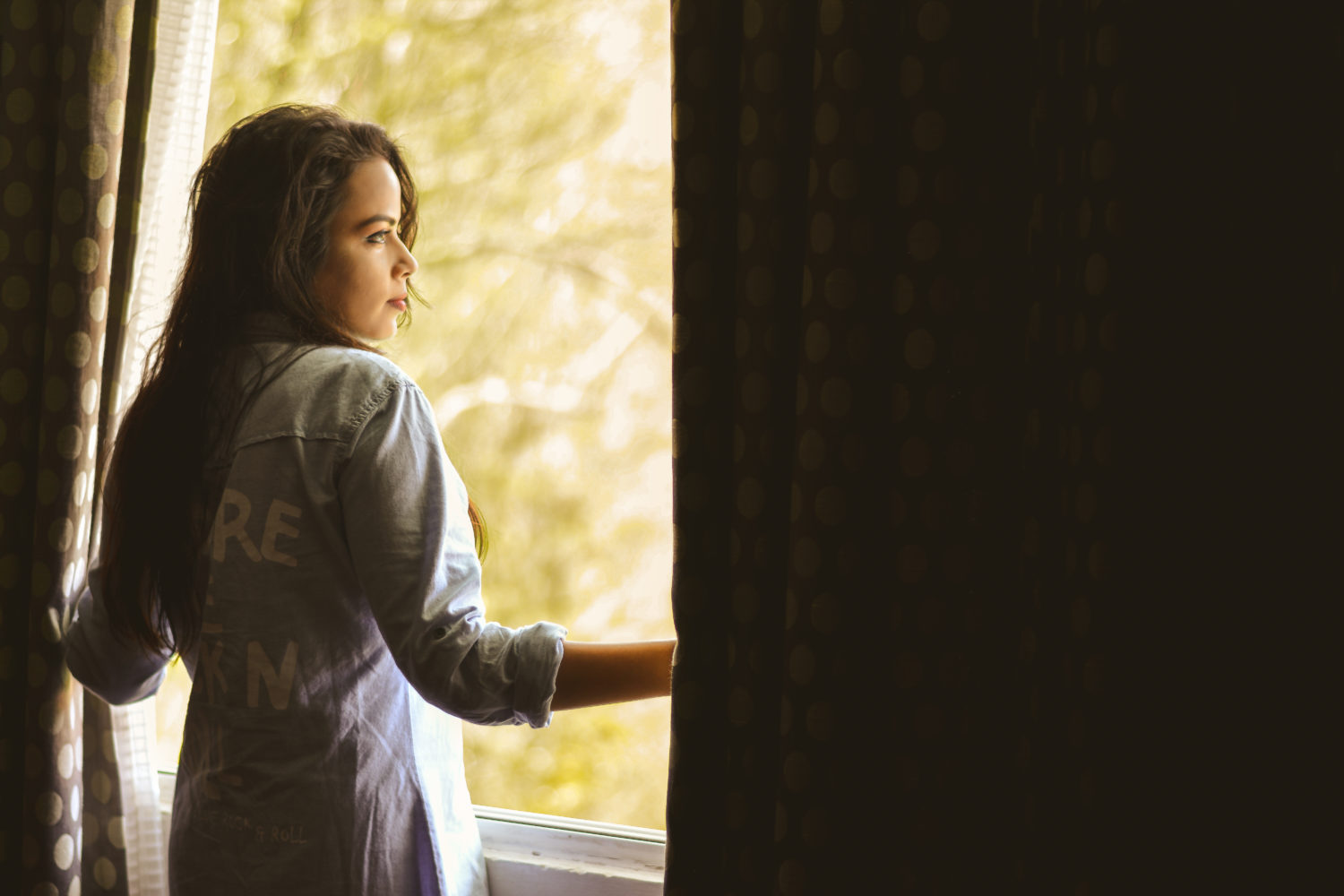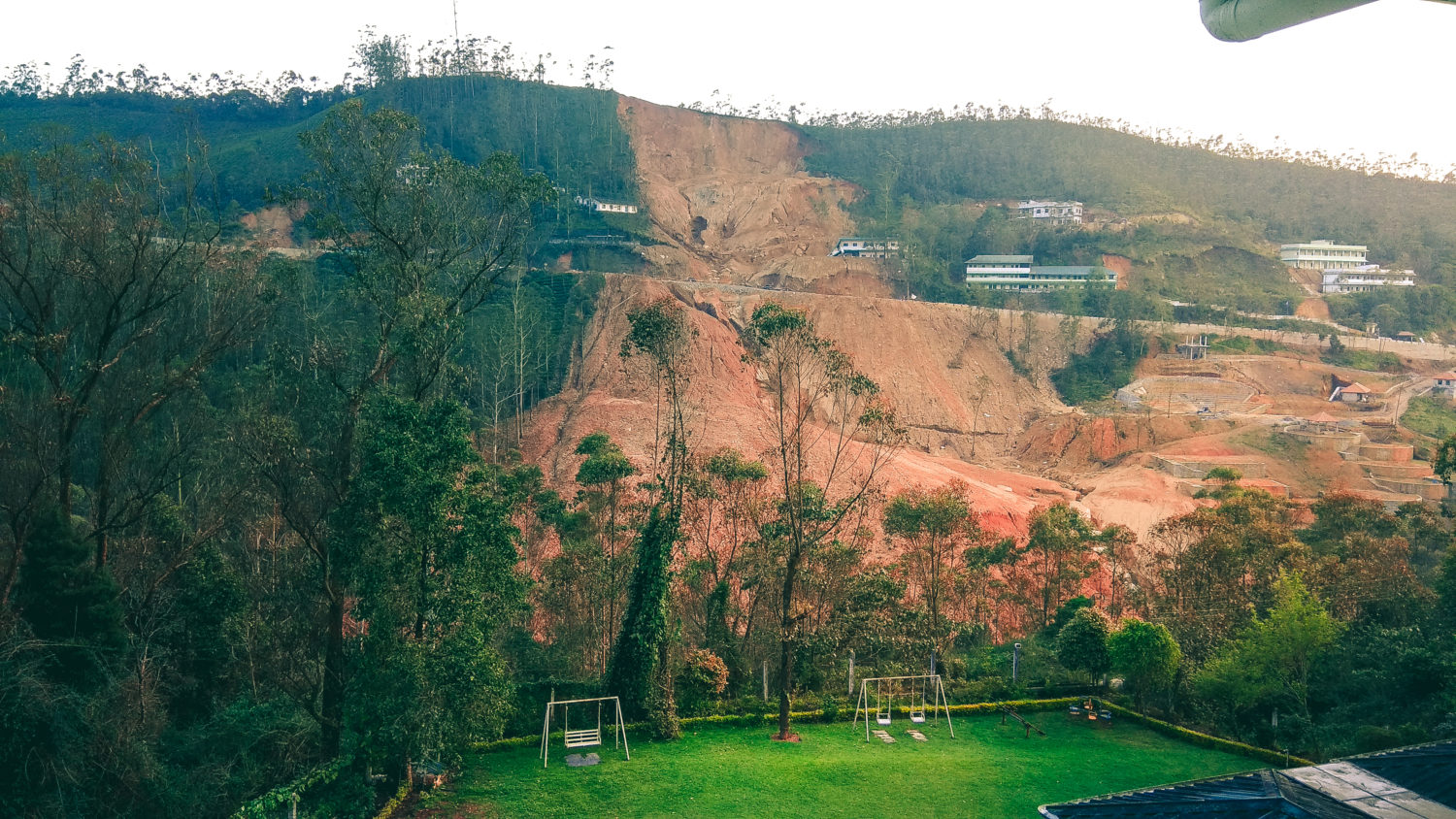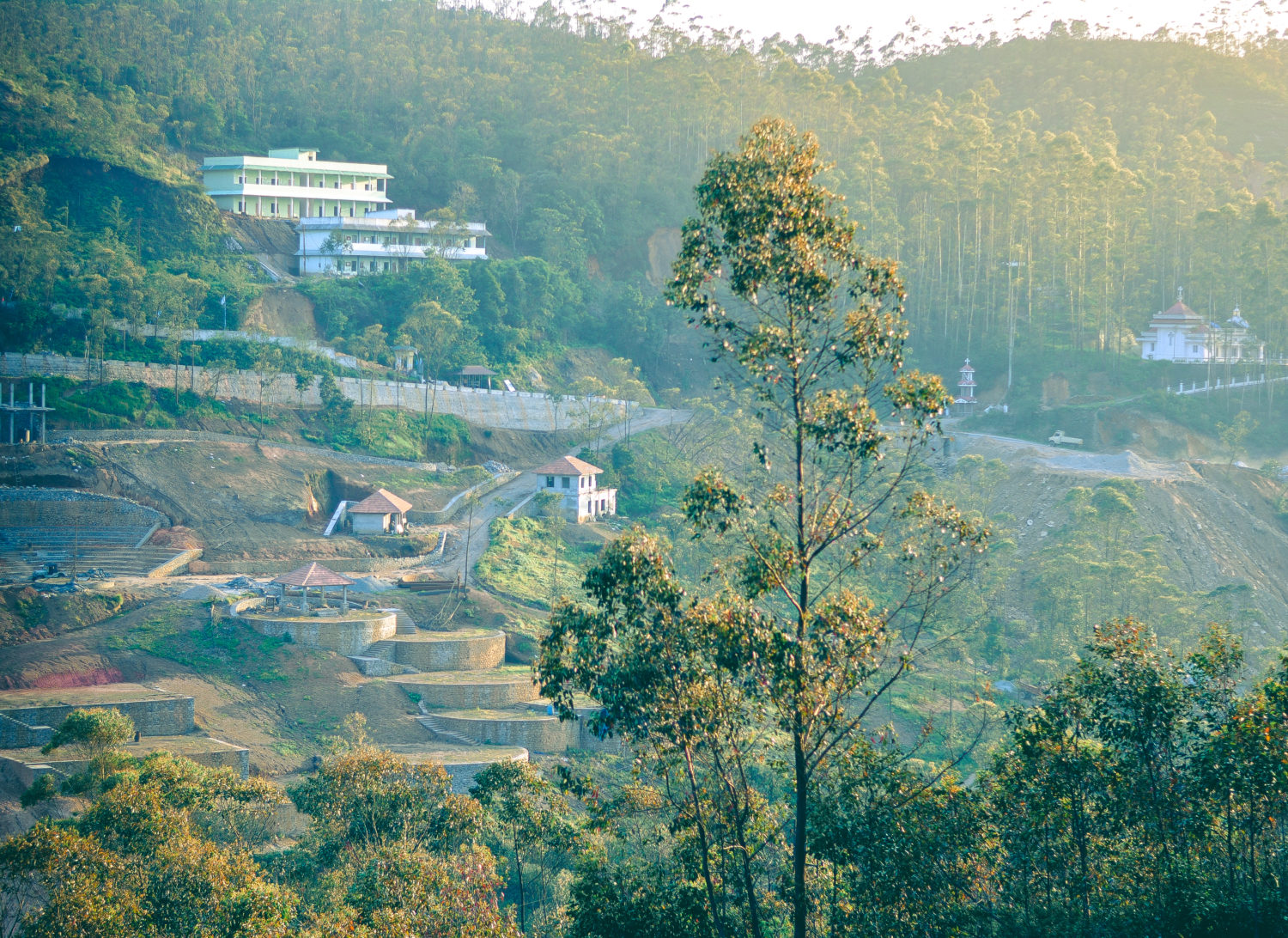 We were the only guests in the hotel and even though the hotel did not suffer any damage due to the flood, they suffered a 100% cancellation. The following morning we talked to the manager and learnt that the hotel was cut off for a long time after the landslide, they didn't have power or telephone connection for a day, and they were stuck for a day or two without being able to contact their families. As horrifying as that sounds, if you look at the positive side, they weren't directly affected by the landslide. We didn't face any inconvenience throughout or stay due to recent circumstances and received excellent room service. While heading towards their restaurant we weren't hoping for the best, rather we thought they might not have all the items from the menu ready because of lack of guests and items that are sometimes frozen (like mushrooms) might not be fresh.  To our pleasant surprise, they delivered us everything that we ordered, literally everything. For our first meal we ordered a Mexican mushroom wrap and an onion and cheese ball soup and that was one of the freshest meal we've ever had. I repeated the mushroom wrap order the next day and my husband had the cheese ball soup with every single one of his meals during his stay. We've ordered several of items during our 2 nights stay and each of the items were as delicious and tasty as it could get.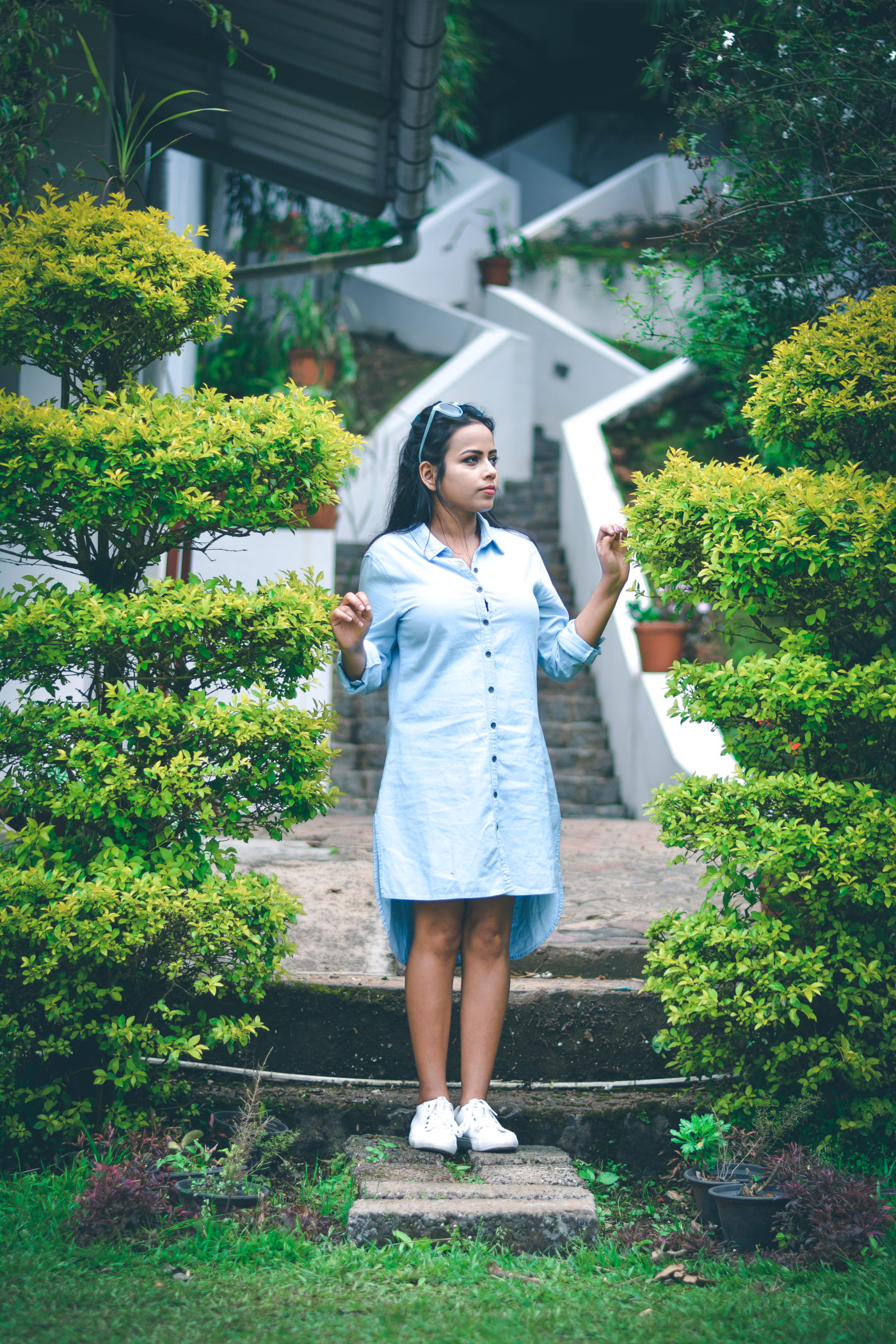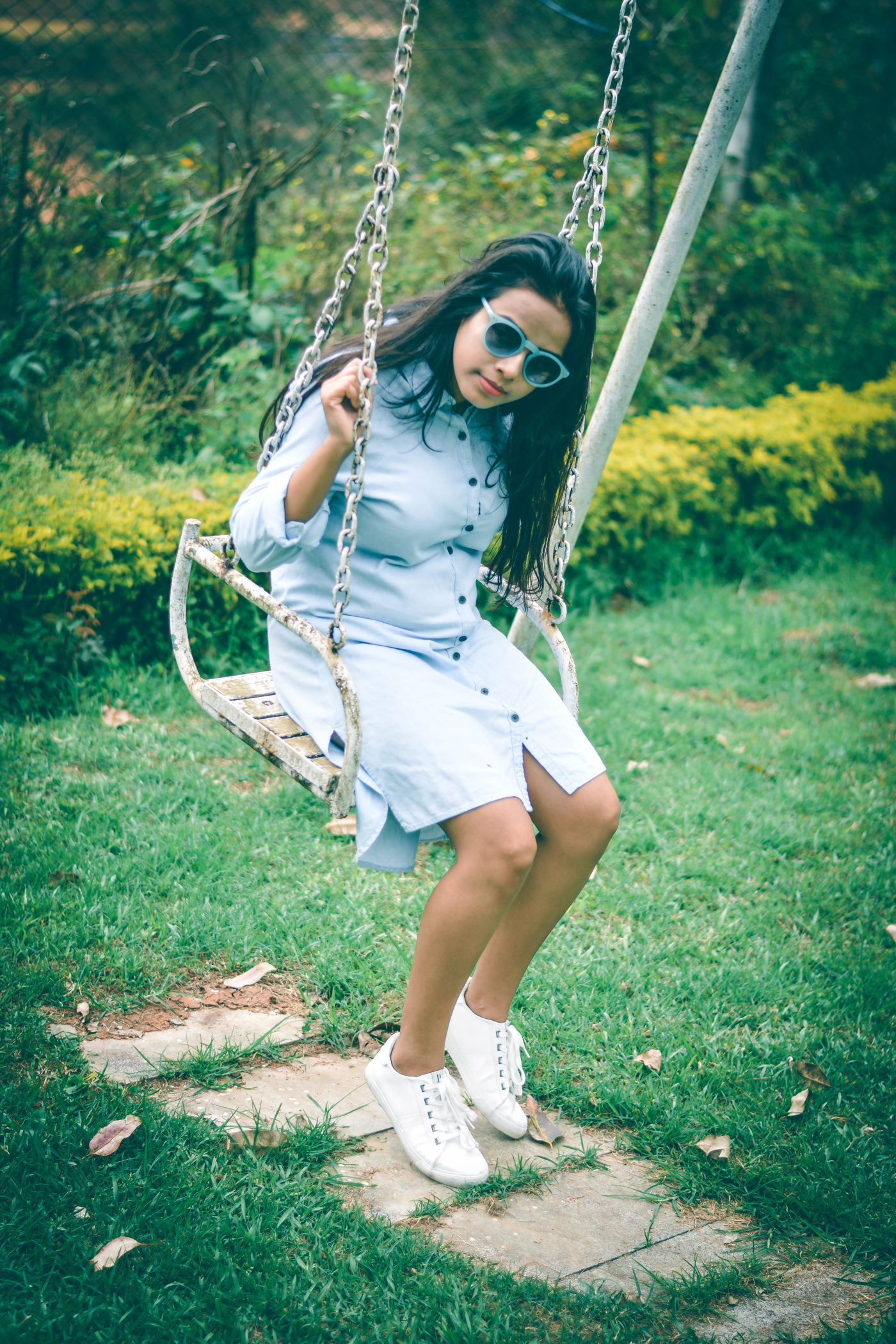 [The lawn of the property]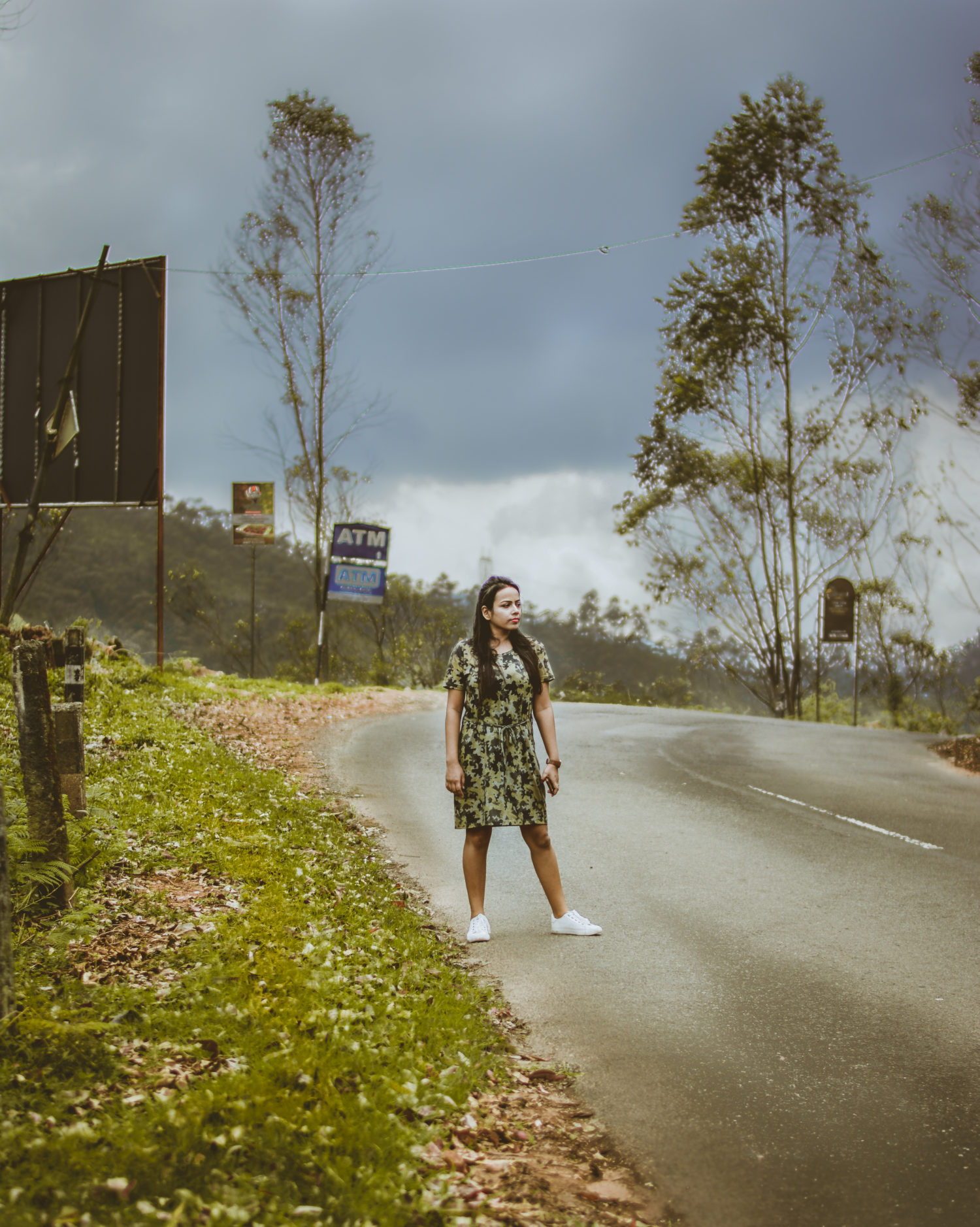 [The road that leads to the property]
The location of the hotel is one other thing to be noted. It's the kind of hotel my parents would love to stay at, close to all of the view points at Munnar. On our second day at Munnar, we went to see the Neelakurinji Bloom at the Eravikulam National Park. I have this weird thing with auto rickshaw, and it's like if I haven't taken an auto rickshaw ride while travelling, it doesn't even feel like a trip whatsoever. No matter how luxurious my trip is, no matter if I'm provided with a private car, I just love sneaking out at least once throughout my trip, take a walk to an unfixed destination, and then an auto-rickhsaw, this helps me get the vibe of the local life. So when we decided to go to the national park we asked if we can take an auto and were thrilled to learn that the park is so close to the hotel that we could take an auto instead of a car. It took us about 30 minutes to reach the park and then we were taken inside in a government bus. The bloom even was not as great as it usually is (every 12 years), but yes we did witness some breathtaking blooms here and there.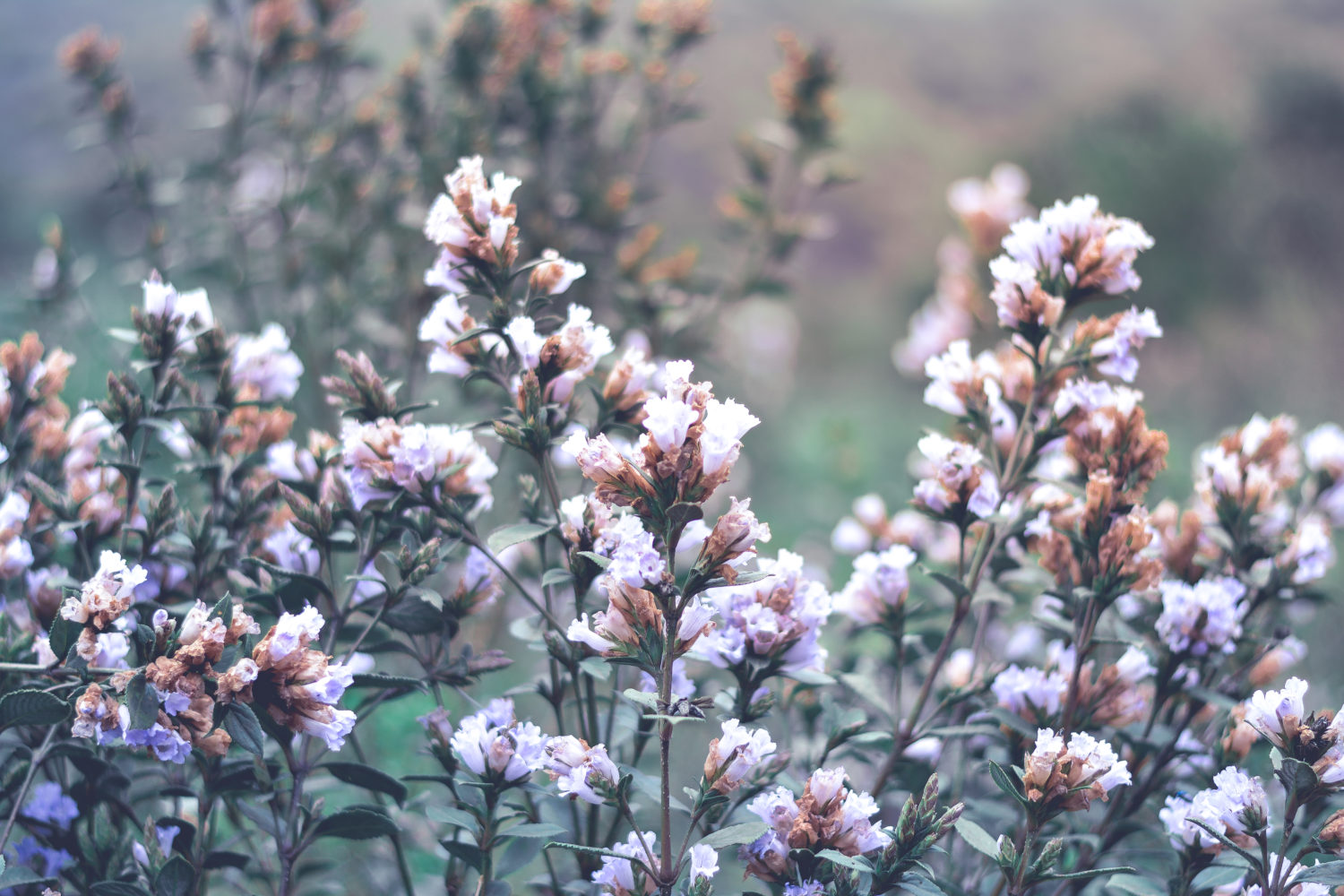 On our way back we got down at the Munnar market, which is about 5 minutes by car from the hotel. We entered probably all of the spice and chocolate shop at the market and decided to walk back to the hotel. During our last visit, we couldn't go spice and homemade chocolate shopping so we compensated for it during this trip. By the time we were almost satisfied with our shopping, it was really dark, so instead of walking, we took an auto.
The next morning we woke up, had another delicious meal, and headed for our next hotel before exploring some more of the viewpoints including Mattupetty Dam, the Elephant Park and some plantations. The viewpoints were so close to our hotel that we regretted not visiting the points while staying at the hotel.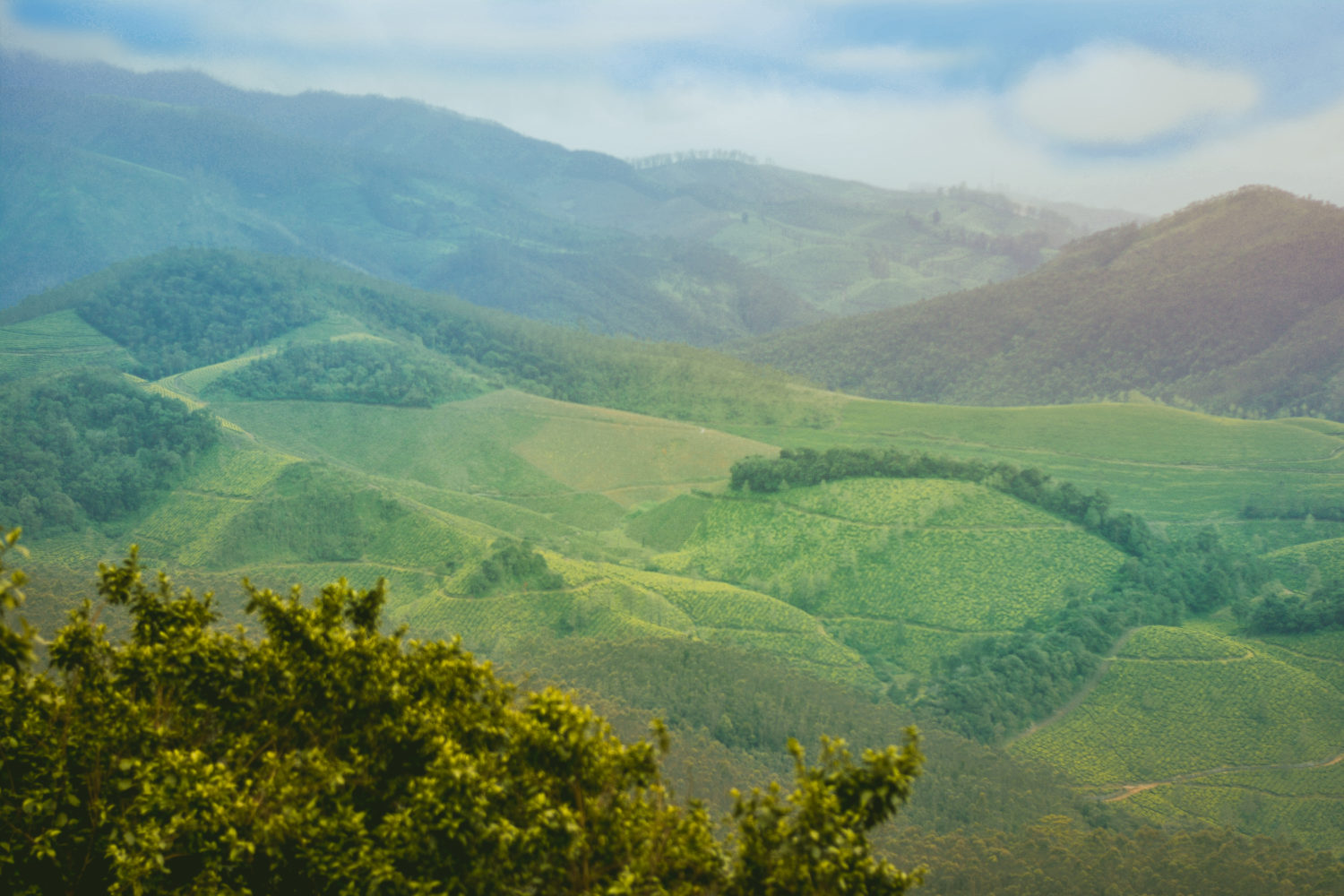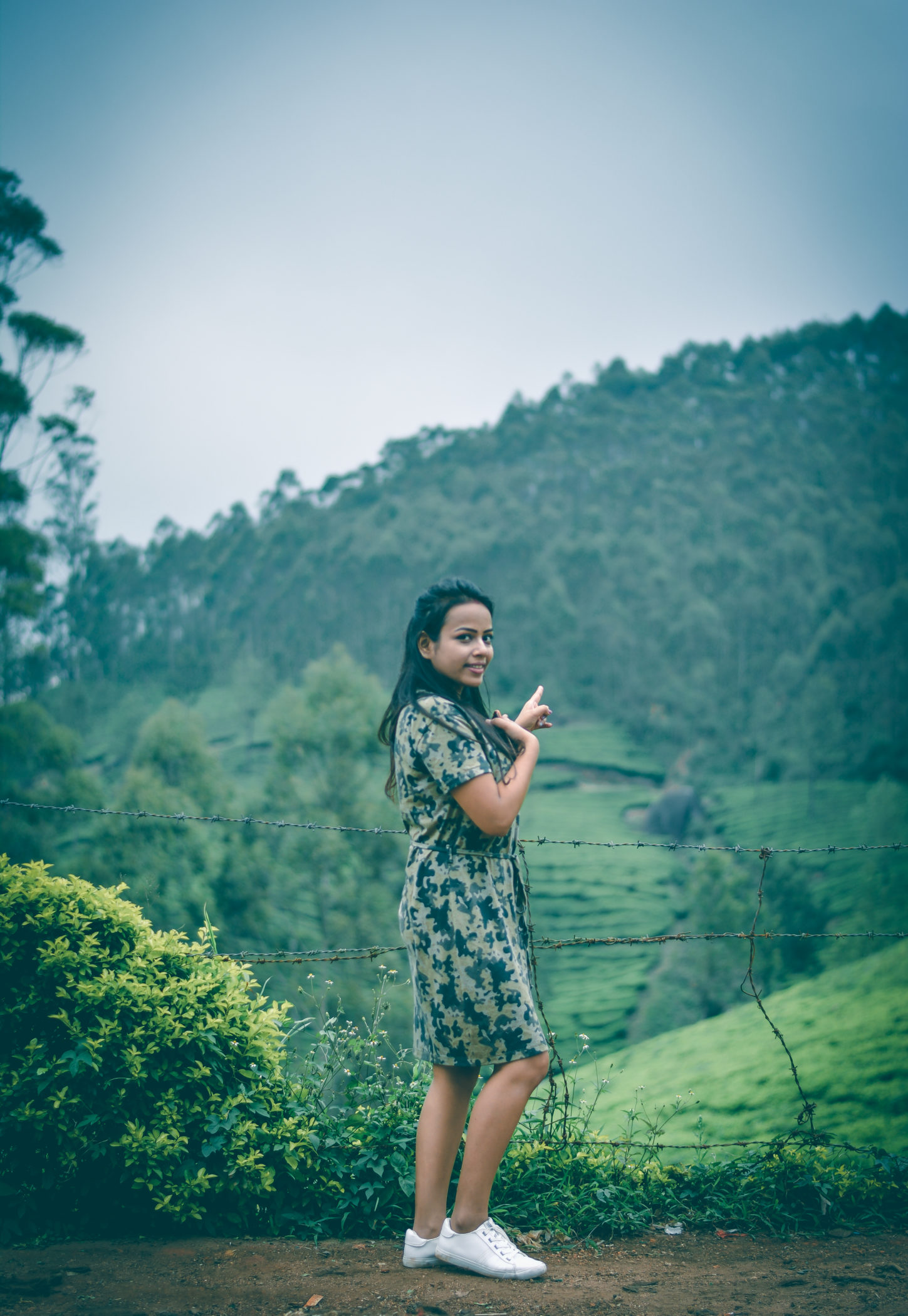 The next stop was Tall Trees, staying where is an experience in itself was. The resort was a bit remote from the town, uphill, at 5000ft altitude, surrounded by nature, serene, tranquil and the kind of resort that can turn an unromantic person into a romantic one.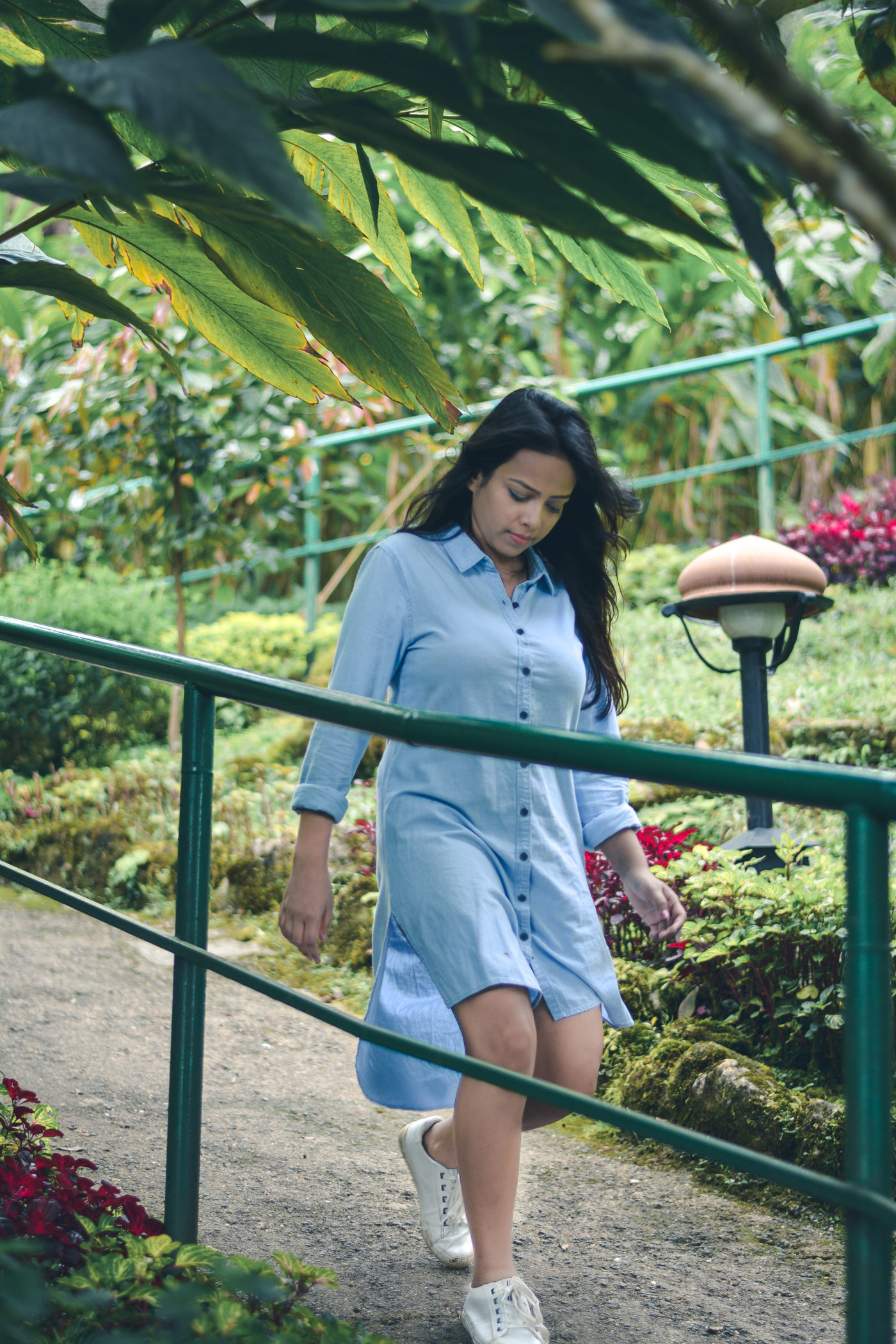 Upon reaching the resort, I realized that there's probably two types of stays at Munnar, one, which are near the town and the view points, from where you can hop all the view points : i.e: T & U Leisure and the other where you can spend a couple of peaceful days enjoying the nature, away from the city life, into the woods. All of the cottages were distant from each other so you can enjoy complete tranquility. When you are inside the property, you wouldn't want to go outside to visit the tourist spots. So if anyone asks for suggestions, I will totally recommend staying at both the properties, 1st stay at the town and visit the tourist spots, and then come to the mountains to witness the beauty of it.
When we went to the resort restaurant we saw a few visitors and where glad that this resort still had some tourists. While leaving T & U Leisure, we saw a big family checking in, which made us so very happy, and when we saw Tall Trees hasn't faced as bad as a 100% cancellation we were happier. To be honest, we saw a LOT of tourists while we were at the national park and the majority of them where from the south. But at the Tall Trees, we saw guests from Madhya Pradesh, which means tourists from not only the South but from all over the country are travelling to Kerala, which is good right?
After a candlelit dinner, we called it a day because I had plans for trekking and hiking throughout the next day. The resort owns a mountain where they take their guests for nature walk at 7.30 and at 9.30 with a guide. I couldn't wake up at 7, so I opted to go at 9.30 and checked off 'trekking' from my bucket list. It wasn't anything near conventional trekking, but more like hiking, but it was a good start for us.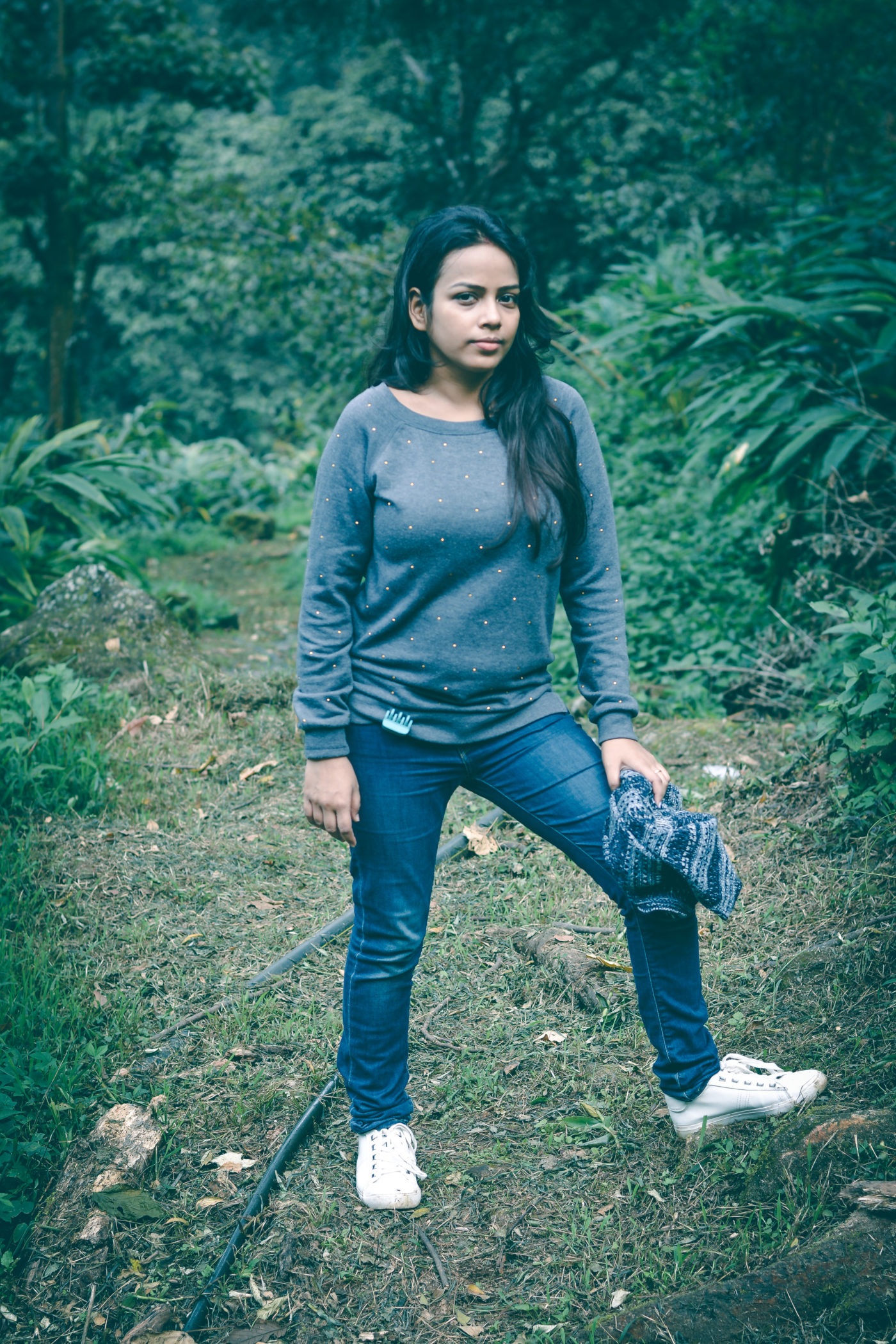 Upon reaching 5800ft altitude, I kept joking that we are now ready for Everest Base Camp (which definitely I'm not because I can't tolerate being cold). After coming back we ordered room service and had the most delicious butter chicken and spent an idle hour before heading for the plantation visit.
Now this is one of my highlights from my trip, like I always so, I love travelling like a traveller and not like a tourist, I love going to offbeat places rather than tourist spots, so my heart screamed when we took a walk around the tea plantation without any other human being in sight. The plantation, the waterfalls, the trees and the birds, I saw it all, up close, and I also the tiny buildings at the next mountain. It was all so surreal, as if nor the flood, neither the landslide touched this part of God's creation.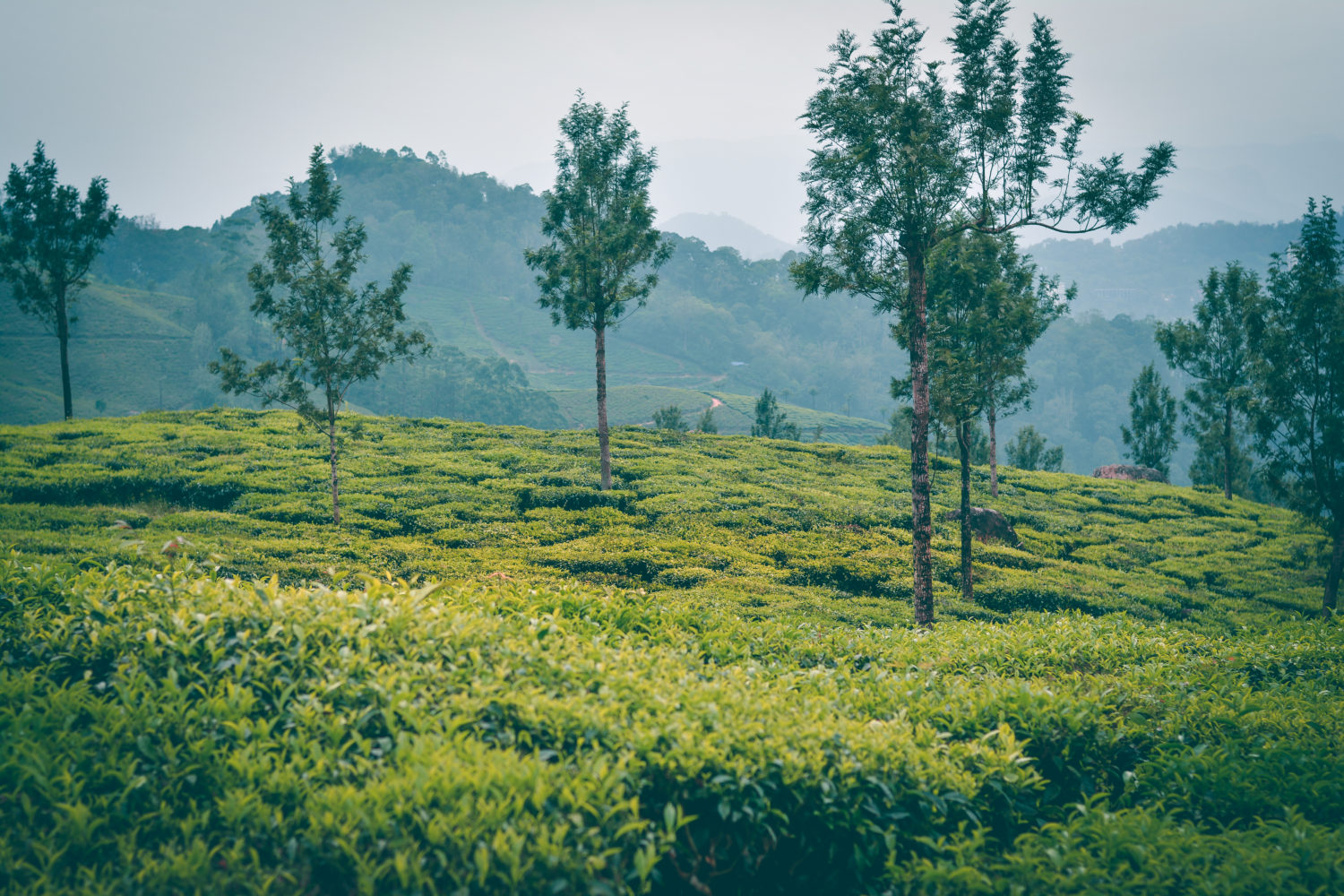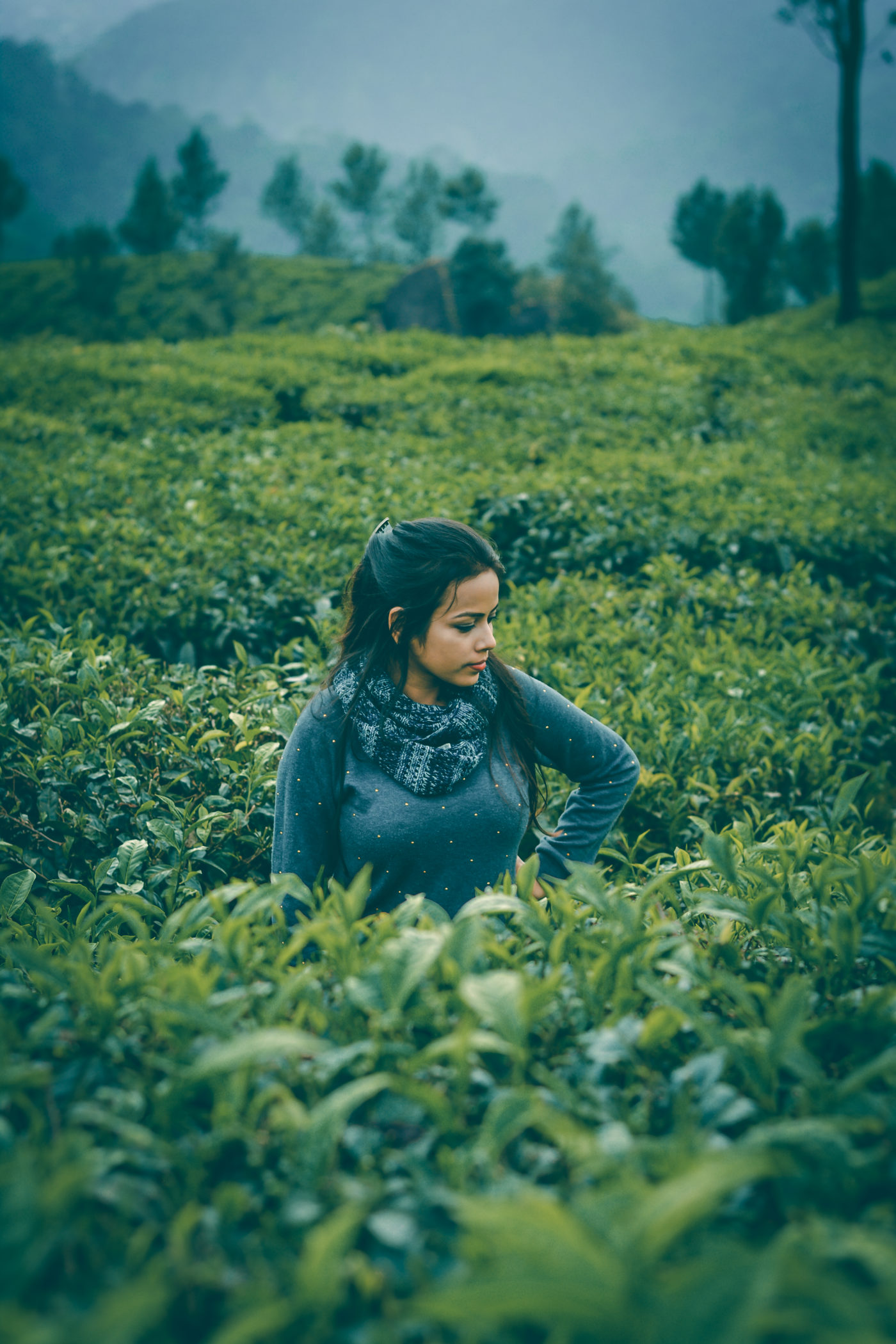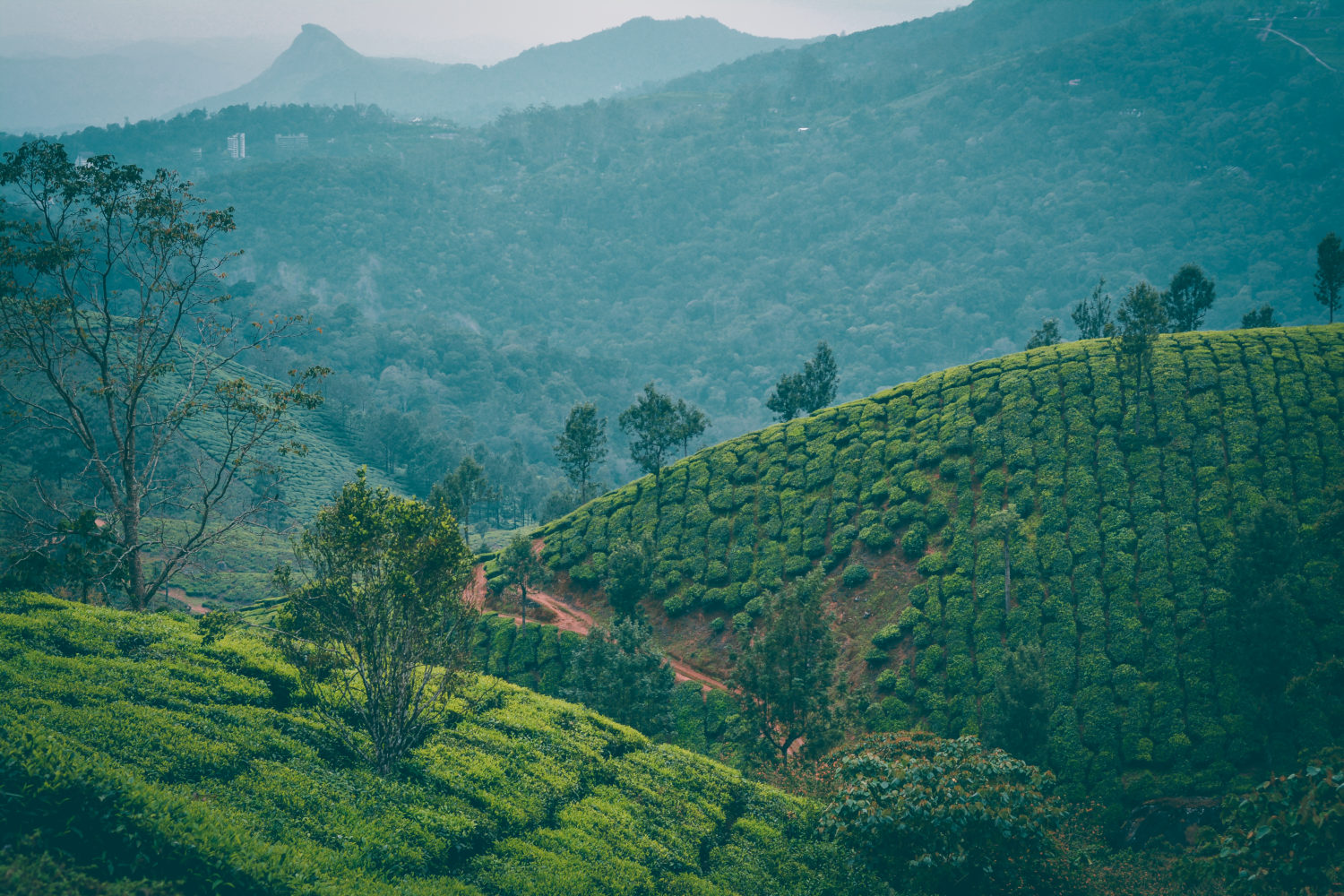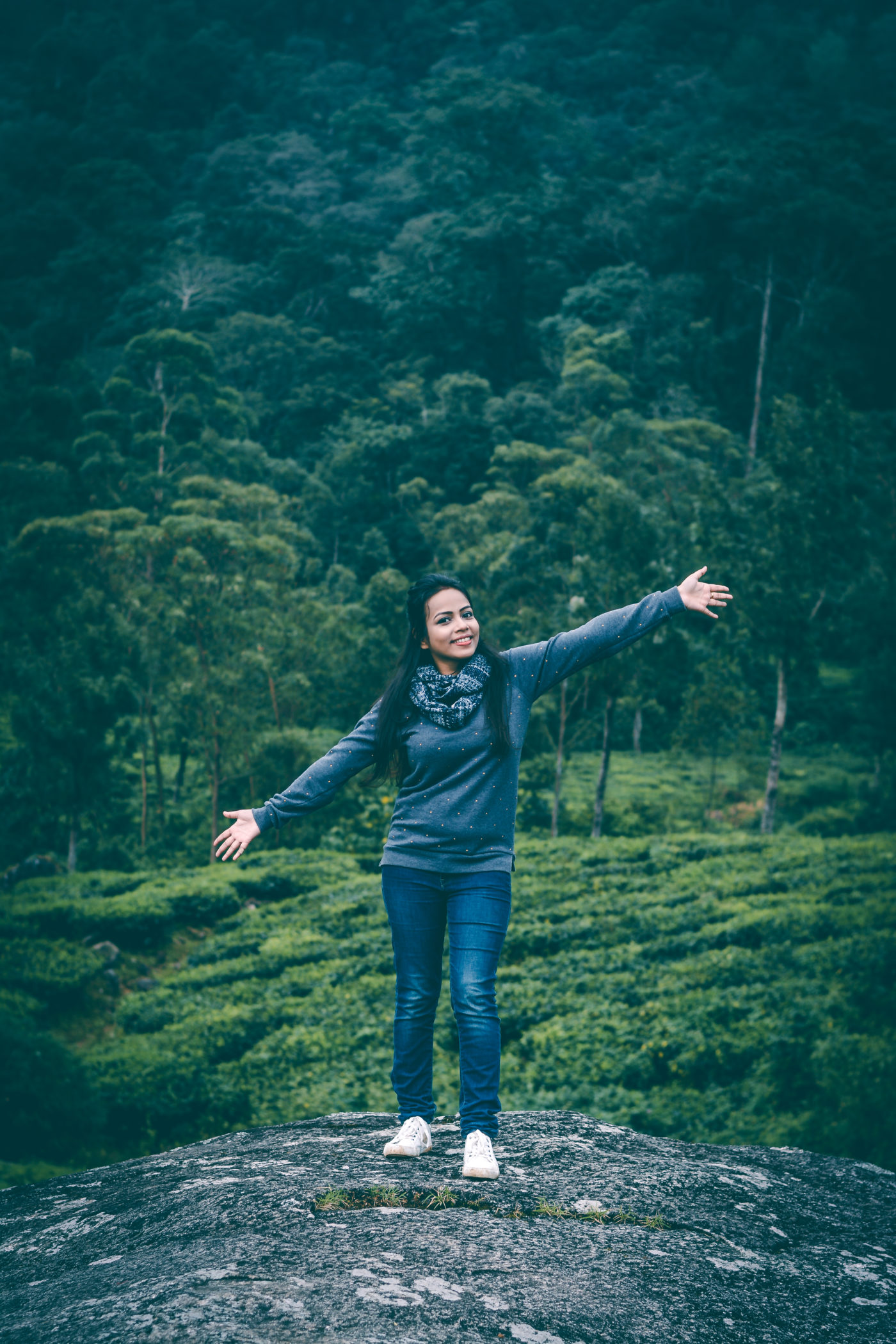 At 29, I'm lucky to have checked off 80% of my long bucket list, and an unchecked one that I share with my husband is to enjoy bonfires along with strangers (with family and friends it's easy), discovering other human beings and their talents, but after travelling for so many years, I figured out that people just don't come to the campfire pit while travelling. Maybe I have to travel during the winter to check off this list, but we still decided to come to the pit even if it's just the two of us (like we did at our last trip at Thekkady). However, my weird fascination with trees landed me in trouble and something went inside my ear, not sure if a bug or something else but that ruined our bonfire plans and the resort was really kind to take care of the trip to the doctor and even paid for everything. The trip to the doctor also ruined my husband's plan to order an extravagant dinner to celebrate my birthday during midnight but I it didn't matter to me because I've always shied away from extravagant celebrations. As a child and a teenager it just felt awkward, but as I grew up, it just became sad that I'm growing old. So to avoid the fact that I'm growing old, I just hide my birth date on Facebook and from everywhere and avoid any kind of celebration.
However, an hour before we were supposed to checkout next day, the hotel manager got to know it's my birthday and arranged a small celebration within a minute. He wished he had known it's my birthday so they could have taken it next level, but for me, it was the best birthday every. I've always celebrated my birthday with my family, but it was nice to celebrate it with people who knew me just for 3 days but put so much effort to find an E.N.T and take me to the E.N.T just because I got a bug inside my ear.
We hit the road at 12 and while coming to Munnar from Cochin I had wished to have my birthday lunch at a modest restaurant much praised by our driver that serves a traditional Kerala meal. We reach Cochin around 3, and had one of the best meals I've ever had in my life: rice served with more than 10 different side dishes including rasam, sambar, a chilly stuffed with salt and dried and things I can't even name. After having a heartiest meal, we headed towards Ramada Kochi, and on the way stopped at a mobile shop to buy us a memory card (because we packed in such a hurry that we forgot our camera with more memory and accidentally packed the camera we weren't supposed to bring). The city of Cochin was so full of life; one can barely imagine that the natural disaster they just went through.
We reached Ramada Resort Kochiaround 5.30 in the evening and got the heartiest welcome. The resort was filled with guests, unlike what we saw at Munnar and upon talking to their marketing manager; we learnt that business has just started to pick up after the flood. We were tired after the long journey but we had a few hours of my birthday left and I spent the evening doing things I love to, swimming, watching Harry Potter with the lights dimmed while eating chips and having Pizza for dinner.
The next morning we woke up early in the morning and took a walk around the luxurious property  after a hearty breakfast.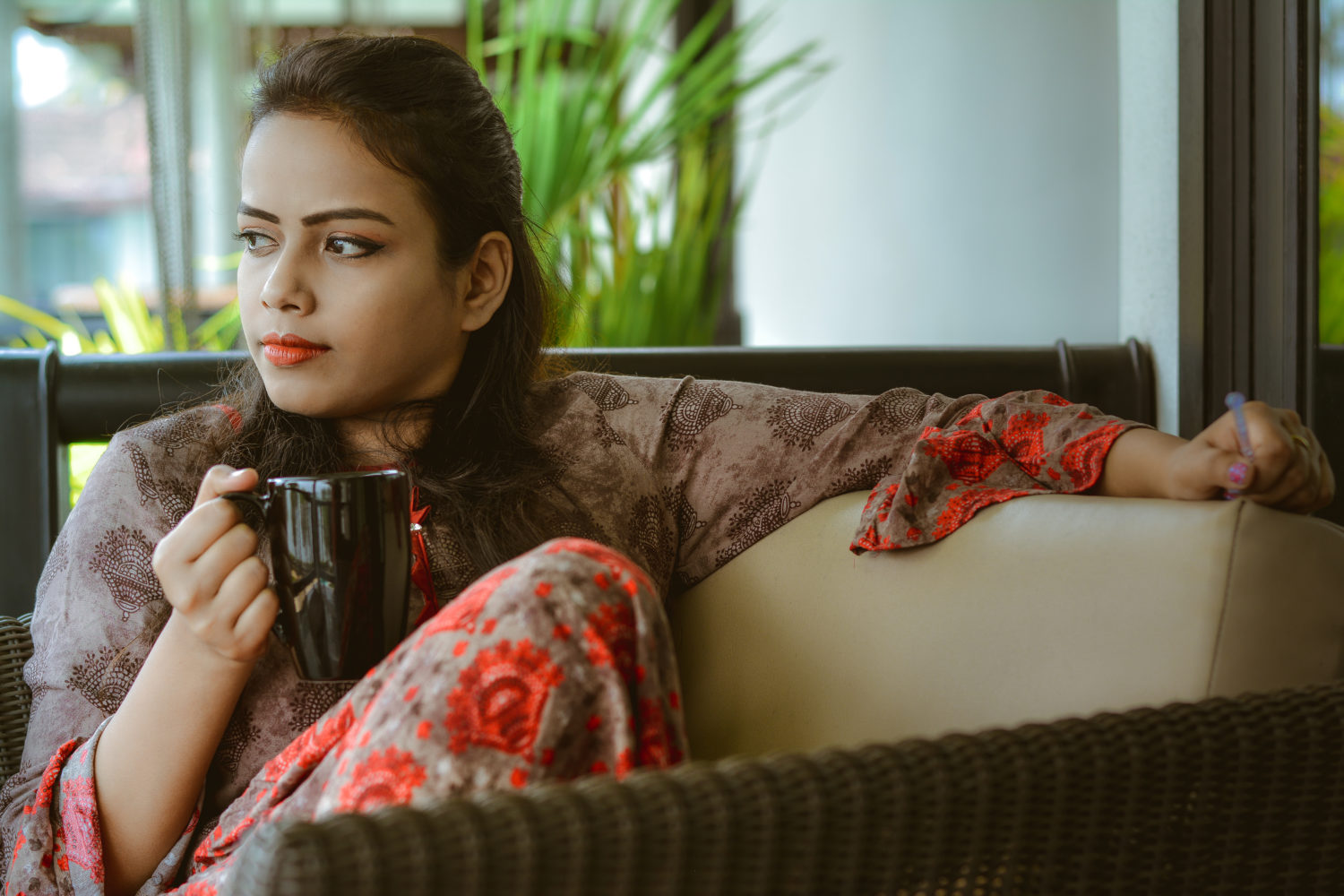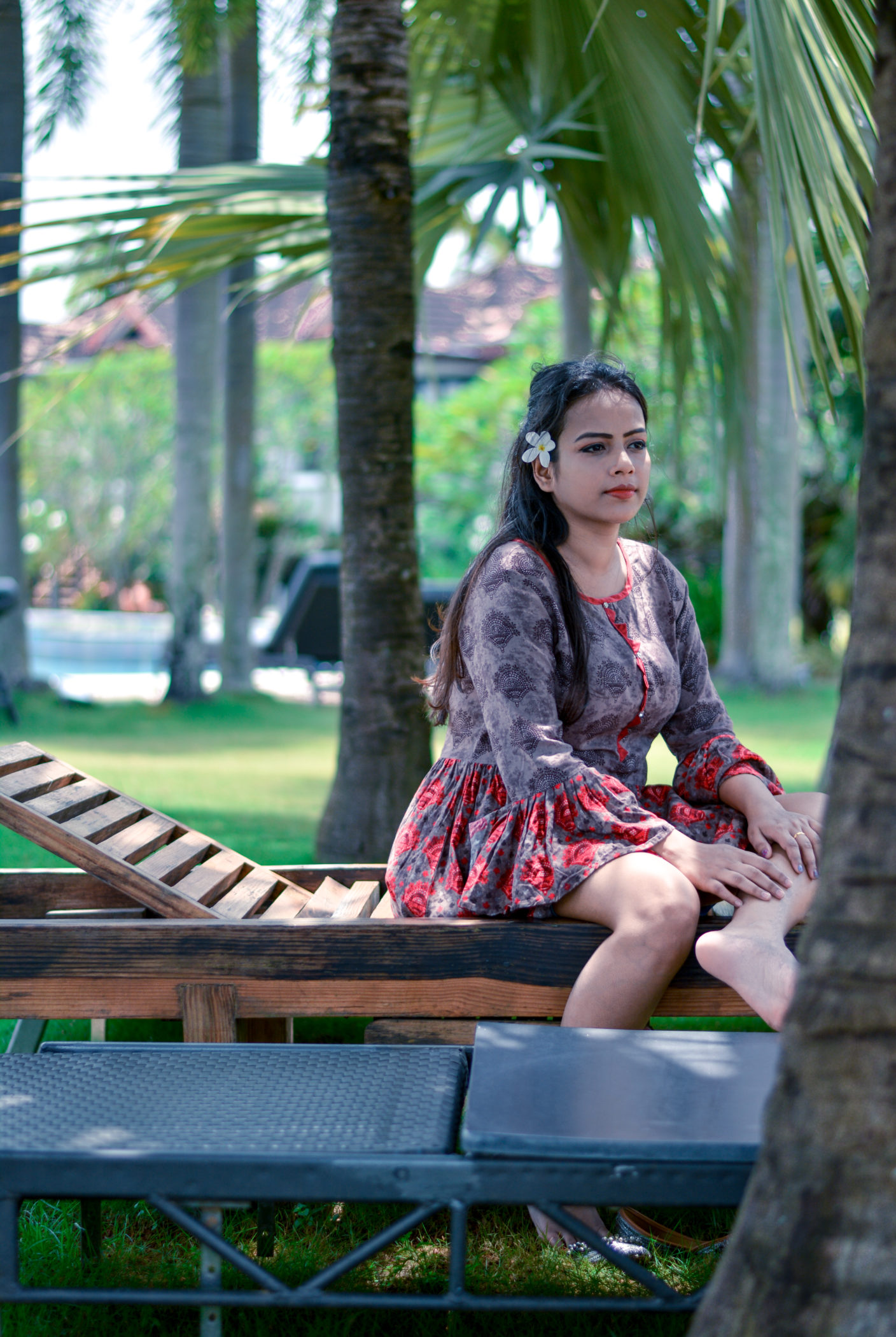 We had some Fish Delicacies for lunch and then we left for sightseeing. While at Fort Cochin, we realized that there were as many tourists out there, as there were last time.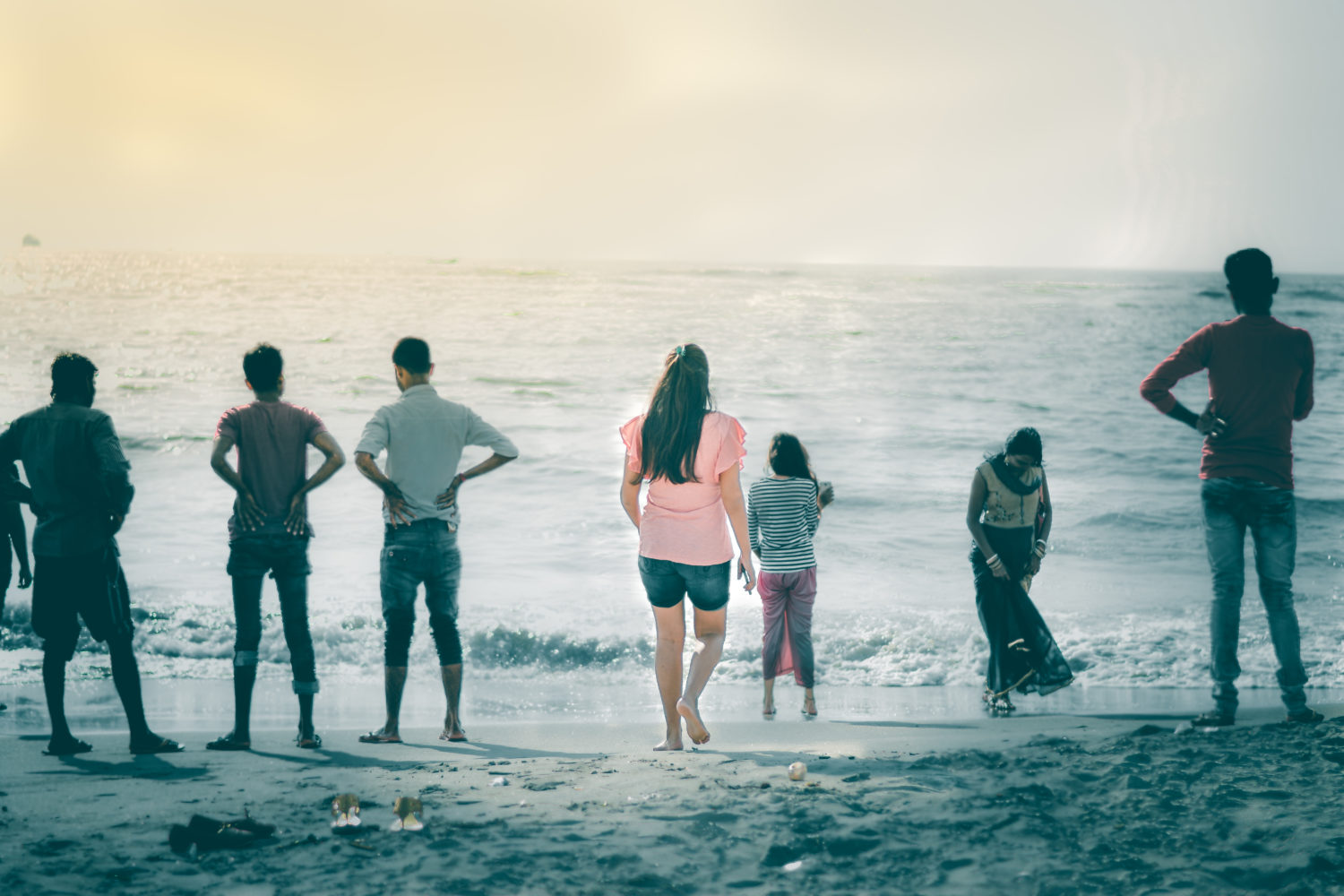 We thought that the media should also show how Kerala has started recovering from the loss, how they are building themselves up, and how hard they are trying to welcome back tourists, instead of just showing the loss and destruction all over the news. I mean yes, we should know about the loss and destruction, because it's true that they haven't received enough fund to completely recover from the flood, but the media should also show the part where they recovered to an extent so that travellers don't check off Kerala of their travel list. Anyway, after visiting all the sites we visited last time, with no less the charm and no less the tourists, we headed back to the hotel. I took a boat ride back at the hotel and watched the beauty of Cochin from the middle of the lake.
I know I haven't been to the other parts of Kerala as my husband couldn't get a longer leave from work but I've been in touch with the managers and staffs from our previous hotels and it has been confirmed that Vasundhara Sarovar Premier at Alleppey, Kumarakom Lake Resort at Kottayam (along with one of their heritage property at Fort Kochi) and Greenwoods Resort at Thekkady were unaffected by the flood and are open to guests already. I wish our trip was longer and I could have documented with my own eyes, the situation and the recovery from all parts of Kerala.
My detailed travelogue and the hotel reviews will be up within a week or few, but as of now enjoy these pictures, and for more update on roads and current situation at Kerala check out our Instagram Stories (@beautifullyme16 and @arkorony) under the highlight, 'Kerala after Flood'.