I have reviewed a number of sheet masks from the Etude House .2 Therapy Air Mask  range and this time it's the Aloe mask. As some of you might know, I decided to sheet mask every day as a part of my pre-wedding skincare regimen. However, I had to stop for a few weeks due to being cold prone, and I used this before pausing for 2 weeks.
My skin has been behaving real good lately (*touchwood*), so much so that I've been too lazy about storing healing sheetmasks in case my skin acts up before my big day. I'm not overly proud of it since I should be careful to store emergency healing products, but a couple of weeks ago when I noticed a few tiny bumps and redness during my hormonal days, I struggled to find a healing sheetmask in my stash and it's the closest I could find.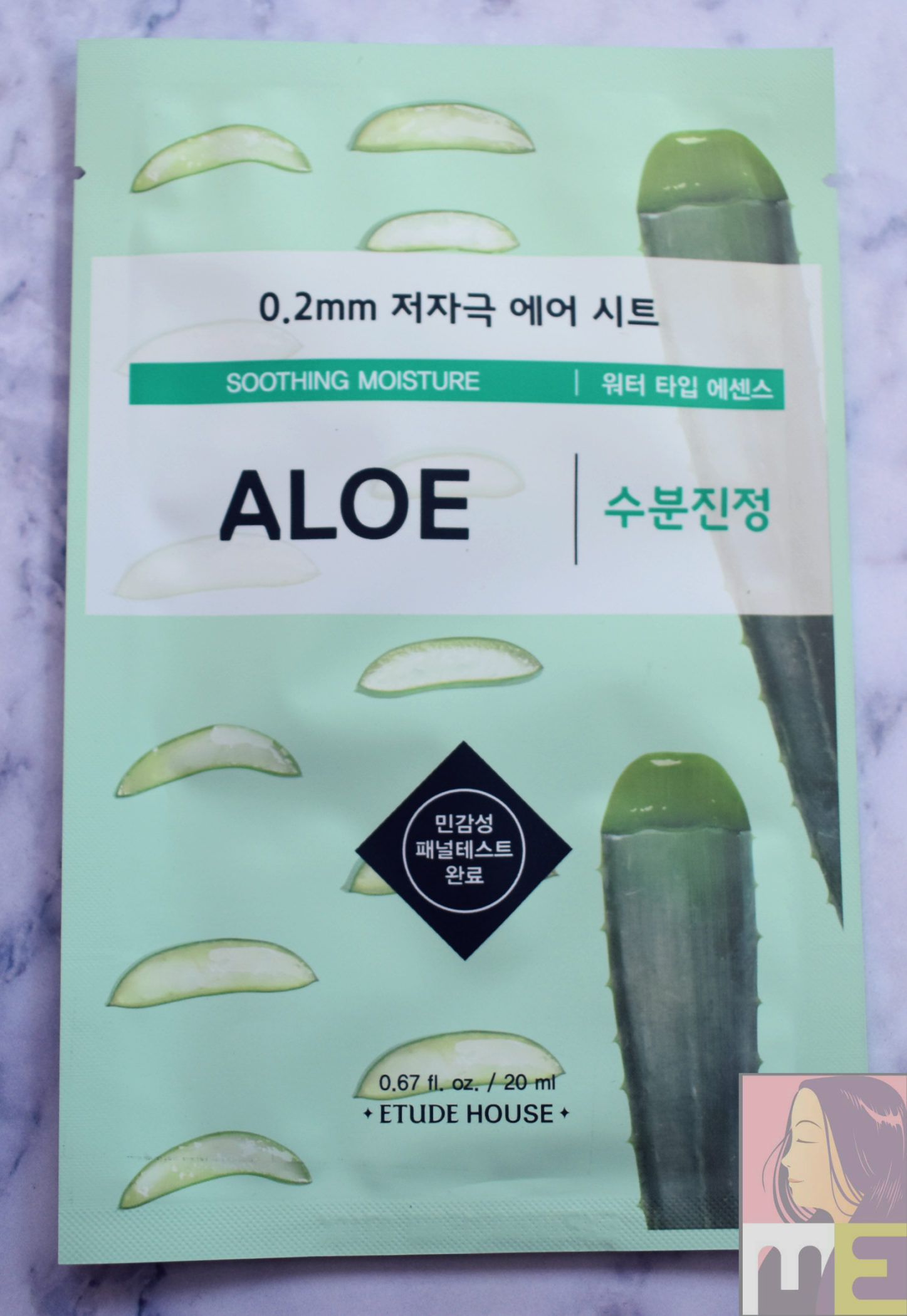 Etude House 0.2 Therapy Air Mask – Aloe Soothing Moisture (Moist Water Type Essence)
It is an incredibly thin, hypoallergenic sheet mask that sits on the skin light and comfortable like air! This line of masks delivers "7-free" (Imidazolidinyl Urea, Polyacryamide, Triethanolamine, mineral oil, silicon oil, pigment, fragrance) essences to the skin directly through the 0.2mm air sheet, allowing remarkable air penetration to allow your skin to breathe comfortably. Having passed the sensitive panel test, water purified through a 6-step filtration system, and only including EWG green grade (grades 1 to 2) ingredients only, this sheet mask line is perfect for those with sensitive skin!
Etude House promotes "One Mask a Day," where every night, putting a mask sheet on at the end of the skincare routine is usual in Korea. This routine is good for calming and moisturizing the skin for perfect, dewy celebrity skin, and the 0.2 Therapy Air Mask line makes it easy to achieve!
This Aloe sheet mask is a Moist Water Type Essence that is absorbed lightly and refreshes your skin. Ample amounts of aloe essence moisturizes dry and irritated skin while protecting from daily stressors, keeping your complexion comfortable and healthy.
Benefits: 
Hydrating
Calming
Hypo-allergenic
"7-Free"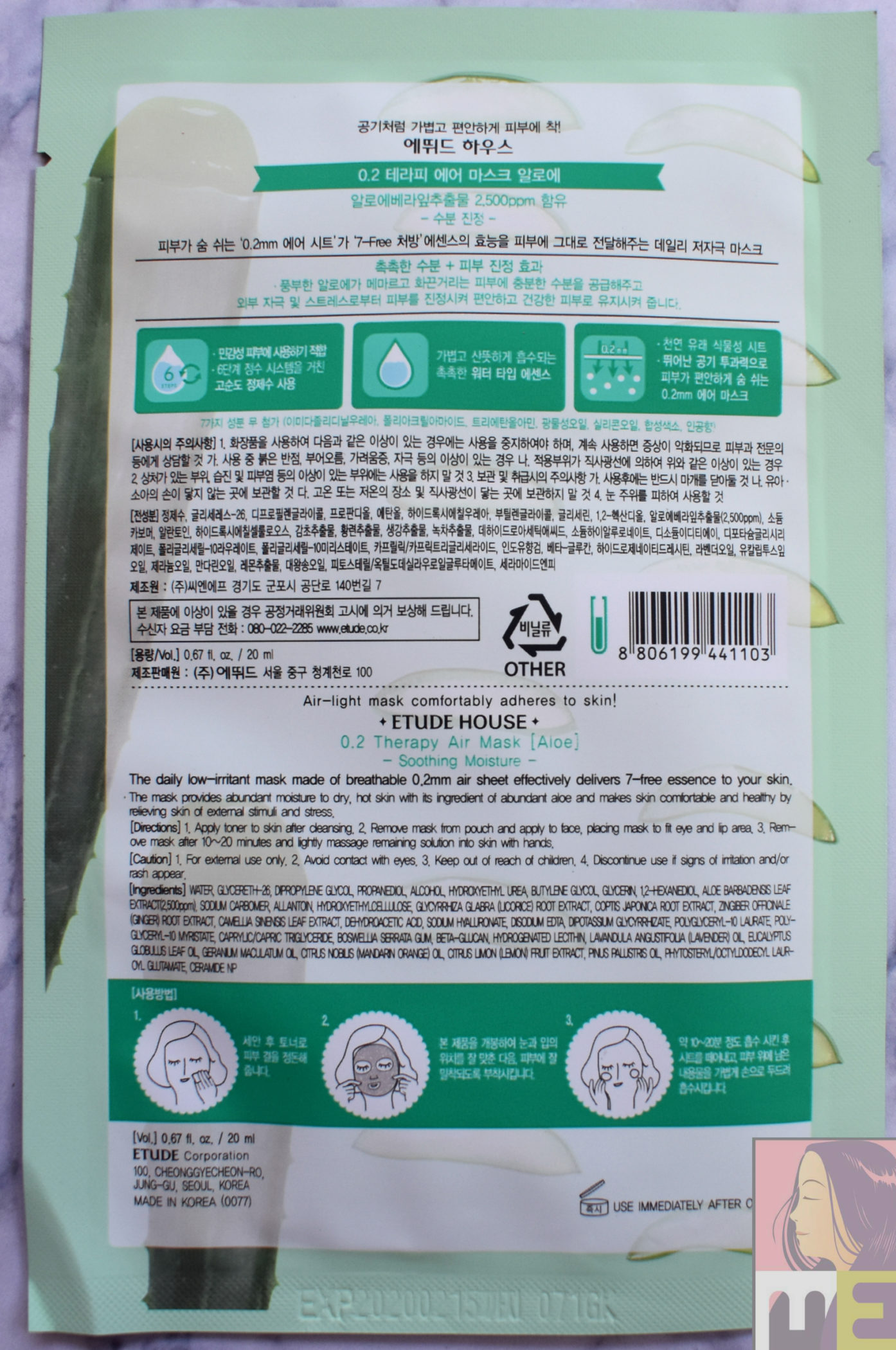 How to use: After cleansing and toning, remove mask from pouch and apply to face. Remove mask after 10-20 minutes and lightly massage remaining solution into skin with hands.
Ingredients:
Water, Glycereth-26, Dipropylene Glycol, Propanediol, Alcohol, Hydroxyethyl Urea, Butylene Glycol, Glycerin, 1,2-Hexanediol, Aloe Barbadensis Leaf Extract (2500ppm), Sodium Carbomer, Allantoin, Hydroxyethylcellulose, Glycyrrhiza Glabra (Licorice) Root Extract, Zingiber Officinale (Ginger) Root Extract, Camellia Sinensis (Green Tea) Leaf Extract, Dehydroacetic Acid, Sodium Hyaluronate, Disodium EDTA, Dipotassium Glycyrrhizate, Polyglyceryl-10 Laurate, Polyglyceryl-10 Myristate, Caprylic/Capric Triglyceride, Boswellia Serrata Gum, Beta-Glucan, Hydrogenated Lecithin, Lavandula Angustifolia (Lavender), Eucalyptus Globulus Leaf Oil, Geranium Maculatum Oil, Citrus Nobilis (Mandarin Orange) Oil, Citrus Limon (Lemon) Fruit Extract, Pinus Palustris Oil, Phytosteryl/Octyldodecyl Lauroyl Glutamate, Ceramide NP  
My Experience:
I'm personally very fond of Etude House Sheet Masks and I'm loving the therapy mask range a lot more than the I Need You range. I have used over 6 masks (2 more left in stash) from this range and loved each one of them. Like I already said, I used this on an irritated skin and left it on for around 30 minutes. Like the rest of the masks from the range, it had the second skin feeling and the thin sheet felt super light on my skin. I personally dislike thick sheets (like the skinfood ones) as I feel like my skin does not get to absorb most of the essence. The Therapy Masks aren't anything like that at all, and you can easily go on with your daily chores while having it on your face.
I removed the mask after 30 minutes to reveal a calm and soothed skin with no trace of the angry bumps or redness anywhere. My skin was feeling super hydrated and that hydration lingered for around 3 days.
Overall, I'm very impressed with this mask. This is the type of mask I should stock up on for skin emergencies. I'm not particularly fond of the presence of alcohol in it, but then again there are only a few options in the market without alcohol in the ingredient list.
Where to buy:
Price:
Rs150
Rating:
4.8/5