You guys might be aware that as a part of my pre-wedding skincare regimen, I decided to sheet mask almost every day. However the chilly weather and my cold allergy caused a pause on my sheet mask marathon and I was kindda disappointed not being able to use face masks as often as I wanted to. I brainstormed ways of warming up sheet masks before application and someone suggested me emerging the sheetmask in a warm bath for a few minutes before applying it. I was like, eureka! Now I'll be able to sheet mask everyday despite the weather. However, things didn't work out for me as when I opened the packaging after a few minutes of warm bath soak, the sheet came out somewhat disfigured. I am not sure if the serum was supposed to take a milky form, but it did, and I was like damn! It somehow messed up the fitting as well since it became somewhat stretchable and I made a mental note of never trying this trick ever again.
Anyway, the sheet mask I tried this trick with was Etude House Air Therapy Collagen Mask. It's no big news that I LOVE Etude House Air Therapy mask series, their thin sheet gives the second skin feeling and you can go on with your chores while having this on your face.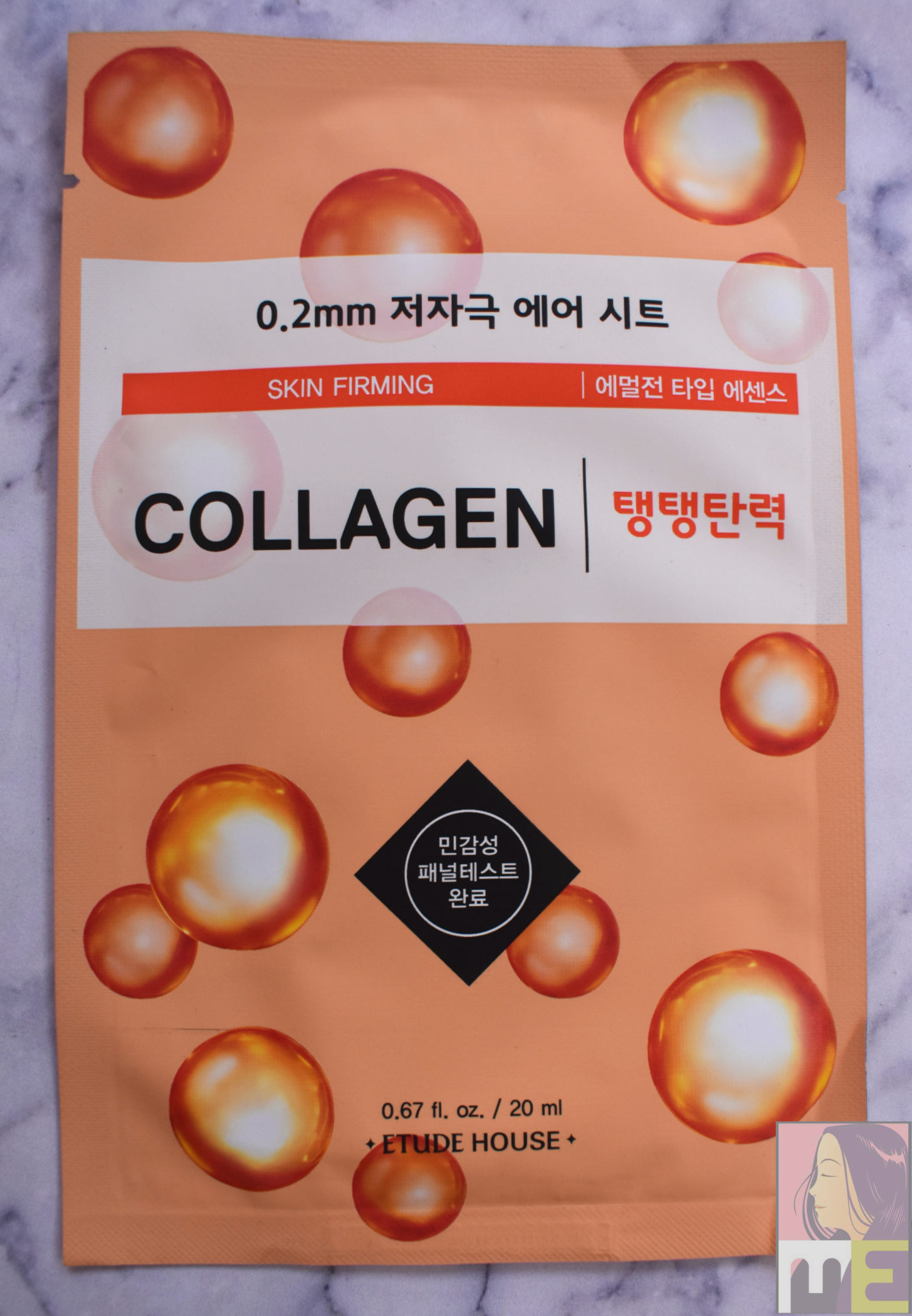 The quest to look younger is an age-old problem and in Asia, they've been perfecting solutions for centuries. These products represents the pinnacle of that pursuit: the perfect blend of ancient secrets and modern science for truly ageless results.
Benefits of this specially formulated sheetmask: 
Hydrating
Firming
Anti-aging
Hypo-allergenic
How to Use: After washing, apply toner. Gently remove mask from packaging and place on face; the side that peels off the cover should be placed onto the face. Leave on for 20-40 minutes. Remove the mask and discard. Gently pat in any remaining essence into the skin.
Skinnmore Take:
This sheetmask is one product that women and men above the age of 40 years swear by. The results have been miraculous and addictive!
Use 1 x Mask every alternate day and see the results in 10 days
Ingredients: Water, Diporylene Gycol, Caprylic Triglyceride, Methylpropanediol, Sorbitan Stearate, Butylene Gycol, 1, 2-Hexandiol, Hydrolyzed Collagen (2500 ppm), Sorbitan Sesquioleate, Argine, Acrylates/C10-30 Alkyl Acrylate Crosspolymer, Hydroxyethycellulose, Sucrose Cocoate, Coptis, Japnica Root Extract, Zingber Offcnale (Ginger) Root Extract, Camedllia Snensis Leaf Extract, Dehydroacetic Acid, Sodium Hydrogentaed Lectin, Lavadulla Angustifolia (Lavendar) Oil, Eucalyptus Globulus Leaf Oil, Gernium Maculatum Oil, Citrus Paradisi (Grapefruit) Peel Oil, Ceramide Np, Centella Asiatica, Rosmarinus Officinals (Rosemary) Leaf Oil, Citrus Limon (Lemon) Fruit Extract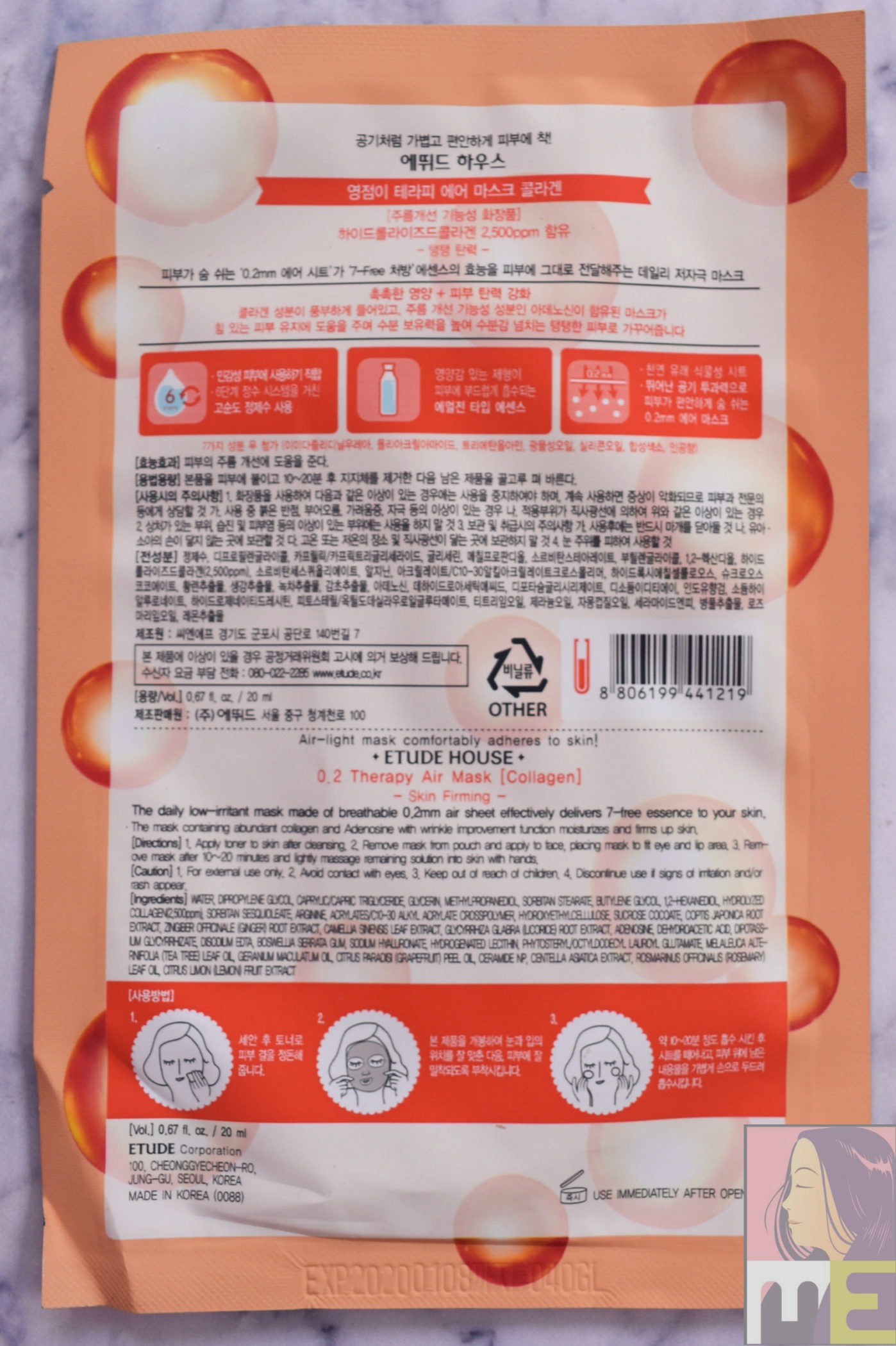 My Experience :
Even though my mask got slightly disfigured and stretched, it didn't bother me very much, especially since I didn't have to cut the eye holes. If you've read any of my previous Etude House Sheet Mask reviews, you'll know that all of Etude House Masks fit me perfectly except for the tiny eyeholes, so warming the sheet mask up did have its pros after all. Speaking of the original reason why I warmed it up, well the warmth didn't linger long.
Coming to the texture, I already told you guys that it took a milky and rather unpleasant form and got drippy. I'm just thankful that the warm up session didn't ruin the effect. I enjoyed this mask on my face for around 30 minutes and then took it off to expose a nicely hydrated skin. I've been struggling with dry skin because of the weather and because I ran out of essence and serums and haven't been able to sheet mask because of the cold. The hydration lingered for a day and the chilly weather took over my skin just the very next day. There was also a brightening effect noticeable.However, when it comes to firming effect it isn't very easily noticeable. For me, anti-aging care is more like precaution rather than post damage medicine and it's hard to notice any initial firming effect. However, putting collagen on my skin is more like an affirmation to my skin that yes, I'm playing my part in my anti-aging care.
Overall, I'm satisfied with the result. Etude House happens to be one of my favourite K-Beauty brands and thanks to Skinnmore, it's easily accessible in India. I'm definitely going to repurchase as I love using collagen products.
Pros:
Hydrating
Does what it claims
Brightens
Cons:
Where to buy:
Price:
Rs 175