As a part of my pre-wedding regimen, I have been sheet masking as frequently as possible, almost every day. As you can imagine, there's going to be a LOT of sheet mask reviews up on my blog and I have an additional sheet mask stash box sitting near my dresser. Anyway, today's review is going to be about Etude House Refreshing & Soothing Tea Tree Sheet Mask.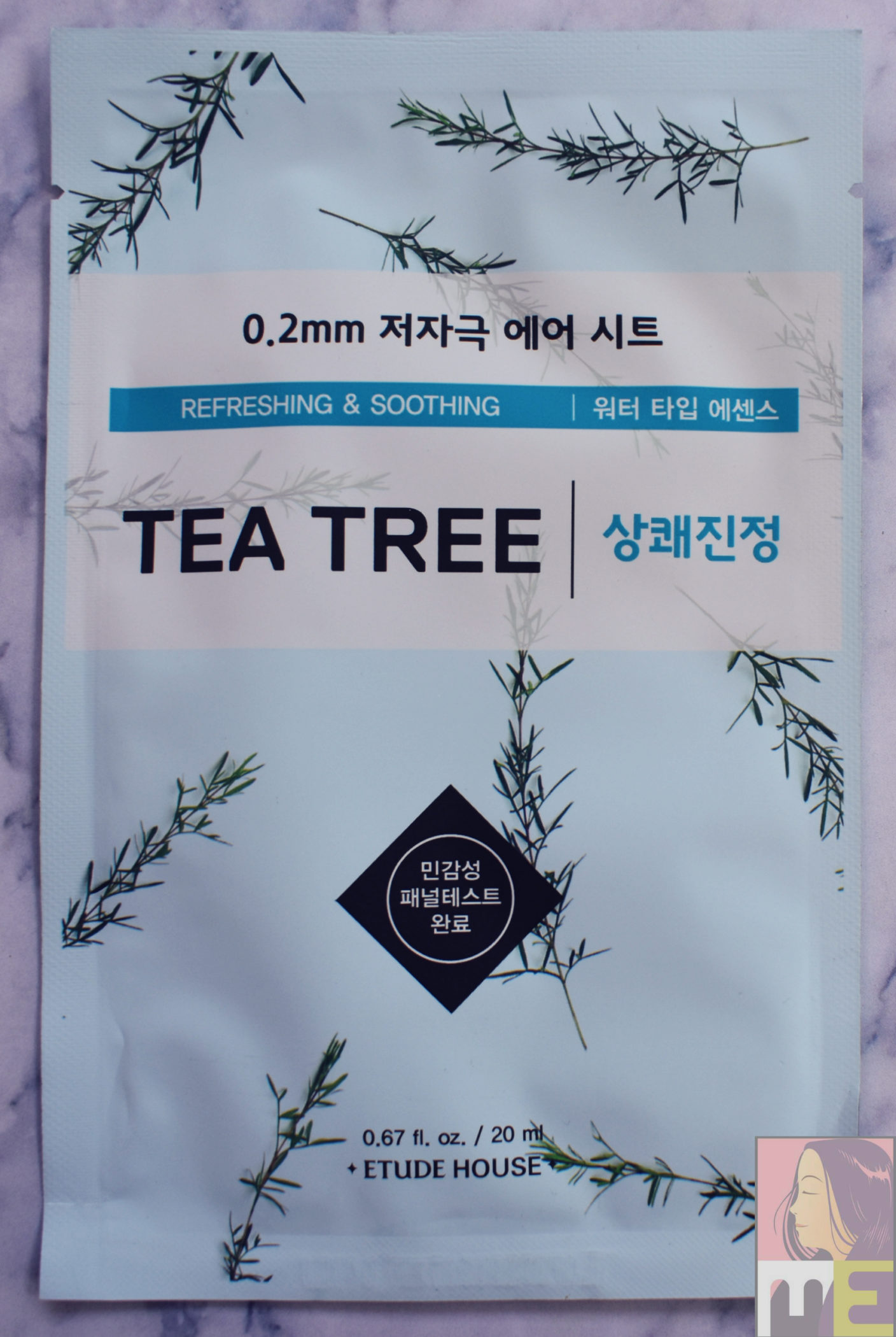 Ingredients:
Water, Glycereth-26, Dipropylene Glycol, Propanediol, Alcohol, Hydroxyethyl Urea, Butylene Glycol, Glycerin, 1,2-Hexanediol, Melaleuca Alternifolia (Tea Tree) Leaf Extract (2500ppm), Sodium Carbomer, Allantoin, Hydroxyethylcellulose, Glycyrrhiza Glabra (Licorice) Root Extract, Coptis Japonica Root Extract, Zingiber Officinale (Ginger) Root Extract, Camellia Sinensis Leaf Extract, Dehydroacetic Acid, Sodium Hyaluronate, Disodium EDTA, Dipotassium Glycyrrhizate, Polyglyceryl-10 Laurate, Polyglyceryl-10 Myristate, Caprylic/Capric Triglyceride, Boswellia Serrata Gum, Beta-Glucan, Hydrogenated Lecithin, Lavandula Angustifolia (Lavender) Oil, Eucalyptus Globulus Leaf Oil, Citrus Nobilis (Mandarin Orange) Oil, Citrus Limon (Lemon) Fruit Extract, Pinus Palustris Oil, Phytosteryl/Octyldodecyl Lauroyl Glutamate, Ceramide NP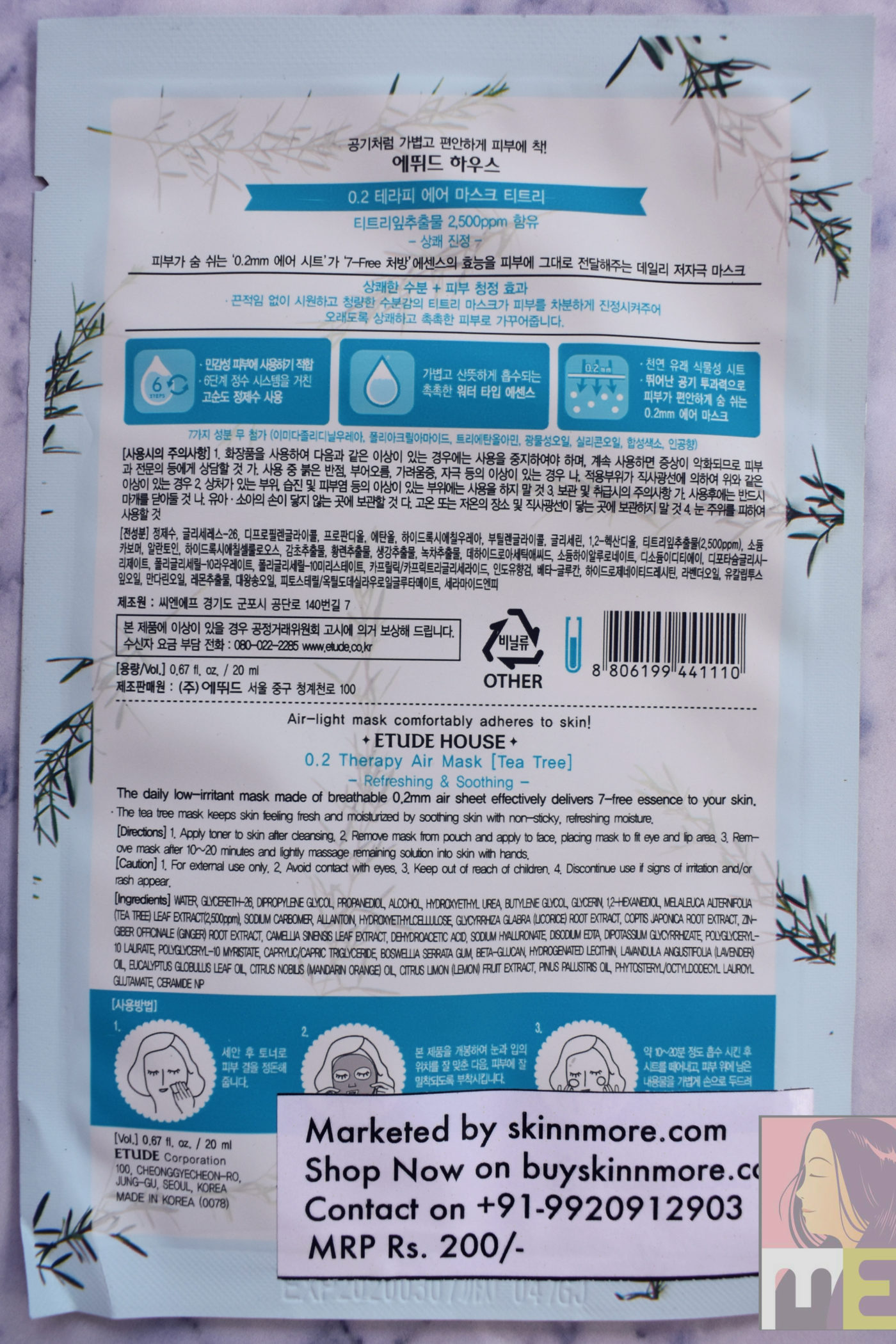 My Experience:
There was a festival going on in my hometown and I pandal hopped like crazy. This year I have set a record of pandal hopping the most, both during Durga Puja & Jagadhatri Puja, this year is also the year I pandal hopped throughout the night for the first time during both the Pujas. Jagadhatri Puja is celebrated exactly a month after Durga Puja and I watched the immersion throughout the night until 7 in the morning and then crashed at a friend's place (her house is beside the palace) took a 3 hrs nap, came back home, showered and slept throughout the day and woke up around the evening to an angry skin and 3 red pimples. The next day I cleansed my skin, exfoliated, toned and put on the Etude House Tea Tree Sheet Mask and got a text from my best friend who has never made a plan one minute earlier. I was granted some time until my sheet mask dried up so I lay in my bed contemplating going out with that terrible skin. Whenever my skin behaves badly my boy friend jokes that my readers are going to unfollow me once they meet me in person in the street. That one joke kept playing in my head in a loop until my sheet mask was almost dry and I took it off.
I was treated with a very pleasing sight; my face without a single pimple. The redness was gone and the pimples were flat. Any minor trace of those pimples disappeared upon the application of my tone up cream. My skin was visible brightened and I went to meet my friend with a happy skin and no makeup at all. The brightness lingered for another few days and the pimple did not come back at all.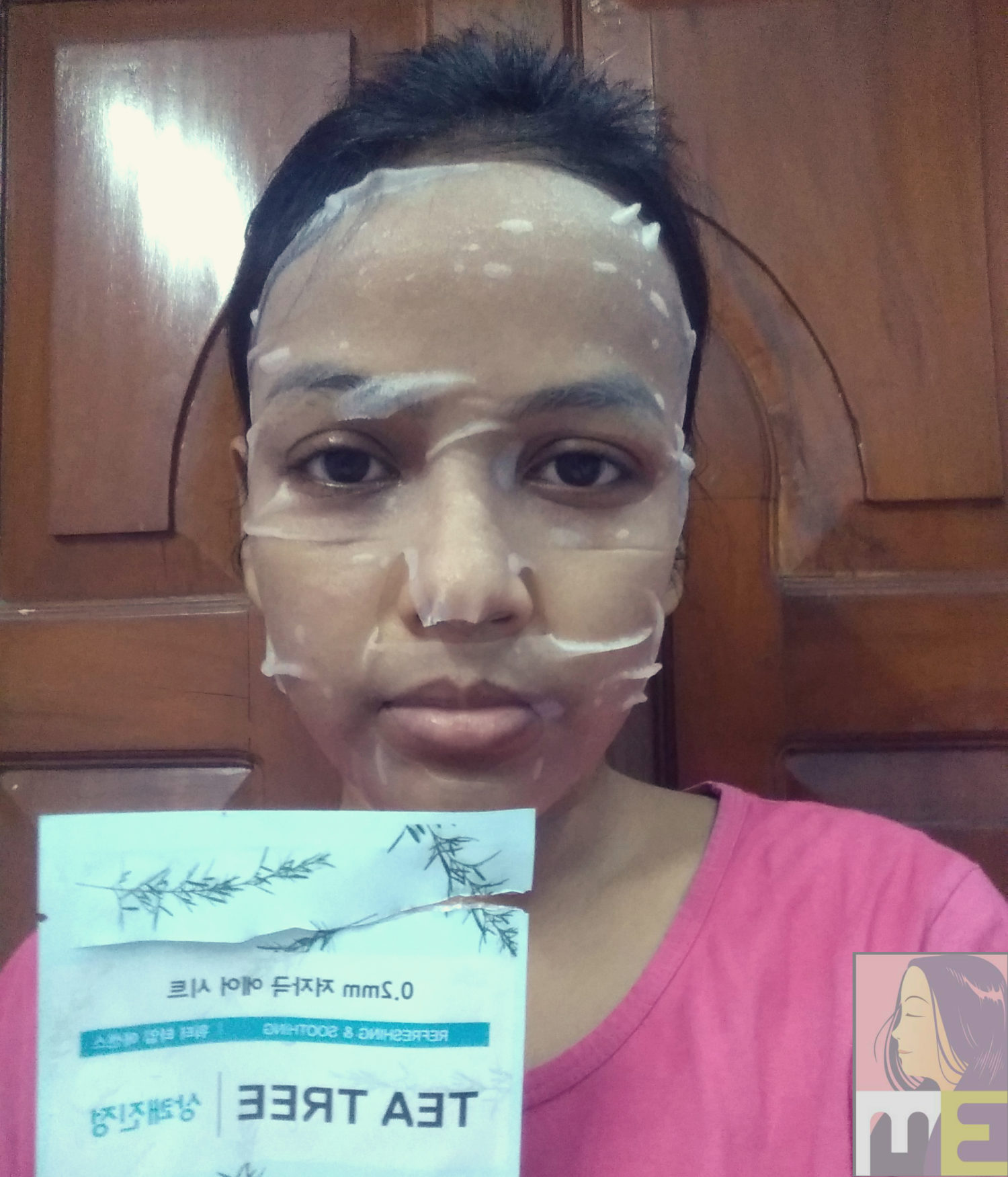 Like any other Etude House Mask the fitting was good but had real tiny eye holes.
The sheet was thin and gave the 'second skin' feeling that I much adore. The essence was watery and the sheet kept dripping while I put it on. There was some extra essence left in the packet that I applied on my arms.
Overall, I loved the sheet masks. My pimples literally disappeared upon 1 usage, even though there weren't any cystic acne and the pimples were quite small, it was still impressive.
Pros:
Fights pimples
Brightens up the skin
Gives the second skin feeling
Does not have a strong fragrance
Cons:
Contains alcohol
Contains carbomer
Where to buy:
Price:
Rs 125/-
Rating:
4.7/5