Your choice of wristwatch is a window to your personality, telling the world who you are and where your priorities lie. Your timepiece is able to say so much more about you than you would willingly share, especially when you're in the company of strangers. In today's fast paced world, the fundamental use of a watch may be substituted by a smartphone but the reason why every man should wear a watch goes much beyond telling the time. It is the basis of leaving a lasting first impression; it accentuates your style and helps you stand apart from the crowd.
Over the past few decades, Swiss watchmaking brand Tissot has successfully carved a strong hold in the world of timekeeping. Among a multitude of impressive collections, Tissot T-Touch watches in India have found a soft spot in the heart of many watch lovers. The Tissot T-Touch is a high-tech series featuring new age touch screen technology and state of the art features. These include a barometer, compass, backlight, altimeter and more.
When it comes to watches, form is just as important as function and Tissot understands this better than many. The Tissot T-Touch collection has established itself as one of the most sought after multi functional watches across the globe, on account of its use of superior technology, premium craftsmanship and precision in every single timepiece. Over centuries of its existence, history's most powerful men have accorded Tissot a high place in their list of must have accessories, often attaching a priceless emotional value to their beloved Tissot. With watches catering to men with varied interests and priorities, Tissot has something to offer for everyone. To find yourself an ideal match amongst the wide-ranging collection of Tissot watches in India, turn to authentic retailers such as Ethos Watch Boutiques that have proved to be reliable, dependable and highly trustworthy, especially in the category of luxury watches.
Here's a list of 3 popular watches from the Tissot T-Touch collection that are guaranteed to make their way directly to your heart:
Tissot T-Touch Expert (T013.420.44.057.00)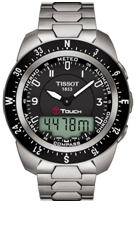 The perfect combination of technology and easy of use, the Tissot T-Touch Expert offers 15 high-tech features, all available at the touch of a button. The 44mm scratch resistant dial case boasts of an electronic LCD display. Featuring an easily readable dial, the hour markers get illuminated in the dark, making the watch legible and clear at all times. The modern looking strap made of titanium is a sophisticated touch, adding to the overall appeal of the gorgeous timepiece.
Tissot T-Touch Expert Solar (T091.420.46.051.01)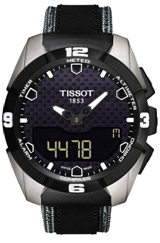 The T-Touch Expert Solar by Tissot is an iconic timepiece and a definite crowd favorite. Boasting of cutting edge technology and high-end innovation, the watch is entirely powered by solar energy.  Ideal for extreme conditions, the wristwatch is known for its durability and resilience, even in adverse situations. The case is made of 45mm black titanium, strapped in with a stunning black leather strap.
Tissot T-Touch Expert Solar (T091.420.47.051.01)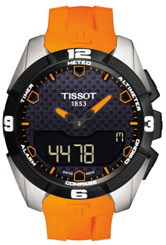 Here's a timepiece that hardly needs an introduction. You look at it once and you can't help but admire it again. Retaining features unique to the T-Touch series, Tissot has developed a more reliable, trendy version in the face of T-Touch Expert Solar. The dial looks like it is made of carbon fiber but in reality, it is the solar panel, responsible for powering the watch whenever a light source is available. Along with charging the watch, the solar panel is also used to charge the Super-LumiNova®, which glows in the dark.
If you describe yourself as a man who yearns to be outdoors whenever possible, you will found yourself a perfect match in the Tissot T-Touch collection. Every timepiece from the series is an extremely powerful piece of machinery that goes beyond telling the time – it'll tell you the date, weather data, geographic locale and more. To put it simply, cutting edge technology meets modern design with the Tissot T-Touch Collection.