Hello fellow k-beauty fans! I am back with another k-beauty product review for you all. It is The Face Shop Natural Sun No Shine Hydrating Sun Cream SPF 40. As countless articles and beauty gurus have told you already, it is really important to put on sunscreen on a daily basis. But I admit that applying thick, goopy sunscreen is the last thing on my mind when I step out in the sun. Actually, I hate regular sunscreens so much that I prefer to tan than to put them on and ladies, I tan severely. Within 3 minutes of stepping into the sun, my face goes 2 shades darker. So you can guess how photosensitive my skin is. I have tried countless sunscreens- from medicated to high end European brands and none of them saved my skin from tanning.  But it all changed with the arrival of The Face Shop Natural Sun No Shine Hydrating Sun Cream.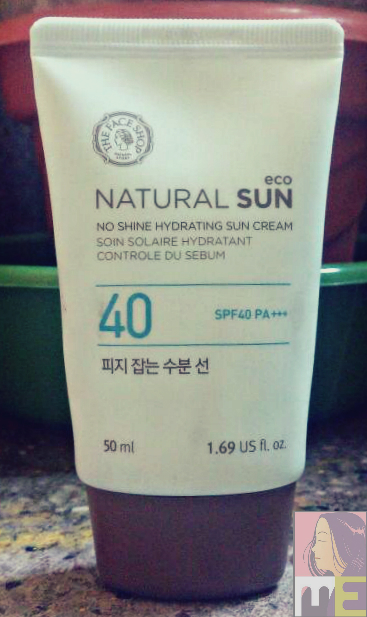 Price: I got it at a discounted price of 7.8$ for the 50 ml variant on Cosmetic-love.com
Packaging: Very basic, no nonsense, hygienic and travel friendly. I am sorry, I can't show you the outer packaging as I threw it away.
Ingredients list: Water/eau, cyclopentasiloxane, ethylhexyl methoxycinnamate, alcohol, denat, isoamyl p-methoxycinnamate, ethylhexyl salicylate, phenylbenzimidazole sulfonic acid, dipropylene glycol, butyl methoxydibenzoylmethane, polyglyceryl-6 stearate, ethylhexyl methoxycrylene, tromethamine, vinyl dimethicone/methicone, silsequioxane crosspolymer, methyl methacrylate crosspolymer, panthenol, polyglyceryl-3 methyl glucose distearate, potassium cetyl phosphate, propanediol, dimethicone/vinyl dimethicone crosspolymer, cetearyl olivate, polyglyceryl-6 behenate, dimethicone, acrylates/vinyl isodecanoate crosspolymer, sorbitan olivate, sodium hydroxide, acrylates/C10-30 alkyl acrylate crosspolymer, sodium polyacrylate, xanthan gum, caprylhydroxamic acid, trisodium edta, helianthus annuus (sunflower) sprout extract, cetearyl alcohol, glyceryl stearate, menthyl pca, plankton extract, silica, butylene glycol, sodium pca, salvia hispanica seed extract, gossypium herbaceum (cotton) seed extract, parfum/fragrance.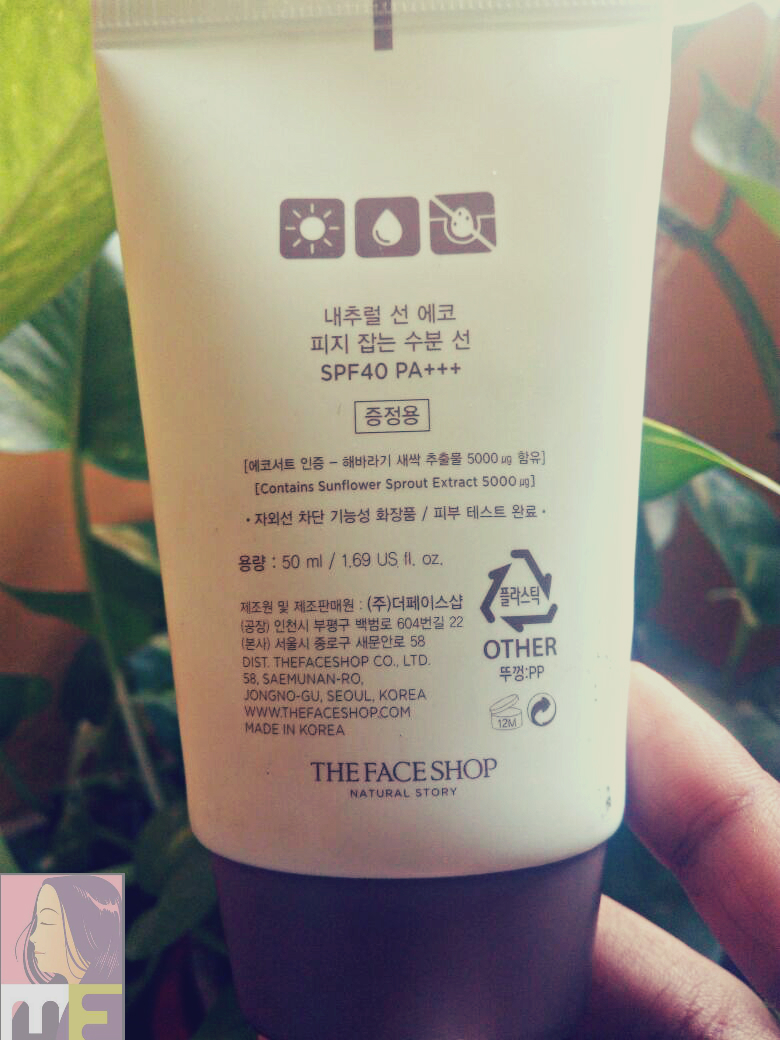 Texture: Neither too thick nor too runny. And it is pretty hydrating.
My experience: 
This is my first ever Korean sunscreen. I really had no expectations from it. I just wanted to try something new. But holy shit it blew me away! Let me tell you this, if you have dry skin or normal skin like me and my sister, it will be doing the job of a moisturizer for you with the sun protection added. But oily skinned friends, I am not really sure if it would work for you because it can be pretty heavy for you people with the high humidity and even higher temperatures of summer. I used this sunscreen during the entire summer.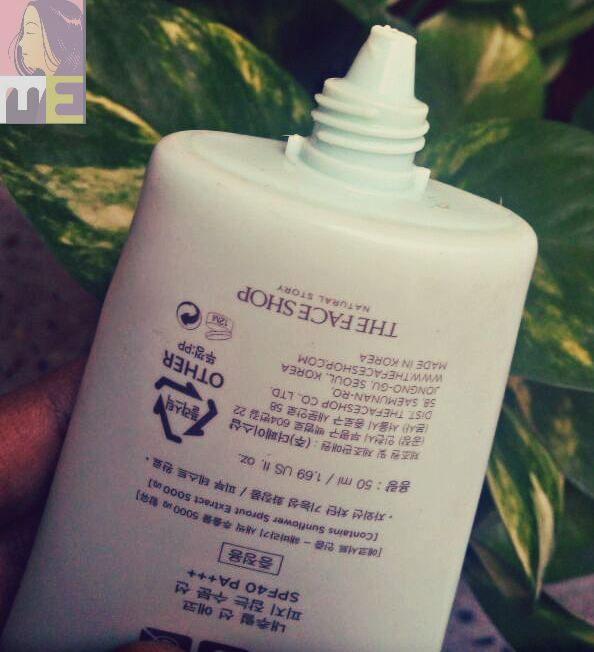 The sunscreen is very good at protecting my skin from tanning. What's the proof you may ask. As we all know, the higher the altitude the stronger the UV rays become. I had gone to Nathu-La pass in Sikkim which is 4,310 meters above the sea level. And added problem was fresh snow, piles of it. The UV exposure was intense. But this sunscreen protected my skin so well that I did not even get a slight tan, whereas I had tanned into charcoal 3 years ago in the same area and same weather conditions. After coming back to the hotel and washing away all the gunk and dirt from my face, I found that my skin has not gone darker. It sealed the reputation of this stuff in my eyes. Hail Korean sunscreens! It leaves no ghostly white cast (rejoice, my dark skinned beauties!). It does not cause any break out or rashes to me or my sis' skin (btw my sis has super sensitive skin). The fragrance of this sunscreen is mild and fresh, nothing too overwhelming. I love it! The quantity we get for 8$ is too good! This 50ml bottle has lasted me 3 months. Total value for money kind of product I say! Some people may get scared by the alcohol content in it but I did not feel any dehydration.
There's just is one thing that annoys me too much- the shiny look it leaves behind. If I wear the slightest amount in excess, my skin ends up looking like a shiny Puri/luchi. I mean what the hell, you people said no-shine and here I am shining like a disco ball in the sun light! Other than this I have absolutely no complaints from this The Face shop product.
Pros:
Effective, saves skin from tanning even in extreme weather conditions.
Economical
Hydrating for dry and normal skin
Does not cause break outs or rashes
Beautiful scent
NO WHITE CAST!!!
Cons:
The No-shine claim is not true, at all.
Availability and price in India
Can be too heavy for oily skin
Will I repurchase and recommend?
Definitely recommend it but may not buy it again because K-beauty has even better sunscreens on offer which I would love to try.
Rating:  4.3/5
Availability:
In India, Nykaa.com (ridiculously high priced)
Internationally, cosmetic-love.com , testerkorea , Jolse and many more sites.
Guest post by Anwesha Biswas