Having lived in hostels throughout my college life (3 years of graduation and 2 years of Masters) I'm no alien to protein powders. I never really took them in an intention of losing weight, just that the worst tasting protein powder tasted much better than my hostel food. Besides I never woke up during breakfast time, and always left for college before lunch time. So yes, I have tasted way too many protein powders during my college years and ditched them as soon as I got my own apartment (because I had the liberty to cook). I've always been slim built, have even been slim shamed by people who thinks they are doing me a favour by telling me that I should gain some weight. The only time I did gain some weight was during the 2 years that I had a full-time job. The slim shamers seemed to be too pleased that I finally gained some weight, but what I actually gained? Belly-Fat, I just got belly fat. Fast forward to a couple weeks after I left my job, I visited my office for some paperwork and my ex girl colleagues envied me for losing my belly fat just weeks after leaving my job. Eventually I got back to my original shape but belly fats as they are, wouldn't just bid good bye, it reduced, I won't lie, but it wouldn't just completely go away. So I occasionally started indulging in minimal exercise to get rid of them. The person who was most heartbroken about me loosing weight (going back to my usual shape) was my fiancés mother. Each time she sees me, she reminds me how slim (not in a praiseworthy way) and sickly I look, and suggests me I gain some weight. So much so that I eventually got convinced that I look unhealthy and started trying to gain weight and even stopped exercising. It wasn't until I went to my wedding dress trial recently that I realized that every single one of the dresses fit me way too perfectly and the boutique owner was so excited and told me that I'm her first customer that fit into the dresses so perfectly. That day I realized I am exactly how I should look, I don't really need to gain or lose weight to satisfy other people.
My following decision has been a bit of a challenge, what I actually wanted was to get rid of the belly fat without losing any weight, because honestly, I will look sickly if I lose any more weight. This is not actually an easy task to do without visiting a nutritionist, because to lose belly fat I would have to exercise, which may or may not result in losing a bit more weight than expected. So instead of making drastic changes in my routine I just started with a very minimal exercise (mainly sit ups and plank) and added a slim shake into my routine. Now the slim shakes are meant to be meal replacements, because they are supposed to make you lose weight, but I don't want to lose weight, so I added this to my routine around that time of the day when I sometimes end up having junk foods. I'm not a junk addict, not even close, but I've had this habit of becoming a hungry monster at a weird time between afternoon and evening since my school days. My culinary skills flourish exactly after my afternoon tea. Now I don't know if I said this before, but my only curb weaknesses are cheese and potatoes. I hate sweets, I don't like ice creams, I don't like soft drinks, and dark chocolate is the only chocolate that I eat. That being said, most of my afternoon meals include either of my weaknesses unless I feel energetic enough to make noodles with very less oil and lots of veggies, or if I make grilled veggies. One of my very few praise worthy habits include pouring lots of veggies in everything and anything I make. So worst case scenario? There's little to no veggies in the house and this hungry monster ends up eating instant noodles, potato chips and other unhealthy stuffs that I usually hate. And what's worse than eating a food that you dislike which also happens to be unhealthy? To me, nothing, cause I'll keep regretting my choice until I go to sleep that night. So yes, I only eat junk foods when I have no access to healthy food and I'm hungry. And my solution? Galloping down a mug of slim shake before the hunger pangs kick in. You must be thinking that I eat too much. No I don't, the evening meal is the heaviest meal I take in a day, and I know it's not healthy, but that's how it has always been.
Zenith Nutrition Slim Shake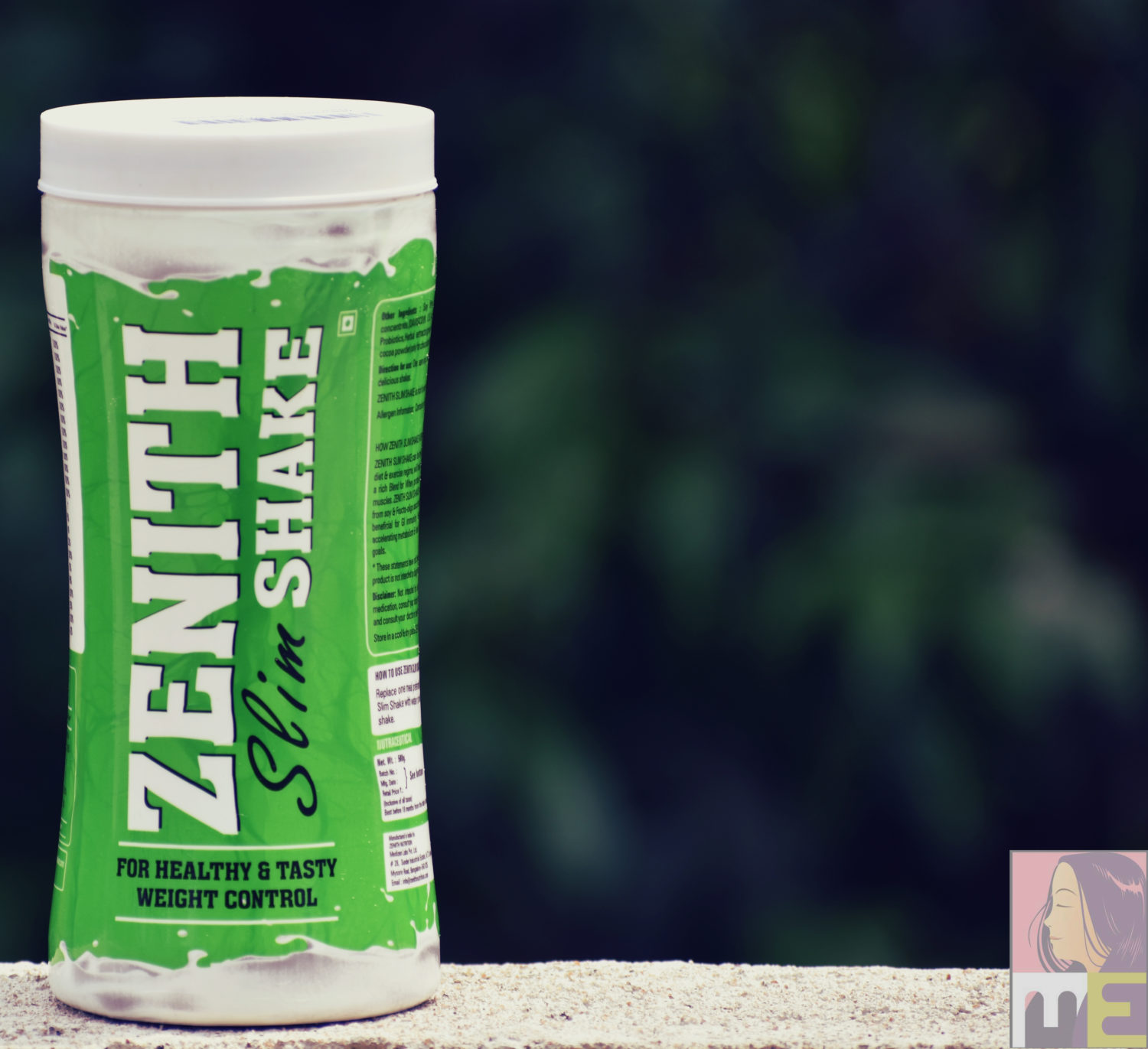 ZENITH SLIM SHAKE is a rich Blend for Wheat protein & Soy protein with essential Amino acid to build Lean muscles. It can be taken, one-two servings a day. But taking this all alone won't help if you keep binging on junk food and no exercise. This Slim shake has to be consumed along with health controlled diet & exercise regime that will help to achieve, a well toned lean body.
There is no magic to lose weight but all the workout effort and results can be maximized by a controlled diet and taking this slim shake which is rich in fibres and proteins to make up for all the lost calories without adding on any fat and making you feel tired. Do try this out if you are following this routine and want to achieve a toned body.
Allergen Information:  Contains milk protein, & soy protein.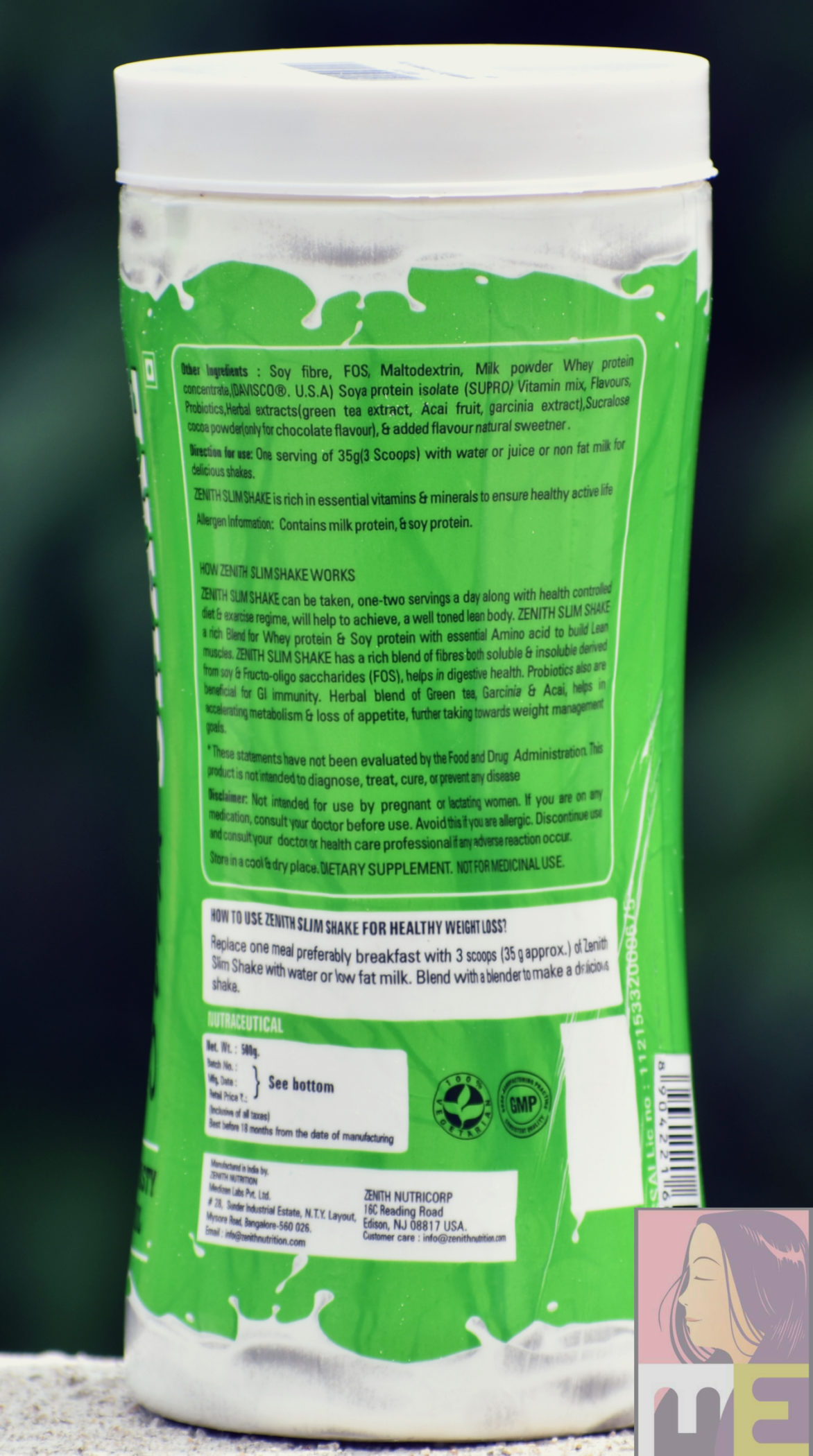 Directions: One serving of 35g(3 Scoops) with water or juice or non fat milk for delicious shakes
Other Ingredients : Soy fibre, FOS, Maltodextrin, Milk powder Whey protein concentrate,(DAVISCO®. U.S.A) Soya protein isolate (SUPRO) Vitamin mix, Flavours, Probiotics,Herbal extracts(green tea extract, Acai fruit, garcinia extract),Sucralose cocoa powder(only for chocolate flavour), & added flavour natural sweetner .
Price: Rs.1075 for 500 gms (currently Rs  834 on offer)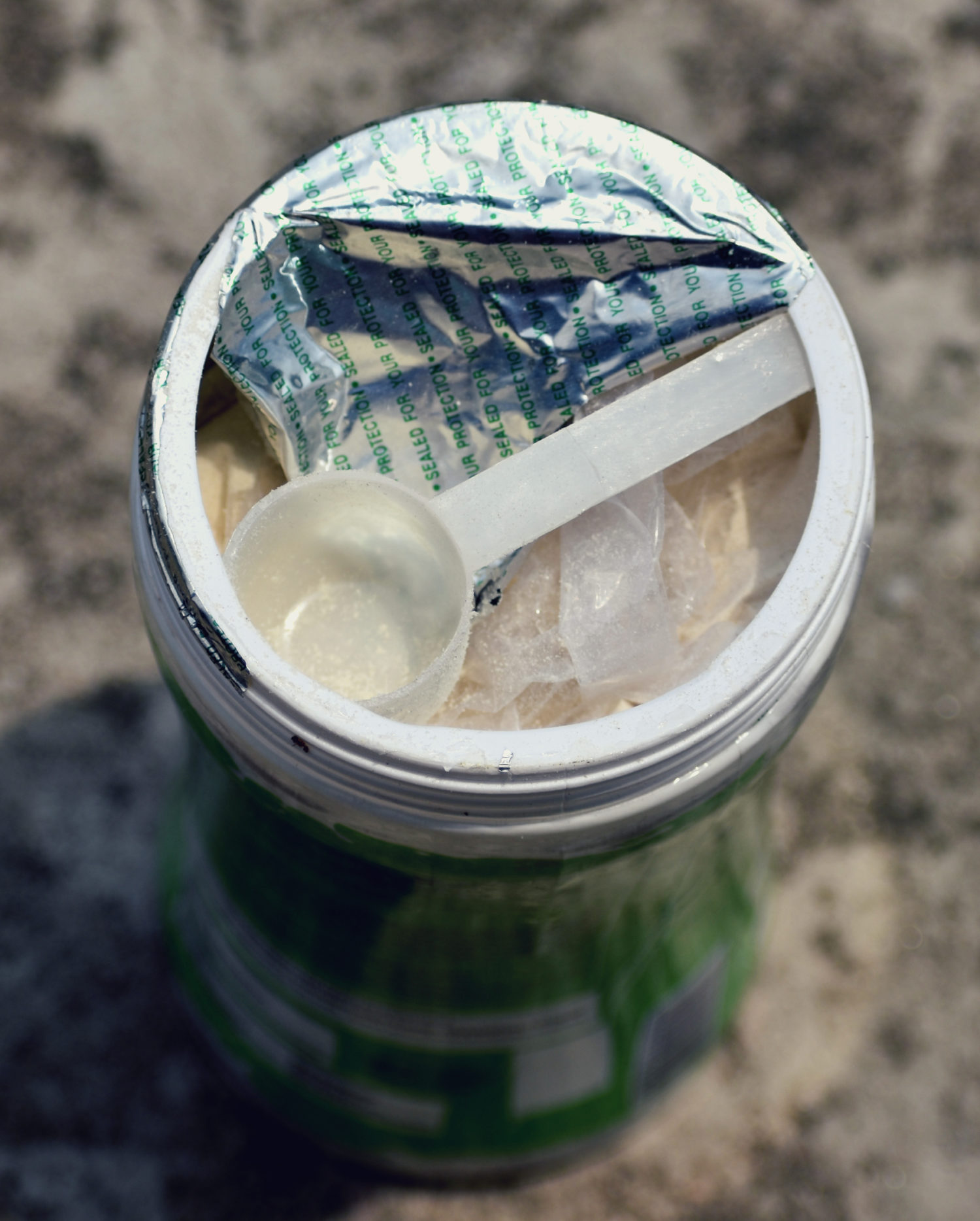 My Experience:
Like I said, I don't take it as a meal replacement as my intention is to get a well-toned body while maintaining my current weight. I like to call it a protein shake instead of a slim shake because of its long list of protein and vitamin sourced ingredients. It comes in four flavours and I've got the flavour American Ice Cream which is the tastiest of all the protein powders I've ever tried. I take the slim shake around 6.30 pm and that is enough to stop me from turning into a hungry monster around the evening. Since my goal is not to lose much weight, I sometimes munch down some light snack before or after taking the slim shake (the main reason I am saying I don't take it as a meal replacement). So far, it seems like am getting there.
I really think it's a great option for people who are trying to lose some weight. The long list of potential ingredient tells me it will make a great breakfast replacement. But for me, I cannot get a better, healthier and tastier replacement for my afternoon meal/snack.
Where to buy:
NOTE: Supplement provided for review purpose but the opinions are completely honest.