If you happen to read my blog regularly, you are probably sick of my skin infection stories. If you are not, here's the gist- I got the skin infection on both of my cheeks around the end of March from a dirty makeup brush. I couldn't treat it until the end of June because of a series of family medical emergencies and by the time I managed to finally look into the mirror, the condition was too severe. I tried all the healing and soothing and anti bacterial products I could think of: nothing worked, I tried every single home remedies I read on the internet, nothing worked either. I visited a derma and told him that I caught the infection from a makeup brush, he insisted that it's just acne and gave me freaking retinol which scares my skin, he said my condition was not too severe to take oral meds. I visited another derma, he too insisted that these were just pimples and prescribed me some products meant for severe acne problems and said I don't need anti-biotics. He said that in 2 months my skin will be clear and the blemishes will disappear. 1 month down the line when there was zero improvement and my 2nd bachelor trip was approaching I gave up all my hopes on his meds and decided to visit our family physician and literally beg him for anti-biotics no matter how much I hate them. That's when I received a bottle of probiotics supplements from Zenith Nutrition and decided to give it a try before heading to the general physician. I've already read a LOT about probiotics but I did a little more research before I started taking them.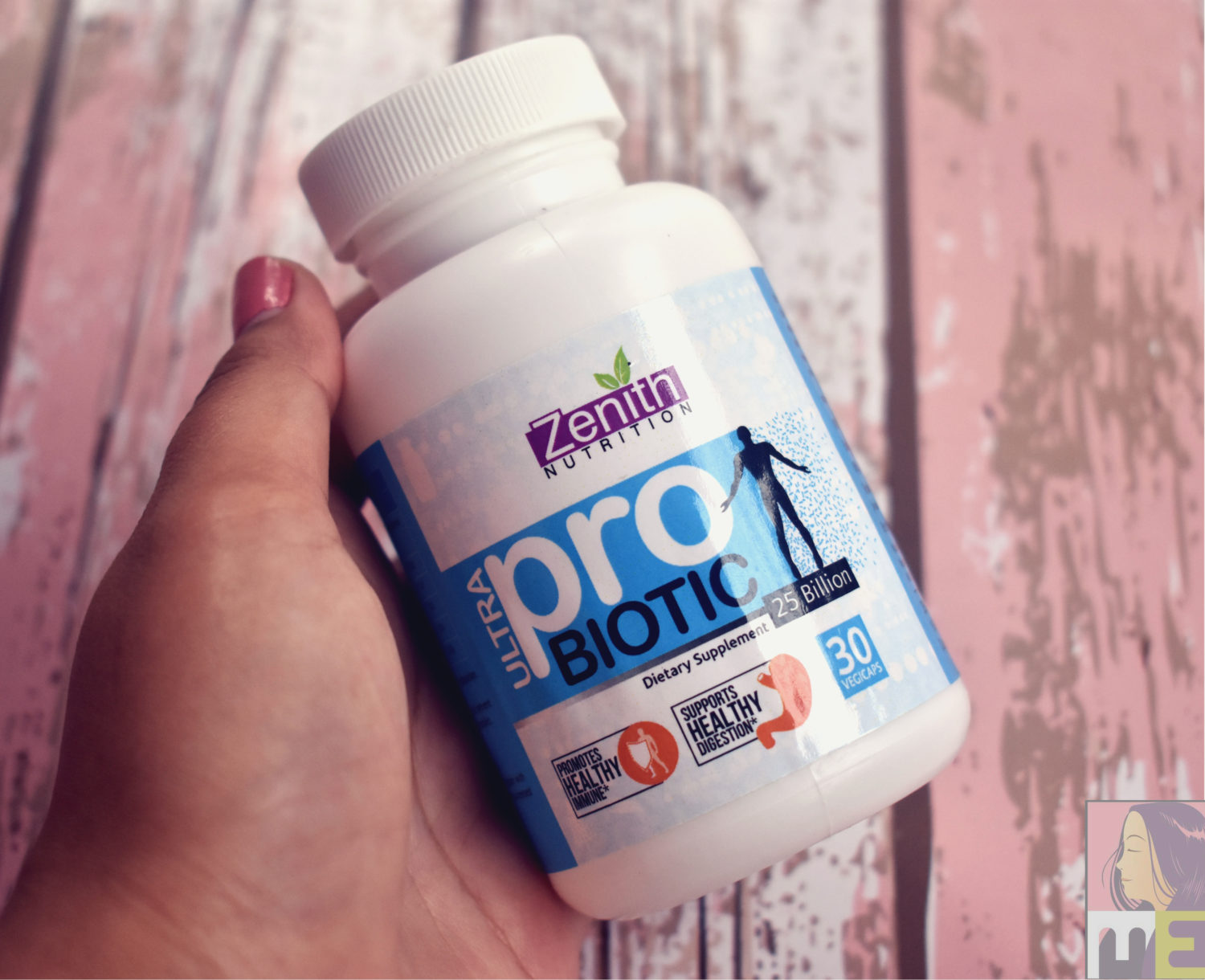 What are probiotics?
In short they are the good bacterias, the ones that curds and yogurts are filled with, the ones that are responsible for the porcelain skin the Japanese and South Korean people flaunt(because of their daily intake of fermented food like Nato and Kimchi). The probiotics are responsible for lining our digestive tracts all the while supporting our body's ability to absorb nutrients and fighting infection. While anit-biotics kill both the good and bad bacterias,  probiotics work by outnumbering the bad ones. Also if you intake probiotics along with anti-biotic, chances are there will be less side effects caused by the anti-biotics as the reason we suffer from the side effects in the first place is because the good bacterias are getting destroyed as well.
The benefits of probiotics varies from cleaning the gut, regulating the organisms in our digestive system, reducing cholesterol, fighting eczema, skin infection and acne, healthy teeth, healthy skin, fighting diarrhea and the list goes on.
My experience:
To be honest, I hate curds. I hate any semi-liquid food except for melted cheese and yep, I dislike ice cream too.  Once in a while when I get my hands on Chinese Cabbage I make and store Kimchi for a week but I prefer not fermenting them. So as you can already tell I don't intake probiotics naturally unless am visiting a Korean restaurant and devouring on Kimchi (which I did twice after getting the infection by the way).
Around 4-5 days before my trip started, I decided that I've had enough of the meds prescribed by my dermatologist and started taking the probiotics. My skin condition was so severe that the temperature of my skin around my cheeks was always high. The bumps were as terribly inflamed that my face looked asymmetrical; each day I would wake up with one cheek swollen worse than the other, making my face shape look messed up. The first time I took a probiotic capsule was after dinner. The next day I woke up to a normal skin temperature on my skin, first time in four months. The inflammation was gone and the bump sized reduced. Over the time some of the bumps turned into cystic acne, and this first time in months the cystic acnes looked shrunk. Can you imagine my joy after being failed by as many as 30 healing products and 2 dermatologists, something actually worked, and worked overnight? I was hoping it would work fast enough to clear my skin by the time I set out for my trip. A couple of days later I went to my fellow blogger and friend Dona's place as I was crashing at her place  for a couple of days before our trip actually started. She was surprised to see my smooth skin as I've sent her some gut wrenching pictures of my cheeks just a few days ago (the day before I started taking the probiotics). By that time, the bumps and acnes have all shrunk, there were just a little uneven skin where the cystic acnes used to be, which could have been noticed if you looked into my skin too closely.
Finally the day came when we set out for our trip with a completely flawless skin.  I have a pimple popping OCD, I keep poking my acnes and bumps all the time which resulted in blemishes on my cheek. However, by the time we were actually enjoying our trip, there were little signs of blemishes. So much so that I didn't even have touch my concealer (or foundation for that matter) throughout my entire trip. It took the probiotics a little more than 7 days to completely heal my skin and lighten up the spots. I don't know what I would have done without it.
I've been taking the probiotics for around 3 weeks now and my skin has never felt better. After all my skin has been through, infection I received from my first bachelor trip, heat rash and SEVERE tan that I received from my second bachelor trip, after everything, my skin is actually glowing.
Zenith Nutrition Ultra Probiotic 25 Billion CFUs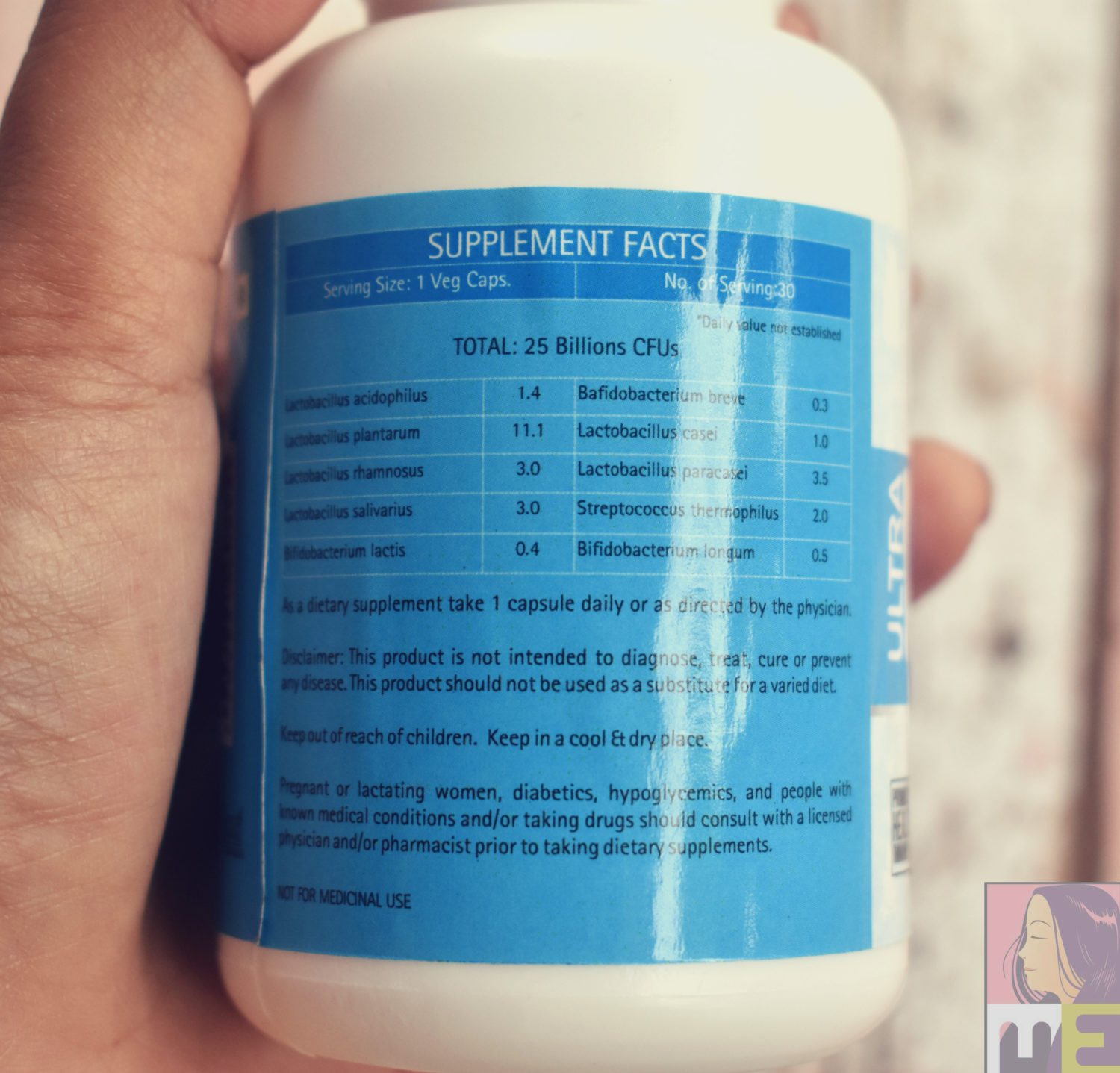 Price: Rs 718 for 30 capsules
Where to buy: Amazon, Official Site, Flipkart
Rating:
5/5
NOTE:
Dietary Supplement provided for review purpose but the opinions are completely honest based on my own experience.
I've done some research on possible side effects and only decided to take them after I found out there are no cases of any serious side effects, or side effects at all except for bloating (which didn't happen in my case). However, since I am not a physician and wrote the review on my own personal experience, I will suggest anyone willing to add this supplement in their diet to do their own research, since the effects can vary from person to person.