Most of my readers probably know by now that The Face Shop is my least favourite of all K-Beauty brands, and it's it gives me immense pleasure to say that I've found one TFS product that satisfied me.
Since am 27 and I don't indulge in an anti-aging skincare routine yet, I like adding products containing Pomegranate in my regimen occasionally because they are really great for skin firming and anti-aging treatments. So whenever I apply a pomegranate sheet mask (from any brand) the only thing I expect from them is elasticity. However, this time I got a lot more than I bargained for, for good.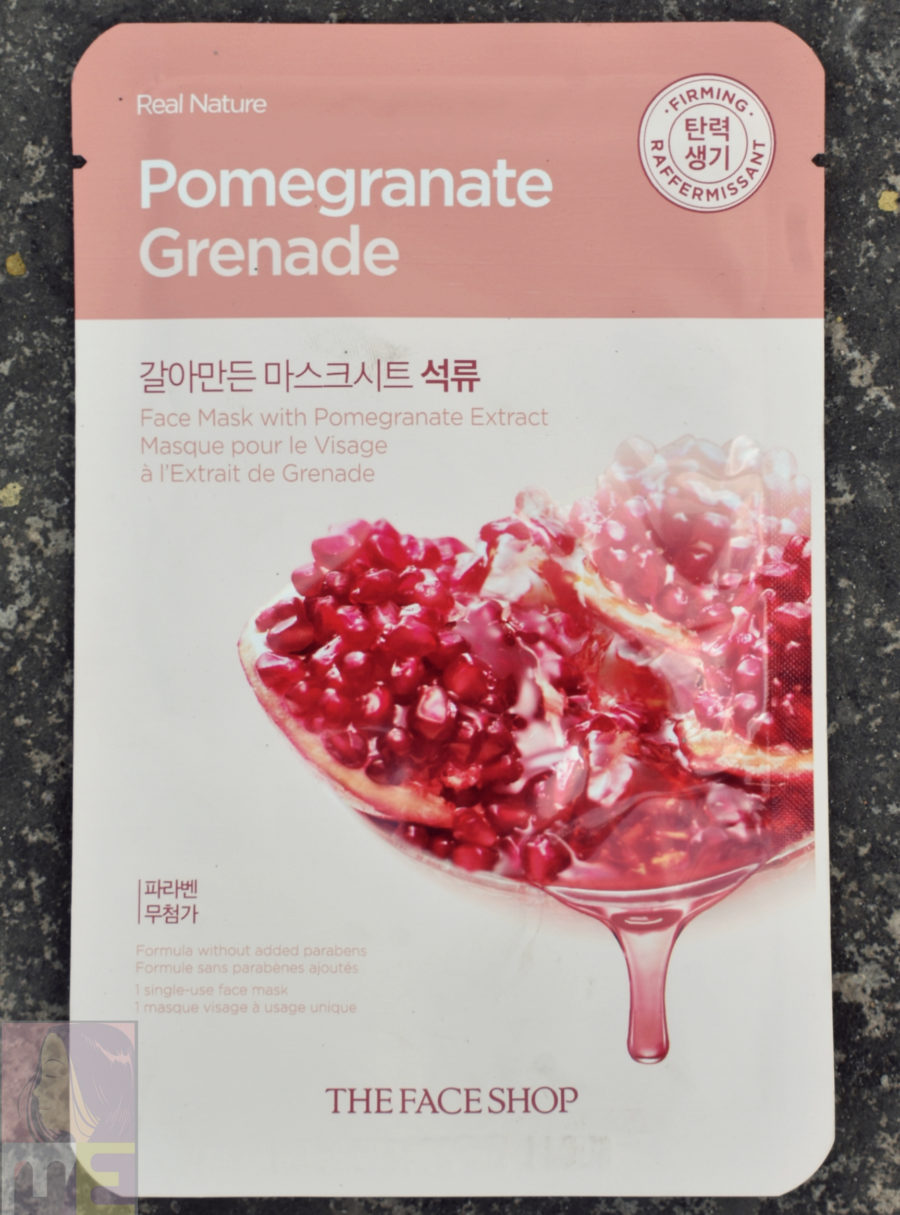 Ingredients:
Water/Eau, Glycerin, Butylene Glycol, Punica Granatum Extraxt, AlcoholDenat., Trehalose, Sodium Hyaluronate, Xanthan Gum, Hydrogenated Lecithin, Caprylic/Capric Triglyceride, Phaseolus Radiatus Extract, Betula Platyphylla Japonica BarkExtract, Rumex Crispus Root Extract, Phenyl Trimethicone, Carbomer, Peg-60 HydrogenatedCastor Oil, Triethanolamine, Methyl Paraben, Propyl Paraben, Parfum/Fragrance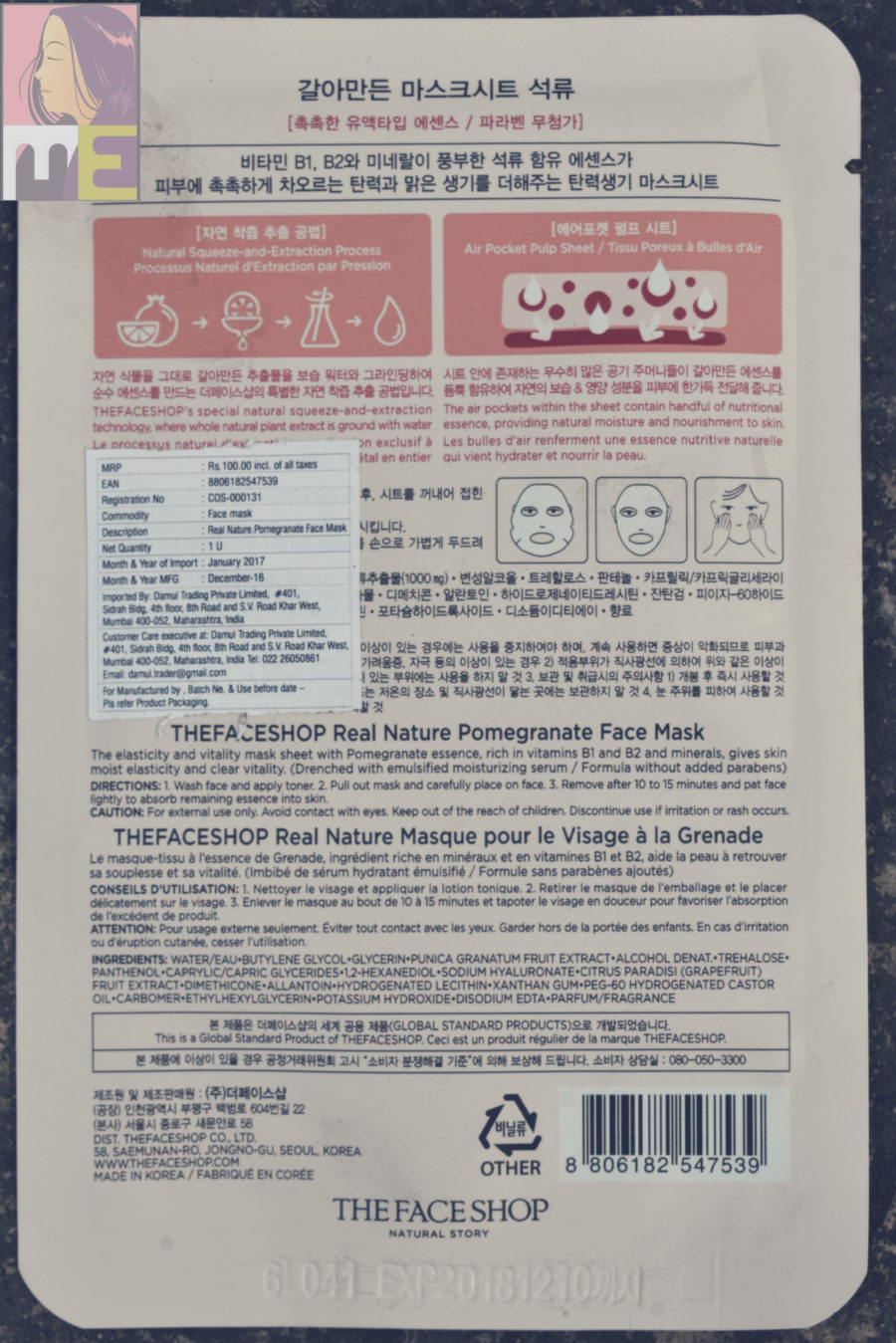 My Experience:
Currently my skin is at its worst. Whenever I come back from a trip, I recover my skin within 2-3 days. This time however, I came back with a terribly irritated and tanned skin with so many tiny bumps on my both cheeks. Before I could start the healing process, a series of family mishaps kept happening and am still not sure if they are over yet (I really hope they are). It's been almost 2 months that I came back from my trip and since I didn't get the opportunity to heal my skin, the irritation kept getting worse over the time. I finally started taking caring of my skin from the day before yesterday and I am currently in the process of developing a potential healing skincare routine which I'll share once am certain that it's working.
So I used this sheet mask the day I resumed taking care of my skin and I applied it after exfoliating and toning and left it on for 35 minutes. The fitting wasn't that great, the sheet was too large for my face, there were wrinkles around my cheek and the chin area kept hanging down my chin. Even though the thick cotton mask was drenched in enough serum, there weren't any serum left inside the packet which was okay with me as I'm better off without that tacky feeling.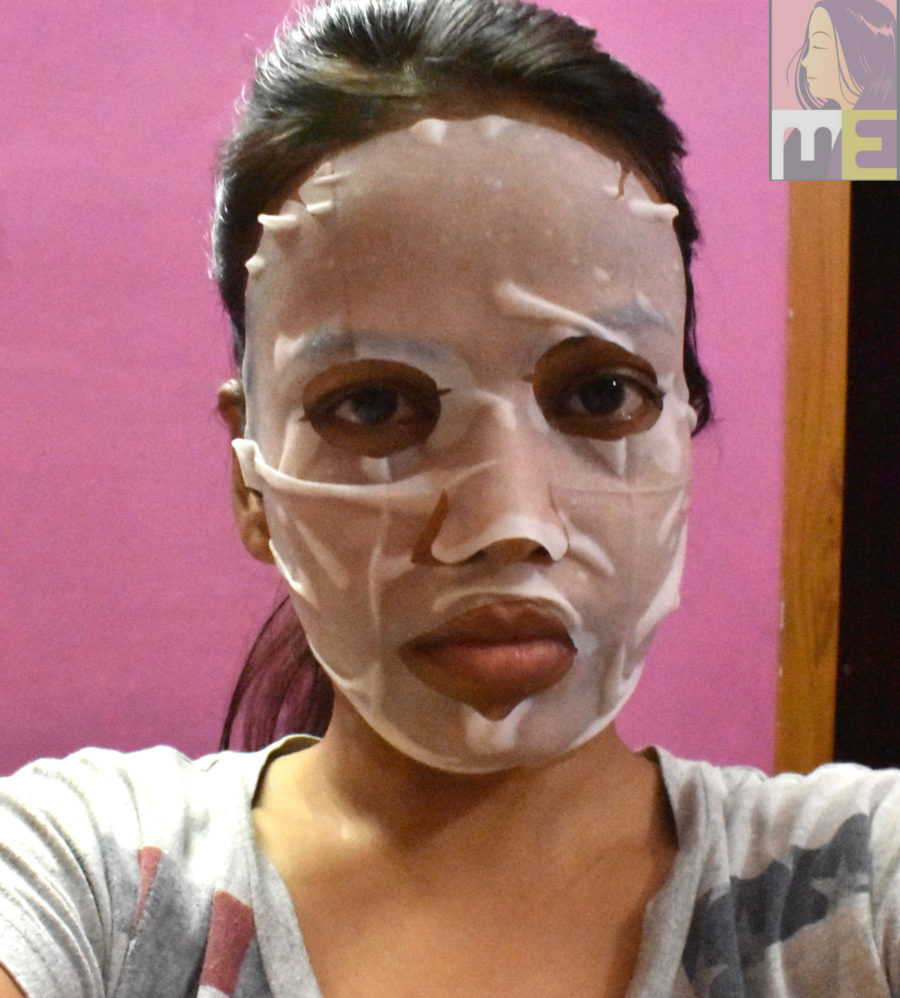 Since TFS masks contain Alcohol Denat I was expecting a tingling sensation on my irritated areas just like the TFS Red Ginseng Mask gave me, but I was glad that the sensation didn't occur. I removed the mask before it dried out completely and was surprised to see that the size of my bumps and the redness has been visibly reduced. Wasn't elasticity and moisturization the only effects that I expected from the mask? It later occurred to me that pomegranate is actually good for oily and acne prone skin so it pretty much summed up. And it doesn't just stop there. The following morning I woke up with a bright skin with a lot less bumps and redness. If you've forgot by now, I haven't yet de-tanned after I came back from the trip.  So I was more than just glad to check my visibly brightened, even, extremely moisturized and calm skin. However, as the morning turned to afternoon and the Kolkata humidity and heat started rising, the bumps started swelling once again leaving me with the reddened skin by the evening. The brightness on the other hand lingered until the next day (which is today) and am writing this review late at night enjoying a radiant skin.
So, overall, am extremely happy. Even though I'm a bit sceptical about repurchasing it because I try staying away from products that contains alcohol and now am left with a sweet and bitter feeling because I just fell in love with a product that contains alcohol.
Where to buy:
Price:
MRP 100rs
Pros:
Brightens
Firms
Calms irritated skin
Provides immense moisturization
Pocket friendly
Cons:
Contains alcohol
Fitting is a bit pain
Rating:
4.7/5