Genetic eye bags can be really stubborn and really hard to be treated with skincare products. Unfortunately enough, my eye bags fall under that category and rarely any eye treatment works on them. So this March when I visited Sephora for the first time during my Bangalore visit, I was browsing through their eye mask collections ad chose one that promises to fight wrinkles. Since it was my first Sephora visit, I didn't know how things work over there and how the sales person helps you chose the right product for you. Maybe they fell for my look, like anybody who doesn't know me personally mistakes me for a college girl, or maybe they couldn't see my eye bags and dark circles under my concealer so they told me that it's not the best choice for me and handed me the Avocado Eye Mask instead. I read the description and it didn't promise anything at all. Just nourishment and repairing? My under eyes require a lot more than that which I told them, but they assured me that it's the best one for me. And I thought that they probably know about skincare more than I do and went with the one that they chose for me.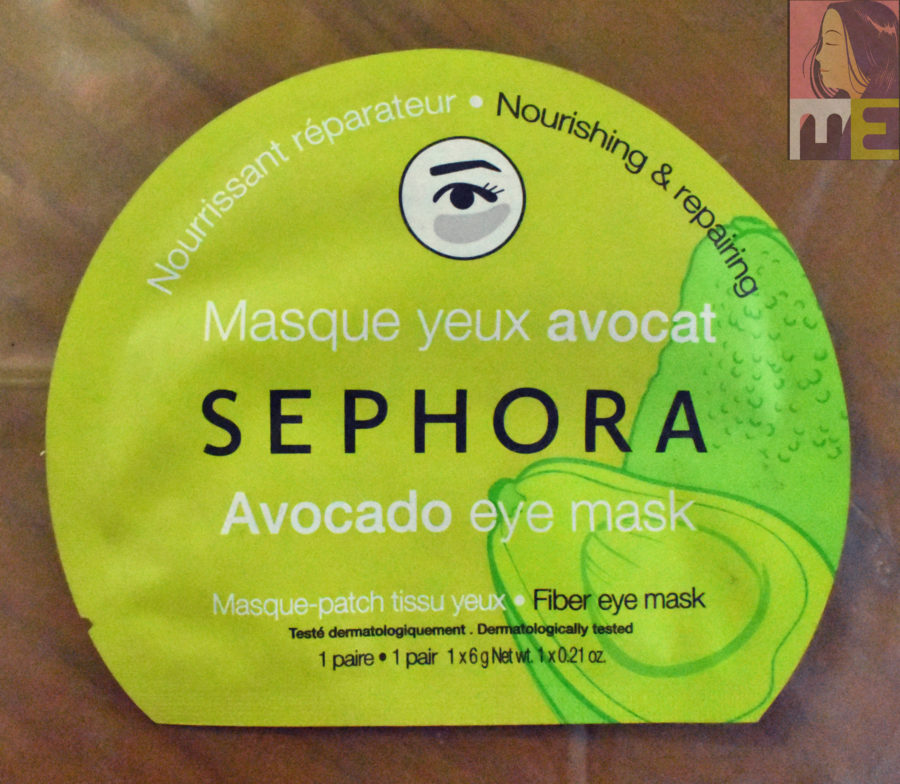 I came home, applied it on my undereyes, became really impressed with the size of the patches that covered a hell lot of my eye area but at the end of the day, they did absolutely nothing to my undereye area, except for nourishing the skin under my eyes. The under eye bags and dark circles remained with their full glory. The back of the packaging read that it is inspired by Asian skincare and I had been wondering if an Asian inspired product can be as good as an Asian product itself? There's no doubt that Sephora products are pretty good, but it was one product which Asians are better at, and I am someone who is an Asian Skincare geek, I am someone who swears by the products that are the inspiration behind this product, so a part of me was ready to be disappointed while the other part had hopes since it was a Sephora product, and also because it cost me twice the amount than the Korean ones that I use.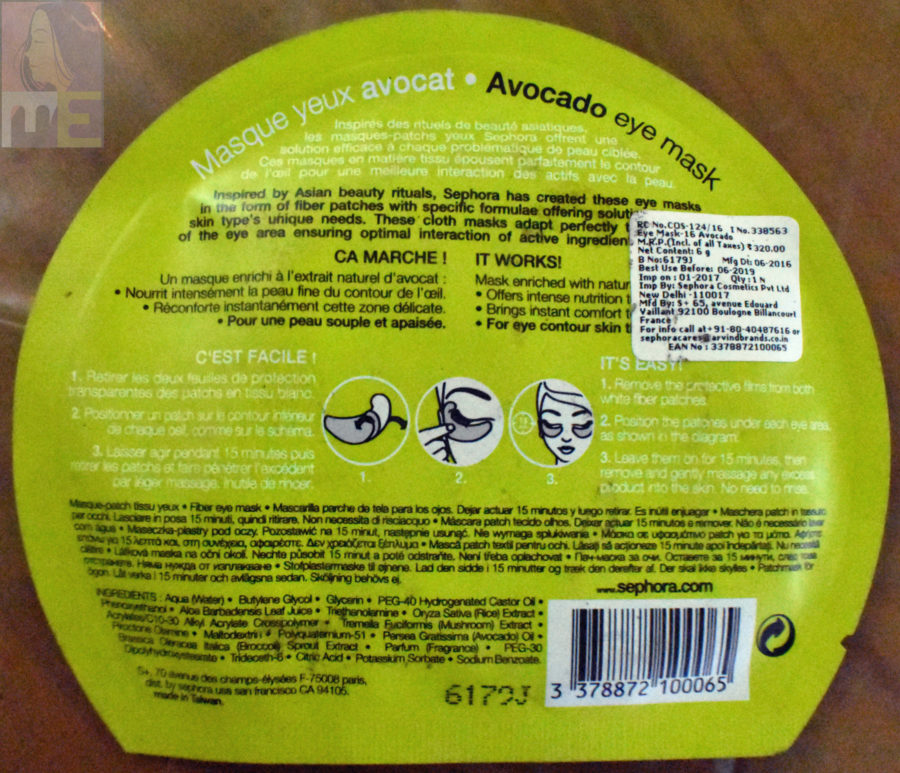 However, it's worth mentioning that the patches were pretty high in standard comparing to the $2-$3 Korean ones that I use. The patches were big enough to almost touch the tail of my eye brows and the cotton sheet was high quality as well. And I can't help but wonder if a different one from the range would have worked better on my eye bags.
Ingredients:
-Rice Extract: Moisturizes.
-Avocado Extract: Soothes and nourishes.
Water, Butylene Glycol, Glycerin, Peg-40 Hydrogenated Castor Oil, Phenoxyethanol, Aloe Barbadensis Leaf Juice, Triethanolamine, Oryza Sativa (Rice) Extract, Acrylates/C10-30 Alkyl Acrylate Crosspolymer, Tremella Fuciformis (Mushroom) Extract, Piroctone Olamine, Maltodextrin, Polyquaternium-51, Persea Gratissima (Avocado) Oil, Brassica Oleracea Italica (Broccoli) Sprout Extract, Fragrance, Peg-30 Dipolyhydroxystearate, Trideceth-6, Citric Acid, Potassium Sorbate, Sodium Benzoate.
Price: Rs 320
P.S: I have a Sephora Sheet Mask waiting in my stash to be tested, would you guys want me to compare it with the Korean ones?