Hey guys, hope you all are doing well. I am back with yet another sunscreen review because you know summer?
So I received Astaberry  Papaya Sunscreen Cream SPF 18 as a PR sample and as soon as I went through the ingredient list I knew that it contains both Chemical Suncreen (in the form of Benzophenon) as well as physical sunscreen ( in the form of Titanium Dioxide). Now if you've been reading my blog for a while you'll know that I've a super sensitive skin that reacts terribly to chemical sunscreens. However, I still decided to do a patch test and the skin on my elbow started stinging bad in just a matter of time. So the sunscreens went straight to my mom whose skin survives almost everything.
I really think that SPF 18 isn't enough for Indian Skin especially if you tend to spend long hours in the sun, it can be a good option for people who usually stays indoors during the daytime. My mother if you ask me stays out in the sun for 2-3 days a week and stays in the rest of the days. She's also got some stubborn blemishes that become worse if exposed to sun a little too much.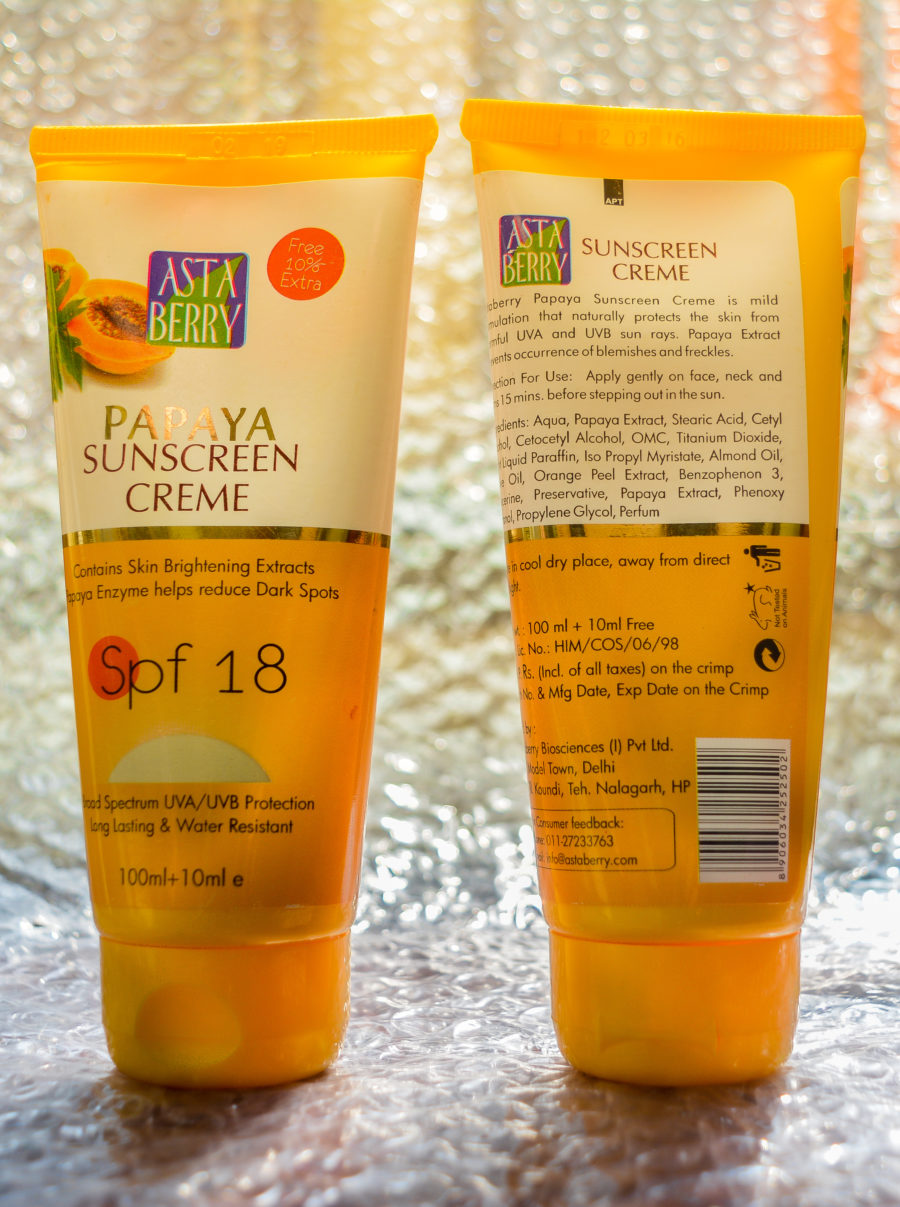 The sunscreen comes in a yellow coloured tube with a flip cap and is travel-friendly. The consistency of the sunscreen is runny, just like a typical chemical sunscreen and blends really well. Even though it behaves really well on my mom's skin, I have a feeling that it might turn a little greasy on oily skin. If you already didn't know, chemical sunscreens sometimes double as a primer, and this one's one of those chemical sunscreens. It doubles as a moisturizer too in case you don't have a very dry skin. About the dark spot removal claim, I'm not very sure because my mom's blemishes are really very stubborn.
Price:
90 rupees for 100 ml
Where to buy:
Official Website, Flipkart, Paytm
Pros:
Pocket friendly
Travel friendly
Blends really well
Can be a very good option for people that don't have a sensitive skin.
Paraben free
Cons:
Not suitable for sensitive skin
SPF 18 is not enough for people that stays long hours under the sun(but they have options to choose from the Astaberry Sunscreen range).
Rating:
4.5/5
NOTE: Press samples received for review purpose but the opinions are completely honest.