Hello everybody, today am going to review the second product from my TFS haul- The Solutions Brightening Mask. For some unknown reason it reminded me of the Innisfree Skin Clinic Vita C Sheet Mask and I kind of expected the same result. Spoiler alert- I was disappointed.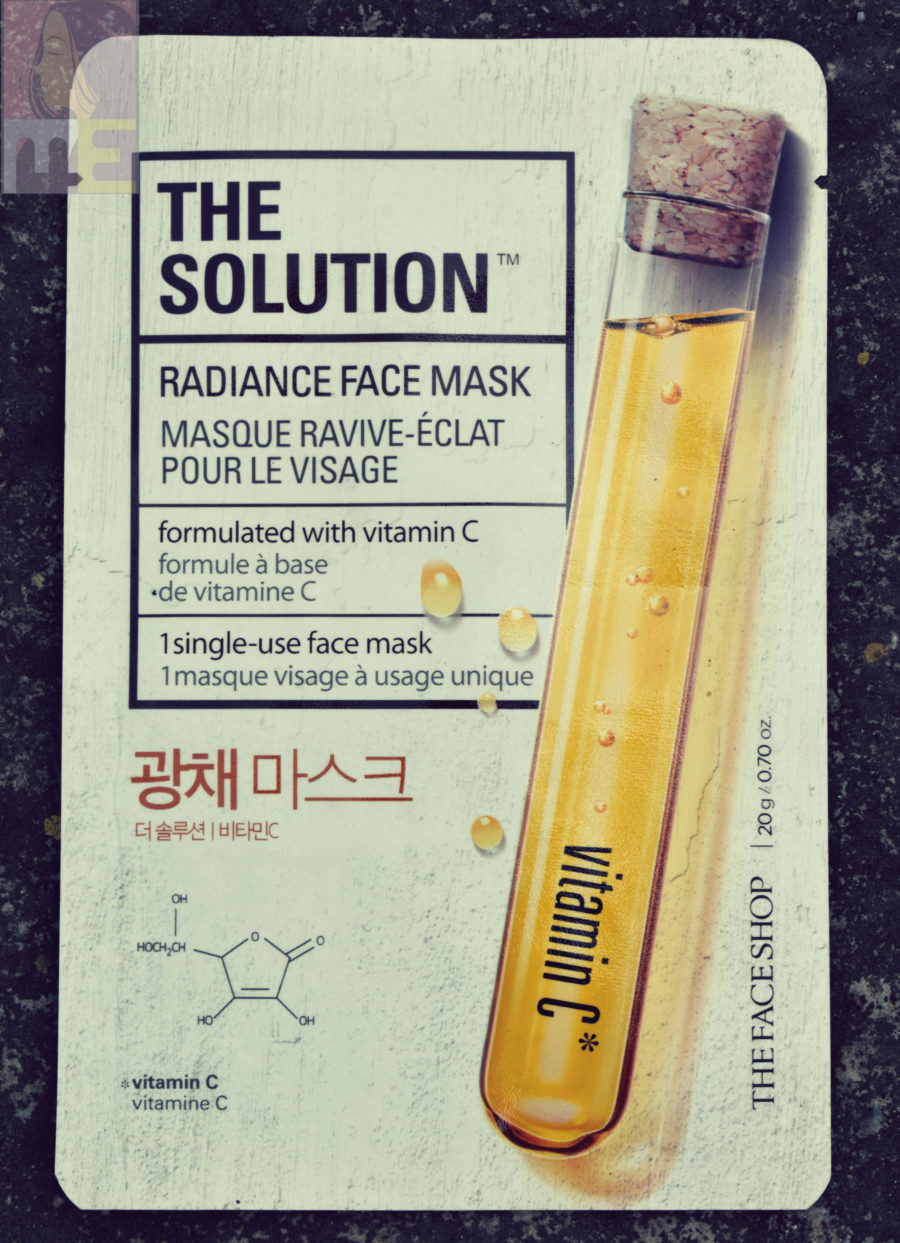 Product Claims:
A basic mask sheet line that provides honest solution to solve skin troubles, The Solution Brightening Face Mask by Faceshop is your ultimate beauty saviour! This face mask features a light-as-air sheet that feels soft and weightless on skin. The serum containing Ceramides provides a moisturizing solution to dry, rough skin. Bye bye bad skin!
Enriched with rich essentials to help achieve smooth and healthy skin.
This product is dermatologically tested.
Created to give you a gorgeous Korean beauty experience.
Additional Information: Beauty treasure for millions around the globe, Faceshop is a South-Korea based skincare line that provides fabulous goodies for your beauty rituals. Ranging affordable high quality products born from botany, this sensational brand believes on creating products that stem from a lovely concept of 'Science meets Beauty'. In a nutshell, Faceshop is your ultimate dream destination to treat your skin to it's best beautiful.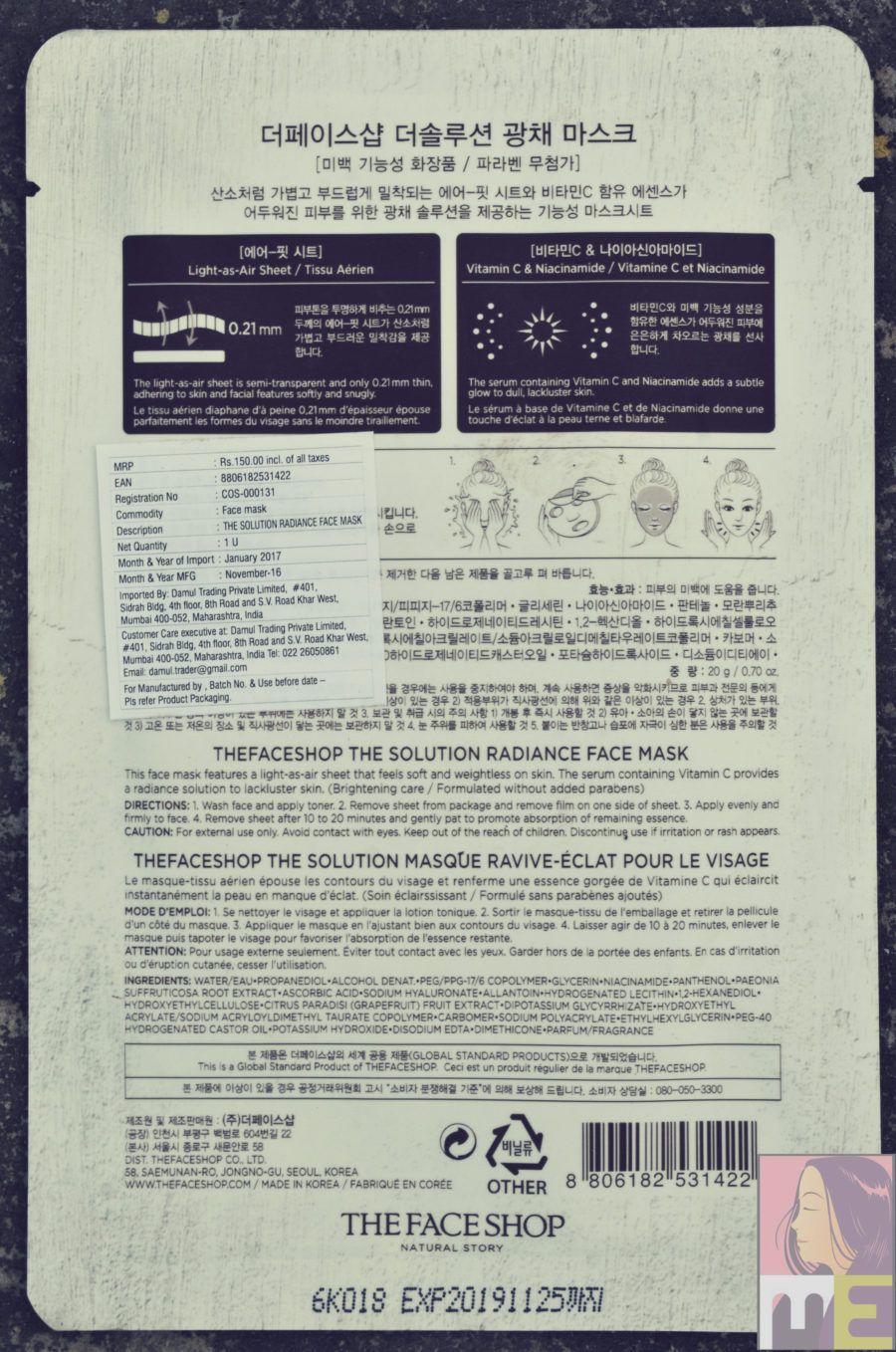 How to use product
Arrange skin texture with toner
Take out the sheet and remove the film
Spread over face, adjusting from eyes to nose
Take off after 10~20 minutes and tap lightly to absorb essence
 Price: MRP 100rs
 Where To Buy:
 My Experience: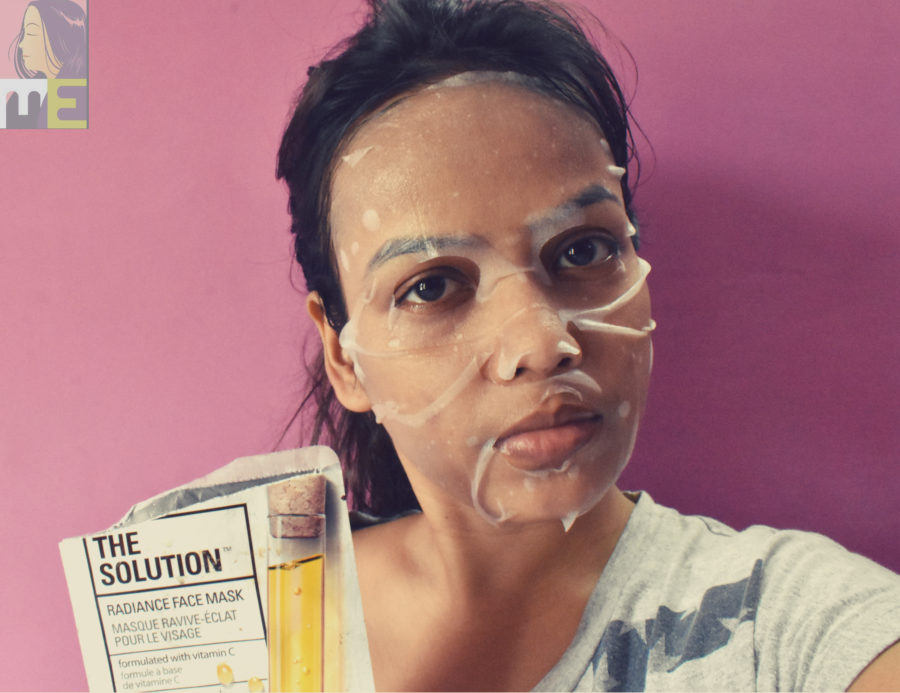 When I said it reminded me of the Innisfree Vita C Mask Sheet, I meant that the very first impression of the whole packaging reminded me of the Vita C mask. However, upon tearing the packet I was surprised to see that The Solution mask came attached to a film similar to the Vita C mask. My expectations went higher. The Vita C Mask worked amazing on me and I was hoping the same from it.
The sheet was drenched in enough serum but there were no extra serum dripping from it. I know that some people like it when there's extra serum left inside the packet, but I am better off without that kind of messiness. The fitting wasn't terrible, but wasn't perfect either. There were a few wrinkles but otherwise I was happy with the fitting. I kept it on for about 30 minutes and when I removed it, the sheet was still damp. I didn't notice any initial change in my skin except for the fact that it was immensely moisturized.
I usually sheet mask during my night time regimen but this once I used it during my morning routine post exfoliating. The brightening effect was visible within an hour and I was really happy with it. I went to bed with a moisturized, hydrated, brightened and happy face. The next morning? It was all gone. No brightness,no immense hydration. I took a 3hrs train to Kolkata that afternoon and by the time I reached Kolkata my skin was back to being its usual self. It was a bit clearer though but I like the brightening effect of a brightening mask to last at least 2-3 days.
Will I purchase it again?
Nah…
Rating:
3.5/5
Spoiler alert from an upcoming post:
Do you know there's an Indian K-Beauty E-commerce site? I mean you can actually get your hands on multiple Korean Skincare brands you didn't know were available in India, without going through the trouble of shipping internationally. Watch the space 😉