Collagen is a highly raved ingredient used in Korean Skincare products, especially the anti-aging ones. It's basically a protein found in human and animal body. As we age, the collagen production in our connective tissues minimizes thus giving us wrinkles. There are many Korean Products out there in the market that uses absorbable amount of Collagen that can give our skin a healthy boost. Being 27 and still not having started a thorough anti-aging routine, occasionally using products containing Collagen is the best I can do. I have used many Collagen Sheet Masks and the Innisfree Skin Clinic Mask Collagen has to be the best of them.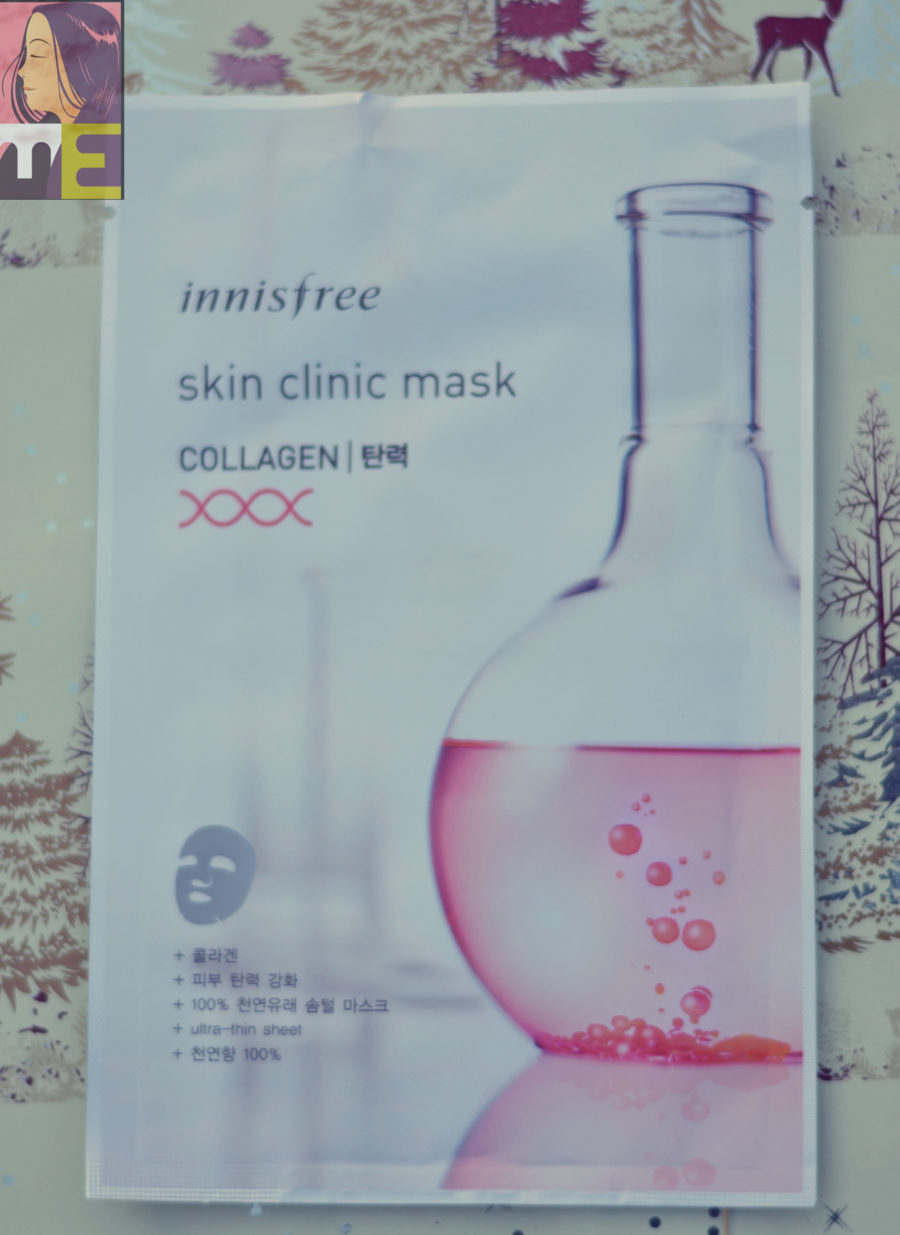 The Skin Clinic range from Innisfree targets different issues. I have used the Vita C from the range and it worked like magic on my skin. I was equally satisfied with the collagen one. Before I used it, I read two reviews from two different K-Beauty bloggers who claimed to have broken out using this particular sheet mask, one of them being a very trusted blogger of mine I was a bit sceptical about using it, but I still decided to give it a try considering that different products work differently on different skin.
What it is
It contains collagen, which is good for skin firmness, to revitalize and firm loosened skin.2. This 100% natural cotton sheet is made from soft cotton hairs around the cotton wool.3. It is transparent and thin and has good adherence on the skin, which allows for its good substances to be more effective delivered into the skin.
How to use
After cleansing, use toner to refine skin texture.
Take out mask from package and remove film. Evenly adhere it to entire face, avoiding eye and lip area.
3. Remove the sheet after 10~20 minutes and gently pat to allow the remaining formula to absorb into skin.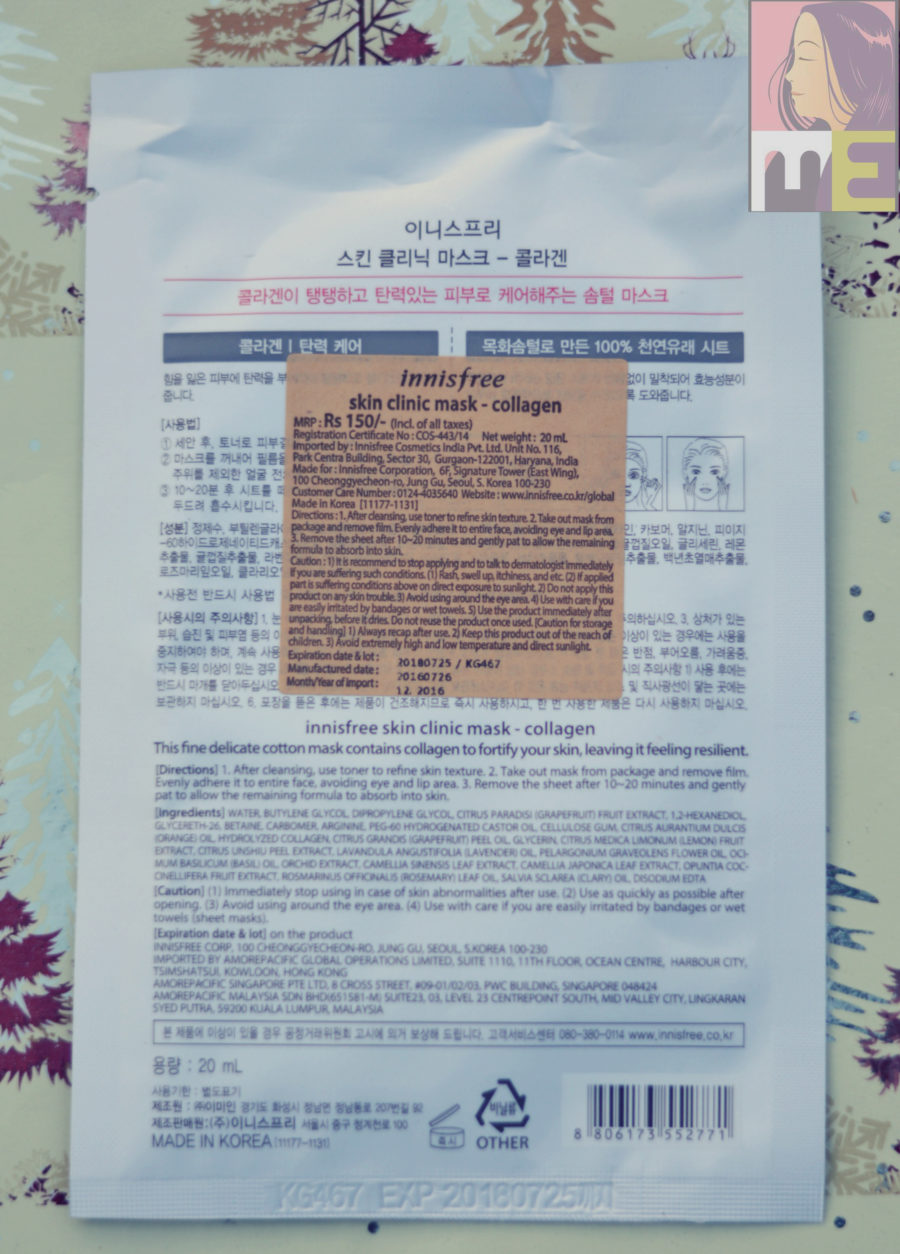 Ingredients
Water, Butylene Glycol, Dipropylene Glycol, Citrus Paradisi (Grapefruit) Fruit Extract, 1,2-Hexanediol, Glycereth-26, Betaine, Carbomer, Arginine, PEG-60 Hydrogenated Castor Oil, Cellulose Gum, Citrus Aurantium Dulcis (Orange) Oil, Hydrolyzed Collagen, Citrus Grandis (Grapefruit) Peel Oil, Glycerin, Citrus Medica Limonum (Lemon) Fruit Extract, Citrus Unshiu Peel Extract, Lavandula Angustifolia (Lavender) Oil, Pelargonium Graveolens Flower Oil, Ocimum Basilicum (Basil) Oil, Orchid Extract, Camellia Sinensis Leaf Extract, Camellia Japonica Leaf Extract, Opuntia Coccinellifera Fruit Extract, Rosmarinus Officinalis (Rosemary) Leaf Oil, Salvia Sclarea (Clary) Oil, Disodium EDTA
My Experience:
Unlike the "It's Real" Squeeze Mask range, the Skin Clinic Mask range comes attached to a film making it really easy to unfold. The instruction said to leave it on the face for 10-20 minutes. However, the sheet was still damp when I removed it 30 minutes later. I was surprised to notice a very bright skin. Rarely any sheet mask gives me the immediate brightening effect. But this time I had a visibly bright, hydrated, plump, firm and clear skin. I must mention that when I used the mask my skin was extremely dehydrated because of the weird weather. No matter what I was putting on my face, my skin was getting dry within an hour; I was craving for a humidifier. So I was super impressed to find a hydrated and moisturized skin.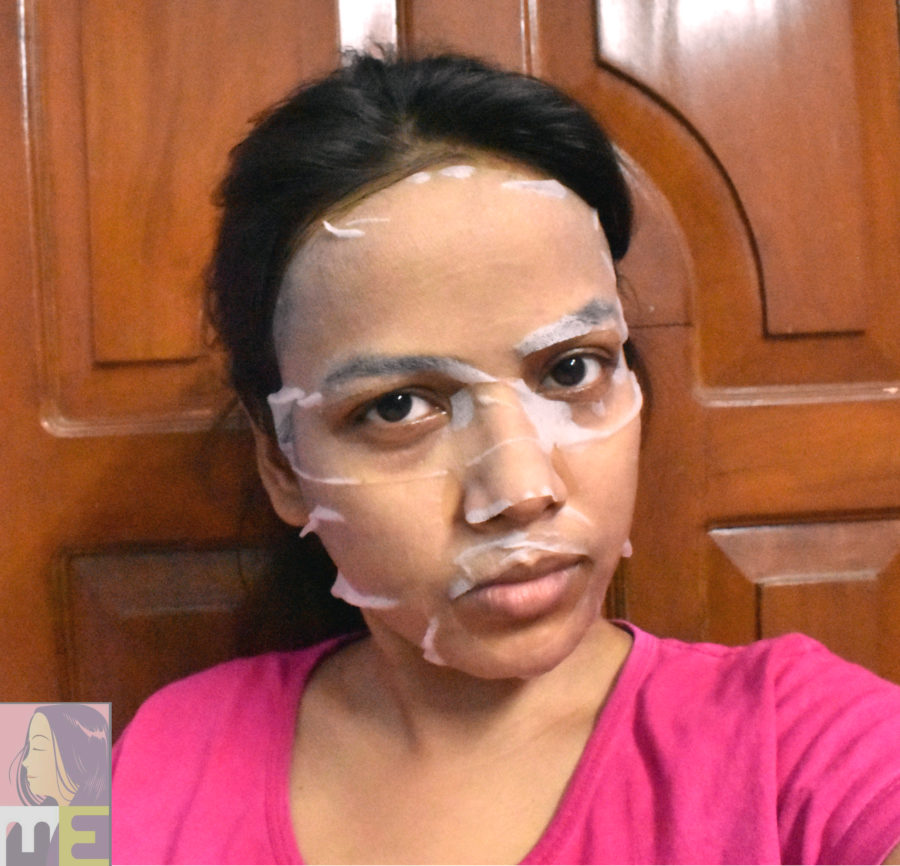 The next morning I woke up to a bright and  flawless skin. The hydration vanished by the afternoon (the weather was extremely, extremely dehydrating) but the brightness lingered for the next couple of days. I am very impressed with what it did to my skin and I'm definitely gonna stock up on this.
Will I recommend it?
Considering how well it worked on my skin, I'll probably recommend. But then again I've read reviews where the blogger claimed that this mask broke them out, so if you are going to try this, just have your fingers crossed that it works on your skin like it did on mine.
Price:
MRP 150rs
Where to buy:
Nykaa
Pros:
Brightens
Firms
Hydrates
Nourishes
Pocket Friendly
Fitting is good
Cons:
Nothing
Rating:
5/5