Hello everybody, today am going to review the Goodal Phytowash Yerba Mate Bubbling Peeling that I have been using over the last 2 years. It's basically the 3rd Korean Skincare product I have tried. That was months before I started blogging. Had I known back then that I will be reviewing this product someday and will be sticking with the single bottle for the next two years I would not have thrown the carton away. I technically didn't throw it away; I just didn't carry it with me when I moved.
The fact that I have been loyal to this product for so long has already given the spoiler alert that I really like it. Yes 2 years is a long time for a bottle to last, but considering the fact that it's an exfoliator and I use it only once a week, sometimes testing other exfoliators in between and most importantly just a tiny amount is enough to exfoliate the whole face and neck, it sounds pretty logical that I haven't ran out of the bottle yet.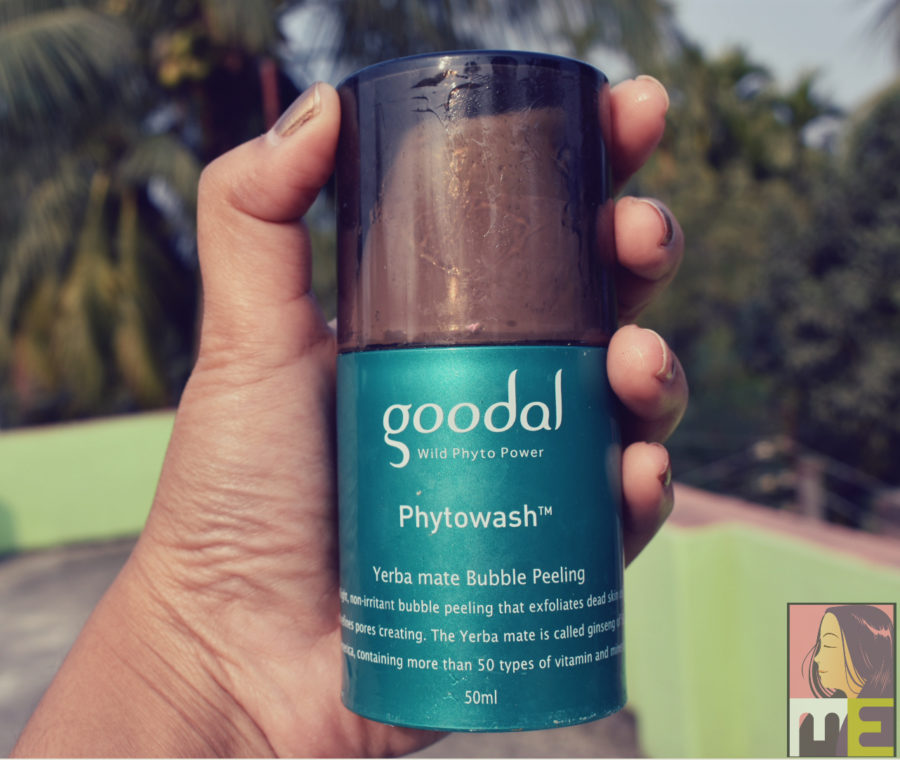 Back when I was obsessing over getting my hands on K-beauty products, I remember my then colleagues warning me that maybe it's not for Indian skin and weather. K-beauty wasn't even a thing in our country back then. But I went ahead anyway and took the risk of trying 3 Korean products at one go. Charlotte Cho from Sokoglam had generously sent me a package of Tonymoly Brightening Cleansing Oil, Skinfood Tea Tree Bubble Cleansing Foam and lastly Goodal Phytowash along with a Missha Essence Sample that I immediately fell in love with. My brain screamed at me to try 1 product each day since I was trying K-beauty for the first time but my heart (and my skin) just couldn't resist. I applied the 4 products one by one, and out of all the 4 products the Phytowash was the only product I was a little sceptical about and once you look at the ingredient list you'll understand why.
Ingredients: Water, Lauryl Glucoside, Glycerin, Yerba Mate (Ilex Paraguariensis) Leaf Extract, Cocamidopropyl Betaine, Polyethylene, Ethyl Perfluoroisobutyl Ether, Ethyl Perfluorobutyl Ether, Acrylates Copolymer, Sodium Laureth Sulfate, Cocamide DEA, Polyacrylamide, Triethanolamine, Betaine, C13-14 Isoparaffin, Phenoxyethanol, PVP, Salicylic Acid, Laureth-7, Olive (Olea Europaea) Fruit Oil, Allantoin, Grapefruit (Citrus Grandis) Peel Oil, Lavendin (Lavandula Hybrida) Oil, Lime (Citrus Aurantifolia) Oil, Cocoa (Theobroma Cacao) Extract, Disodium EDTA, Butylene Glycol, Black Currant (Ribes Nigrum) Seed Oil, Bergamot (Citrus Aurantium Bergamia) Fruit Oil, Cedrus Atlantica Bark Oil, Orange (Citrus Aurantium Dulcis) Fruit Extract, Grapefruit (Citrus Grandis) Fruit Extract, Rose (Rosa Damascena) Flower Oil, Lavender (Lavandula Angustifolia) Flower/Leaf/Stem Extract, Anise (Illicium Verum) Fruit/Seed Oil, Coriander (Coriandrum Sativum) Fruit Oil, Sage (Salvia Officinalis) Oil, Artemisia Absinthium Extract, Matricaria (Chamomilla Recutita) Flower Extract, Camu Camu (Myrciaria Dubia) Fruit Extract, Vanilla (Vanilla Planifolia) Fruit Extract, Sandalwood (Santalum Album) Oil, Brazil Nut (Bertholletia Excelsa) Seed Oil, Plukenetia Volubilis Seed Oil, Murumuru (Astrocaryum Murumuru) Seed Butter, Cupuacu (Theobroma Grandiflorum) Seed Butter 
I mean that's a scary long list, and according to my CosDNA analysis, there's some irritants sitting comfortably in the list. Cocamide DEA and Salicylic Acid shows ref flag. If that wasn't enough, here's a list of acne irritants –
Sodium Laureth Sulfate 3/5 Acne
Triethanol amine 2/5 Ance
Olive Fruit Oil 2/5 Acne
Butylene Glycol 1/5 Acne
Now let's come to the sensitive skin part- SLS 2/ irritant.
Coming to the impressive ingredients found in the list…
Yerba Mate: Known as God's drink, contains 50 types of minerals and vitamins. Some of its known benefits are: anti-aging, anti-oxidant, anti-inflammatory, brightens complexion, lightens scar, improve skin texture and retains moisture.
Glycerine: We know the benefits right? They are super moisturizing and protects the skin against irritation.
Salicylic acid: The chemical exfoliator. They remove dead skin, increases cell turnover, reduces inflammation, opens up pore, breaks down sebum in pore and increases collagen production.
Product Description: An exfoliator with an exciting twist, it bubbles! This nutritious exfoliator is made into a creamy serum that transforms into a foaming peel. It contains hypoallergenic grains that can remove dead skin cells. It can cleanse and detoxify the pores without stripping the skin of its essential moisture. The exfoliator promotes healthy skin and vitality while hydrating it. It can protect the skin from environmental stress that can cause premature aging. The exfoliator is formulated with Yerba Mate, which is known as 'God's Drink'. It is a tea that contains polyphenol, saponin, and vitamins that can help to recharge tired and fatigued skin.
To Use: Use 1 to 2 times a week. Use the exfoliator as the last step of your evening cleansing routine. Dispense 1 to 2 pumps of the product and spread it over a dry or slightly moistened face. Wait 1 to 2 minutes until the product transforms into a light layer of foam. Gently massage the foam with fingertips for 15 to 20 seconds. Rinse off with warm water and pat dry. For optimal results, use a sheet mask after the exfoliator.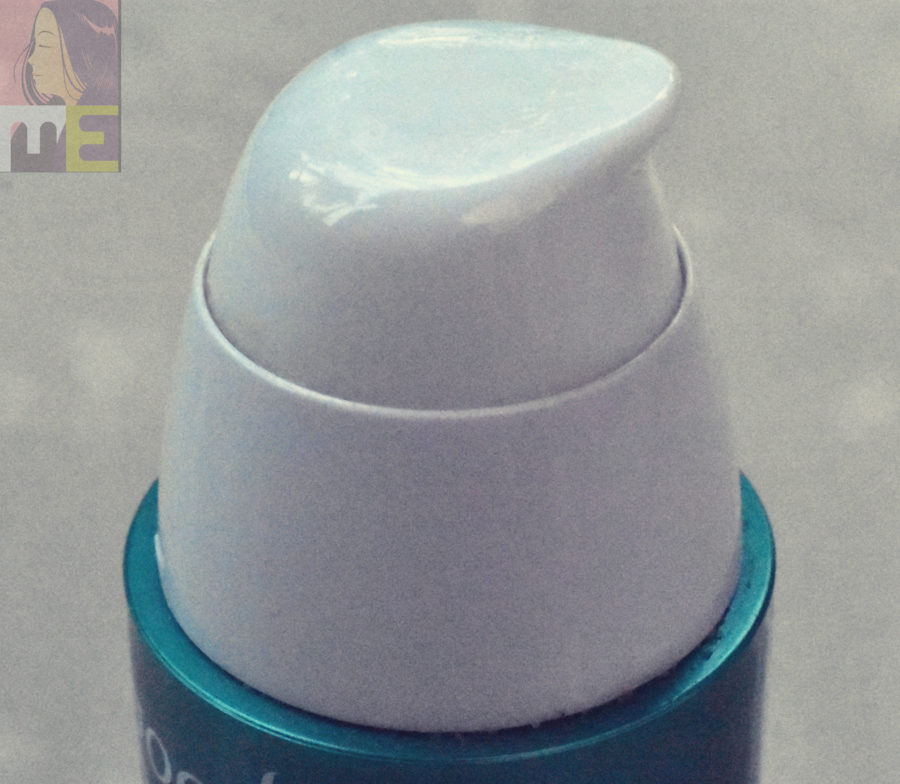 My experience:
Applying this exfoliator is a delight in itself, not to mention effortless as well. You apply a thin layer of the gel exfoliator on wet skin and it bubbles up all over your face (how I wish I had a hand model for the demo pics). Since the exfoliator contains both Salicylic acid and micro beads, it works both as a chemical exfoliator and a physical exfoliator. It also doesn't require exfoliating too much. After the gel transfers into a thick layer of bubble you just need to massage your face for 30 seconds and rinse.
As I said that I've been using this exfoliator for around 2 years now and thankfully the culprit ingredients did my skin no harm. My skin looks visibly smooth and clean after each time I use it. Like I repeatedly say, I sheetmask post exfoliating, and this is the usual exfoliator I use and the duo works amazing on my skin.
Will I repurchase it?
Absolutely! It's the best exfoliater I've used so far. May be I won't repurchase right after finishing this one, because as you guys know I like experimenting and I might want to try out a new one, but I will surely get it back in my stash in near future.
Will I suggest it?
May be it's not a best idea for the sensitive skin beauties. I am cursed with a hyper-sensitive skin myself and luckily it didn't react badly on my skin, doesn't mean it won't on you. I've explained the goods and the bads and if you think that none of the above mentioned ingredients reacts badly on your skin, or if you are not cursed with a sensitive skin at all, then there's a high chance you are going to find your Holy Grail exfoliator when you try this one.
Pros:
Does everything it claims
Attractive packaging
The pump dispenses the right amount
Hygienic
Cons:
Availability
The long list of ingredients contains some irritants
Where to buy:
https://www.birchbox.com/shop/goodal-phytowash-yerba-mate-bubble-peeling
https://us.memebox.com/product/2660
Price:
$33 US
Rating:
4.8/5