The season of vibrant colours and floral prints is here and Biba has brought to us a wide range of Kurta collection perfect for Contemporary Indian Women. Biba has been leading the Indo Ethnic market for some time now and their super comfy clothes has never failed to impress their customers. Speaking of comfort, is there really any comfier yet elegant cloth than a kurta? While Kurtis are shorter in length and tighter in fittings, Kurtas are usually below knee length and more than often comes with longer sleeves. Which makes them not only perfect spring wears but also amazing summer wears. The light, airy and vibrant apparel that adds to the benefit of protection against sunburn? Yes please.

I have been introduced to Biba by my sister who is more into Indo-Western outfits a few years back and I don't remember heading to any other ethnic destination ever again. I hope it works like that. Even though I am more into western outfits, I got instantly hooked with the super sophisticated Biba Kurtas and Kurtis after I first tried them out according to my sister's recommendation. There are varieties of designs to choose from. Whether you are an indo-western cloth lover or a traditional outfit lover, there's something for everybody. The materials used are usually cotton and sometimes crepe, silk or wool. My sister and I are cotton obsessed people and I guess that's what made Biba the one stop destination for all our ethnic needs.
When you go through the collection, you will notice varieties of neckline designs and prints that are inspired by the cultures from different parts of the country. The sleeves of the Kurtas are usually full or three-quarter and sometimes short. What makes the Kurtas even better is that they are perfect for everyday office wear as well as for festive wears. You can create more than one look with just one piece of kurta by pairing them with different bottoms and accessories.
How to Style A Kurta:
For Regular/Office wear, I would pair a (usually a simple and low maintenance, may be a pastel or light shade one) Kurta with a cotton leggings, sandals and tiny studded earrings.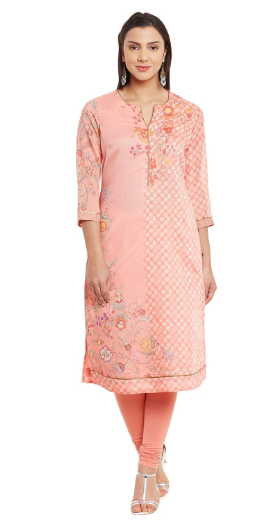 For Festive Wear, I would pair them (the bright flurry ones) with palazzo pants or longs skirts and sandals,  ballet flats or strappy heels.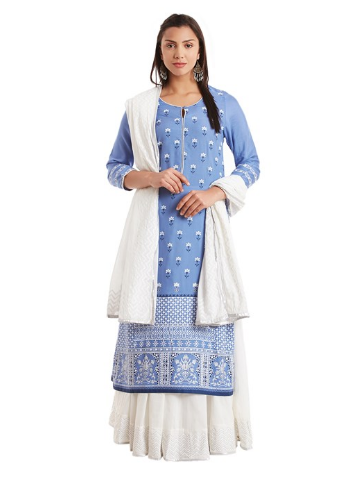 The price range of Biba Kurtas varies from as low as Rs 350 to Rs 2,879 (on discount) making them affordable to fashionistas  in budget as well as to high maintenance fashionistas.
You can purchase Women Kurtas Online  or you can head to the stores. Even Pantaloons and Shoppers Stop offers a wide range of Biba collection to choose from.