Hello everybody, today I'm going to review the Innisfree It's Real Tea Tree Mask Sheet. So I have talked about how I tend to break out while PMSing and I am overjoyed to tell you guys that I have finally figured a way out. The way out is actually making some changes in my skincare routine during that time of the month which I'm going to share with you guys soon.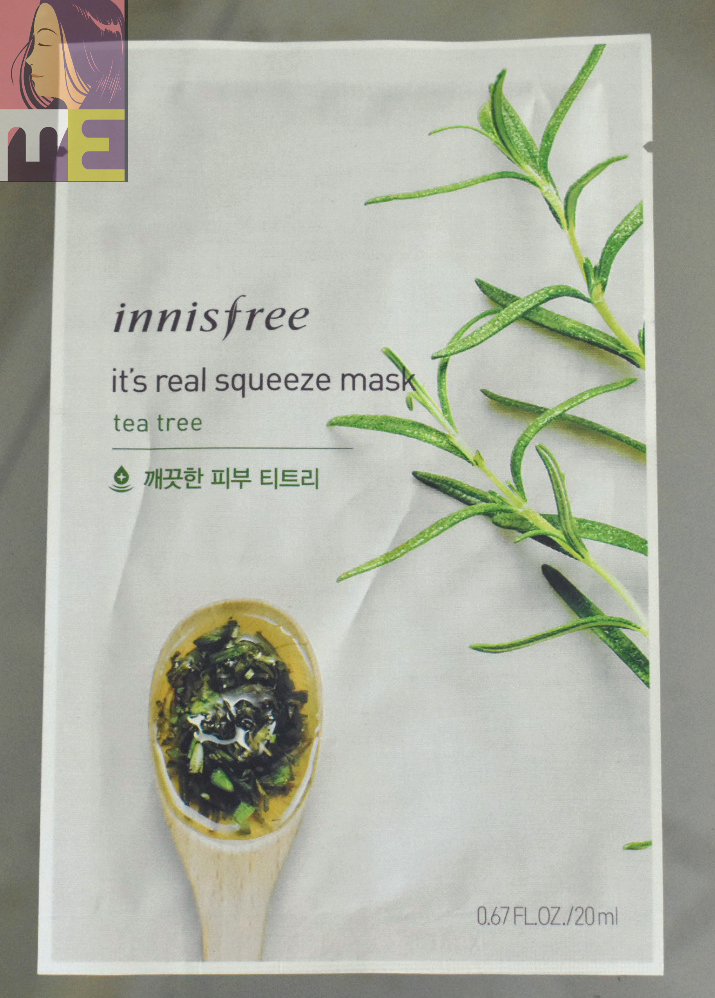 So a little heads up, including a healing sheet mask AKA Tea Tree Sheet Mask is one of those changes. Tea Tree oil has been widely known to treat acnes and I have earlier been too impressed with Tonymoly Im Real Tea Tree Face Mask. So just when I noticed that I'm breaking out a little around my lip area and one in the forehead I checked if it's that time already. These little predictions of mine are too accurate that even though they get a little annoying sometimes, I have learnt how to use these predictions to treat my PMS breakout. So I noticed these tiny pimples during my night time regimen and I knew that it will only grow in the following days like always. Without making any delay I exfoliated my skin, since it will make the serum in the mask easier to absorb. I threw the mask on my face after toning and lay on my bed for about 30 minutes.
The essence was almost transparent and even though there was enough essence on the cotton mask, it wasn't drippy. The fitting of the mask was not as good as the other masks from the range. It wrinkled up around my nose area making my sheet mask selfie too horrible to upload. Usually my sheet masks dry within 30- 35 minutes but it didn't. However, I removed it in 30 minutes and noticed a visibly clear skin. The tiny pimples were shrunked and by the next morning they disappeared. Now since I applied it just when my skin started suffering from the oil breakout I can't really tell how it will work on mature cystic acnes. But the result I noticed was impressive enough. I finished it off with a sleeping pack and unlike any other sheet mask it didn't make my skin too hydrated the following days. I have heard that tea tree oil makes skin a bit dry and I can't really tell if that's true. But my skin was neither dried, nor too moisturized. Also my skin tone didn't get brightened the way it usually does following sheet masking. I guess I should just be happy with the clear skin.
So will I be purchasing it again? I might as well be using one each month.
Will I recommend it?
To anyone who suffers from acne or wants something to heal their skin once in a while.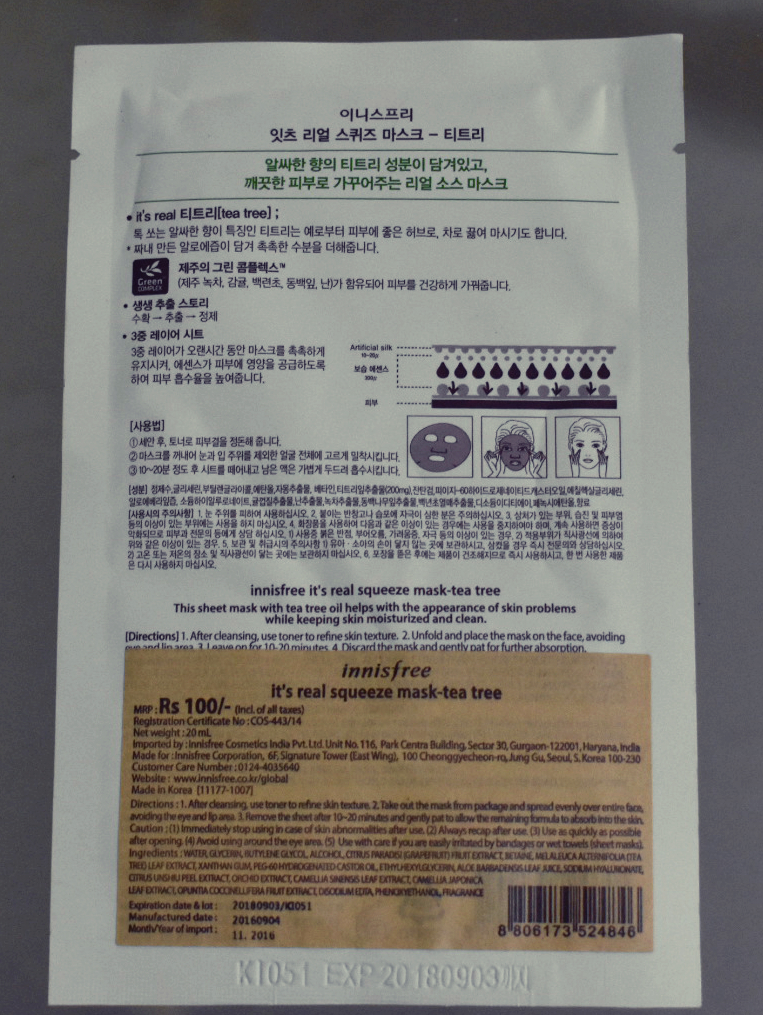 Ingredients:
Water, Glycerin, Butylene Glycol, Ethanol, Citrus Paradisi (Grapefruit) Fruit Extract, Betaine, Tee Tree Leaf Juice(200mg), Xanthan Gum, PEG-60 Hydrogenated Castor Oil, Ethylhexylglycerin, Aloe Barbadensis Leaf Juice, Sodium Hyaluronate, Tangerine Peel Extract, Orchid Extract, The green Tea Extract, Camellia Leaf Extract, Prickly Pear Extract, Disodium EDTA, Phenoxyethanol, Fragrance
Where to buy:
Now the most important part, THE GIVEAWAY:
So am going to give away a handful of Innisfree products to one lucky reader of my blog. The products will be selected based on the winner's skin concern.
This is what you have to do to enter.
Share this post on your Facebook timeline tagging Beautifully me. ( Post must be public to consider)
Like my page on Facebook
Subscribe to my blog (no need to unsubscribe and re-subscribe)
Follow me on Instagram
Follow me on Twitter.
When everything is done, comment "done" under this post.
That's it, good luck. Winner will be announced on 6th February so that you can flaunt a flawless skin on Valentines Day 😀
**Giveaway is no way sponsored.
*** Open to Indian residents only.
EDIT: Winner Jayanthi Partasarathy has received her prize…