If you are a huge fan of potatoes just like me, you are going to be really happy with today's post. Potatoes are the love of my life, I can have them in any form,  roasted potatoes, baked potatoes, mashed potatoes, alu ka parantha (even though I HATE any other oily food, not because I am a fitness freak but because of my food habits), you cannot just ask me to choose one of them because I want them all. So today I'm going to share with you guys, one of my favourite evening snack recipes, Hasselback Potatoes.
Now before I start, I am going to talk about some personal preferences. First of all, the original recipe calls for medium sized potatoes, and once cooked, they look extremely yummy and perfect for photographing. However, I like smaller potatoes because they cook faster, and gets crispier but the at the end, they shrinks into a tiny thing that doesn't look as good as they tastes and they are horrible for photographing. Today I'm using 1 medium  potato and 3 small ones so that you can look at the difference. Secondly, even though I'll share the recipe for 4 medium potatoes, I might as well mention that you might wanna cook some more because the amount of time it takes, you really would love more outcome. Besides, you will end up eating at least two by yourself.
So let's get to the Recipe-
Ingredients:
4 medium potatoes
2 tablespoon melted butter
Olive Oil
Salt for Taste
Black Pepper for taste
Grated Cheddar cheese, or spreaded mozzarella
Method:
Thinly slice out the bottom of the potatoes to make it stable on the cutting board. Once stable, make thin slices leaving ½ inches at the bottom. Avoid cutting throughout the potatoes at any cost. Brush them with half the amount of butter and put them in a baking tray. Season with salt and pepper according to your taste. Drizzle with some olive oil and bake it at 360 degrees for 30 minutes in a preheated oven.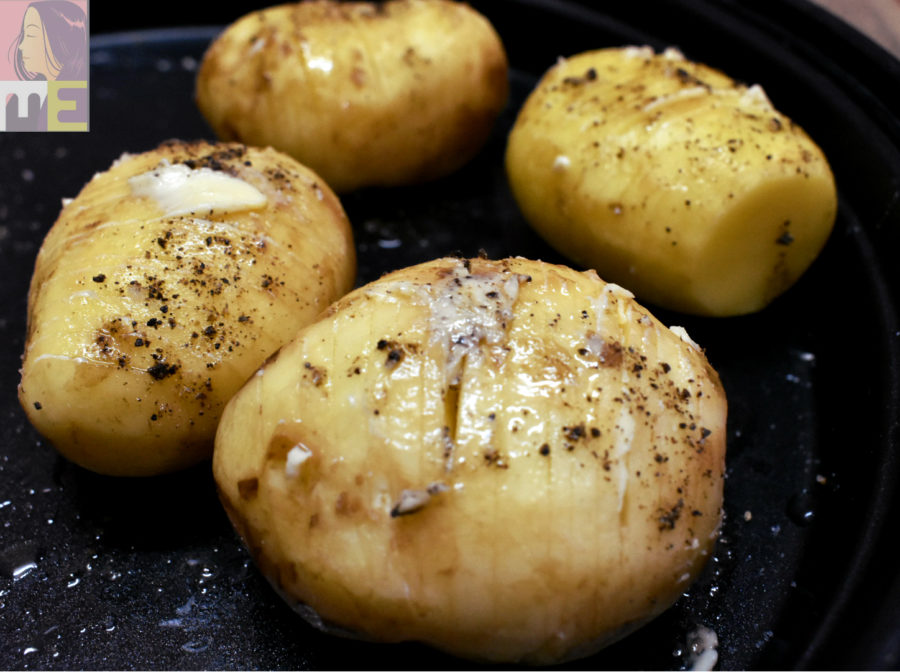 Take out the tray and brush the remaining butter on the potatoes. It gives them the extra crisp but sometimes when I feel the need of cutting the extra curb I skip this step.  You can sprinkle a little more salt at this point as the slices will open up making it easier for the potatoes to absorb the salt thoroughly. Bake for another 10 minutes.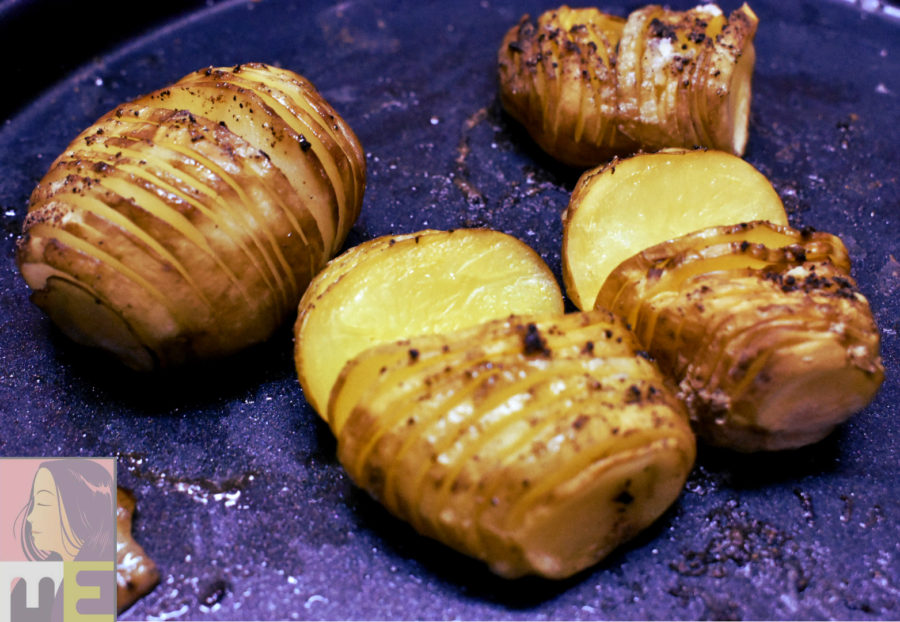 Now you can eat this up, OR you can spread some grated cheddar cheese or some spreaded mozarella and bake for another 3-5 minutes or until the cheese melts. I would recommend the cheddar, but since I try to cut down the extra curb, I use a very little amount of spreaded cheese, makes it easier to control the amount of cheese I am consuming. And your hasselback potatoes are ready. Enjoy it hot and crispy.
[As you guys can see that I used a very little amount of cheese as it was just the 3rd day of the year and I have no idea how long I would be able to keep making sacrifices like this]
NOTE:
Time can vary according to the size and type of potatoes you are using.