Anyone following my blog knows that I am a devoted K-beauty obsessed. So it wasn't fair that I didn't try out the mist concept any earlier. It's been said that it's very likely to see Korean women occasionally spraying their face with mists in their office, in the public transport and literally everywhere. While I really hope that women across the world starts taking care of their skin as much they are invested on their makeup, I really wanted to be a trendsetter to those who does not (majority I guess). So in an attempt to be a trendsetter and bravely spray my face with a mist overlooking wide eyes, I carried my newly purchased Innisfree Green Tea Mineral Mist with me to the Metro Rail. I travelled a lot that day and my skin was too dry and it desperately cried out for the mist, BUT I could not! The thought of wide eyes staring at me scared the hell out of me. So I sat there with a dehydrated skin until my stop, and then as soon as I met my boy friend out the subway I bravely took out my mist in the middle of the road and sprayed it all over my face like my own hero. I couldn't be more proud! And that was my first mist application in public, and am really looking forward to that day when indulging in a little skincare in the public will be as normal as applying the lipstick is.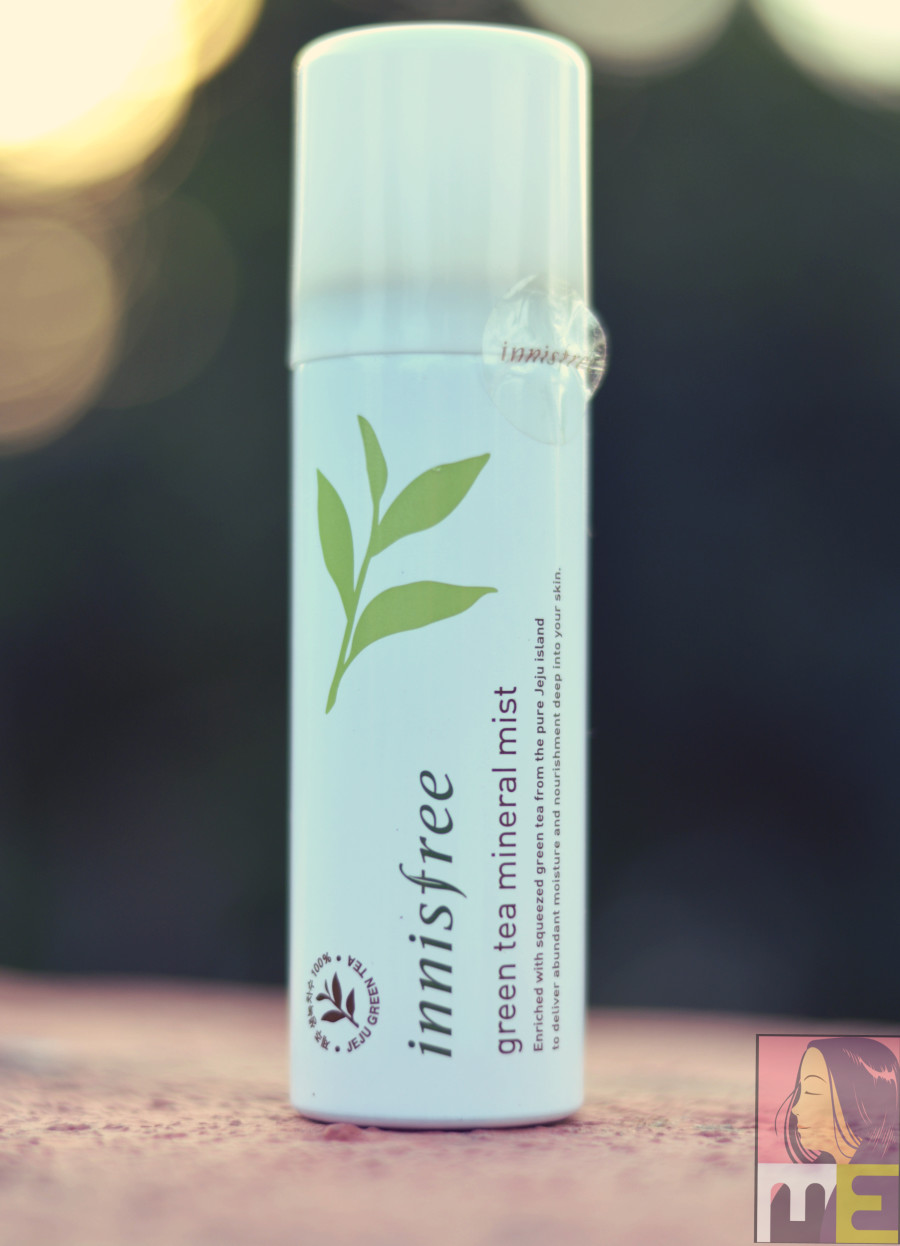 So let's get to the benefits of a mist. Mists are the lifesavers you can use whenever your skin feels dehydrated no matter wherever you are. I use it on the go, and in the house, when my skin feels dry but am not likely to apply a moisturizer just yet as it isn't time for either my morning or my night time routine. And the best part is that they don't mess up my makeup. And even if your skin is not feeling dry, the refreshing feeling that they provide are worth the staring from the strangers, you can take my word for it.
My Experience with Innisfree Green Tea Mineral Mist:
Since this is the first Mist that I've ever used, my experience with mists is basically my experience with Innisfree Green Tea Mineral Mist. I love how it refreshes my skin, and provides it with hydration without ruining my makeup. I've got the 50ml can which is pretty handy and the packaging looks cute. This is the only size available in Nykaa right now but there are other sizes as well.
How I use it:
Whenever my skin feels dry I place the can about 6 inches from my face and spray on forehead, cheek and chin keeping my eyes closed. I avoid patting the mist into my face and I guess not using your dirty hands is the point.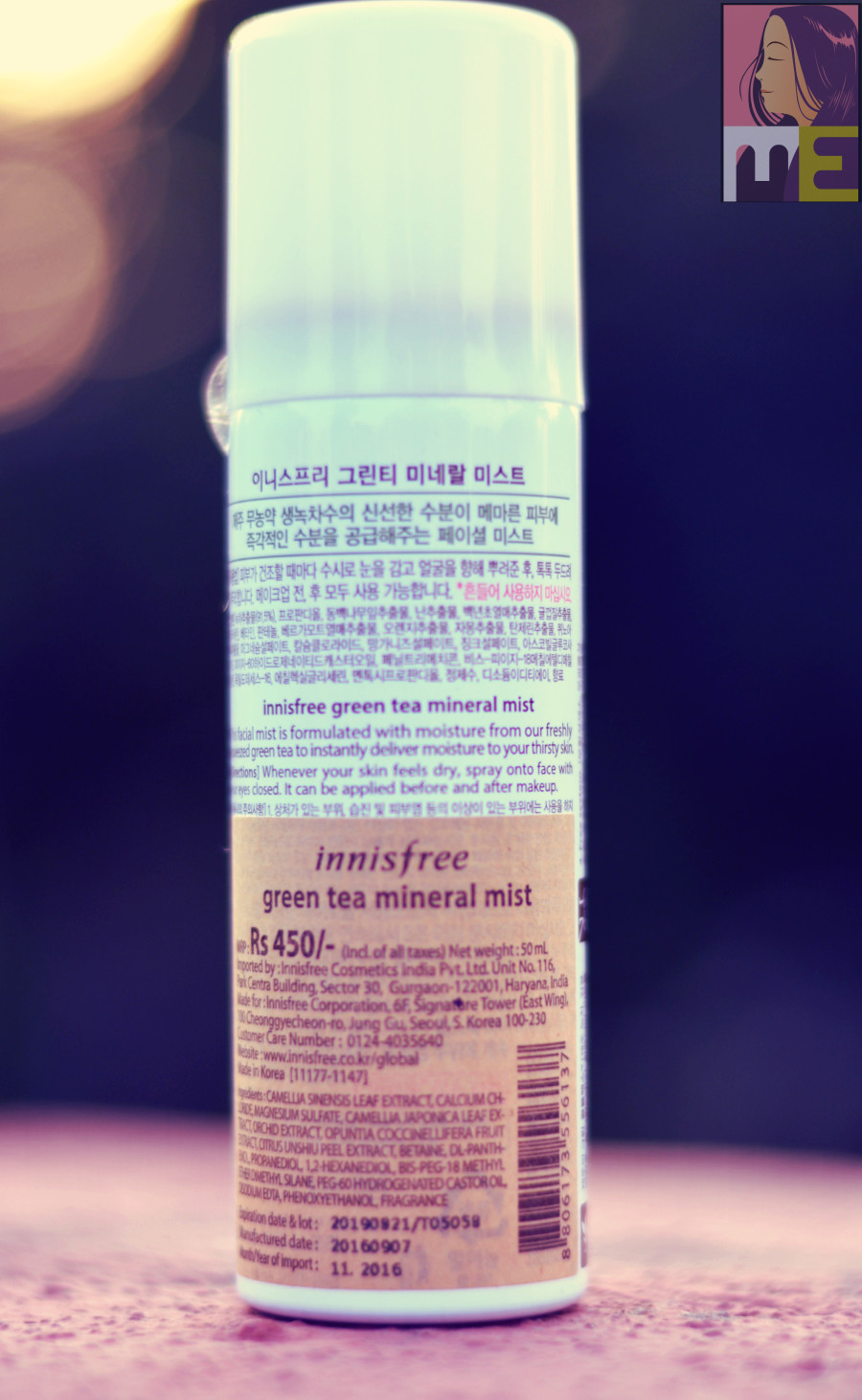 Ingredients:
Camellia Sinensis Leaf Extract, Calcium Chloride, Magnesium Sulfate, Camellia Japonica Leaf Extract, Orchid Extract, Opuntia Coccinellif.Era Fruit Extract,
Citrus Unshiu Peel Extract, Betaine, Dl-Panthenol, Propanediol, 1,2-Hexanediol,Bis-Peg-18 Methyl Ether Dimethyl Silane, Peg-60 Hydrogenated Castor Oil, Disodium Edta, Phenoxyethanol, Fragrance
Price:
Rs 450/- for 50ml.
Availability:
Pros:
Hydrates the skin
Refreshes the skin
Travel friendly
Budget friendly
Cons:
Rating:
4.8/5