Hey guys, today I'm going to rave about the Luke Lemon Tea Tree Nose Cleansing Strips that I received from Skin18 along with two sheet masks, an eye patch and a glamour lip kit.
I haven't had much problem with black heads until about 2 years ago. For some reason, they started giving me a bad time all of a sudden and no amount of exfoliation or chemical peeling or kitchen remedies are helping me get rid of them. So when I discovered the Nose Cleansing Strip with the package, you can only imagine my excitement.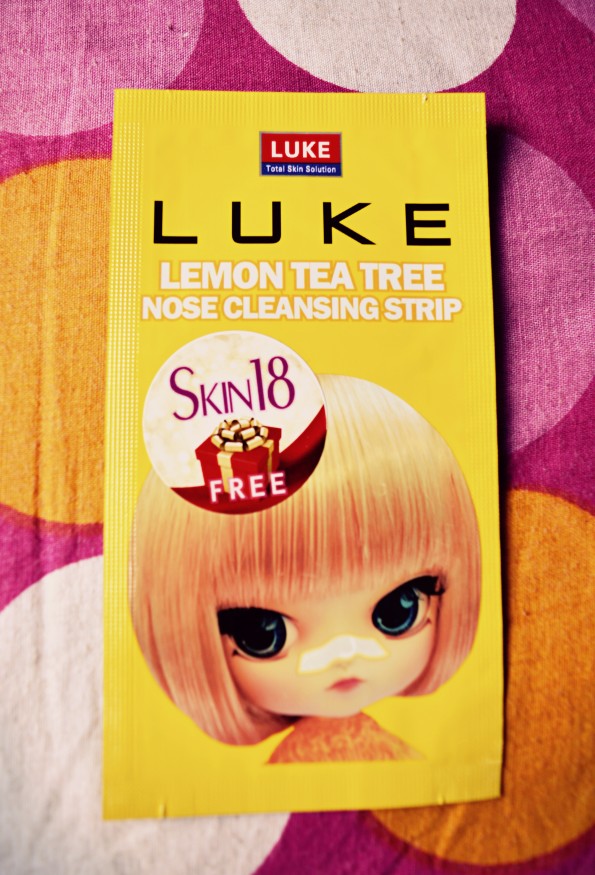 My Experience:
As per the instruction, I washed my face and thoroughly wet the nose area and applied the strip. The strip feels somewhat like a bandage. I was supposed to wait for 10-20 minutes, but I was so impatient that I started using the glamour lip kit (I'll talk about it some other day) while waiting for the strip to dry out. After a while the strip began to feel stiff and I knew that it's ready to move. I slowly peeled the strip off starting with the edges. For some reason I expected the strip to turn dark with all the black heads removed but to my major disappointment it was all white. I started wondering if I did something wrong and switched on all the lights and started checking out my nose area cursing myself for not owning a magnifying mirror. That's when I discovered my nose area completely clean; there wasn't a sign of a single black head. I moved to a better lit room and started checking out the strip again and there they were, 1,2,3 and then I found out many tiny black heads stuck on the strip. They were so terribly tiny that I couldn't figure out if my eye sight was working fine.
I am very very pleased with how the Pore Strips work. I really need more of them now. 😀
Pros: 
Does what it claims.
Didn't irritate my super sensitive skin.
Easy to use.
Cons:
Will I purchase it?
It just became a part of my skincare routine.
Rating:
5/5