This one's for beauties whose underarms are not as pretty as their face is and who have to think twice before wearing a sleeveless dress. That would have counted me before I discovered the Qraa Underarm Black Spot Treatment Cream.
I fall under the larger ratio of girls with underarms and lucky me! I discovered this magic cream.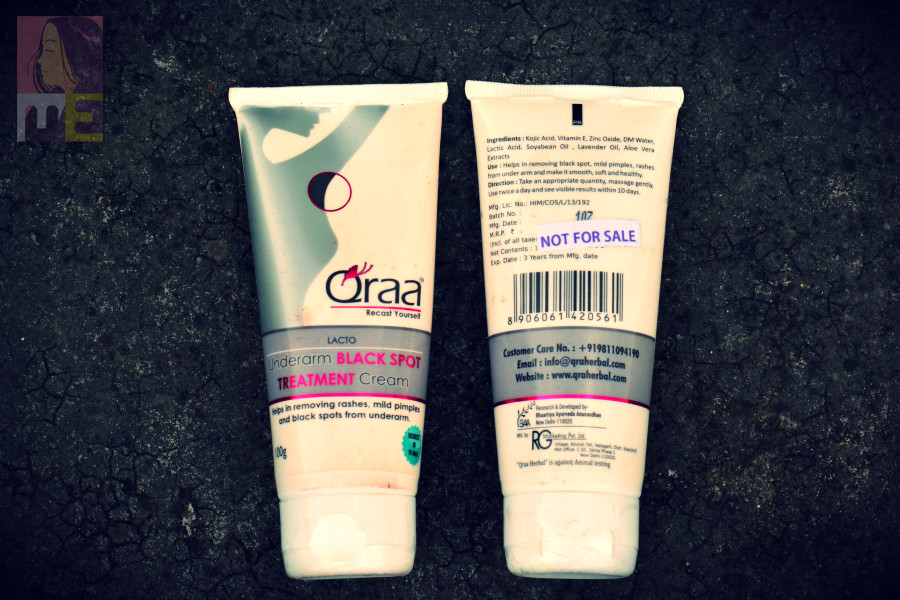 Product claims: With extensive research, Qraa Under Arm Whitening cream is the only product in current market that instead of hiding the darkness of underarms by leaving a white patch, treats the cause of darkness by reducing melanin from there.
Qraa Underarm cream lightens your skin to reveal visibly fairer and smoother underarms. It's natural ingredients, Licorice extracts and Witch Hazel, reduce melanin production and soothe skin irritations to reveal fairer, whiter underarms. It has high quality natural herbal extracts that are proven to reduce rashes, mild pimples and dark spots from your underarm.
Price: 360 Rs
Wt: 100 gm
Directions for use: Take an appropriate quantity, massage daily.
Use twice a day and see visible result within 10 days.
Packaging:
The product comes in a white opaque squeeze tube with a flip flop cap which makes the whole thing travel friendly.
My Experience:
The cream comes in a pale colour and the texture is soft and smooth which spreads evenly. I have been using the cream for a couple of months now (had to discontinue for week while I was travelling and forgot to pack it up), twice a day after showering. Within a couple of weeks I started noticing that my stubbornly dark underarms are visibly lightening. It didn't totally turn light at once, but it sure gave the 'on its way signal'and I knew that with regular usage I am going to be the proud owner of underarms that matches the skin of the rest of my body. After a week of discontinuation I resumed the usage and my underarm lightening meter kept getting high.
What I love the most about this cream is that it doesn't make me sweat no matter how humid the day is; instead it gives my underarms a cooling sensation. Also, it absorbs real quick into the skin so there's no worrying about the clothes getting stained.
So guess who's happy?
Overall, it's a great curation and a blessing for girls with dark underarms. It does what it claims, it smells nice, it gives you underarms a cooling sensation, and there's not even a single back draw. And since I haven't found a single solution to dark underarms other than this one, the 2 months of patience are really worth it.
[If you don't have extreme dark underarms like me, and have somewhat dark underarms, I guess it will take only a couple of weeks]
Pros:
Does what it claims
Smells nice
Gives u a cooling sensation and doesn't make you sweat.
Travel Friendly
Budget Friendly
Doesn't irritate my super sensitive skin
Cons:
Nothing.
Where To Purchase:
Official Website , Flipkart, Amazon
Rating:
4.8/5
NOTE 1: I have been using this for 'almost' two months with a week (or more) of discontinuation. My underarm has lightened a lot, but not completely yet. On a scale from 1 to 10, if my underarm tone was 1, it is now 7. But at this rate, I strongly believe that I will be 10 before Christmas, and when I do, I will make sure to update this article.
NOTE 2: Products received as press samples, but the review is complete my own honest opinion. (Like always 😉 )