So today I'm going to review the first primer I've ever tried. I know, being a makeup geek, it's a little weird not to have used a primer before. May be that explains why my make up gets ruined pretty fast. I had no idea which brand to go for, so upon browsing a little I ordered the Bodyography foundation primer via Aplava.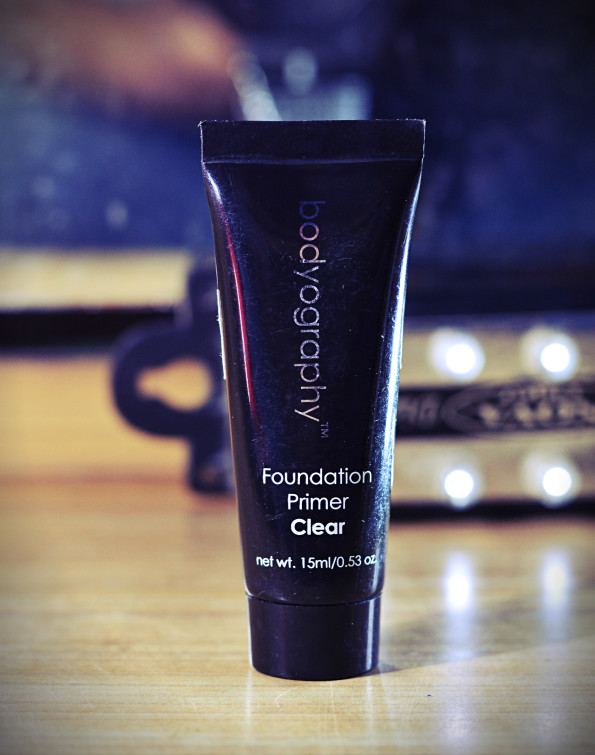 About Bodyography Foundation primer-Clear: Pamper your skin with the goodness of natural extracts from green tea and grape seed. The Bodyography Foundation Primer Veil Clear is completely oil free weightless primer with the best formulation of anti-oxidants, vitamins A and E. Suitable for all skin types, it acts as a rejuvenated therapy for dull and tired looking skin giving it a soft, silky smooth and flawless base. A major hit amongst professional make-up artists the Veil Foundation Primer comes in mesmerizing shades of clear, bronzing and shimmer formulas.
Features:
Extends wear of foundation.
Won't irritate sensitive skin.
Over time, aids in evening out skin tone.
Can be used under wet / dry formulas (allow a few minutes for primer to set).
Veil foundation primer is safe for under eye use.
Price: Rs. 375 for 15 mL tube.
Instructions: For a flawless finish, apply Bodyography Veil Foundation Primer after skin care, but before foundation.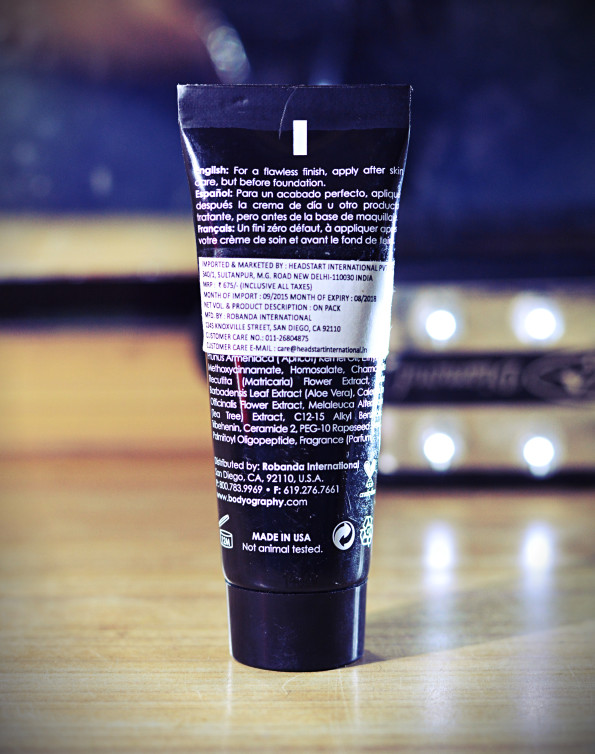 Because it is that first primer that I've ever used, I had no idea what to expect, so I went through my pretty usual make up routine, starting with a clean canvas, applying a toner and a moisturizer and following up with the primer. The primer is a thick gel, and requires a very small amount for the whole face and neck. Upon application it blended instantly, leaving the skin velvety smooth. Touching the skin became a pleasure in itself and the foundation application became as smooth as it can get.
Ever since I left my job last December, I've never really worn makeup for a long time so I really can't tell if it increased the staying power. That one time I wore it on a very humid day (under a tinted moisturizer and not a foundation) and my whole face ended up being cakey by the time I reached my destination. The other time I wore it during a mildly humid day(under a lightweight foundation) and halfway through my makeup I had to go down stairs and my foundation started caking up a little bit by the time I came back in front of the mirror. I have to admit that the humidity in Kolkata has to be the culprit, because the couple of times that I wore this primer on pleasant days, my make up stayed put until I came home so I guess this might be an ideal choice for the winter, and probably for all dry skin beauties, and also beauties from cities that enjoys pleasant/cold weather throughout the year.
P.S: I have a combination skin.
Pros:
Makes the skin velvety smooth
Makes the foundation application smooth
Travel friendly
Pocket friendly
There's nothing special about the packaging but for some unknown reason I found it quite appealing.
Didn't break out my super sensitive skin
Cons:
Can get caked up if worn during the summer.
Rating:
4/5