If you have read my red lipstick collection post, you'll probably know that I am a sucker for red lipsticks. What I have never mentioned in my blog is that I have a weakness for Hot Pink lipsticks as well. So when I was browsing through the shades from the L'Oreal Color Riche Pure Reds Star Collection, my eyes got struck on the colour Pure Amaranthe. What's special about the Pure Red Star Collection is that each shade is picked and signed by their Brand Ambassadors. Quite co-incidentally the one I picked was signed by my favourite actress Gong Li. After watching Memoirs of Geisha, I particularly fell in love with her hair and that turned into obsession after watching several of her other movies, and that's how I started taking care of my hair. Back to the lipstick…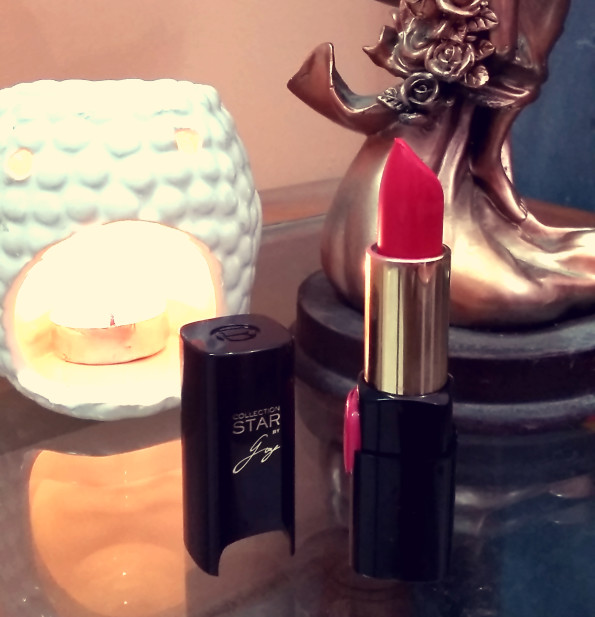 Product Description:
L'Oreal Paris starts the new year painting 2015 RED! Presenting the "Color Riche Collection Star" range. A rouge for every woman. Discover a shade of red that is as unique as you are! The range includes 7 exquisite matte shades that are chosen by 7 ionic L'Oréal Paris ambassadors.
Price:
Rs 995/-
My Experience:
The colour is a pretty pink with a red tone. It will suit any skin tone, though it will look amazingly better on fair skin tone. My sister, who always needs to pick the whitest tone while picking foundations and compacts is planning to wear this lipstick on her engagement. And when you see my crazy lipstick collection, you'll know that this shade has to be really special to be chosen for this special occasion.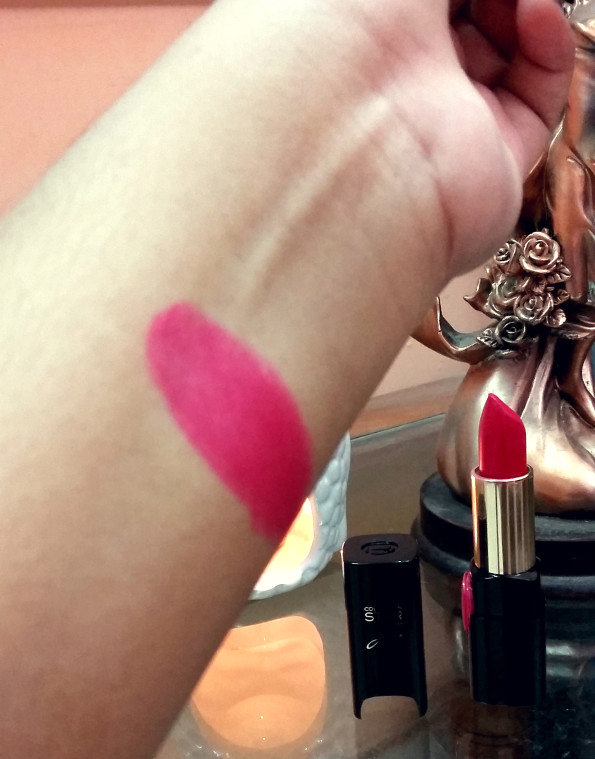 The lasting power disappointed me a little. I've got lipsticks with lower price range that lasts about 12 hrs straight even after having meals. There's this one lipstick which the other bridesmaids and I wore at a friend's wedding and without touch-ups it lasted us the whole day without a single mess or colour transfers and you'll bet there were a lot of eating involved. So yes, I was disappointed with the fact that it didn't last 3 hours on my lips. I wore it while going to choose my sister's engagement ring and by the time we reached the third jeweller, it was all gone with small pink patches on my lips. Also I would like to mention that the weather was too humid that day and there were lots of sweating too. By the time we reached the restaurant, there was no sign of the lipstick so I cannot tell if it can survive meals. My sister however wore it a few times and it lasted on her lips more than it did on mine, like 4-5 hours, but that's still not good enough for me as with this price I'll expect a better staying power.
The pigmentation is good and the texture is smooth, creamy and luxurious and the colour does not transfer much.
Pros:
Amazing colour
Sturdy Packaging
Doesn't open inside the bag and closes with a 'click'
Signed by Gong Li 😀
Good Pigmentation
Moisturising
Doesn't transfer
Easily available
Cons: