You guys might be aware of my obsession with chemical free skincare products. I was even thinking of making a list of brands(and products) that are Paraben, SLS, Fragrance and overall chemical free. I am really very satisfied with my discovery of the brand Fuschia, I've already reviewed one of their scrubs a few days ago which have been included in my weekly body care routine (I will do a post on it real soon).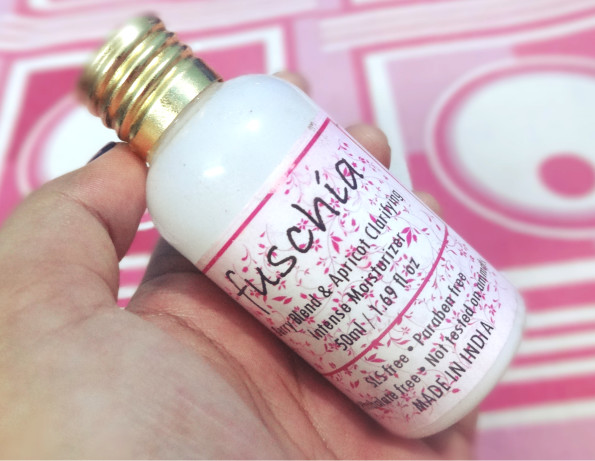 Ingredients – Apricot Oil, Aloe Vera, Mulberry Extract, Raspberry Extract, FUCOGE™, Biopol U-21, Vitamin-E
Rich in antioxidants, both Mulberry and Raspberry clarify your skin and delay fine signs of ageing. Along with all the goodness of Vitamin E, this Olive Oil and Aloe Vera based product intensely moisturizes and keeps your skin healthy and supple.

Direction for use: Gently rub the moisturizer on your face and body till absorbed. Avoid the area around eyes.

Price-  Rs 200 for 50 ml.
I received a package from Fuschia about a couple of month ago, which included a soap, a scrub and a moisturizer. I am yet to use the soap but I am already hooked with the scrub and the moisturizer. As I've mentioned on the scrub review that I am only using the scrub on my body and not on my face, I started the same with the moisturizer. Since I am cursed with a super sensitive skin, I don't usually experiment on my face unless it's a very trusted Korean Skincare brand. So I started using the moisturizer on my body and was really impressed with its absorption power. After using it as a body lotion for a few weeks I had the guts to try it on my face. I was a bit afraid of how it might react, since a lot of renowned brand has given me terrible allergy. To my amazement it worked wonder. It doesn't feel greasy on the face; neither has it given me any allergies or any acne (and that rarely happens). My skin has turned soft and supple after continuous usage. However, even though it doesn't feel greasy on my face, sometimes when the heat is around 45 degrees and I use it around 2 p.m post showering instead of using it in the morning my face sweats a little ( I don't use an A.C, I plant as much as tree as I can, I am an environment freak and global warming is upon us people). It didn't happen during the spring time though; neither does it happen when I use it with my night time regimen. Another thing that bothers me a little is that, since the shape of the bottle is like a regular cough syrup bottle lol, and the texture is a bit runny, you can pour a lot of moisturizer than you need. It happens to me every day and can get really annoying if you intend to apply it only on your face because you might have wanted a coin size amount but what came out can easily nourish both of your legs and I hate putting it back in the bottle, I never do that, it's really unhygienic. Apart from that, there's not a single thing about the product to dislike. The packaging is attractive and comes in a cute little lace bag, the mild floral fragrance is a treat to the nose and the packaging is travel friendly, what more can anyone ask from a moisturizer?
I am really happy with my discovery of this brand and would love to try out their other products. Anyone who's looking for an all natural product should really try this brand once, I am sure they'll find their holy grail product.
Pros:
Doesn't irritate my sensitive skin
All natural ingredients
Attractive packaging
Travel friendly
Pocket friendly
Cons:
Nothing that I can find.
Will I purchase it?
Yes
Rating:
4.5/5
Can be purchased here: http://www.vkarebiosciences.com/index.php?route=product/product&product_id=285