Hello lovely people, I am back with yet another review from Innisfree "It's Real" Sheet Mask range, this time it's the bamboo mask.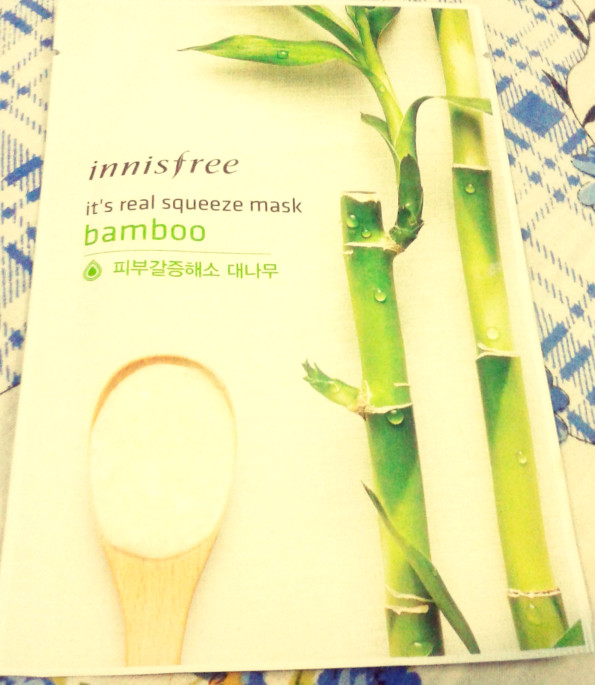 Product Description:
Provide your skin with moisture with the It's real squeeze mask – bamboo!
1. It's real squeeze mask – bamboo
Bamboo water quickly quenches your skin's thirst by providing moisture.
2. Jeju green complex
The Jeju green complex consists of green tea, tangerine, cactus, camellia leaves, and orchids to keep your skin healthy.
3. Triple-layered sheet
This triple-layer sheet has a long-lasting moisturizing effect so that the essence can gradually be absorbed into the skin.
How to us:
After washing your face, gently apply toner on your face to even out your skin texture.
2. Then, apply the mask over your entire face, avoiding your eye and lip areas.
3. Remove the mask after 10-20 minutes and gently pat your face to allow the remaining formula to absorb into your skin.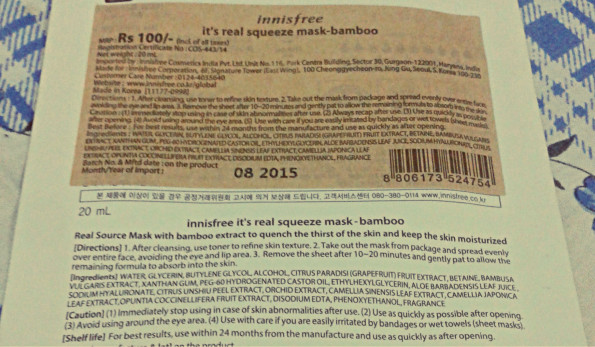 My Experience:
It's my least favourite mask from the "It's Real" squeeze mask range.
The fitting is just like the other masks from the "It's Real" range and the serum is a bit runny. As usual I double cleansed my face, toned and applied this mask, keeping it on for about 30 minutes.  When the mask started feeling dry, I removed it and massaged the serum into my skin. It absorbed in my skin and I finished it off with a sleeping mask. I did not notice any dramatic improvement in my skin texture, except for the fact that my skin felt decently moisturised and nourished, which is the basic expectations from any sheet mask.  The following morning my skin showed no sign of the pampering I did the night before which was really disappointing.  May be it will work better on dry skin beauties, but honestly speaking,  since my combination skin receives enough pampering and is always well hydrated (even during winter) so I expect more than just nourishment from a sheet mask.
Pros:
Pocket friendly
Paraben Free
Moisturizing and nourishing
Cons:
Does nothing other than nourishing (it doesn't claim o do anything else though)
Added fragrance
Will I purchase it again?
No
Rating:
3/5