Hey guys, hope you all are doing fine. Remember the huge Innisfree Haul I did a few days back? Yes, I am back with another product review from the haul. This time it's the Innisfree "It's Real" Shea Butter Sheet Mask.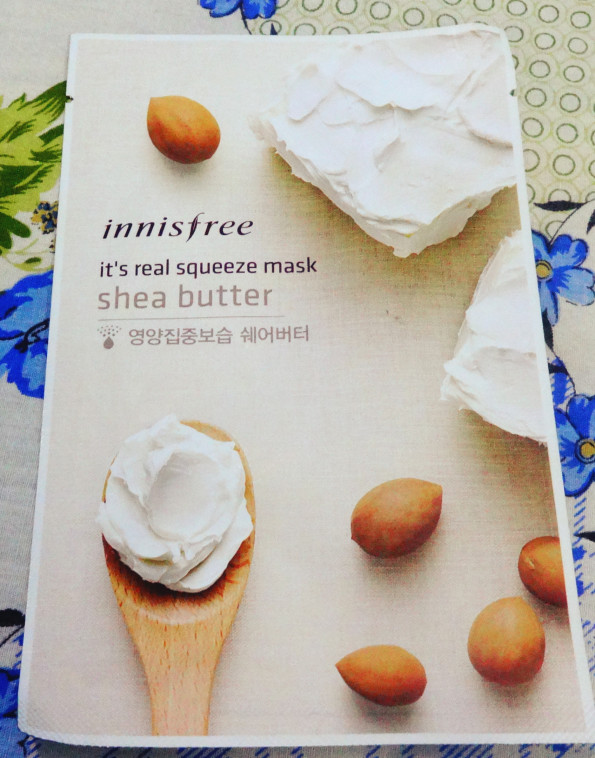 So I used this mask a long time back, when the wind was still freezing cold and our skin needed a lot of extra care. The last few weeks of January I was travelling to Delhi-Agra, attending and hosting so many wedding and there was literally no time to give that special care to my skin. I attended 1 wedding at Agra, came back to my hometown and attended 3 weddings the next day. Remember that scene from 27 dresses? Yes I was a bridesmaid for one of my close friend's wedding and attended her bridal shower and haldi ceremony the next day which was in a different city. And of course the next day was her big day and I needed to look pretty because I had to stand next to the most beautiful bride I have ever seen.
I came back from Agra with a terrible skin, dull, dark, rough, flaky and irritated. However I got my glory back with the help of an extensive skincare routine and the "Its Real" Green Tea mask. Anyhow I attended 3 more weddings and literally had no time to sleep before my friend's big day and again I needed to pamper my skin a little bit. The previous day I pampered my skin with the Green Tea Mask as I needed to soothe my irritated skin, now before the big day I wanted to moisturize my skin deeply because it was January and I didn't want flaky skin as a bridesmaid.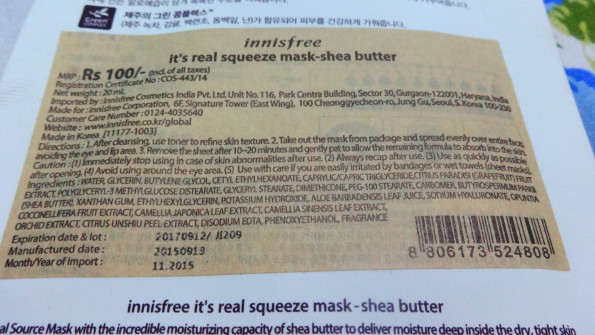 Product Description: Sheet mask made with Innisfree's triple layered sheet to help create long lasting moisturizing effects so the essences can be absorbed into the skin easily. The Shea Butter mask is formulated with shea butter to deliver moisture deep into the skin. It's also formulated with Innisfree's signature Jeju Green Complex blend which includes: green tea, tangerine, cactus, camelia leaves, and orchid to keep the skin healthy.
To Use: Take the mask out of its packaging and apply it to the skin after its been cleansed and toned. Leave the mask on for 10 to 20 minutes, then remove.
Ingredients: Water, Glycerin, Butylene Glycol, Cetyl Ethylhexanoate, Caprylic/Capric Triglyceride, Citrus Paradisi (Grapefruit) Fruit Extract, Polyglyceryl-3 Methylglucose Distearate, Glyceryl Stearate, Dimethicone, PEG-100 Stearate, Carbomer, Shea Butter(20mg), Xanthan Gum, Ethylhexylglycerin, Potassium Hydroxide, Aloe Barbadensis Leaf Juice, Sodium Hyaluronate, Prickly Pear Extract, Camellia Leaf Extract, The green Tea Extract, Orchid Extract, Tangerine Peel Extract, Disodium EDTA, Phenoxyethanol, Fragrance.
My Experience:
The fitting of the Sheet Mask was nearly perfect and I didn't have to tear the eyeholes like I do sometimes. The thick sheet was soaked in a decent amount of thick milky white serum. After applying the mask there were plenty of serum left in the packet to use on your hands and neck (it can feel a bit sticky, I prefer following up with a body butter)
I wasn't expecting much from the sheet mask as it claims to only moisturize the skin, and that's what Shea Butter does. It did what it claims and provided my skin with a deep moisturizing effect. Usually I am more interested in brightening products but sometimes your skin needs more than what you usually provide. My skin was screaming moisturiser while I was travelling and also after I came back. I guess I just used the right product at the right time. I wouldn't have loved the mask as much as I did had I used it on a summer's day, guess I need to restock it for next winter. 😉
Pros:
Does what it claims
Pocket friendly
Can be a dry skin beauty's best friend.
Didn't irritate my super-sensitive skin
Cons:
Nothing that I can point out.
Will I purchase it again?
Only if its winter or I am visiting a place where it's freezing cold.
Rating:
4.5/5