Hi guys, this is my very first review on this blog and I'm so damn excited 😀
Today I'm going to review a yummy face mask, Hedonista Face Souffle.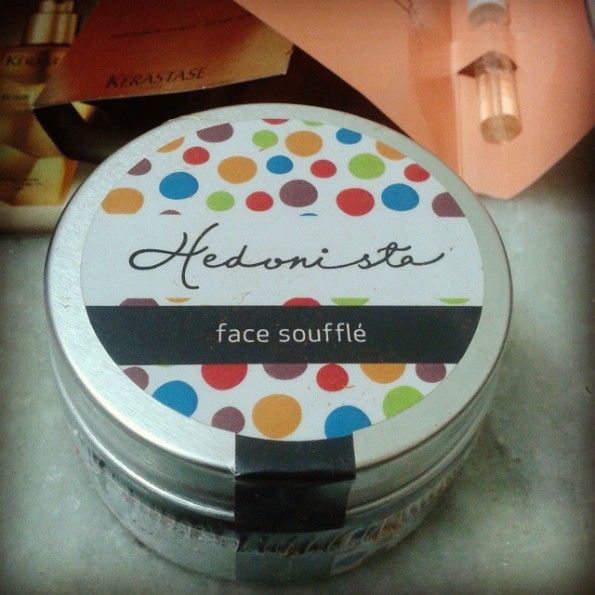 I've received this wonderful mask with my June 2015 Envy box and I was so excited that I applied it on my face as soon as I received it.
Do you guys wanna take a look inside?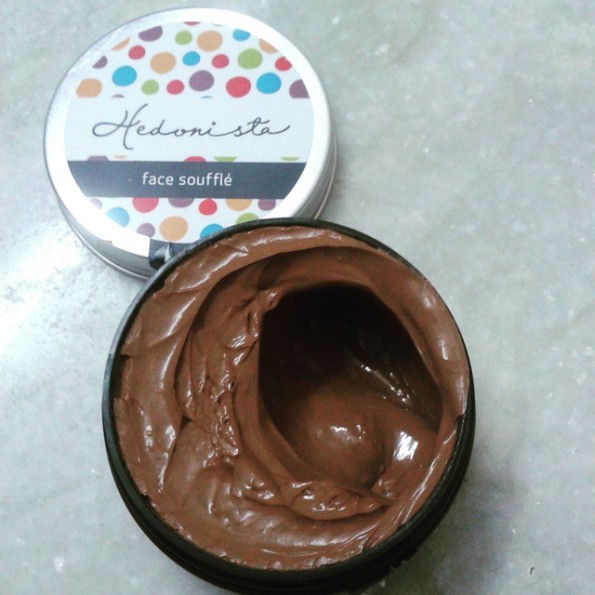 Delicious… isn't it?
Ingredients: Aqua, Cetearyl Olivate, Sorbitan Olivate, Isopropyl Myristate, Calamine, Vegetable glycerin, Organic cocoa butter, Cocoa powder, Rhassoul clay, Turmeric extract, Indian gooseberry extract, Xanthan gum, Potassium Sorbate, Sodium Benzoate, Organic essential oils of lavender, orange & grapefruit, Sodium Gluconate, Caramel, Cedarwood oil.
NO Palm oil, Artificial colourants or fragrance, Sulphates, Silicones, Parabens, Petroleum derivatives, Phthalates, Amines, PEGs, Formaldehyde
We use only food-grade preservatives. No animal testing.
Shelf Life: 18 months from manufacturing. To be used within 6 months after opening.
Price: INR 1,650
Net Wt: 115 gm
My experience With Hedonista Face Souffle:
Packaging: The packaging is neat and travel friendly.  The translucent algae-green colored plastic jar  has an aluminium lid that screw opens and also has a white colored protective lid so as to protect the product from any leaks or spills while travelling.
My Experience: The mask  has a mousse like consistency and smoothly spread on my skin as I applied it. My skin tingled a little bit after applying it but it can be ignore.  I loved, loved, loved the chocolaty  smell and had a strong urge to scoop it and taste it. 😀  I kept it on my face until it dried completely and then it washed off very easily.
The product does not make any high claims except for detoxifying your face which it really does. My skin was left squeaky clean after washing it off and also I noticed that a very bad break out which I have been suffering from since the last few months appeared to be healed  a little bit.
Likes about Hedonista Face Souffle: 
Decent packaging
Delicious Smell
Paraben free (I have a parabenphobia 😀 )
Smells Delicious
Great for sensitive skin
Dislikes about Hedonista Face Souffle
Nothing, except for finishing it in 6 months seems impossible for me.
Overall, I really loved this face mask and I would highly recommend you guys to use it if you wanna pamper your skin.
Rating: 4/5